Gear Guy
What's the best bike for a cross-country ride?
I in the very early stages of planning a cross-country bike ride, and plan to purchase a bike designed for long-distance touring. What do you recommend? Paul Cranford, New Jersey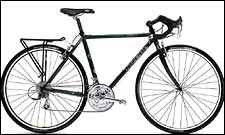 Heading out the door? Read this article on the new Outside+ app available now on iOS devices for members! Download the app.
I was once in the early stages of planning a cross-country bike tour, too. Then I took a nice long nap, and the feeling went away. That's an ambitious undertaking, but one that everyone I know who has done it has never forgotten.

Trek 520

What I would certainly not use is anything like a mountain bike—that is, a rig with upright seating, straight handlebars, beefy frame. The reasons? Not weight, actually, but the upright position of most mountain-style bikes offers too much wind resistance. And the frames are very stiff, so you're apt to be uncomfortable. Sure, you want a solid frame, but also one that has some flex.

@#95;gui_include name="ad_in_article"@#95;gui_include
Beyond that, there are several good choices. Trek's 520 ($1,100; www.trekbikes.com) is an excellent basic touring bike: steel frame that is sturdy but forgiving; triple chainring and low gears; plenty of attachment points for luggage racks and bottles. Cannondale's T800 offers similar running gear (a mix of Shimano and proprietary stuff) at a similar price tag ($1,200; www.cannondale.com). The main difference is that the Cannondale has an aluminum frame—lighter, but perhaps a little jittery on pebbly roads. That is offset, but at the expense of some fatter, heavier tires (Conti Top Touring, 700×35).


For a bit more, I highly recommend looking into a Bruce Gordon BLT (for, basic loaded touring). It's made by a guy in California who specializes in touring bikes, and this is one serious touring bike. The frame is designed just so—the right geometry for heavy loads, very stable. Good running gear (Shimano LX mountain-bike stuff) and even available with racks designed specifically for the bike. Cost is not really all that much at $1,610 without racks, $1,845 with (www.bgcycles.com).


You might even consider a recumbent. The advantages are much greater comfort for very long days, and generally better performance on flat terrain and downhill. Downsides: Higher price (typically $2,000 and up) and generally worse performance—much worse, really—on climbs.


For more road-bike reviews and advice, check out Outside's 2004 Buyer's Guide.



Trending on Outside Online