Gear Guy
What's the best shirt for extreme heat?
For hiking in 110°F, what top would you recommend? I was once told the best choice was a cotton T-shirt with a wind-resistant outer shirt. Is there any truth to that idea?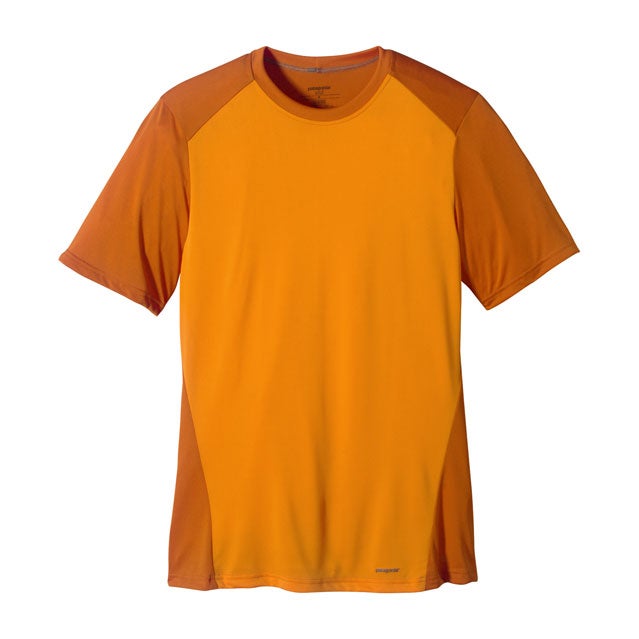 Heading out the door? Read this article on the new Outside+ app available now on iOS devices for members! Download the app.
You certainly won't encounter temps in the 100s in Boston this time of year, Iago. On the other hand, vacations to warm climates were virtually invented for people hoping to escape winter in the northeast.
As it turns out, yours is a really complicated question. For a little help, I got some advice from two of REI's equipment experts–materials manager Johanna Rundquist and product-research and test analyst Scott Smith.
 
They partly of confirmed my first reaction: In hot and dry conditions, cotton actually works pretty well. That's because cotton soaks up sweat and lets it evaporate slowly, wicking away some of your body heat. One caveat here is that a lot of cotton products now are treated with water-repent chemicals. Rather obviously, those won't work well, so just go with a plain cotton T-shirt.
 
Cotton has drawbacks, however. The main one is that when saturated, it often chafes, especially under pack straps. Most polyester-based knits let moisture evaporate quickly, giving you lots of cooling when you're active and keeping you dry once you've found a shady place to sit and rest. That's why I often wear a shirt like Patagonia's Capilene 1 Silkweight T ($39). It's a super-lightweight polyester shirt that dries fast and stays comfortable in warm weather. REI's own Sahara T ($25) is another good choice in the same category.
One interesting development in fabric technology is the increasing use of two distinct yarns in one garment. Shirts made from Polartec Power Dry, for example, have an inside surface with a brushed feel and lots of threads that quickly soak up moisture and carry it to the outer surface, which has a "harder," and smoother finish. But if you wear it the shirt inside-out, suddenly you've got a garment that lets moisture evaporate very quickly from the outer surface, allowing rapid cooling. One example is REI's Polartec Power Dry V-neck for women ($25).
And don't ignore wool. It's an excellent insulator across a wide temperature range. Some of the lighter-weight wool fabrics, like Icebreaker's Bodyfit 150 T ($55), work great in hot weather. Merino wool has little pockets in the threads that absorb moisture and release it slowly, giving a wool shirt surprisingly good cooling properties. And wool doesn't soak up odors like synthetics, an added bonus in hot weather.
 
If you're facing a climate that is both hot and humid, nothing is going to work that well. In that case, I'd suggest a synthetic shirt—at least you'll stay a little bit drier than you would in cotton.
 
Stay cool!
—Doug Gantenbein
@OutsideGearGuy