Where Are The Best Places to View the Northern Lights?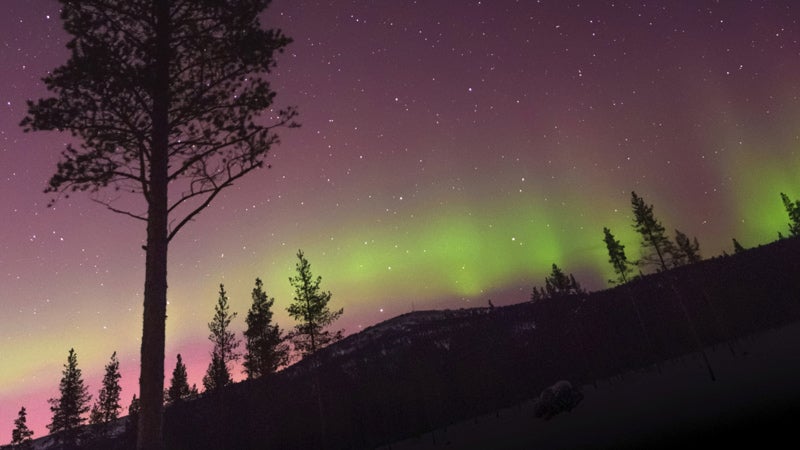 Getty Images/iStockphoto(Photo)
Heading out the door? Read this article on the new Outside+ app available now on iOS devices for members! Download the app.
Ribbons of green. Curtains of red. Swirls of violet. All are possible during auroras, created when solar particles collide with the Earth's atmosphere. Although these awe-inducing light displays happen at both poles, the better-known aurora borealis (Northern Lights) occur above places such as Alaska, Canada, Iceland, Norway, and the northern U.K.
Clear skies (which often occur around spring equinox) and a dark moon (waxing or waning, but not full) make for prime viewing. Auroral conditions are currently at peak, and geophysicists anticipate this solar maximum will extend through 2016. The time is right for viewing, so here are five places to take in the kaleidoscope in the heavens: 
Fairbanks, Alaska offers good viewing at the Geophysical Institute at the University of Alaska Fairbanks, but the sights are even better at Chena Lakes Recreation Area, which has even less light pollution. More remote, Denali National Park has unmatched views and, of course, other wilderness experiences. 
In Canada, Churchill, Manioba, offers ideal viewing. John Steel Rail Tours offers transportation to and guided excursions through this remote territory via the Hudson Bay Railway. Outfitter Natural Habitat Adventures leads trips, during which viewing parties are held in heated aurora domes.
Aurora borealis occurs over cities throughout Iceland, including Reykjavik. Get a better view at Thingvellier National Park, set on the Mid-Atlantic Ridge where the North American and Eurasian tectonic plates meet. Nordic Visitor also offers outfitted trips to see the marvel.
Tromso, Norway, is a dazzling destination—and it has a Northern Lights Observatory to prove it. Travelers may also take in the phenomenon here via a multi-day Hurtigruten cruise or a well-timed coastal ferry offered by the same company September through March.
Called the "Merry Dancers" in Scotland, the Northern Lights are seen at their most dramatic in the Orkney Isles, Shetland, and The Outer Hebrides. Each of these three archipelagos sits off the northern coast and, thanks to scant populations, has little light to interfere with the sky ballet.
To track—and chase—the destinations offering the best viewing conditions, check out the Geophysical Institute at the University of Alaska Fairbanks' aurora forecast. 
Lead Photo: Getty Images/iStockphoto