Interview: Ueli Steck, The World's Fastest Alpinist
Heading out the door? Read this article on the new Outside+ app available now on iOS devices for members! Download the app.
At 34, Ueli Steck is one of the fastest and most versatile climbers around today. Practically unknown to most Americans, the Swiss alpinist has set speed records on some of the Alps' toughest walls, including the Eiger's infamous north face, and has summited both Gasherbrum II and Makalu. He has an impressive resume on rock as well, including free-solos of up to 5.13b, a near-onsight of El Capitan's Golden Gate, and a stint spent speed-climbing in Yosemite with Alex Honnold this summer.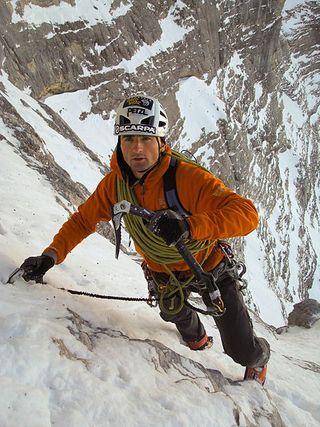 Now, Steck is trying to take his fast and light approach to the world's hardest and highest mountains, but he's keeping his plans to himself. All he'll reveal, he says, is that he's got something planned for next year in Nepal. He'll tell us more after he's done it.
UELI STECK: Today, to find a challenge is really hard. In the Alps, everything is done. The new lines, almost all of them are finished. So to find a new challenge, it's all beginning to go to speed.
Speed climbing is not new. In the history of climbing, people were always checking time. At one point, there was the first one-day ascent of the Eiger. After, Messner and Habeler did it in ten hours. Then Bubendorfer did it in 4:50. That's the history of climbing. That's what I got into.
It was a friend of my father's who took me out climbing. It was outdoors, in the mountains, these small little needley climbs that were like 50 meters high. My first climb was on lead; there were pitons, no bolts.
[I train] about 30 to 40 hours a week. Usually, I get up and go running for maybe four to five hours, then sometimes I also add climbing.
It was very interesting to see the technique of speed climbing in Yosemite, because it's a completely different game. In alpine climbing, usually I climb solo, but in Yosemite, speed ascents are usually done with a partner. I met Alex [Honnold] Tuesday night, and the next morning, we were climbing. We climbed the Nose in like four hours and forty minutes. We worked well together.
I like him because he has the same mentality I have. I don't like talking about climbing that much. You don't have to discuss, just do it. I think Alex has that same mentality, the same idea of climbing.
As soon as you start trying to push the limits, you have sponsors, and you're under pressure. It's hard to tell what is a real good, hard ascent and what is just a photo shoot. Big brands, they organize a whole team to go somewhere and climb something, and they sell it as something harder. 
If you try something really hard, the percentage [of time] you fail is really high. So if you fail a couple times, people are thinking "This guy's not strong." And they see other people climbing some mountains in a movie or pictures, and they think "Yeah, he's a really hard guy."
You have to choose what's more important, endurance or climbing. If you have a project where climbing is important, you maybe spend 70% of your training on climbing and just 30% on endurance. If you have a project where you know your technical skills are more than high enough, you spend more time on endurance. You cannot train endurance and train power, it's not possible.
Speed is a kind of game, but I think that it's the future of climbing. And where you can push the limits is on high-altitude mountains. Until now, nobody has ever climbed a technical, hard route on an 8,000-meter peak in alpine style. All these routes done in alpine style, I think, are not really technical.
That's where speed really matters, in high altitude, because your body does not really recover. If you spend too much time up at 8,000 meters, you're not really able to climb anymore. You're just tired.
People forget something: in climbing, it doesn't matter what you're doing. If you do a speed ascent, you're the fastest up the Eiger's north face, nothing's going to change in the world. But maybe your world is going to change. In the evening, when you're going to bed, you know exactly what you have done.
And that's what it's all about. It doesn't matter if you climbed the Eiger's north face in two hours and forty-seven minutes, or in two days. If it's your challenge, and you're happy with it, that's the most important thing.
Photo Credit: Ueli Steck