Gum for My Boat: Surfing in Bangladesh
Heading out the door? Read this article on the new Outside+ app available now on iOS devices for members! Download the app.
Outside's December 2009 issue was all about adventure altruism, featuring icons who are changing the world. Surfer Kahana Kalama and his buddy Russell Brownley, a very talented young filmmaker and fellow surfer, would fit easily into that list. Neither have hit 30 yet, but they're not letting their young age–or anything else–deter them from aggressively trying to make the world a better place.
Their new film, Gum for My Boat–a solecism, which Kalama explains in the film, of a Bangladeshi asking for wax for his surfboard–is just one of their humanitarian efforts. It takes place amid the poverty of Bangladesh, in a beach town where Kalama and Brownley meet up with a group of kids who look to surfing for salvation. Instead of begging in the streets or sitting idle, these kids have found a way to improve their lives by taking to the ocean via a sport that has basically been nonexistent in their country. The Bangladesh Surf Club has grown and made such an impact that the government has taken notice with the thought that, hey, promoting a burgeoning surf industry could be good for the economy.
Gum for My Boat won the people's choice award at the 5 Point Film Festival this year, going up against such heavy hitters as Chris Malloy's 180 Degrees South. See the movie, and you'll understand why. These kids are half a world away, but through Brownley's beautiful camerawork and Kalama's lead, you'll find yourself giving a damn.
Outside caught up with Kalama to talk about the film.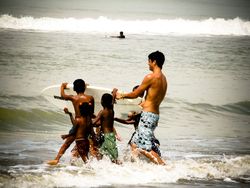 What made you decide to go to Bangladesh?
I heard a lot about the Bangladesh Surf Club through Surfing The Nations, and it's a place that Russell Brownley and I have wanted to go for a long time. I also work for a clothing company called Jedidiah that supports the surf club through our clothing sales. In 2008, Jedidiah sent us down there to spend some time with Surfing The Nations and the club and to use what we learned to help tell their story.
What's Surfing the Nations?
A humanitarian organization based out of Hawaii. They are very involved in serving their local community. For example, every week they have a feeding program that provides meals for over 2,000 people. They also see the value surfing has in its ability to create community. They travel to various countries throughout the world and use surfing as a means to connect with people. It's through these relationships that they are able to identify and help meet the needs of the locals.
Tell me about the Westerner who came to Bangladesh and taught the natives how to surf.
Twenty years ago, an Australian surfer visited Bangladesh and ended up selling his surfboard to a local lifeguard named Jafar. Being the only surfer in Bangladesh, Jafar basically had to teach himself how to surf, and he surfed by himself for over ten years. On his first trip to Bangladesh, Tom Bauer, founder of Surfing the Nations, met Jafar and helped him form the Bangladesh Surf Club.
This surf club, and the sport, is a good way to keep kids off the streets. When did the club form, how many members are there now, and how have their lives changed since joining?
The club has been around since about 2005 and currently has about 70 members, consisting of both boys and girls. The club has basically given these kids a sense of worth. They really take pride in their ability to surf, and they treat the members in the club like brothers and sisters, regardless of their socioeconomic status.
How does the surf club make or get money to pay for boards, financial aid, etc. for the kids?
The club is made possible by Surfing the Nations. STN has been going down there every year since 2001, and every year they bring down boards, wax, leashes, and clothing for the kids. They also teach the club members how to fix the dings on their boards so that they'll last longer.
There's a cultural taboo against females surfing, or even going in the ocean past a certain young age. Was it difficult to get girls and their families to agree to participate in the surf contest in the film? What was the crowd's reaction?
Watching the girls in the the club surf was one of the highlights of my trip. Most of the girls competing in the surf contest were either really young or live on the streets so they don't really have any family members telling them that it's unacceptable to surf. The crowd was definitely in shock seeing girls out surfing, but at the same time they were very intrigued.
How are the waves in Bangladesh?
The waves in Bangladesh weren't amazing, but it was still a lot of fun. I've been a little spoiled by growing up in Hawaii, but the waves reminded me a lot of the surf in Florida. The current was really strong, and it was kind of closed out.
These kids really seem so grateful to have you come there and teach them more about the sport. How did they receive you when you first arrived, and how did the relationship evolve throughout your stay?
The kids in the club were waiting for me to get in at my hotel. The second I got out of our van I was bombarded by a crew of kids that already knew my name and wanted me over for lunch the following day. They were so hospitable. I pretty much spent every moment I was there with the kids in the club. When I first arrived I thought they just wanted another friend to surf with, but towards the end of the trip I realized that they really looked up to me. They would hang on my every word, and would follow me around everywhere. It really made me aware of the impact you can have on others, and the importance of setting a good example.
It must have been a great culture shock to come into these kids' homes and see that they live in one-room huts that pack more than ten people, in some cases. Did you feel uncomfortable at first? How did you adjust?
Yeah, it was definitely uncomfortable for the first couple of days. But once I began to get to know the kids and their families I kinda stopped noticing the lack of material conveniences. After a while you get used to being in homes with dirt floors and thatched roofs.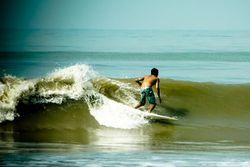 How did you deal with the language barrier?
Lots of hand motions and laughing. One thing I've learned is that a smile is a smile in every country. But a lot of the kids were learning English and could usually make out what I was trying to communicate.
In the Hindu festival scene, many Bangladeshi gawk at you. Was there hostility against Americans? Disbelief at your presence? Curiosity, etc.?
We definitely had some eyeball daggers shooting our way. I really think it was more out of curiosity and disbelief that a bunch of Westerners would want to check out a Hindu festival. I'm 6'2″ and Russell is 6'5″ so with the average height of Bangladeshi men being around 5'7″ we totally stood out.
What were the highlights of the surf contest? What's the contest called, and when did it start?
The contest is called the Aloha Surf Classic and was first started in 2005 by Surfing the Nations. It is an annual event and has both boys' and girls' surfing, bodyboarding, and skateboarding divisions. The highlight from the contest was definitely the awards ceremony. It was beautiful to see the sense of accomplishment in the kids eyes when they were called up to receive their trophies and prizes. Entire families showed up to support their children that were competing in the event.
The contest has really helped legitimize surfing in Cox's Bazar. The government has seen the amount of press the contest generates so they've really begun to back the event. They see the potential Cox's Bazar has to be a surf tourist destination and they really want to help spur that on.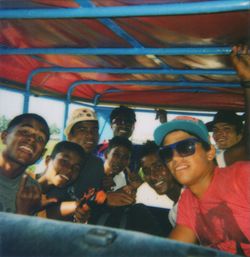 Did the kids say anything to you before you left that really sticks out in your mind?
They kept on thanking me for coming to Bangladesh…and it was really hard for me to stomach. I was the fortunate one for being able to experience the community they have created and to see how they care about the people around them. I was learning throughout the entire experience, and I was really the one that was thankful.
What have you taken away from your time there?
For me, it helped reignite a passion for surfing and the ocean in general, and it helped me to see that a crowded lineup is really only more opportunity to make friends.
When do you plan to go back, and what do you hope to do then?
I'd really like to go back this fall. The goal is to help set up a surf center on the beach where the kids in the club could rent surfboards and teach people how to surf and about water safety. Ideally, it would turn into something for the club members to create a sustainable living for themselves, all while helping to promote their ideals of caring for the people around them.
–Aileen Torres