Tough Break
Restrictions on personal watercraft threaten California's baddest wave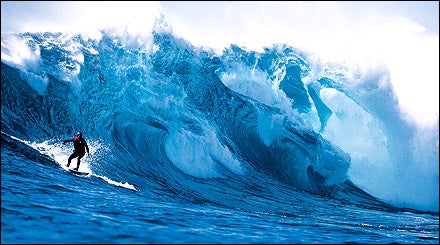 Heading out the door? Read this article on the new Outside+ app available now on iOS devices for members! Download the app.
IT'S SCARIER than Maverick's, heavier than Waimea Bay, among the most dangerous waves in the world. On a good day its steel-gray face reaches heights of 70 feet, with a tube that stretches as long as a football field across a lethal boneyard of black rock.
What Do You Think?
Should PWCs be banned in the Monterey sanctuary?
Vote here
This is Ghost Tree, the mammoth surf break near Monterey Bay, California, just off the 18th hole at Pebble Beach Golf Links. In the four years since it was first towed into, it has become one of the planet's most discussed surf spots. But the monster wave could soon go back to being just part of the scenery.
The National Oceanic &Atmospheric Administration, manager of the 276-mile-long Monterey Bay National Marine Sanctuary, is seeking to restrict the use of personal watercraft (PWCs), such as Jet Skis, in the sanctuary, claiming that they disrupt marine life. The ban would also cover Maverick's, though conditions there, unlike at Ghost Tree, sometimes allow for safe paddle-in surfing.
"Protect the resource—that is our primary mandate," says Rachel Saunders, spokeswoman for the sanctuary. "At all these places, there are marine animals and seabirds resting and breeding. PWCs can get very close into shore, so we think they're a potential disturbance."
Tow-in surfing isn't the first action sport to run afoul of conservation regulations. The "mechanized transport" language of the 1964 Wilderness Act has been used to close 106 million acres to mountain bikers. And in 1998, climbers were prohibited from placing fixed bolts in Forest Service–administered wilderness areas. (The ruling was later overturned.)
So it's easy to see how noisy, polluting PWCs make a ripe target=. But tow-in proponents claim that—given how infrequently big-wave spots break, and the small number of people skilled or crazy enough to maneuver in such surf—a ban is mostly symbolic.
"It comes down to a lack of education," says Don Curry, spokesman for the Association of Professional Towsurfers and the man who named Ghost Tree. "We use PWCs three or four times a year, only when the swells get big enough. Boats are permitted to go out in these places at any time. Why shouldn't we?"
The new rules, expected to pass this year, might allow for a limited number of special-use permits at Maverick's. But swells generally hit with less than 24 hours' notice and can die down even faster. By the time the paperwork went through, applicants could have little more than official documentation of the surfer's lament: "You should have been here yesterday."