Strider Balance Bikes: Singletrack for Toddlers!
Heading out the door? Read this article on the new Outside+ app available now on iOS devices for members! Download the app.
By Guest Blogger Emily Brendler Shoff
There's still time before winter really sets in to log a few more miles on your mountain bike. Here in Telluride, we recently snuck in a late-season family ride on our favorite three-mile loop linking the paved in-town bike path to the dirt Valley Floor trail. It was a gorgeous fall day and, for the first time, our daughters, Siri (5) and Quincy (2), powered themselves. Sure, Quincy popped in and out of our Chariot bike trailer a couple of times when she got tired, but for most of the route she was cruising along on her Strider balance bike. She even scooted up a 50-foot hill. 
For years, learning to ride a bike has meant wobbling around on training wheels. But thanks to the advent of balance bikes like the Strider, kids can get on bikes earlier than ever—without having to endure rickety metal attachments that transform their would-be-cool bikes into overgrown tricycles. Instead, they first learn to balance on a pedal-less bike like a Strider, and then to ride.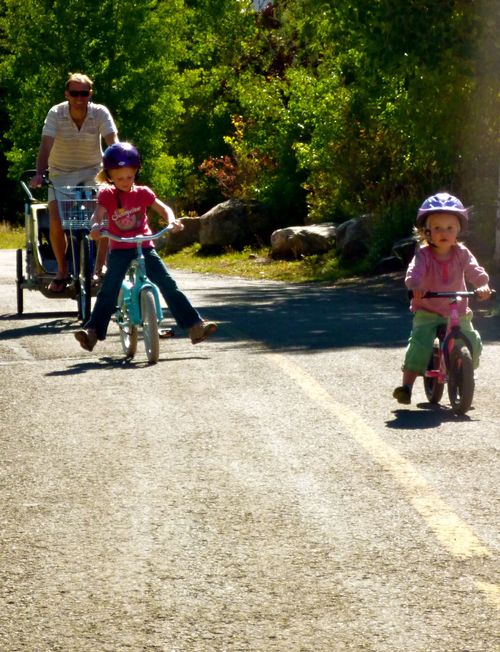 Family riding, T-ride style [Emily Brendler Shoff]
Without brakes or pedals, a Strider "prebike" is like a Flintstones-car-turned-bike: Ultimately, the goal is for kids to learn how to pull their feet up and balance. But every phase of the balance biking is fun, from watching an 18-month-old wobbling along to a two-year-old kicking at full speed. For toddlers who like to rocket around on them, balance bikes are faster than walking and easier than riding a two-wheeler.
We prefer Striders to other balance bikes because they're light and the non-inflating tires are incredibly durable. (Believe me, these bikes end up getting thrashed: Think Evil Kneivel meets Lance Armstrong.) They're also easy to adjust. Ask your local bike shop to add a quick-adjust lever on the seat, so you can raise and lower it depending on the size of the rider.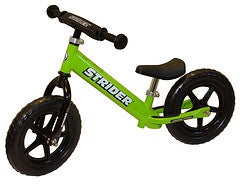 Around here, most kids who learn to ride a balance bike at two are riding pedal bikes by three. This may sound young, but the transition is easy—much easier than going from training wheels. Once they can glide so quickly down a hill that you're sprinting at top speed and screaming for them to stop, they're ready to switch to a bike with pedals and brakes. 
(When it's time to graduate to a pedal bike, make sure you size them correctly. They should be able to put both feet down while still sitting on the saddle. Hold off on the bigger bikes with seats adjusted for pedal-stroke power until your kid is comfortable standing up and pedaling. Otherwise, you'll spend more time pushing the bike to get it going and putting Band-Aids on knees than enjoying riding as a family. The 12-inch Specialized HotRock is a great entry-level two-wheeler.)
When my parents presented Quincy with a Strider (motto: "If your child can walk…your child can ride!") for her second birthday, they knew they were giving her an awesome gift. I'd been talking up balance bikes for quite some time and regretted that we hadn't known enough about them when our older daughter, Siri, was that age. Little did they know, the Strider has also been a gift for Siri. She was hesitant about letting go of her training wheels until she tried the Strider. Once she got comfortable with the feeling of gliding without training wheels, she was ready to pop them off.
For Quincy, who's a very physical kid, the Strider around is the ultimate toy. We take it with us wherever we go—camping, to the school parking lot after carpool, to the post office. We even bring it inside when the weather turns bad so she can spin around the house. 
Baseball fields paved, bike paths, quiet sidewalks are also great places to break out the Strider. When plotting family bike routes, we look for a mix of paved and dirt trails that build skills and are relatively quiet and have good places to stop and take a break. (We like the three-mile Valley Floor loop because the girls have to ride over cattle guards and on mixed gravel, and there's a great place to stop half-way to picnic and throw stones.) It's best to start on fairly level ground, so beginning balance bikers can get comfortable propelling themselves and stopping without the added challenge of a slope. 
That said, though, in Telluride, hills are hard to avoid. Quincy still points to the hill that she climbed up on her Strider and says, "I rode up that." Mean parent that I am, I haven't let her ride down it—not that one, not yet. Her sister did, though. Gliding down on two wheels, Siri looked over at me and said, "I never knew biking could be this fun." Singletrack, here we come. 
——-
Emily Brendler Shoff is a writer in Telluride, CO. When she's not sprinting after her children on bikes, she blogs about getting outside at http://wildflowertelluride.blogspot.com.