The Life and Death of Shane McConkey
Shane McConkey was already one of the most influential skiers in the world, changing everything from the shape of our boards to the way we ski powder. But when he learned to fly—combining skiing, BASE jumping, and wingsuits with spectacular results—he found his true obsession. Then one jump went horribly wrong.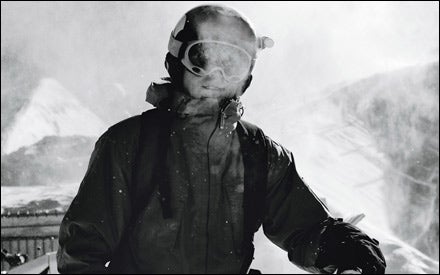 Heading out the door? Read this article on the new Outside+ app available now on iOS devices for members! Download the app.
"We nailed the Sassongher Line today!" screamed the header of Shane McConkey's March 25th blog entry.
Shane McConkey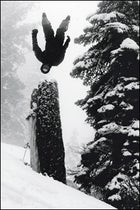 McConkey in Donner Pass, California
Shane McConkey

McConkey evaluates the Sass Pordoi cliff before his fatal jump
Though McConkey, 39, was best known as one of the most inventive skiers of the past 20 years, this particular line interested him for reasons beyond skiing. For more than a decade, he'd been an avid BASE jumper, and here in the Italian Dolomites, on an icy, 45-degree chute on the 8,612-foot Sassongher, he'd found the perfect place to bring his two passions together by pulling off a picturesque ski-BASE. He'd arrived a few days earlier with pro skier and fellow BASE jumper J.T. Holmes, 29, and a four-man film crew from MSP Films (Matchstick Productions). The group headed for the Val Scura couloir, on Sassongher, to explore a feature that only someone like McConkey could get excited about. "About 1/3 of the way down the couloir there is a ramp that slopes up and out to the right," he'd written. "It leads out to a nice field of snow above about a 1,000 foot cliff."
McConkey went first, skidding three or four turns on the firm snow before throwing a big front flip off the cliff, free-falling for a few seconds, deploying his parachute, and gliding down to the snow-covered valley floor. Thirty seconds after he landed, Holmes, who'd straight-lined the snowfield above, flew off the cliff, eventually joining him below. "Today was a good day!" McConkey blogged.
Drawn to parachuting by an innate love of flight, McConkey began skydiving in 1995 and did his first BASE jump in late 1996. He and one of his best friends, Miles Daisher, were being mentored by BASE pioneer Frank Gambalie when, in 1999, Gambalie drowned after he landed a successful but illegal jump off Yosemite's El Capitan and tried to swim across the swollen Merced River to evade park rangers. Their apprenticeship cut short, McConkey and Daisher completed their education together, each filling in the blanks in the other's knowledge. McConkey went on to make more than 700 jumps and thrived on pushing the sport into new territory. He introduced his friend Holmes to BASE in 2002; the following winter, inspired by the Austrian ski-chase scene in the James Bond film The Spy Who Loved Me, which ends with a stuntman skiing off a cliff and pulling his parachute, McConkey and Holmes did their first ski-BASE together off a 400-foot cliff at Lover's Leap, near South Lake Tahoe.
Even as the ambition of their ski-BASE jumps progressed and they used their new skills to explore previously unskiable lines the two ski-BASEd off the Eiger in 2004 they were chafing against the limitations skis imposed on their jumping. "We plateaued with our tricks and our ability to free-fall with skis on," says Holmes, "so we got to a point where it was like, We're going to ski off and do a few flips, but then what?"
Enter the wingsuit, a jumpsuit with fabric pouches sewn into the armpits and between the legs. In the air, the whole suit inflates, turning the flier into a human wing. In February 2007, on a 3,000-foot cliff in Norway, McConkey and Holmes each performed three successful wingsuit ski-BASE jumps, in which they skied off the cliff, released their skis, and flew for about 40 seconds before opening their parachutes. It was the first time such a stunt had ever been attempted. Convinced they were on to something, they returned to Norway that summer, along with Daisher and an MSP film crew, to hone their flying skills. "The wingsuit is the closest thing to nonpowered human flight you can get," McConkey explained in Focused, the resulting MSP segment.
A year later, McConkey went to Italy to BASE-jump in the Dolomites and deemed their jagged peaks and spires the perfect place to push the evolution of ski-BASE once again. This January, he e-mailed MSP and one of his main sponsors, Red Bull. "I have had some goals for quite some time now and would like to make them happen," he wrote, proposing a March trip and including a detailed itinerary, photos of his target= cliffs, and an outline of his goals, the first of which, ski-BASEing off a classic line, they accomplished on Sassongher. His second goal was to do more wingsuit ski-BASE jumps. The third and most audacious goal was to attempt a "double-stager" ski-BASE, in which he and Holmes would ski-BASE off one cliff, land on their skis, cut away the first parachute, and then ski off a second cliff, using a second parachute to reach the ground.
"The double-stager was the new next thing, and Shane was all about the new next thing," says Steve Winter, one of the founders of MSP, who was heading the film crew in Italy. "He's always thinking ahead."
After a few days of scouting, completing the Sassongher jump, and a day off due to bad weather, Holmes, McConkey, and their local guide got on the Sass Pordoi cable car the morning of March 26. They spent an hour and a half studying a cliff they thought might work for a later attempt at a double-stager. At 11:30 A.M., they had coffee at the top of the cable-car line and decided to try a wingsuit ski-BASE from a spot on Sass Pordoi where McConkey had jumped the previous summer and that he and Winter had scouted from a helicopter a few days prior.
From the top of the cable car, they skied partway down a narrow gap between two cliffs before traversing out, skier's right, to a steep snowfield bounded by sheer rock faces above and below. They put their skis on their backs, donned crampons and ice axes for the traverse, and arrived at their chosen cliff at about 1:30 P.M., staring over the edge toward the broad valley 1,500 feet below.
TEN DAYS LATER, it was a sunny spring afternoon at California's Squaw Valley ski area. Some 1,200 people were gathered on the sundeck at the foot of the KT-22 lift for a memorial service for Shane McConkey. McConkey had lived in Squaw since 1993, and the assembled crowd was a diverse group of admirers and friends, luminaries and dirtbags, old ski bums and young, locals and out-of-towners, kids and dogs, mohawks and bald pates, bespoke suits and ragged T-shirts.
The locals stood shoulder to shoulder with the stars of the action-sports world Jonny Moseley, Chris Davenport, Tony Hawk the memorial serving as a tragic gathering of the world's best freeskiers, BASE jumpers, and mountain athletes, all there to pay respects to a man who revolutionized the landscape of their world. McConkey was a leading figure and shaper of the action-sports ecosystem the network of sponsors (Red Bull, Oakley), film companies (MSP, Teton Gravity Research), and competitions (X Games) that enables athletes like him to make a living "sliding down snow and flying through the air," as he once put it.
Miles Daisher, now 40, who'd remained one of McConkey's most frequent jumping partners and is a fellow member of the "Red Bull Air Force," stood at the podium in front of the memorial crowd, shuttling back and forth between past and present tenses while talking about his friend. McConkey's wife, Sherry, whom he'd married in 2004, sat in the front row while their three-year-old daughter, Ayla, danced near the podium. Daisher recounted a conversation he and McConkey had had a few weeks earlier McConkey had just updated his will, and he had urged Daisher to do the same. "He said, 'If I die I want everyone to be happy, to celebrate life, not just my life but your own life,' " recalled Daisher, "'and to laugh and enjoy life to the fullest and do what they love to do.' And I was like, Yeah, yeah, yeah."
From a young age, McConkey had shown signs of an adventure-seeking personality. He spent his early years in Whistler, British Columbia, having been born to skiing parents his mother, Glenn, has won several Master's titles, and his father, Jim, was the head of the Whistler Ski School and had starred in some proto ski films in the sixties. Riding in a backpack as his mother skied, a three-year-old McConkey would shake the pack's support bars while making known what he wanted: "Pow, Mommy, pow" or "Bump, Mommy, bump." When he started skiing on his own, Glenn recalled at the memorial service, he would look back at her if he thought she was going too slow and ask, "Mom, what's the matter with you?"
His parents split up, and McConkey and his mother moved to California when he was three. From age eight until he left for high school at Vermont's Burke Mountain Academy, he raced at Squaw on the weekends and dreamed of the World Cup. He eventually made his way into the U.S. Ski Team's junior program before being cut because he was too small. "Shane became what he was in part because he got dumped from his dream, and he had to create another dream for himself," Glenn said at the service.
After quitting racing and dropping out of the University of Colorado at 20, McConkey delivered pizzas and made his way into some Pro Mogul Tour events. His mogul career was short-lived: He was disqualified for throwing a backflip at a Vail event, and when he re-ran the course naked the photo of his nude spread eagle became an instant classic he earned himself a lifetime ban from the resort.
When he moved to Squaw at age 24, it was the skinny-ski, Day-Glo days, with skiers focused on short turns and a tight, technical style. Into that came McConkey, throwing silky backflips off cliffs, arcing huge, fast turns, and allowing his creativity to run wild over the mountain. "The first time I saw him ski I was blown away," says Scott Gaffney, a ski filmmaker and friend in Squaw.
Gaffney, who was soon working for MSP, cited McConkey's 1995 appearance in The Tribe as the turning point. "He did a double back off a cliff, a huge spread eagle off a cliff naked, and he just kind of said, I'm Shane McConkey, and I'm here to entertain you guys." It was his performance in that new breed of ski films he'd go on to star in two dozen that put him on the map, captivating audiences with his skiing feats and an often sophomoric sense of humor that tended toward pratfalls, nudity, farts, and practical jokes. All of those came together in the 1997 creation of his on-screen alter ego, Saucer Boy, a whiskey-drinking, saucer-sledding, neon-clad takedown of the self-serious ski industry.
But beneath the jester's facade was a serious ambition, an energetic mind constantly focused on innovation. From the mid-nineties on, wherever the leading edge of skiing was, there was McConkey. After winning a number of freeskiing and extreme-skiing competitions, he saw a need for more coordination in the discipline and helped found the International Free Skiers Association in 1996. In the early 2000s, he effectively reinvent­ed big-moun­tain skiing by devising the reverse-camber, reverse-sidecut powder ski. The reverse camber creates a concave rather than convex ski, while the reverse sidecut puts the fattest part of the ski underfoot rather than at the tips and tails. The combined effect keeps the rider floating over powder instead of plowing through it, allowing guys like McConkey to ski big-mountain lines faster and more aggressively. His then-sponsor, Volant, debuted the concept in 2002, after much lobbying from McConkey, with the Spatula, a ski initially scoffed at by some in the industry as looking like a water ski. When McConkey switched over to K2 in 2004, "his first meeting here, he came up and brought a pair of Spatulas and told us what they were and why we needed to pay attention to this new technology," recalls Mike Gutt, then the K2 team manager. A year later, K2 had its first prototype, and in 2006 the K2 Pontoons hit the market. Now nearly every ski maker has a similar model in its lineup.
"I don't think it's melodramatic to call him a visionary," Gaffney says. "He saw things other people didn't, and he saw that he had the skills to pull them off and wanted to be the first to try."
Innovation is rewarded in any field, which is why you find the most talented practitioners always at the forefront, pushing into the unknown. In McConkey's world, the risks were simply much higher: One mistake could kill him.
AS THEY ALWAYS DID before jumping, McConkey and Holmes went through an elaborate preparation process. After dropping off their wingsuits higher on the Sass Pordoi slope, they skied to the cliff's edge. McConkey got on a rope and rappelled down to assess the takeoff and look for obstacles. A clean takeoff was essential, because launching into wingsuit flight required more balance than a standard ski-BASE jump. They then dropped rocks and counted the seconds before they hit the ground 10 to 12, in this case, indicating a straight drop of well over a thousand feet. They plotted ways to avoid a rock bulge on the face and scoped open areas free of rocks and trees where they might land. Everything looked good.
"The only thing that wasn't perfect was the takeoff, but we fixed that ourselves," says Holmes.
The two began piling snow out toward the edge of the cliff to create a kicker to launch from. The sugary snow made it tough going, but by 3:30 P.M. they were almost ready.
Winter, who was at the helicopter base awaiting the go-ahead from McConkey and Holmes, got a text message from McConkey just before 4:00: "We have a jump built on an easy and huge cliff. We are stoked. Weather looks good. Will call when it's time."
Gearing up was a complicated process putting on their ski clothes, then their wing­suits, then their ski boots. It was, Holmes says, "like getting ready for two or three sports at once." Meticulous as ever, they did a "full dress rehearsal," going through their safety list, including checking each other's bindings and their own several times, clicking in and out to make sure the release function was working. Two days earlier, on Sassongher, McConkey had reported on his blog, Holmes "broke the toe piece off of his crappy, old Tyrolia bindings and nearly fell to his death down the icy couloir."
They were using eighties-vintage Tyrolia 480 bindings, picked up secondhand at ski swaps and online, as part of a jury-rigged system born of necessity: They couldn't fly their wingsuits with skis on, so they had to devise a simple way to release them midflight. The solution they came up with made use of a unique feature of the Tyrolia 480's: Their heelpieces are released by pulling up rather than pushing down, as in most bindings. This enabled them to rig leashes with handles to the bindings. They secured the handles to their thighs with Velcro, allowing them to reach down, pull, and pop their skis in midair while maintaining a stable, belly-down flying position.
Wearing a bright-yellow shell, baggy brown ski pants, his Red Bull helmet, and wraparound sunglasses, McConkey had his skis on and was stomping out loose snow. As he explained to Winter in a text at about 5:00: "We made a mistake with our jump, had to build a new one. Done and gearing up. Light is good here, wind calm, stand by."
"We were excited about that cliff," recalls Holmes. "We said to each other several times, 'Oh yeah, this is going to work well.' "
When Holmes and McCon­key were satisfied with their launch and their gear, they called Winter and the MSP crew to tell them they were ready. "Have a great time, man," Winter said to McConkey. It was the last time they spoke.
THERE'S A LONG-RUNNING debate about the culpability of sponsors, filmmakers, and magazines like this one in pushing athletes to do the next big thing, taking ever-greater risks to keep themselves in the spotlight. McConkey, in fact, did much to open up the path to sponsorships and to making a living for extreme athletes like himself.
Mike Jaquet, McConkey's college roommate, started Freeze magazine in 1996 to showcase the burgeoning freeskiing scene that mainstream publications were ignoring. "When I was running Freeze, the toughest part of my job was going to some of these contests and photo shoots," he tells me. "The desire to push some of these sports into a first trick or a first whatever can have such horrible consequences every now and then."
"I've been out of this business for four years now," he says, "and it still kind of pits my stomach."
But while McConkey was a born entertainer and thrived in front of an audience, that sponsorship dynamic didn't exist when he was starting out. In college in Boulder, well before an action-sports career was even a thought, he was already watching and rewatching Bond stunt scenes and spending his weekends skiing off ever-higher cliffs (he got up to 98 feet) and teaching himself to paraglide.
"I can see both sides of that argument," says Jaquet, "and usually I come down on the caution side, but in this case, with this man in particular, I knew him since he was 19, and he was putting himself at risk to explore the limits of the sport then, ten years before he became a pro freeskier. You absolutely cannot put him into that typical argument of whether he should or shouldn't be doing this."
More often, McConkey had to convince his sponsors instead of the other way around. "We're not going to let anyone push us to do stupid things and get ourselves killed," Daisher says. "All the stuff that we do, those are our ideas."
As K2's Gutt explains, "Initially, we didn't want to have anything to do with BASE jumping." But after two years of badgering by McConkey, they bought him a K2-logoed parachute. "Everybody had their reservations," says Gutt, "but it just slowly evolved into 'OK, this is our athlete.'"
In the days that followed McCon­key's death, as spontaneous tributes sprang up in snowbound locales and the Internet lit up with thousands of comments from admirers and friends, critics and some press coverage focused on another fact: that a 39-year-old with a wife and a three-year-old daughter was attempting such a stunt at all. "Members of that adrenaline-addicted community might consider asking themselves two questions," writer Austin Murphy suggested on Sports Illustrated's Web site. "How much do I love my wife and child, or children? How long can I stay undefeated?"
Other press reports called McConkey a selfish "daredevil" who spent his days "dicing with death." While supporters countered with a phrase often heard in mountaineering and other high-risk communities that he died doing what he loved in the comments section of an ESPN.com article, people blamed McConkey's sponsors, called him an irresponsible husband and father, and said he'd brought it on himself.
To those who knew McConkey, it was an infuriating case of outsiders rendering judgment on something they did not and perhaps could not understand. "It's so frustrating to me that there's been comments that he was a daredevil, leaving his family and all that kind of stuff," says his wife, Sherry, who met Shane on a mountain-bike ride in Tahoe in 1998. When they married in Thailand in 2004, the three-week celebration included BASE jumping, scuba diving, rock climbing, and streaking. "He didn't have a death wish, he wasn't a daredevil, he wasn't stupid," she says. "Whenever he did things, he calculated them beyond what anyone could imagine. He was so precise."
McConkey's focus and precision had only grown as he'd aged his recent stunts were arguably safer than some of the ill-considered ones he'd pulled in his twenties and he had matured into a professional as well as a family man, a husband and father. When he deemed something unsafe, he walked or skied away, and he was contemplating the next stage of his career, hoping to turn more to ski design and his real-estate investments. He was away often, but, says Sherry, "when he was home, he was home, and he was an amazing father to Ayla."
"I couldn't understand how people would think I would stop him from doing something he absolutely loved," says Sherry. "It would be like caging an eagle."
JUST BEFORE 5:30 P.M. on March 26, the preparations were finally complete on Sass Pordoi. Holmes launched first. He executed a double backflip, pulled on the cords to release his skis, and flew his wingsuit for about 18 seconds before deploying his parachute. He opened lower than he'd expected probably just a couple hundred feet off the ground but landed safely in a snowfield with small trees nearby. "I remember thinking to myself that part of the reason the cliff seemed maybe higher than it was was because the trees were so small," Holmes recalls. He caught his breath and took off his helmet. Thinking McConkey had yet to jump, he pointed his helmet cam at the cliff, excited to get a good shot of his friend.
But McConkey had already jumped skiing down the approach and launching cleanly into a smooth double backflip. When he yanked the handles to release his skis, the right one popped off, but his left ski failed to. To make matters worse, the released ski had somehow become entangled with the one still on his foot.
"We knew something was going wrong," says Winter, who saw it from the helicopter, "and me and the pilot were the only ones who could really see what was going on."
McConkey reached for the heelpiece of his left binding with his left hand, but this caused him to become inverted, which meant, as Holmes says, "he didn't have an eye on the ground." It also meant he couldn't safely deploy his parachute without risking almost certain entanglement in his skis. But he never went for his parachute, believing, it seems, that he could fix the problem in time to right himself. His movements were deliberate: He managed to pop the ski off, turn himself over, and get into a stable flying position.
"He turned to fly away and everything looked perfect," says Holmes, who watched the footage afterwards. "Had he had another two or three or four hundred feet, he would have opened his parachute and been fine. But unfortunately, he was out of altitude, and the ground hit him immediately." McConkey was killed instantly.
Winter and the pilot flew down to look for McConkey. They happened on Holmes first and, mistaking him for Shane, were shocked to see him sit up. They flew on and found McConkey. Minutes later, Winter says, the rescue helicopter they'd called arrived on the scene and an Italian team took over. "There was nothing we could do," Winter says.
Rumors of McConkey's death rippled out immediately and were finally confirmed in an official statement from Scott Gaffney of MSP. "It was the worst phone call of my life," says Gaffney, and his reaction echoed what so many of McConkey's friends felt: first, disbelief, because though they all knew the risks involved, the normal rules just didn't seem to apply to McConkey; and after that, an emptiness. "It didn't seem real."
Daisher got the news in Mexico, where he was preparing to skydive into a bullring. His wife had called and asked him to sit down. "It was like a kick to the soul," he told me.
"When something like this happens, there's so many what-ifs," says Holmes. "You think about them all day long. It's kind of like poison." Holmes thinks that perhaps they misjudged the height of the cliff. Maybe McConkey thought he had another couple of seconds to work with, but without an eye on the ground, he had no way of knowing how low he was. He also, Holmes says, would've known that he had almost no chance of cleanly deploying his parachute with his skis in the way and his body inverted. In the end, says Holmes, who has McConkey's gear and plans to do a full assessment of it, "it all came down to the fact that those skis didn't come off when they should have."
THROUGHOUT THE MEMORIAL weekend, the hundreds of friends who came to Squaw found distraction from their grief on the mountain and in bars. They skied and drank and reminisced. Rat packs of pro-level skiers tore up the crusty spring conditions. A group did naked spread eagles on one of McConkey's favorite runs, and the lift tickets were printed with a simple tribute: THANK YOU SHANE.
The night before the service, Daisher watched highlights of a recent BASE-jumping trip he and McConkey had taken to New Zealand. He had been trying to abide by his friend's wishes to celebrate his life, but when he took off his glasses, his eyes were red and puffy, and as he watched the video he alternately laughed and bit his lip.
"My plan is to be on the front porch in a rocking chair when I'm 80, telling my grandkids about what their grandpa used to do and popping in a DVD to show them," said Daisher, who has three children of his own. "I'm gonna be careful like I always have, but if anything I'm gonna go jump more and celebrate his life and mine." The day after the memorial, Daisher was one of 23 McConkey friends who did a tribute BASE jump at an undisclosed location.
The weekend saw its share of laughter, and as his friends told stories, McConkey's notorious sense of humor helped cushion the blow. His final prank, which Holmes recounted at the end of his speech, played out after the accident. Trying to get home from Italy, Holmes found he'd been robbed, the $650 in his wallet gone. "I was lugging both Shane's and my gear through security when it occurred to me where my money might have gone," he said, referencing one of McConkey's favorite jokes: stealing the cash out of a friend's wallet, waiting until he tried to pay for something, and then breaking into laughter. "I opened up his bag and checked Shane's wallet and, sure enough, there was all my money. I laughed out loud. That was a pretty good one, Shane. The whole dying-in-the-meantime part really added to the delivery of the joke. You got me good one last time. I miss you, bro."
Trending on Outside Online