The Top 10 'Outside' Bike Towns
Heading out the door? Read this article on the new Outside+ app available now on iOS devices for members! Download the app.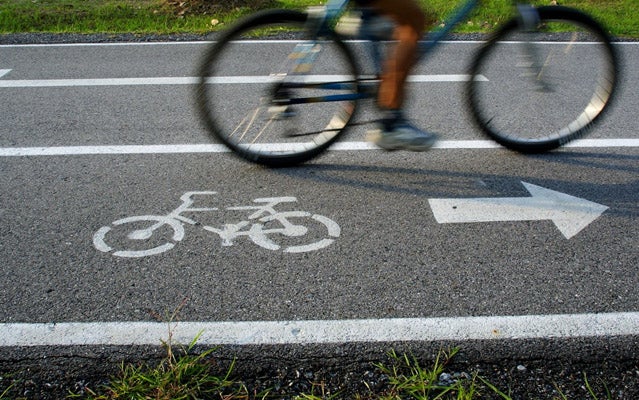 Photo: thebezz/Shutterstock.
Last week, the League of American Bicyclists updated its list of the most bike-friendly communities in the United States and Walk Score, an organization that rates rental properties based on the walkability of the surrounding neighborhood, charted new territory with Bike Score, a list of the top 10 bikeable cities. Both of these groups use things like biking infrastructure and amenities, such as connecting bike lanes with public transit, to put together their rankings.
But from an Outside perspective, good cycling means more than bike lanes and flat routes for commuting to work. We want interesting topography, and sometimes that means a lung-burning ascent or two (or three) on scenic roads. We want sweet singletrack and solitude, but we also want great places to gather for a post-ride drink.
Herewith, the top 10 Outside bike towns. The list is based on the magazine's Best Towns ranking tool, with road biking and mountain biking turned all the way up to 11. We then adjusted the list to boost the ranking of towns that also appear on the League of American Bicyclists (LAB) top spots and Bike Score's top 10.
1: Tucson, Arizona: This college town is surrounded by mountains but also hosts more than 700 miles (!) of bike lanes, two factors that puts Tucson on top of the Outside list and also earns it big points in both the LAB and Bike Score lists.
2: Boulder, Colorado: No surprises here. The city "everyone loves to love/hate" lands at number five in the Outside ranking, but it gets a boost by being one of LAB's cherished "platinum" destinations.
3: Durango, Colorado: You can access 1,000 miles of mountain bike trails from this town of just under 17,000, and then ride to one of its many microbreweries to replenish some calories. Durango also hosts the Iron Horse Classic and this August will kick off the USA Pro Cycling Challenge.
4: Madison, Wisconsin: Who doesn't love Madison? It scored high in all three lists and is home to bike makers (most famously, Trek) and bike advocates alike. Plus, as one Best Towns voter noted, it's  "one of the few places you can bike, paddle, or ski to work."
5: Missoula, Montana: Missoula might conjure images of gun racks and stetsons, but add some bike racks and bikers to the picture. Missoula advanced from LAB's silver rating to gold this year. The town also has one of the highest bike-commuting rates in the country, at seven percent.
6: Burlington, Vermont: The first East Coast burg on the list, it scores the numero dos spot using the Outside ranking tool, but it fails to earn gold in LAB's list. On the upside, Burlington offers a network of rails to trails that'll get you through town, and out of it, on two wheels.
7: Ashland, Oregon: There's more than Shakespeare thespians in this mountain hamlet. It boasts smart, bike-friendly planning that makes sharing the road mandatory. And beyond the asphalt, trails abound outside of town.
8: Flagstaff, Arizona: This town is known for its elevation, but one doesn't need to climb far from city center to find great cycling. When the 42-mile Loop Trail is complete, it will feature 30 miles of singletrack.
9: Santa Fe, New Mexico: The biggest problem a Santa Fe cyclist faces on Saturday morning is deciding between her road bike and her mountain bike. But the 400-year-old city needs more bike-friendly infrastructure to tease people out of their cars.
10: Chico, California: Poor Chico. It kinda sits in the shadow of its southern neighbor, Davis, a.k.a. Bike Town USA. But it offers great access to trails outside of town and a good network of bike lanes, with plans to further improve its bike infrastructure.
—Mary Catherine O'Connor
@mcoc
Trending on Outside Online