Evelyn Stevens on Her Journey From Wall Street to London
Evelyn Stevens, a cyclist for Team Specialized-lululemon, talks about the progression of her cycling career after leaving finance to pursue professional bike racing in 2009.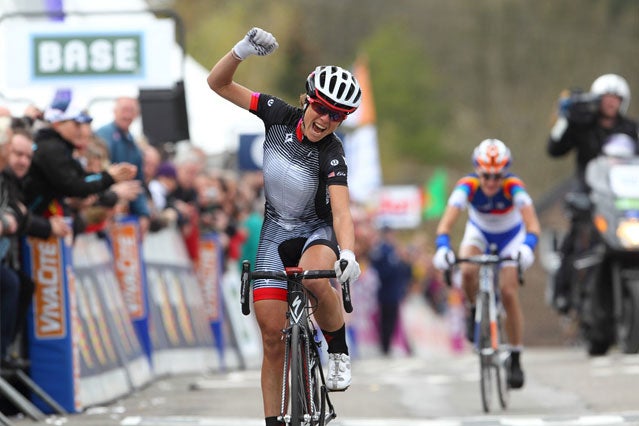 CJFoto.com(Photo)
Heading out the door? Read this article on the new Outside+ app available now on iOS devices for members! Download the app.
Evelyn Stevens officially secured a road spot on the USA women's cycling team for the 2012 Olympics today, but she had never even raced professionally until a year after the Beijing races concluded. Instead, she studied at Dartmouth and worked on Wall Street for four years until quitting in the summer of 2009 to pursue cycling. A mere three years later, she has two national time-trial championships and a Fleche Wallonne overall victory under her belt. Next stop: London.
Where has the Olympics been in terms of your life goals?
You mean four years ago? [Laughs.] If someone had said, "Hey, do you want to go to the Olympics?" I would have answered, "Yeah, I would love to go to the Olympics, and then I would love to fly."
I've loved the Olympics since I was little; I've watched every summer and winter Games. The summer of 2008 was definitely a stressful time in New York City because of the economy, so the Beijing Games was always an outlet for me to go to another world. The exciting thing about the Olympics is the stories of the people. It's one of the few sporting events you watch where NBC cuts in and tells you about the gymnast's story or the kayaker's story and what they've done to get to that level. That, to me, is one of the best things about the Olympics. It's an amazing honor to represent the United States.
Congratulations on your recent Exergy Tour win. Were you expecting a victory?
I knew we were going in with a really strong team. Obviously, it's an Olympic year, so I knew I wanted to be riding well and performing well. I was hoping that either I would win or one of my teammates would win.
Why cycling?
I've always been really into fitness. If I don't exercise, I don't really feel sane. My sister is a really active and enthusiastic cycler, and she's actually the one who introduced me to riding. I went to visit her for Thanksgiving 2007, and she signed me up for a cyclocross race, which is a hybrid between road and mountain. It was my first time being clipped into pedals, and I was awful. I crashed a bunch, but I had the most fun ever; I loved it. I came back to New York City and decided to buy a bike. I had just switched jobs, and I had a little bit more free time. People always ask what I enjoy so much about riding a bike. For me, it's a sense of freedom. You just feel like you're flying when you get on a bike. That's why I started riding and why I kept at it.
You bought your first racing bike in 2008, but didn't leave Wall Street until 2009. What was that decision-making process like?
When I bought my first bike, I was living in New York and working full time, and riding in New York City was actually quite intimidating for me. The bike was there, but I didn't really do too much with it. It was mostly used for me to hang my purses. Finally, a friend encouraged me to ride in Central Park, and I loved it. Then this same friend encouraged me to go to a clinic that introduced women to bike racing on June 1, 2008. I'm glad I didn't know what time it was before I said yes because I had to be there at 5:30 a.m., and I'm not much of a morning person. It's a good thing I committed first because usually when I commit to something, I follow through. I didn't win the race, but I loved it, so I decided to keep racing. I started to win beginner-level bike races that summer. I was working full time and would do races on the weekends in my spare time.
The next year, I hired my first coach and started following an actual training plan. I moved up in categories and was still winning bike races, and I came to a crossroads in my career. I had done two years of investment banking and two years at a mezzanine fund. Most people go to business school, but business school didn't make sense to me at the time. I was craving something new and adventurous. I felt I had this opportunity and this ability, and I decided to take a massive risk and say yes to it. I didn't have any pro contracts; I had never won a pro race. When I left my job, it was pretty uncertain what I was doing, but the first weekend after leaving I won my first pro race. I got lucky that it all worked out.
What did your co-workers think of your decision? What about friends and family?
My close friends and my family are very supportive of what I'm doing, but I think in the beginning most people thought I was just off touring around on my bicycle. Now, with the Olympics coming, I think it's starting to register a bit more. Once people see what I'm actually doing, it's pretty exciting for them to follow a sport they didn't know much about before.
Was there a specific moment that cemented for you, "Yes, I made the right decision; I should be biking"?
The moment I knew I had made the right decision was probably during that first summer. I left Wall Street at the end of June/early July, and in August I went over to Europe with the national team and did La Route de France. In the beginning, I kept crashing. I crashed three times, and after the third crash, I remember thinking to myself, "Oh gosh, maybe I don't belong racing in Europe." Halfway through the race, I got myself in the break and I ended up winning the stage. That was a really good turning point for me in cycling. I realized I could survive in Europe and it was a good decision for me to make the change.
What do you consider to be the biggest accomplishment in your racing career so far?
Winning Fleche Wallonne this April was by far my biggest victory. It's an iconic race in the world of cycling. We race at the same time as the men, and we finish at the men's finish. You have so many fans; cycling in Belgium is like NFL football in the United States. Right when I started, I wanted to win that race, but it wasn't until the week before the race that I actually started to believe I had the ability. 
You mentioned part of the Fleche Wallonne's appeal is the parallels it draws with the men's race. How do you feel about the differences between men's and women's cycling as the sport becomes more prominent?
I really feel like women's cycling is on the up. There's definitely a discrepancy between male and female cycling, but I think the best thing to focus on is the momentum women's cycling has right now. The Exergy race in Idaho was a perfect example of how exciting women's bike racing is and how many fans it has. I think if we get a little more coverage and a bit more exposure, people are really drawn to the sport.
I'm actually training with some pro men right now, and I think sometimes they're surprised that I can stay with them. I feel like I'm a professional and they're professionals. We're doing the same job; we just race in different fields. It's like when I worked with men in investment banking; it's not massively different. I think sometimes people don't realize that, but once they see the sport of women's cycling, it really draws a lot of people.
A Wall Street Journal article from early in your professional career claims you have some physiological benefits that make you naturally better at cycling. What are your thoughts on that theory?
My theory is most top-level women cyclists have similar physiology to me. I think my timing helped. I started when I was 26, and I think it's actually better for endurance to be a little bit older. I also had more life experiences, so by the time I started riding, I knew that was exactly what I wanted to be doing, and it's easier for me to really focus on it. I just want to become as great as possible, and I want to do it as quickly as possible. I'm completely, 110 percent focused on accomplishing my goals. But with my physiology, I think it's probably comparable to most of the women in the peloton. Another thing about cycling is you can have really strong physiology, but you might not actually race that well. You have to have a good combination of physiology and mental strength.
What advice would you give someone who is considering leaving their career for something a little more unorthodox?
I say go for it. You only live once. If you don't really feel like you're living in your job, then it's probably time to look for something else. Everyone always tells me, "Oh my goodness, you must get paid so much less," and all this stuff about leaving a job in finance. My pay has gone down considerably, but my quality of living has gone up considerably.
Lead Photo: CJFoto.com