The Wonderful World of Mountain Unicycling
Why haven't you tried it yet? Sure, it looks awfully hard and it can be difficult to grasp the basics, but once you master riding on one wheel, whole new experiences will open up to you.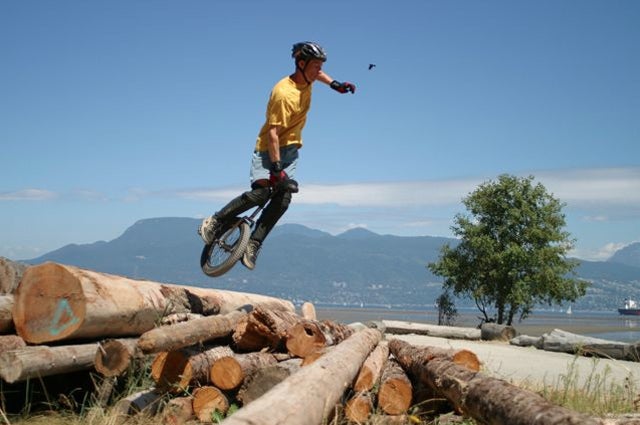 Heading out the door? Read this article on the new Outside+ app available now on iOS devices for members! Download the app.
Last summer, a friend and I hiked our cycles into the Coast Mountains north of Vancouver, British Columbia, to a ridge overlooking the coastal town of Britannia Beach. Our objective was to ride a notoriously steep trail called Disneyland that descends almost 5,000 feet from the alpine to the ocean. His choice of ride: two wheels. And mine: just one.
After a few hours of ascending through steep bush and broken rock steps, we finally emerged into the alpine and dropped our collective three wheels onto a trail descending rock chutes and rooty singletrack. At the end of Disneyland, it was another first unicycle descent, in a sport that's wide open to firsts just about anywhere you care to look.
I've always been fascinated by simplicity. Stripping gear to its essentials seems to strip away the stuff that otherwise insulates you from what you're trying to experience. My original interest stemmed from am obsession with rock climbing in the '90s, with its ethic of minimalism and freedom to define your own adventure. But even before I'd become obsessed with climbing, an encounter with a unicycling street performer in 1986 inspired me to learn a sport that, 25 years later, has grown to shape my life.
Mountain unicycling, or muni, involves riding a unicycle over the same trails as mountain bikes, from easy gravel paths and dirt roads to technical climbs and steep descents. Unicycle trials riding, like bike trials, involves riding over urban and natural obstacles. After dwelling in near total obscurity throughout the 1980s and '90s, in the past decade thousands of mountain and trials unicyclists have discovered that you can ride the same terrain as bikers, from easy ground to terrain that would be tough for even the experts on two wheels.
At the same time, public awareness of mountain unicycling has grown somewhat, but not nearly to the point where the sport is well-understood. After our Disneyland descent, my friend and I returned to the city and I grabbed a coffee, sipping while unicycling along a flat sidewalk, my dog beside me on leash. Predictably, this drew stares, applause, and even a question: Can you ride downhill?
This lack of awareness about unicycling is partly the fault of the sport itself. It's tough to learn, and it takes persistence to ride that first few meters. I've lost count of the number of people who have tried it only once, and then told me it is impossible. If you've only seen videos, you would be forgiven for thinking that mountain unicycling is just about big drops and gnarly descents. But that would be like reducing the entirety of skiing to big mountain films, or thinking that there is nothing to biking beyond freeride action videos. And if you think riding on one wheel sounds unlikely, try explaining bicycling to a non-rider, or justifying pedaling uphill to a motor biker. The unlikeliness has to do with its rarity; otherwise it's not that different.
It turns out, in fact, that offroad unicycling isn't very limited at all. A casual ride on an easy path? Try it out. There are few better ways to de-stress and get a core body workout. Forty kilometers of singletrack? Go for it. You'll be tired by the end, but isn't that part of the point? And take your dog. You'll travel at a more compatible pace than when on a bike and, if you have to, riding with a leash is no hardship with free hands. Bored with the same old mountain bike loop? A single wheel will let you re-experience it in a totally different way. It's an uncommon sport that is perhaps the most underestimated in all of cycling.
Yet a sticking point remains: it looks awfully hard. So how do you get started? What is missing is a manual, something that kick-starts the experience so that riders see the potential from the outset without having to start from scratch. A few years ago, I started putting my experiences on paper, and the result is The Essential Guide to Mountain and Trials Unicycling. It's partly a guidebook and partly a showcase of what mountain and trials riders around the world already know: that these sports open up a whole new perspective on riding that goes far beyond what some people might imagine.
Kris Holm is one of the early mountain and trials unicycling pioneers, and an ambassador for the international business alliance 1% For The Planet. Kris is sponsored by Five Ten Footwear and Horny Toad Activewear.
Trending on Outside Online