Meet Joe Dombrowski, the USAPCC's Youngest, Strongest American
Heading out the door? Read this article on the new Outside+ app available now on iOS devices for members! Download the app.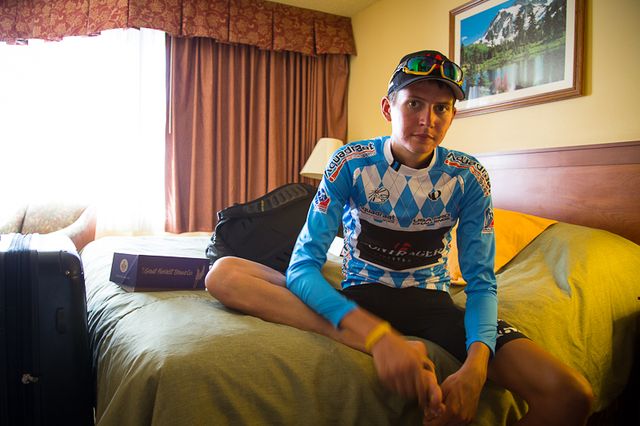 Joe Dombrowski. Photo: Shawn Lortie
All the talk at this year's USA Pro Cycling Challenge is the
American contenders: Levi Leipheimer, Tejay Van Garderen, Christian Vande
Velde, Tom Danielson. Because of the combination of high altitude and racing on
familiar terrain and the extra motivation of winning in front of a home crowd,
the U.S. cyclists are dictating the race.
But one name you might not have heard yet is Joe Dombrowski.
In just his second full year of racing with the Bontrager Livestrong
development team, the skinny, 20-year-old climber is a total newcomer to the
scene. But what he lacks in longevity, he's made up for with results. Prior to
his first appearance at a pro-level race two years ago (the 2010 edition of the
Tour of Utah), this Virginia native's racing experience amounted to a season of
casual, sport-class mountain biking. Since then, he has racked up an impressive
string of results, including third overall at the 2012 Tour of the Gila and
fourth overall at this year's Tour of Utah. In May, he showed considerable
poise when he outgunned some of the best climbers in the world to finish
fourth on the prestigious Mt. Baldy stage at the Tour of California. And he
followed that up with a searing stage victory on the Gavia to seal the overall
win at the Under-23 Giro d'Italia.
On Stage 2 of the USAPCC, he rolled in seventh on the day
alongside climbing ace Tom Danielson and slipped into the best young rider's
jersey. We caught up with this up-and-comer after the race.

You finished seventh
on the day and picked up the best young rider's jersey.
Congratulations! How was today's stage?
It went pretty well. It was a pretty fast start again today.
Eventually a break went away, and then things steadied out 'til the end. It really
ramped up with 15 kilometers to go. I wouldn't call it a mountaintop finish; it
was more like a little hill. It's actually a really short climb, only five
minutes or so. But the altitude has a big effect, and as soon as we hit
that final rise it split up really quickly. For as short as it was, it was
really hard.
Back up and give us a
little history. You've only been racing a short time, right?
I didn't start racing until 2010, when I was 18. I did a year
or two of mountain biking before that and a little cyclocross, but it wasn't
serious. I'd race once a month or so. Then, through a mutual friend, I got in
touch with my director, Axel Merckx. He obviously gets a lot of emails from
kids, but for whatever reason he took some interest in me and he invited me to
race the Tour of Utah in 2010. I guess it went okay because I got invited
back the next year. So 2011 was my first full year of racing.
I know a lot of
racers come up through the junior development program and have been racing for
years and years. How have your peers taken it that you've just sort of walked
into this world and started beating everyone?
I think it surprised some people, but everyone has been really
cool. It was actually really tough for me to begin with. I was really
strong and fit and I was doing all the training right, but I had no idea how to
race my bike. I didn't know anything about the positioning, and I was really
nervous in the peloton and felt uncomfortable to be at the front. So I'd sit
really far back in the group and than have to ride across a big gap to make the
moves. I was relatively successful to begin with. But while that might work in
the U23 races, when you come to bigger events like California and
Colorado, where everyone is fast, you just can't ride like that. So I've had to
learn a lot, but I guess I'm doing okay.
Did it surprise you
to do so well so quickly?
I would say so. My first time racing in Europe was May of last
year. I did this U23 race called the Ronde de l'Isard. It's a fairly
prestigious three-day mountain race in France. I was totally shocked at the
speed and the aggressiveness of the peloton, and the way they dodged all the
road furniture. It felt like everyone had so much experience, and honestly I
was scared. It was a shock at first, but over the course of the three days I
settled into it. I ended up third overall and won the King of the Mountain
jersey.
I was driving right
behind you in the Tour of California on the stage to Mt. Baldy, and it was
crazy to see such a young racer riding wheel for wheel with guys like Horner
and Gesink. Was that intimidating?
I distinctly remember that day and making the left onto
Baldy Road. I looked back and there were 10 guys left, and I was thinking, Okay,
what do I do now? You know, it hadn't been that hard yet and I was just
wondering whether I should attack or whether I should wait and see. I figured
something had to happen. But yeah, that was definitely one of those moments
when I wondered, What am I doing here?
From there you went
to the U23 Giro d'Italia, which you won. Tell me about the stage on the Gavia.
Epic is for sure the word to describe that day. I've never
done a day that big on the bike, not even California. I think we did 5,200
meters of climbing. I finished in 5.5 hours, and I'm pretty sure most of the
group was well over six. It was a nasty day. Coming into that stage, I had
already won Stage 4 and taken the leader's jersey, but then I lost it the
following day when I flatted on the Strade Bianchi. I was three-and-a-half
minutes back on the overall, so I just thought, I have nothing to lose. I have
to go for it.
The Gavia was the final climb, and we hit it with 18km to
go. It was do or die, and I made my move at 13km and soloed from there to the
top. Our team car flatted just before the final climb, so there was really
nobody with me. Then, with 7km to go, my DS came up in the Dutch national car
and told me I had 40 seconds. He said that all I had to do was hold that margin
to win. It was motivating but also scary. You're suffering so much and you know
you have 30 minutes still to ride. But if you know you can win the Giro, you
definitely realize that you could do just about anything for 30 minutes.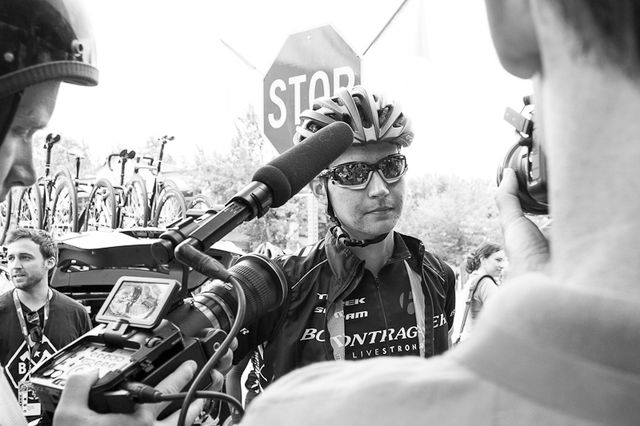 Joe Dombrowski talks to the media after Stage 1. Photo: Shawn Lortie
Who are your heroes
in cycling? Is it strange to be not only riding alongside legends like George
Hincapie and Cadel Evans, but to be beating them?
I would say it's the elder statesmen of American racing,
guys like Chris Horner and Christian Vande Velde. At California, I remember
Levi and George and guys like that coming up and congratulating me on my ride
after the race, and it was kind of a big deal. But the more I'm around it the
more normal it all seems. It's cool to get to talk to these guys who have been
doing it for so long. And here in Colorado, it's really cool for them to
acknowledge me as a legitimate threat in the race.
This is your first
time racing Colorado—what are your impressions?
It's been amazing. California was pretty eye opening, and
Utah was a good race too. But I didn't see the same response from the crowds at
those races that I've seen here. The fan turnout is just massive. Considering
that this is the second year, it's amazing to see so many people out there and
so psyched to have the race come through their home towns.
Stage 1 was an interesting and pretty strange
day of racing. It was really fast and hard from the start. It's pretty unusual
to see guys like Tom Danielson and Nibali make a big break like that, and the
peloton really had to work hard to bring it back. It made for a fast and fairly
uncomfortable day of racing, but I think the team did pretty well.
What are your goals
for the rest of the race?
I'd like to … maybe it's a bit of a stretch, but if I could go
for a stage win that would be great. I'm thinking that the Flagstaff stage
could be a good opportunity. I've done it a number of times in altitude
training camps, so I know it pretty well. They're not doing the whole climb, so
it's maybe a bit short for me. It's a 14- or 15-minute climb, so it's a little
short for what I like. But then you have to consider today's stage, and given
that this was only five minutes and everything blew up … I think it's possible
you could see some real fireworks.
I've seen you referred to as the next big thing in American road racing.
Is that kind of pressure difficult?
For me, not really. I'm pretty low stress all of the time.
Whether I'm in yellow or not doing so well, I'm pretty even keel. It's nice
that people are saying that stuff, but I just want to do my thing.
What are your
long-term goals?
Next year I'm planning to turn pro, so I just want to make a
smooth transition. In the long term, I'll go as far as I can with it. If that's
being a domestique and grabbing bottles, that's great. If that's winning the
Tour de France, that would be great too. Right now, I just know that I love
racing my bike and I want to be the best I can.
—Aaron Gulley
Trending on Outside Online