NICA Makes Mountain Biking the Newest High School Sport
Heading out the door? Read this article on the new Outside+ app available now on iOS devices for members! Download the app.
Photo: Phil Beckman/PB Creative
Last week the International Mountain Bicycling Association (IMBA) brought its biannual World Summit to Santa Fe. In addition to test-riding some sweet 29er bikes from Specialized, Yeti, and Santa Cruz, I got to sit in on a bunch of brainstorming sessions with fat-tire advocates from around the country about how to grow the sport, expand trail networks, and get more people on bikes, period.
One huge market, of course, is kids, and a standing-room only discussion devoted to youth cycling initiatives revealed a slew of cool new projects geared at getting children hooked from a young age. Most notable is the National Interscholastic Cycling Association (NICA), a non-profit devoted to making mountain biking a high school sport, just like soccer and football.
NICA bills itself as a youth development program whose mission is to strengthen mind, body, and character using bikes as the medium. Founded in 2009, it grew out of the successful NorCal High School Cycling League, the first scholastic mountain-bike racing program in the country. Now there are more than a thousand high school students racing in NICA leagues in seven states: California, Colorado, Utah, Minnesota, Washington, Texas, and Utah, where the debut race, in Park City last month, drew more than 230 riders. And when New York, Tennessee, and Arizona launch their leagues—currently in R&D—next year, NICA will be coast to coast.
NICA races are co-ed for kids in grades 9 through 12, and there are no tryouts. "The spirit is, everyone rides," said Austin McInerny, NICA's education director. While some kids do race internationally through USA Cycling, a vast majority of NICA racers are brand new to the sport. "Ninety-nine percent are just learning to ride a mountain bike," said  McInerny. A typical interscholastic mountain bike season—either spring or fall—has four to six weekend races, and when students aren't racing or practicing, they're learning to become trail stewards. "Imagine telling the football team they have to seed the field, mow the field, put lines on the field?" McInerny asked the room. "To mountain bike, you need to maintain your bike, your body, and your trails. We're teaching athletes that trail work is just something you do if you want to compete. It's not special. It's standard."
In addition to grooming the next generation of riders and advocates, NICA's cultivating an even bigger posse of fat-tire enthusiasts. Said McInerny: "When kids ride, their parents start riding, too. There's a phenomenal spillover effect."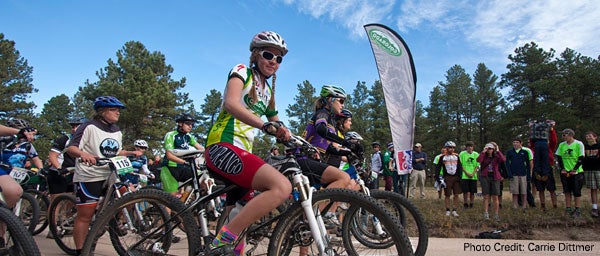 Photo: Carrie Dittmer
At its current pace, NICA launches three new state leagues per year, and it takes about a year to train volunteer coaches—the organization also has an extensive licensing program—build teams, organize race schedules, and enlist a herd of volunteers to put on the races. To learn more about submitting a bid to start a league in your region, go to www.nationalmtb.org.
—Katie Arnold

@raisingrippers
Trending on Outside Online