And You Call Yourself a Ski Bum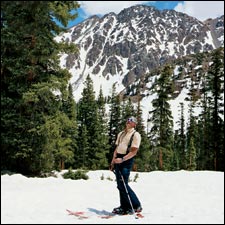 Heading out the door? Read this article on the new Outside+ app available now on iOS devices for members! Download the app.
Still bragging about that one winter after college when you got in 100 days of skiing? Well, if all goes smoothly, on July 27 Rainer Hertrich will board a lift at Oregon's Timberline Ski Area for his 1,000th straight day on the slopes. The 45-year-old telemarker has been following winter from Colorado to Oregon to Argentina and Chile since November 1, 2003. His one requirement for a day to count toward the record: "Put your skis on and ski." The marathon effort will earn Hertrich a spot in the Guinness Book of World Records, which created the consecutive-days-skiing category at his request. During his 1,000-day run, which he has no plans of stopping, he has managed to rack up some other impressive numbers.
Rainer Hertrich

RAINER SHINE: Hertrich at Arapahoe Basin, Colorado, on May 18, 2006
26: Number of ski areas visited (12 in North America and 14 in South America)
20: Number of white spots on his face ("They're either skin cancer or remnants from years of frostbite.")
25: Approximate number of times he's almost quit ("I either felt like shit, I knew the snow would suck, or it was cold as hell.")
2: Times he's preserved his streak by hiking up for predawn runs in Oregon, then flying to Santiago, Chile, and hitting the slopes at Valle Nevado by 10 a.m. the following day
288 (and counting): Unopened e-mails he's received from Arnie Wilson, a British journalist who once skied every day for a year ("He seems to think it's a special relationship between us. I'm like 'You're just some guy over in England, man. I don't even know you.' ")
-20: The lowest temperature, in degrees Fahrenheit, he's endured during his run (December 2005, at Copper Mountain, Colorado)