Yes You Can: Go Heliskiing
The ultimate guide to the greatest ski adventure of your life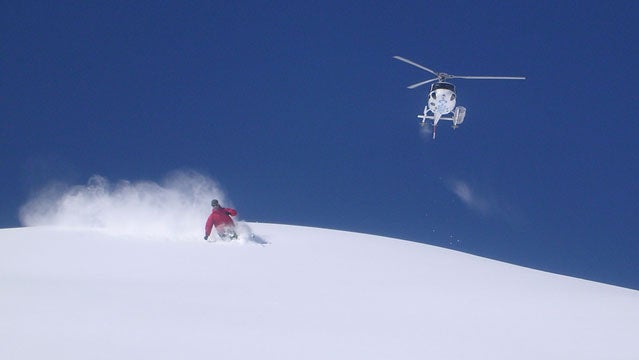 Heading out the door? Read this article on the new Outside+ app available now on iOS devices for members! Download the app.
Dream of pristine powder and glittering, snow-covered peaks? Of gliding down endless runs with nary a chairlift or snowmobile in sight? Sure, you could hike to sick slopes, but if you want to set a personal record for most vertical feet skied in a single day, look to the skies. Ski utopia is just a helicopter ride away.
"Expect to have the time of your life," says Angela Hawse, heliskiing guide for Telluride Helitrax. Getting airlifted to the world's best chutes and bowls is an adrenaline-filled adventure that resort skiing simply can't match. And it's not just for the pros. Skiers and snowboarders who save up a wad of cash (think $1,000-plus for a six-run day) and have decent skills (think advanced intermediate) can star in their very own big mountain movie. And trust us, friends and family will flock to see the POV footage, because even if your turns aren't on par with Davenport's, the bird's-eye views and helicopter drop offs will be captivating.
So eat Ramen, wash cars, sell Mary Kay products—whatever's necessary to save up for the ski adventure of a lifetime. Says freeskiing tour champ Jess McMillan, "This is gonna be the coolest thing you've ever done."
Ready to plunge into the powder?
The Top 10 Heliskiing Tips
Expert advice for tackling untouched terrain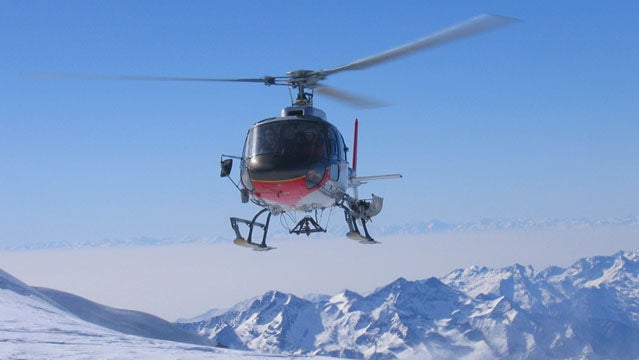 Stashed enough cash for one (or more) days of heliskiing bliss? Follow these 10 tips to get the most out of your high-flying adventure.
YOUR ADVISORS
Jess McMillan: Freeskiing World Tour Champion and Warren Miller star
Angela Hawse: Telluride Helitrax guide and the sixth U.S. woman to achieve IFMGA Mountain Guide Certification, the highest level of international training and certification available to guides
10. VET YOUR OUTFITTER
"Most heliski guides are the best in the industry because it's such a sought after job," Hawse says. But that doesn't mean you shouldn't double check their credentials. Certification from organizations including the American Mountain Guides Association (AMGA) and Heli Ski US means your guide has the skills to get you home safely.
09. DON'T STOP
A full day of heliskiing may cover 10 to 12,000 vertical feet or more in just six runs. The best way to prepare yourself mentally and physically for such a quad thrashing? "Get in some resort skiing and do some long runs without stopping," Hawse says. Also, follow our one-month training plan for killer quad and core strength that'll leave you begging for more—not mercy—at the end of the day.
08. PICK YOUR SEASON
"In January, the days are shorter, the temperatures are a little bit colder," Hawse says. "But those factors can make the skiing incredible. The cold can help preserve the snow for really good powder skiing." Alternatively, spring skiing tends to be warmer and longer days may allow you to squeeze in more runs. "Ask the heliski operators when they get the best snow, when the best weather is, and about the price," McMillan says. "Are they doing it by the day, by the run, or by the vertical feet?" Pick your season, then pick the trip that fits your budget.
07. LOCATION, LOCATION, LOCATION
"Research what you can expect with different terrain," Hawse says. Canada tends to have more vertical feet than Colorado because their guides ski into the trees, whereas most of the runs in Telluride, for example, are above tree line.
Once you settle on a site, decide if you want to ski out of a remote lodge, as people often do on multi-day heliski tours, or out of a ski resort. "If there's access to resort skiing as well, you won't miss out on skiing if there's a bad weather day" during which lifts may operate but the helicopters cannot, Hawse says.
Not sure where to go? "Alaska is the holy grail of heliskiing," McMillan says. Her other favorites? Sochi, Russia (site of the 2014 Olympic Games), and Argentina.
06. KNOW THYSELF
Heliski operators group skiers together according to ability, so be honest about your skills. "You should be at least an advanced intermediate skier," Hawse says. You should be able to side slip around obstacles, step uphill with your skis on, traverse, make kick turns, parallel turn with confidence, and maintain control. But know that you don't have to be a superstar to heliski. "Don't expect to see slopes like on the movies," Hawse says. "The skiing isn't extreme."
05. TRAVEL LIGHT
Most tour operators provide powder skis and poles, avalanche safety equipment (your guide will teach you how to use it before takeoff), lunch, and snacks. That means all you need to bring is your bundled-up self, a helmet, boots, and a camera. Helicopters have weight limits, so anything extra will likely get left behind. Check with your operator to find out what's included and what they expect you to bring.
04. EMBRACE THE HELICOPTER
"No helicopter outfit in the world is going to let you jump out of a hovering helicopter, unless you're in a movie shoot," Hawse says. Instead of pulling a James Bond stunt, you'll step out of the helicopter after it has docked at a designated landing zone, grab your gear, and get ready to ski. That doesn't mean the chopper ride won't be freaky. "To me the helicopter is the scariest part," McMillan says. "Once the helicopter leaves and you're on the snow and it's calm and quiet you can collect yourself."
03. LAYER UP
Dress in layers. "You might have to sit in a drop zone for a while or you might have to build an LZ [that's heliski slang for landing zone], and it gets chilly," McMillan says. You can also work up a sweat navigating the powder, so make sure you can shed or add layers accordingly.
02. STAY BACK
No matter how many big mountain ski videos you've watched, you do not know more than your guide. So let her go first and show you the way. That said, "don't be afraid to point stuff out and ask tons of questions," McMillan says. If you see a great looking slope, ask about it. Your guide will tell you what's safe, what's not, and why. And you'll finish the day knowing you didn't miss out on anything.
01. BUDDY UP
"It's probably the best day out skiing you'll ever have," McMillan says. So share it with friends. Saving up for the adventure together will make it that much sweeter when the helicopter finally takes off. Even better, groups of four or more often get discounts and a specially tailored trip.
The Ultimate Guide to Heliskiing Nutrition
How to fuel on the fly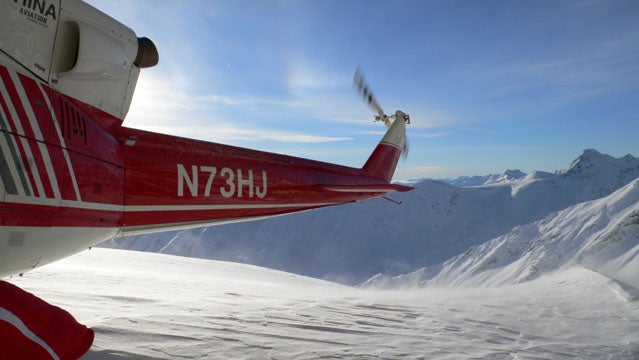 "Heliskiers need to focus on energy dense foods, things you can survive on longer because you're skiing harder, and you never know. The weather can blow in and you can't get picked up," says Adam Korzun, high performance dietitian for the U.S. Ski Team. Below, Korzun's nutrition strategy for a day of intense—and unpredictable—skiing.
BREAKFAST
Treat a day of heliskiing like a race day. "It's not the day to try something new," Korzun says. "Be consistent and have a good carb source for breakfast." A few good options include oatmeal, granola, or muesli. If you really like cereal and are running late, try Korzun's trick: dump powdered Muscle Milk and a granola bar in a water bottle, shake, and enjoy.
LUNCH
"Those long runs burn a lot more energy" than your typical resort skiing run, Korzun says. A 150-pound skier can burn more than 600 calories per hour, so it's important to refuel as you go. "Snacking is also critical because there's not a lodge nearby" for a lunch break, Korzun says. So stock up on energy-dense snacks to munch on when you have down time. Some options: trail mix, dried fruit, and peanut butter and jelly sandwiches, preferably made sandwich thins instead of bread because sandwich thins don't squish.
Also, stay hydrated. You will dehydrate faster at altitude than at sea level, so make sure you're drinking when you're thirsty. A sports drink with electrolytes will keep you hydrated and help ward off cramps. Many outfitters provide drinks, meals, and snacks, so make sure to ask your guide what's included.
DINNER
Make sure to get in carbs, protein, and fat, eating carbs and protein in about a 2:1 ratio. "My personal favorite is sushi," Korzun says. "You get tons of carbs, tons of great protein, and tons of omega-3 fatty acids, which help with inflammation." Other good refueling options include chicken and pasta or salmon with rice.
If you're not hitting the slopes the next day, go ahead and celebrate a successfully completed adventure. "You can have whatever you want," Korzun says. "Enjoy it."
Our 1-Month Quad-Blasting Heliskiing Training Plan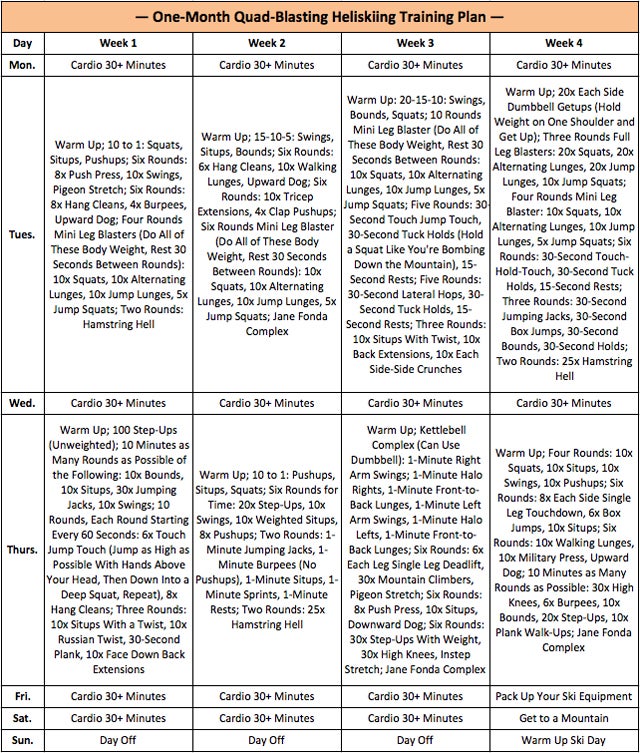 Track your workouts, get email reminders, and more by heading over to Training Peaks and signing up for our plan created by Freeskiing World Tour Champion Crystal Wright. In just one month, you'll be ready to book that heliskiing trip of a lifetime.