The Rise of the Unsanctioned Race
Endurance athletes are skipping established races to stage their own raucous events. Going toe-to-toe has never been this much fun.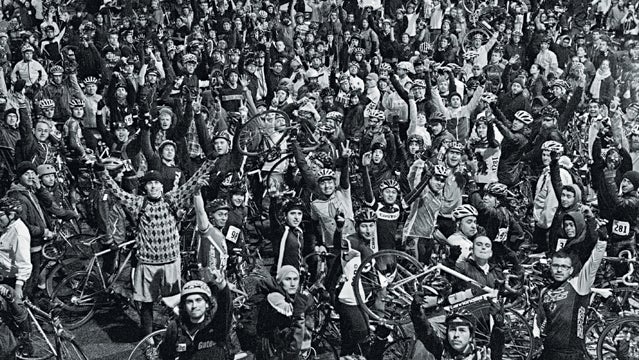 Mikey Walley
Heading out the door? Read this article on the new Outside+ app available now on iOS devices for members! Download the app.
It's 9:50 on a cloudless September night in Salida, Colorado, and 46 mountain bikers are milling around on the lamplit F Street Bridge. This is the start of the Vapor Trail 125, an annual ride that starts at 10 p.m. and racks up 20,000 feet of climbing on forest roads and singletrack. It will take participants anywhere from 13 to 22 hours to complete the 125 miles. At the finish there's no podium, announcer, or prize purse. Which is exactly why these bikers are here: they only want to push themselves on a good hard ride.
The Vapor Trail is one of hundreds, maybe thousands, of grassroots events that have popped up across the country. Disenchanted with high entry fees and overcrowding at sanctioned races, athletes are ditching them altogether to create their own. The DIY race model is nothing new—urban cyclists have long held loosely organized criteriums, alley-cats, and other road competitions, like the infamous Wolfpack Hustle in Los Angeles, which hijacks the city's closed marathon course in the early-morning hours before the race. But the past few years have seen a surge in new events, especially on public lands. On any given weekend, you can find locally organized competitions in almost any region of the country, from unsupported mountain-biking rides in the Rockies to trail-running races in the Northeast. Never before has it been so easy—or so fun—to compete.
"The attraction of these events is that they're low-key, no-hassle, and free," says Lenny Goodell, who organizes the New Mexico Endurance Series, an eight-event mountain-biking circuit.
Mike Curiak, an endurance cyclist and wheel builder from Grand Junction, Colorado, agrees. "I think people just aren't seeing value in traditional races anymore," he says. Curiak speaks from experience. In 2003, he took off on the Great Divide Mountain Bike Route, a then little-known, 2,500-mile trail along the Continental Divide between Canada and Mexico. Knee and ankle issues shut him down halfway through, so he returned the following year to try again, this time inviting a few friends. From that ride came the Tour Divide race, which attracted more than 100 riders in 2012.
Most grassroots events get started the same way. A few buddies decide to do a group ride. E-mails circulate. The first event goes off perfectly, and pretty soon coordinators are working with volunteers and participants to oversee a rapidly growing race. But even as numbers swell, organizers strive for an intimate feel. Many avoid even calling their events races. "Our challenges will always be locals-first gatherings," says Matt Turgeon, founder of the Colorado Endurance Series, a 12-event mountain-biking competition. "Friends ride together, spouses and families provide aid stations and support, and most events end in family-style potlucks."
Indeed, grassroots events often play out like casual group outings, which is why most of them are able to skirt the permit requirements of sanctioned races. Competitions held on U.S. Forest Service land are usually capped at 74 participants, the maximum allowed without a permit. There are a handful of illegal races—often because they're too big or are held in off-limits areas—but they tend to be secretive, with details on routes, dates, and times shared a day or two beforehand among trusted participants.
Not surprisingly, sports brands have been looking to sponsor the new races to capture some of their authentic energy. Biking-apparel label Pearl Izumi has even created a Facebook app that helps racers organize events. But so far, corporate intrusions haven't changed the relaxed vibe or the self-policing approach. Most of these races use the honor system when it comes to abiding by the rules and sticking to the course. "We know these routes and the vast majority of the participants know each other, therefore it will be pretty easy to determine if you are lying," states the rules page on the New Mexico Endurance Series.
At last year's Sedona Big Friggin Loop, part of the Arizona Endurance Series, former Olympic cyclist Travis Brown's GPS—a must on the circuitous course—broke a third of the way through. No problem, said organizer Scott Morris, who let Brown tail him the rest of the way. Nearing the end, when Brown could have zipped away, he coasted in, sharing first place with Morris. When the rest of the field arrived, the two men were smiling and eating pizza paid for with cash the participants had dropped into a passed hat before the race.
That kind of experience will continue to propel the local-racing movement. And if an event gets too crowded or too commercial, athletes will simply peel off and start an alternative.  
"Small, unsanctioned races are what it's all about," says Josh Tostado, a three-time 24-Hour Mountain Bike national champion who set a new course record at last year's Vapor Trail. "You show up, race, and be a good sportsman. It's fun. It has to be—or people won't come."   
Trending on Outside Online