Cruise Ship Industry's Environmental Record: Not Triumphant
Cruise lines are big on luxury, with an environmental impact to match. With outdated regulations and uneven cleanup efforts, there may be rough seas ahead for the industry (and the environment).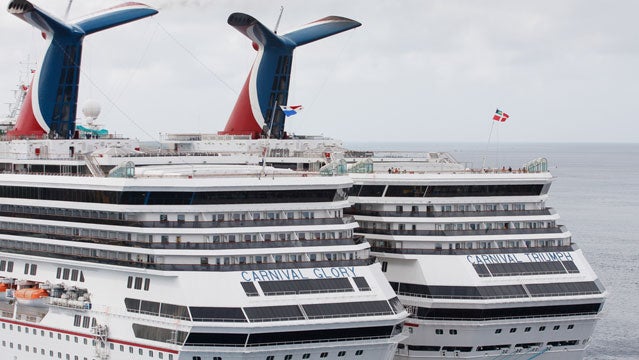 Darryl Brooks(Photo)
Heading out the door? Read this article on the new Outside+ app available now on iOS devices for members! Download the app.
Much was made in the media about the days-long stranding of the Carnival Cruise ship Triumph this winter, after a fire disabled the ship's power systems, leaving it adrift in the Gulf of Mexico. Passengers complained of having to defecate into plastic bags and other things one doesn't expect to do on vacation. Then, while it was being repaired at an Alabama shipyard, high winds dislodged the boat from its mooring and sent it into the Mobile River, where it collided with a cargo ship and sustained further damage. A shipyard employee was blown into the water as well, and went missing. 
The Triumph appears to be cursed. But the bigger blighting, over time, has been the environmental impacts left in the wake of many other cruise ships owned by Carnival Corporation (which also owns Princess Cruise Lines, Holland America, Costa Cruises and a few other lines), Royal Caribbean and a handful of other cruise ship operators, dating back decades.
Polluted discharges (of sewage, grey water and oily bilge water) and air emissions are the chief sources of problems, but they also mark the biggest potential areas for improvement, says Marcie Keever, who directs the Oceans & Vessels Program for environmental advocacy group Friends of the Earth (FOE). Keever also leads a yearly Cruise Report Card, which tracks the progress, or lack thereof, various cruise lines are making, year to year, in cleaning up their operations and complying with new environmental policies.
Over the past two decades, cruise lines have been cited and fined many millions of dollars due to significant missteps, from discharging sewage close to shore and dumping trash to spilling fuel and violating air quality standards. Knowing all this would take weeks of research were it not for the dogged efforts of Ross Klein, a professor in the school of social work at Memorial University of Newfoundland and a cruise industry watchdog. You'll find a detailed list of environmental fines here and a summary of the largest ones here.
The late 1990s, says Keever, were the really dark days. "All these cruise lines were busted for discharging," she says. "They were on probation for a decade, and that was a learning experience for them."
Those lessons have been unevenly learned, however. For example, despite the fact the Carnival is the parent company of Princess Cruises and Costa Cruises, the former appears at the top of the FOE report card, with a B+, while Costa landed an F.
To understand what does and does not constitute illegal behavior, here's a very short primer.
The international standard is that no boats may discharge things like untreated wastewater within three nautical miles offshore. Ships are required to have treatment systems called marine sanitation devices, which settle out the solids and treat the liquid waste before it is discharged. The Coast Guard inspects ships, but beyond 3 nautical miles, "there really isn't anyone watching what is coming out the tailpipe," says Keever.
These federal standards for cruise ships were actually part of the Clean Water Act, but they've not been updated in more than 30 years, according to Keever. When the Clean Water Act was written, the cruise industry bore little resemblance to its current size – it has seen significant growth and the size and capacity of the ships mushroomed. The largest cruise ships now serve upwards of 6,000 guests.
In a 2009 report, Ross Klein wrote that Explorer of the Seas, a 3,000 passenger Royal Caribbean ship, produces "40,000 gallons of sewage, over 450,000 gallons of gray water, 4,000 gallons of oily bilge water, and as much as 19 tons of solid waste" each day. They're floating mini-cities.
Like cities, they consume massive amounts of power. In his 2009 book Paradise Lost At Sea: Rethinking Cruise Vacations, Klein cites research showing cruise ships have a carbon footprint that is three times larger, per passenger, than a Boeing 747.
Air emissions have been another major concerns; ships have historically run on bunker fuel, which burns significantly dirtier than even diesel truck fuel. 
"The Environmental Protection Agency put forward data that shows not only how damaging bunker fuel emissions are to public health in port communities, but also how far [these emissions] traveled inland," says Keever. This finding pushed the U.S. and Canada to create an emissions control area that requires all ships to burn cleaner fuel within 200 nautical miles of shore – something that Keever says will prevent more than 10,000 early mortalities and save millions in healthcare costs.
FOE and other groups have lobbied Congress to pass comprehensive cleaner cruise ship regulations, but no dice. The State of Alaska, however, did take a proactive stance as it started attracting more and more cruise ships to its ports. It enacted a law requiring ships that ply its waters to install advanced water treatment systems that are designed to remove nearly all traces of really harmful bacteria, such as fecal coliform. It also monitors air pollution from ships and employs observers to ensure compliance. Maine, Washington, and California also have regulations that exceed federal laws.
The industry has not suffered a recent environmental catastrophe on par with the grounding of the Costa Concordia in a marine national park in the Mediterranean Sea off the coast of Tuscany in early 2012, which left 32 passengers and crew dead. But Keever says the turbulent waters the industry finds itself in – from Costa Concordia tragedy to the stranded and battered Triumph – could have a side-effect of drawing more public attention to the flipside of the postcard-perfect vacations it advertises.
With more and more cruise lines pointing their ships toward the pristine waters of the lower Arctic region and with greatly discounted rooms being offered as the industry tries to return from its recent missteps, the environmental pressures are building.
Following the Triumph disaster, West Virginia Senator Jay Rockefeller launched an inquiry into the event and Carnival's overall safety record. His probing brought to the public's attention that many cruise corporations are structured as foreign corporations that pay little in U.S. taxes despite the amount they rely on services such as U.S. Coast Guard, U.S. Customs and local municipalities that maintain the ports and land facilities they use here.
According to a 2011 New York Times article, from 2005 to 2010, Carnival Corporation "paid total corporate taxes — federal, state, local and foreign — equal to only 1.1 percent of its cumulative $11.3 billion in profits."
Sen. Rockefeller has pressed Carnival to pay the government's nearly $780,000 tab for rescuing the Triumph. He also sought payback for rescuing another of its ships in 2010. Carnival initially inferred it would not, noting the "maritime tradition" that any ship helps another in time of need. But the company has since agreed to pay for the rescues and says it is pledging $300,000 to make safety improvements to its fleet.
"We hope these disasters push the industry to clean up its act and be a more open industry than it has been," says Keever, adding that more transparency will make FOE's report card an even stronger tool for consumers. "If people are going to take a cruise – which continues to be an affordable choice, especially for families, we want them to vote for the best operators with their pocketbooks."
Lead Photo: Darryl Brooks