Why Runners Are Obsessed With the Grand Canyon R2R2R
One of the craziest speed records in ultrarunning takes athletes from the top of the canyon, down to the bottom, and then all the way back up again—twice.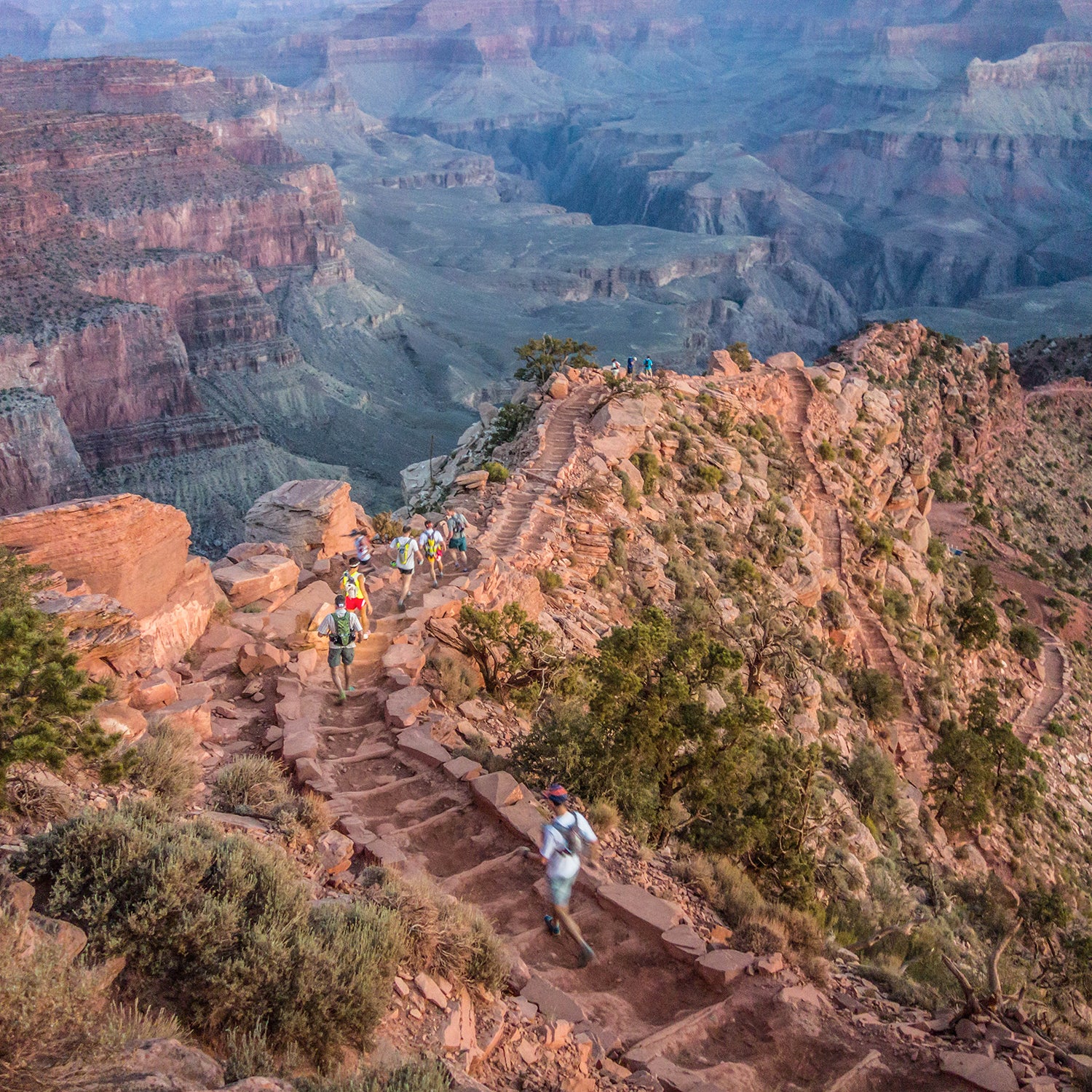 Jason Hatfield(Photo)
Heading out the door? Read this article on the new Outside+ app available now on iOS devices for members! Download the app.
Of the 6 million people who visit Grand Canyon, only 1 percent venture below the rim. A fraction of those cross the canyon in what's called the rim-to-rim hike. An even smaller group turn back around and do it again, traveling rim to rim to rim.
But over the past ten years, this singularly difficult and awe-inspiring traverse has, for better or worse, garnered a reputation as a requisite proving ground for elite ultramarathoners, where some of the sport's youngest and most promising come to vie for the coveted fastest known time, or FKT.
"The Grand Canyon has to be one of the most classic and sought after FKTs in the country," says Peter Bakwin, co-creator and moderator of the popular FastestKnownTime.com. "It has always been a classic adventure—to be able to run across it and back is pretty special."
The vast majority of hikers and runners start on the South Rim, descending via the South Kaibab or Bright Angel Trail to the river and ascending out the North Kaibab Trail. A rim-to-rim crossing is roughly 21 miles with around 5,700 feet of vertical gain and 4,700-foot descent one way. A rim-to-rim-to-rim traverse doubles that.
A handful of factors merge to make the Grand Canyon one of the most difficult single-day runs in the country: the quad-busting descent, which runners face immediately; the unrelenting and exposed switchbacks; the unpredictable and intense heat (temperatures often vary by as much as 20 to 30 degrees from the rim to the base of the canyon); and the isolation.
"There are very few other examples of that type of geography," says Rob Krar, a Flagstaff-based ultrarunner who, in 2013, set a since-broken R2R2R FKT of 6:21:47. "Where else in the world do you start a run where you drop 5,000 feet in elevation? Mentally and physically, it is incredibly demanding."
The first recorded R2R2R FKT was set at 7:51:23, in November 1981, by local runner Allyn Cureton. (He had established the rim-to-rim FKT one month before.) It would be another 25 years before his mark was broken and today's FKT phenomenon was born. This is in part, says Bakwin, because many thought Cureton's time couldn't be beat. Since 2006, however, both the men's and women's record has fallen nearly a half-dozen times, with Cat Bradley, Rob Krar, Dakota Jones, Darcy Piceu, Bethany Lewis, and Kyle Skaggs setting R2R2R FKTs early in their notable careers. Bradley set the women's record of 7:52:20 last year. Jim Walmsley, widely considered one of the most talented active ultrarunners, set the current men's record of 5:55:20 in 2016.
The degree of difficulty, combined with the canyon's extraordinary geology, has made it a bucket-list item for thousands of nonelite trail runners as well. This has become an issue for an already overcrowded park. Around 2013, park officials—who say publically that they do not recommend anyone, hikers or runners, descend from the rim to the river and back out in one day—noticed a rise in organized running or fastpacking groups in the canyon, and in their wake, increased amounts of abandoned gear, litter, human waste, trail conflicts, congestion at trailheads, and crowding at restrooms, where lines often stretch to 100 people. In fact, since 2013, when the park began monitoring trail traffic, the number of people attempting rim-to-rim day trips has increased steadily every year.
In 2014, the park began requiring permits for any group, regardless of size, that plans rim-to-rim or extended day hikes in the canyon and advertises to the public or compensates the organizer. The park also created a preventative search and rescue team, or PSAR, that's dispatched into the canyon to provide hikers or runners with information regarding trail and weather conditions, as well as salty snacks and electrolyte beverages to visitors in need.
Despite the increase in popularity and notoriety, running in the canyon will never lose its magic, says current women's R2R2R FKT holder Cat Bradley (7:52:20), who despite winning the highly competitive and prestigious Western States 100 last year, calls her FKT the most fulfilling project of her running career.
"You know, everyone out [in the canyon] is sort of experiencing what I experienced to some degree," Bradley says. "In the middle of the canyon, whether you're alone or not, people work to get down there and they work to get back out. You feel a sense of community with those people. I think as long as we keep it self-propelled, it will not lose its sanctity."
Lead Photo: Jason Hatfield
Trending on Outside Online