The Top 10 Fitness Tips for Mountain Athletes
You may not be a pro skier or climber, but at least you can train like one. Mountain sports coach Rob Shaul and his students share how they prepare for the peaks.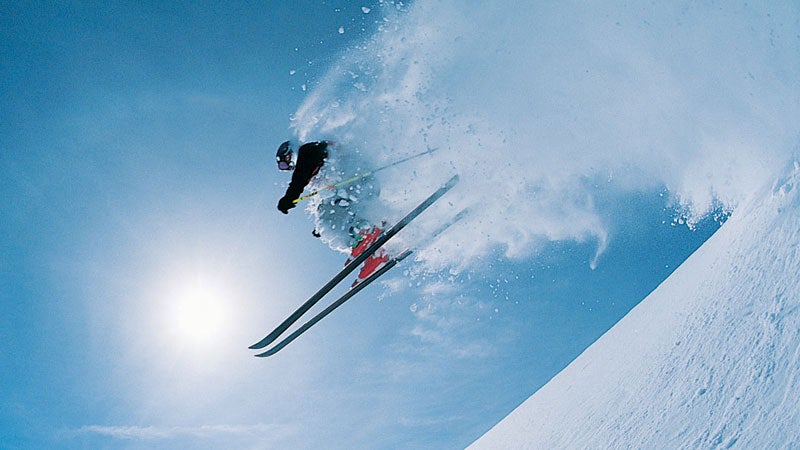 Heading out the door? Read this article on the new Outside+ app available now on iOS devices for members! Download the app.
As owner and head coach of Mountain Athlete and Military Athlete, Rob Shaul lives and breathes discipline. From his gym in a warehouse in Jackson, Wyoming, Shaul uses traditional strength and conditioning workouts to teach climbers, mountain guides, kayakers, and other outdoor athletes how they can boost their performance by structuring their gym sessions. As you might expect, he doesn't believe in random training.
"We like knowing where we're going," says Shaul, who calls his program "MA" for short. To that end, he creates carefully programmed, sport-specific training routines designed to help his athletes build functional strength. While his job is in the gym, Shaul acknowledges that, "gym numbers are meaningless if they do not build to an outside purpose."
With a roster of students that includes freeskiing world champions and Navy SEALs, Shaul's brand of focused fitness has helped professional athletes from across the spectrum of mountain sports (including me: I'm part of a freeski team that he trains and sponsors). I spoke to Shaul and 10 of his disciples to find out how he guides pros to the top.
---
Be Professional
Too many mountain athletes avoid gym training and "do their sport" for fitness. That's a mistake. Professional mountain athletes' most important equipment isn't their skis or climbing shoes, it's their bodies. Gym training shows respect for the mountain and your sport. —Coach Shaul
ATHLETE: Rob Hess, mountain guide
MA TRAINING: 6 years
SUCCESS STORY: Lead instructor, examiner, and discipline coordinator for the American Mountain Guides Association ski program; 2007 AMGA Guide of the Year; lead guide for Jackson Hole Mountain Resort and Teton Gravity Research.
Early in my career, I realized that if I were to achieve my goals as a mountain athlete, I could not simply rely on athleticism, youthful vigor and immersion in my sports. As a mentor, instructor and examiner for guide training and certification for the American Mountain Guides Association, we hold participants to a high physical and technical standard, and I need to be able to meet that standard myself. Working with MA on sport-specific training has allowed me to continue to keep up with the younger folks.
I recently had major hip surgery. In the months leading up to surgery, I trained hard, knowing that this would accelerate my return. With well thought-out programming, I have returned to far exceed the levels I was at in aggressive, high-level mountain guiding.
---
Focus on Functional Strength 
Don't treat fitness as a sport. Avoid getting caught up in loads lifted or workout completion times. Your gym training must improve your on-mountain performance and durability. If it doesn't, change it. —Coach Shaul
ATHLETE: Crystal Wright, professional freeskier
MA TRAINING: 2.5 years
SUCCESS STORY: 2012 World Tour Freeskiing champion; owner of Wright Training.
When I finished my college ski racing career, I thought that I would never have to lift weights again and that my outdoor activities were enough to sustain my career as a professional. After graduation, I became a personal trainer and began to understand the importance of regular gym sessions, but it was still hard to motivate.
Training with Rob has completely changed my outlook. I've realized that lifting weight is about better functional and athletic movements, not bulking up. I feel more confident about my body now than I have in all my years of skiing, and I'm focusing on achieving new personal bests in my training in order to improve my competition performance.
---
Fix Your Diet 
Pro athletes need to take in a lot of calories, but eating crap will ultimately harm you. Our suggestion: Six days a week, eat all the meat, veggies, fruit and nuts you want—no sugar, wheat, pasta, potatoes, rice or alcohol. One day a week, cheat like a mother. Supplement with whey protein shakes, fish oil, and a daily multi-vitamin. —Coach Shaul
ATHLETE: Pip Hunt, pro skier
MA TRAINING: Intern coach-in-training
SUCCESS STORY: 2009 U.S. freeskiing champion
As someone with celiac disease, I was already aware of the importance of careful food choice, yet as an athlete constantly burning through fuel, I was unsure of how to consume enough calories. Starchy vegetables have turned into one of my favorite staples, with sweet potatoes taking the lead. They are versatile and delicious; you can make them into a pie, fries, or even spaghetti. Here, one of my favorite recipes for the root.
SWEET POTATO WAFFLES:
Recipe makes 6 waffles
2 large sweet potatoes
4 eggs
1 teaspoon baking powder
1 tablespoon cinnamon
1 teaspoon nutmeg
1 teaspoon allspice
Boil or steam the sweet potatoes, then use an immersion blender/food processor to blend into a smooth puree. You can also complete this step with a good, old-fashioned potato masher and some strong arms. Mix puree, eggs, and all wet ingredients in a bowl and mix thoroughly. Liberally apply coconut oil or butter to the waffle iron and bake on a medium heat setting.
---
Hammer Hip and Leg Strength
In the mountains, everything begins with the legs. My pro athletes already have the endurance for long days in the mountains; what they lack is the raw strength to keep them injury-free. We work to build hip and leg strength without significant weight gain by using high loads and low volume. Our favorite all-around hip and leg exercises are classic back squats and loaded walking lunges. —Coach Shaul
ATHLETE: Ben Gilmore, mountain guide and alpinist
MA TRAINING: 4 years
SUCCESS STORY: First ascents in Alaska, New Hampshire, Patagonia, Nepal, Newfoundland, and Arizona.
As a mountain guide, I thought I had strong hips and legs, but Rob's workouts hammer the lower body even more than climbing the Grand Teton in a day. I used to be plagued with lower back spasms, due to overdeveloped muscles from a life spent rock and mountain climbing. MA's routines target poorly balanced muscles I barely use, which has drastically reduced the strain on my lower back. That equals less pain and more gain for me in the mountains.
---
Train Your Core
A strong core helps protect vulnerable limbs. We train the midsection daily, with extra emphasis on lower back strength and endurance. My go-to core exercise is the sandbag get-up: Start with a 40- to 80-pound sandbag on your shoulder.Lay down onto your back, with the sandbag. Get up anyway you want. As the time or reps progress, switch shoulders as often as you like, but keep the final number of reps on each side the same. —Coach Shaul
ATHLETE: Matt Annetts, professional snowboarder
MA TRAINING: 2 years
SUCCESS STORY: Verbier Extreme Freeride competitor; numerous podiums in the Freeride World Tour.
Until two years ago, I had never set foot in a gym. Now after feeling the results from a commitment to training at MA, I look forward to the painful sessions. It is amazing how much stronger I felt on my snowboard after just a couple months of working out. 
The programs Rob has us doing vary from week to week, but everyday there is a focus on strengthening the core. For me, this is the most important area to train. My balance has improved, I feel much stronger landing airs, and when mistakes do happen, my body can take much bigger hits without injuries. All of that has the effect of prolonging my career as a snowboarder.
---
Train Your Brain
Mental fitness is just like physical fitness. Athletes lose their mental edge if they don't train their minds. We use intense work capacity efforts, coaching and gym competition to prepare our students for the mental challenges of competition and the dangers of the mountains. —Coach Shaul
ATHLETE: Eric Seymour, expedition kayaker
MA TRAINING: 2 years
SUCCESS STORY: First descents all over the globe; showcased in eight kayak films, The Wall Street Journal, and numerous paddling publications.
Whether you're running a huge waterfall or portaging 90 pounds of gear over mountainous terrain, kayaking is a mind game. You have to be able to focus in order to succeed. Good mental fitness is essential if you want to come home safely.
Living in Jackson, Wyoming, I'm not able to kayak year-round. Before MA, I used to spend the first half of the season just playing catch-up. My skills were there, but I was not physically or mentally prepared to tackle a hard Class V whitewater expedition. Now, come spring, I have the strength to hit some of the hardest rivers in the world with confidence.
---
Train For Your Sport
The closer you get to the season, the more sport-specific your training needs to be. Skiers need eccentric leg strength. Climbers need finger and forearm strength. Focus on general fitness early in the offseason to build base strength and durability, but zero in on your sport in the six to eight weeks leading up to the season. —Coach Shaul
ATHLETE: Mattie Schaefor, mountain guide
MA TRAINING: 4.5 years
SUCCESS STORY: Guide for Exum Mountain Guides; guide for Exum, Chicks With Picks, and Chicks Rock; movie stuntwoman. Has made ascents of big walls in Yosemite and Zion National Parks and across Europe.
Traditional wisdom in the climbing community is that more time climbing equals better climbing. But while there's no shortcut to building technique and good judgment, this is an inefficient way to improve. As a parent, full-time teacher, guide, and grad student, I have very limited time.
MA's sport-specific training cycles build stamina, endurance, and power, and therefore confidence. While time-effective, it's hard training, and has helped me lower my injury rate down to zero. It's sometimes hard to appreciate this in the moment, but outside, reaching for another improbable hold on steep rock, I consistently feel grateful for the programming.
---
Periodize and Program
Don't waste time with random workouts. Setting goals, planning, programming, measuring your gains, and keeping objectives in view will speed up your progress. Working out without a plan will lead to fitness plateaus, holes, and staleness. Pros need more than that. —Coach Shaul
ATHLETE: Griffin Post, professional skier
MA TRAINING: 2 years
SUCCESS STORY: Two-time U.S. extreme freeskiing champion; appeared in Teton Gravity Research segments "One for the Road" and "Dream Factory."
When people see Teton Gravity Research's films each fall, it's easy to think that every day is bluebird, deep, and stable. In reality, we might only get a handful of good days to film each season, and a lot of time they're sequential. Whether it's bouncing back from a crash the first morning or the first day or going an extra lap on the last day, MA has provided me with the durability and endurance to squeeze a little extra out of myself in the good windows.
I think of each day as brick that you're given. You can either throw it aside and make a pile (working out randomly) or carefully place it and make a foundation (training strategically). Both methods are going to give you a platform from which to start your season, but one's going to be far more stable.
---
Cultivate Healthy Habits 
A hard training session followed by six beers at the bar is stupid. Serious professional athletes don't drink excessively, don't smoke, and don't chew. They wear their seat belts, don't text while driving, take vitamins and supplements, and go to bed early. They are as professional and thoughtful about their personal habits as they are about their sport and fitness. —Coach Shaul
ATHLETE: Jessica Baker, professional skier and mountain guide
MA TRAINING: 4 years
Success Story: North American & World Tour big mountain freeskiing champion; founder and owner of Ski Divas; Alaska heli-ski guide; Exum mountain guide; Jackson Hole alpine guide; PSIA Intermountain Demo Team member.
My specialty has always been alpine skiing, but I came to Rob to get strong for climbing. When I started at MA, I was in my second year working for Exum Mountain Guides, and I knew I needed to be strong to guide in the mountains day in and day out without getting injured or tired. Rob put me on a relentless cycle of strength, work capacity, and stamina climbing workouts. By week six, I started feeling the results. I was able to hold onto small edges with ease, and relax on moves that used to pump me out immediately.
Real athletes can't party all night and still perform well in the morning, and in the mountains, where small missteps can have dire consequences, an off day is not on option. Being fit and healthy is just part of my job: I often work all day guiding in the mountains, and then head to MA for training later the same day.
---
Practice, Practice, Practice 
Larry Bird made thousands of jump shots in empty gyms. Tiger Woods sank thousands of putts on empty greens. Mountain athletes need to practice too. Is your ski turn to the left in the steep stuff a little shaky? Practice it. Is your crack climbing suspect? Practice it. Practice your strengths, and practice your weaknesses even more.  —Coach Shaul
ATHLETE: Brenton Reagen, professional climber and mountain guide
MA TRAINING: 4 years
SUCCESS STORY: Exum mountain guide; mountaineering ascents and ski descents in Tetons and Wind River range, Canadian Rockies, Mexico, Patagonia, and Nepal.
I started climbing when I was 14 years old. This took me away from team sports, and I never experienced being coached or training in the gym. When I came to MA, I really lacked strength and power in my climbing. Coach Shaul created a program for me that combined repetitive training with Olympic lifting.
The side effect of training hard at MA is that my life and career just keep getting better. I strongly believe that this kind of curriculum should be a mandatory part of training for professional mountain guides.
Lead Photo: Digital Vision/Thinkstock