Goats Scale Dam, World Demands to Know Why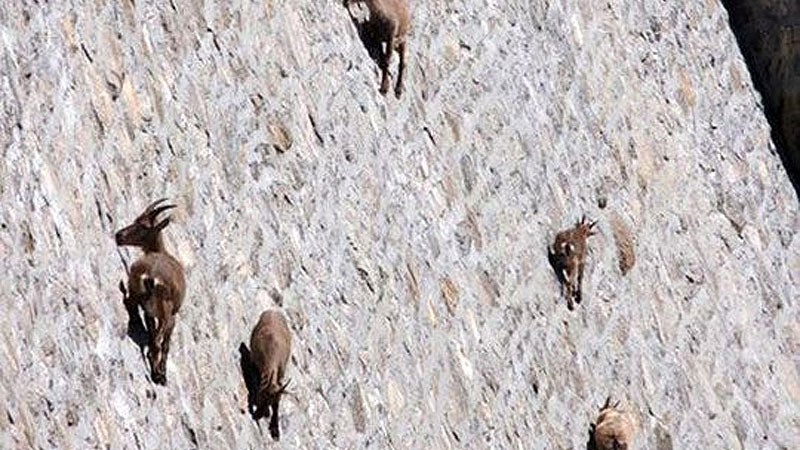 Heading out the door? Read this article on the new Outside+ app available now on iOS devices for members! Download the app.
These Alpine ibex, photographed by nature enthusiasts over the past two months, have courted humor and awe. Just look at them—perched on the sheer face of a dam in the Gran Paradiso National Park of northern Italy, challenging our perception of depth like an O'Keeffe-inspired Cubist painting, but also tickling our Dalí sensibilities, because: What are they doing up there?
Park officials believe these ibex, or wild goats, climb the dam in order to lick salt and minerals off its stones, according to Viralnova.com. But, as with many animal behaviors, to declare their motivation is tricky.
"The movement of animals might be motivated by more than one factor," says David Saltz, professor of conservation biology at Ben Gurion University in Israel.
Besides the salty goodness of the stones, consider that Alpine ibex avoid predation by seeking steep, high places.
"They are not very good runners," meaning the openness of their natural habitat is dangerous terrain. "Generally, they feel safe when standing on a cliff looking down at potential threat[s]…If you were seeking a good meal, would you not rather have it sitting in a quiet meadow than a combat zone?"
Sandro Lovari, an ecology professor at the University of Siena in Italy, says he has "seen them also feeding on the lichens and small tufts of grass growing on the dam barrier," adding that the wall essentially functions as a local substitute for the cliffs the ibex have adapted to climbing.
Wild goats can pull off this high-altitude aplomb in part because of the "elastic and rubbery" sole pads on the bottoms of their hooves that facilitate adherence, along with a hard, sharp outer-hoof edge that makes use of "the small asperities of the rocksurface," according to Lovari. He estimates the inclination of the dam wall is around 80 degrees—nearly perpendicular.
"I have never seen adult male ibex, bulky creatures of more than 100 kilograms [220 pounds] doing it," Lovari wrote in an e-mail. At all times, "either subadult males or females were [climbing the dam], weighing c. 40–50 kilograms [88–109 pounds], maximum."
The Alpine ibex small enough to scale almost-vertical surfaces also benefit from advanced balance thanks to especially large inner ears.
"This is not a very big effort for them, no more than sitting on stairs is for you," says Saltz.
"They do occasionally lose their balance and fall to their death, but this is a very rare occurance. Mortality rate due to fallling is evidently smaller than the increased risk of predation they encounter on a flat terrain."
Trending on Outside Online