Snowboarding Lives! (Long Live Snowboarding!)
How reports of the sport's demise have been greatly exaggerated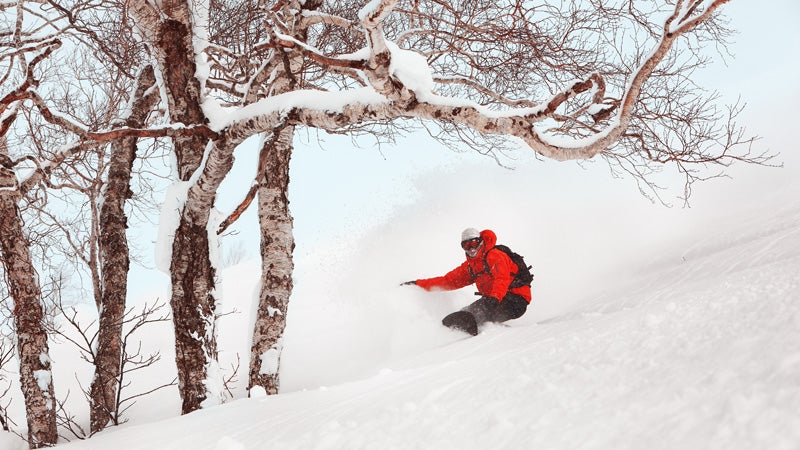 Heading out the door? Read this article on the new Outside+ app available now on iOS devices for members! Download the app.
Anyone notice the continuing trend in doomsday reporting about the imminent death of snowboarding? Yeah, hard to miss it: Last winter, it was the The New York Times ("Has Snowboarding Lost Its Edge?"); this past December, it was The Durango Herald ("Whither the Snowboarders?"); and, just last week, the latest nuke ("Can Snowboarding Be Saved?") was published on this site. There were others, but these three articles, which take a particularly pessimistic approach to the data—while making some assertions that are outright false—all arrive at dismal conclusions regarding snowboarding's health.
Read: Can Snowboarding Be Saved?

Why snowboarding wound up a
"trendy action sport" rather than a "way of life."
I'm here to tell you that snowboarding is not only very much alive, but doing pretty well, all things considered. The stories above were based on two primary sources—a 2012 National Ski Area Association (NSAA) report titled "The Rise and Stall of Snowboarding," and the recent reports from SnowSports Industry America (SIA).
Nate Fristoe, who wrote the NSAA report, concedes that the numbers have been "horribly muddled," noting that The Durango Herald got it completely wrong by incorrectly citing the NSAA data as showing a 4.5 percent fall in snowboarding and a 6.5 percent growth in skiing over the last five years. "I don't know how they came to those numbers," Fristoe told me, adding that the point of the report was "not to represent that snowboarding was in any way dying, but to highlight that snowboarding's rate of growth had slowed in recent years."
"The report was to serve as a wake-up call to industry leaders," Fristoe continued, "who, in the past, might have taken for granted the vibrancy and energy snowboarding brought to the slopes over the last thirty years."
Instead, Fristoe says, two camps ended up missing the point of the report—"those that had some kind of weird schadenfreude reaction, and those that denied snowboarding was maturing as a sport."
Kelly Davis, head researcher for SIA, concluded that all we're seeing is a more seasoned sport going through "a normal pattern of ebb and flow." So let's not blow the news out of proportion. (Oops: too late!)
As a lifelong snowboarder who worked for ten years at TransWorld Snowboarding magazine, three of them as editor in chief, my interpretation of the numbers (not to mention my overall take on the sport itself) is much more positive. First of all, macrotrends—such as consecutive low-snow years and a severely wounded economy—are affecting winter sports across the board. Second, assertions that snowboarding isn't cool with the kids, is narrowly marketed, or is losing participants to skiing amount to highly subjective opinions.
Where is this relentless drum beat about the "death" of snowboarding coming from? Are there that many affected skiers still harboring resentment?
Let's take a look at the numbers. The NSAA report shows snowboarders averaging more days-on-hill than skiers (5.9 snowboard days versus 5.5 ski days last season), a trend that extends back to 2001, when the NSAA first started tracking such data. But the main statistic motivating Fristoe's report was that snowboarding now makes up 24.8 percent of the "participant base." The numbers aren't rising vertically anymore; snowboarding peaked at 26.2 percent in 2009, and it's been fluctuating up and down since then (as has skiing, as has the snowfall). The bottom line is that, at worst, snowboarding has flattened—but it hasn't flatlined.
The most recent SIA SnowSports RetailTrak report, released at the end of 2013, shows snowboarding participation holding steady this season. In some subcategories, however, snowboarding is ascendant. For example, the number of snowboarding women aged 25–44 increased by 40 percent in the last four seasons. Snowboarders (both genders) aged 35–44 increased 19 percent in 2012–13, up from the previous winter. During that same period, the number of riders 17 and under increased 4 percent (more on that in a minute).
In fact, it wouldn't be a stretch to argue that the three-year drought in California alone could easily explain any other drop in numbers: Tahoe hasn't had decent snowfall in three years and is currently at just 20 percent of its average. Factor in that 27 percent of the 7.3 million U.S. snowboarders live in California, and that, not surprisingly, dirt and man-made groomers  have disproportionately affected our participation rates.
Financially speaking, with an average age of 27 (as it happens, Shaun White is 27), snowboarders aren't in their peak earning years, and this group has also been hit hard by the recession. Across the board, resort visits are down in households earning less than $100K, while they're up in households earning $100K-plus (a reality that should have resorts questioning those hundred-dollar lift tickets). In the same vein, SIA's Davis says she's beginning to see a "whiff of a trend" in snowboarders participating away from the resort. This is reflected in one of the fastest-growing new segments of snowboarding: split-board sales were up 6 percent in 2013. In the business world, that's more than a faint scent of money.
Equipment sales (another stat often held up as evidence of snowboarding's purported megaslump) have been fluctuating over the last five years—though generally sinking, hand-in-glove, with the recession as it went into full swing. Innovation slowed. Excitement over reverse camber boards, for example, has steadily faded since their introduction in 2006, and there really hasn't been a new, must-have board design or tech breakthrough since then to motivate riders to buy. But the board-sales trend has reversed this season anyway, with numbers up 2 percent over last year (in line with the industry average that sees riders replacing their boards every seven years).
Also, binding sales are up 4 percent (apparently, some riders are opting to upgrade their old boards for another season). As for erroneous correlations—snowboard sales are no more related to ski sales than skateboard sales are to rollerblade sales—it's simply wrong to assert that, because one is down and the other is up, snowboarders are switching to skis—or vice versa. Nice try, bros.
But enough talk about gear. A bigger challenge for snowboarding is just bringing people in. Ever try putting a kid under the age of five into a resort snowboard lesson? Can't be done. The majority of resorts teach skiing only—but this is changing. Burton Snowboards has partnered with resorts on snowboard-specific Riglet Parks for 3- to 6-year-olds, of which there are now 28. And Burton's already built 185 of their learn-to-ride parks worldwide. The company also just beefed up its line of kids' gear, introducing a 70-cm snowboard for riders as young as three. K2 and Ride are in on the game, too, offering affordable packages for kids.
These improvements are helping young parents start their kids on snowboards. Already, year over year, there's been a 4 percent increase in riders aged 6–17, which means that 29 percent of our snowboarding herd is younger than 17.
So, where is this relentless drum beat about the "death" of snowboarding coming from? Are there that many affected skiers still harboring resentment? Statistically, the argument in "Can Snowboarding Be Saved?" doesn't hold up. Which basically leaves you with the author's opinion that snowboarding is a "trendy action sport, not a way of life, like skiing"; that it's "more dangerous than skiing," and that it's paving the way to its own demise with its "juvenile" marketing. Ultimately, rather than a fair and relevant state-of-the-snowsports-union, what you wind up with by the end of the piece is little more than a disgruntled-skier-in-the-corner-of-the-bar. I'll also bet the relatively young sport of freeskiing isn't feeling his stale and hostile missive any more than snowboarders are, but I won't pretend to make assumptions about that sport.
The cycle of growth, stagnation, decline, and growth is common in action sports. Look at the mid-eighties, when various media outlets were crowing about the "death" of skateboarding. Unmitigated growth is a goal for Wall Street and publicly traded companies, not snowboarding. We're cool with ebbing and flowing. We're still as passionate as ever about our sport, we're bringing in new riders, and we don't hate on skiing because we like what we do more. We would, however, be psyched for a little more snow.
Annie Fast is a lifelong snowboarder based in Encinitas, California, where she oversees original programming at Network A.
 
Trending on Outside Online