In Stride
A Killer Course
The science is out on whether ultrarunning is good or bad for our hearts—but I'm sure the Hardrock 100 is good for mine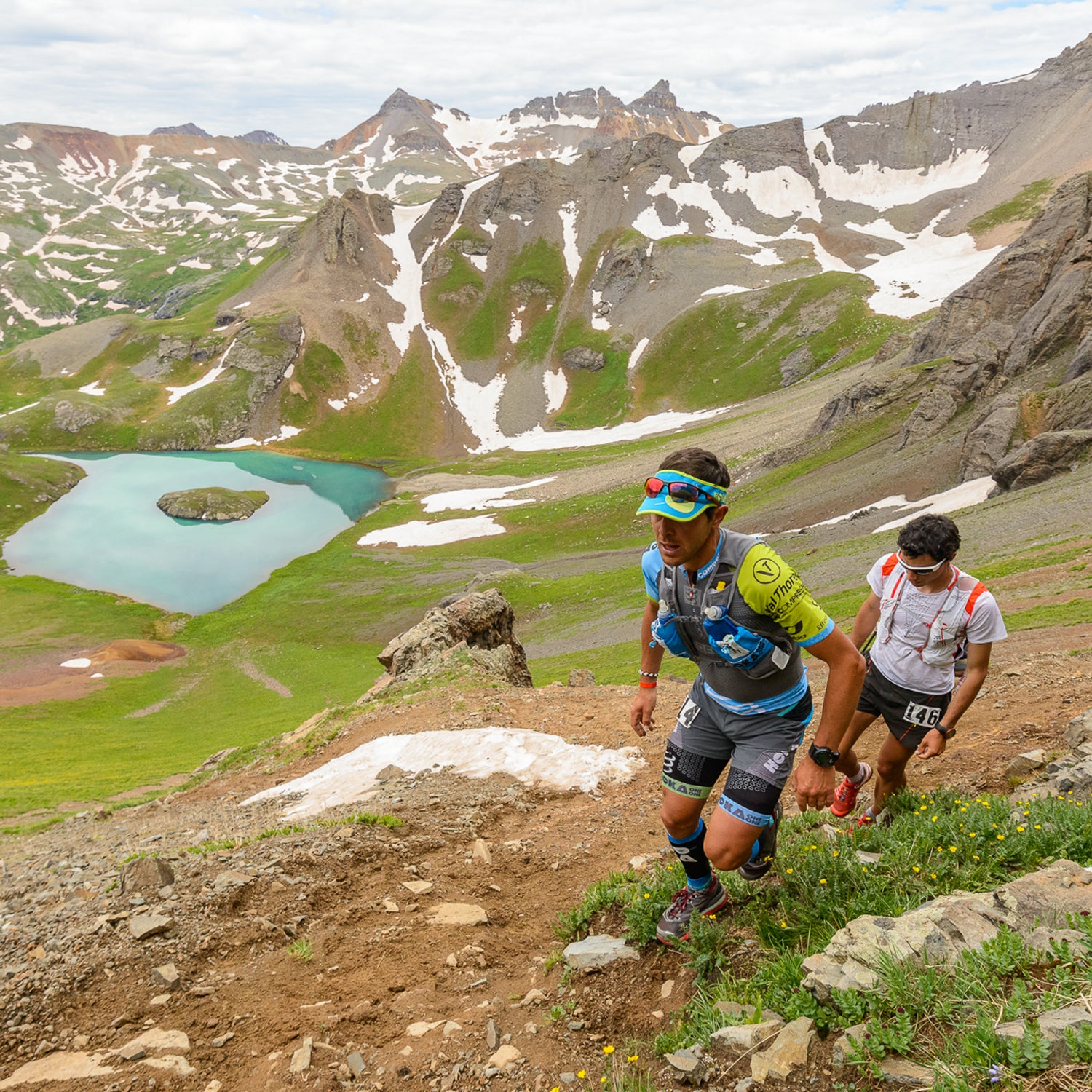 Heading out the door? Read this article on the new Outside+ app available now on iOS devices for members! Download the app.
I have now been to Hardrock five times. I've paced and crewed three former winners, and last year I paced and crewed the women's champion. In 2011, I briefly lived in Silverton, Colorado, in a dilapidated pink house with that year's runner-up, Dakota Jones. I've run the whole course in one shot four times, three of which were "Softrocks," which break the course into three days of 28 to 45 miles each. I've spent countless hours on the course and even more thinking about the race. It's simply the most rugged and beautiful 100-mile course in existence.
Like waiting to be asked to the prom, I waited for my friend Jared Campbell to ask me, unprompted, if I would pace him this year at Hardrock. If anyone on the Hardrock starting line doesn't need help getting around the course, it's Jared Campbell. Earlier this year, he won the nearly impossible Barkley Marathons—a 100-mile bushwhacking race with no course markings, more than 60,000 feet of vertical gain, and only 14 finishers. Ever. Campbell has finished twice, and this would be his 10th time lining up for Hardrock.
They say complacency is the leading cause of death for the experienced mountain athlete. As dusk descended Friday for the first time on the Hardrock 100 Mile Endurance Run, I was running back and forth to my car trying not to become a statistic. Adding and subtracting items from my running pack, I couldn't decide how much or how little to take with me for my pacing duties. If overlooked, the reality of 31 night miles in the San Juan Mountains of Colorado will land you in the hospital—or worse. Still, complacent and maybe a little flippant, I didn't pack rain pants or a winter hat and gloves.
Hardrock is widely considered the premier mountain 100-mile race, with an average altitude of over 11,000 feet above sea level. The course starts in Silverton, Colorado, at 9,318 feet and is a beautiful loop through the San Juan Mountains. The race is often jokingly called the "Hardwalk," because the altitude coupled with the 33,992 feet of vertical ascent leave even the best runners walking.
This year, more than 1,200 people applied for the 140 available entries into the Hardrock 100. A first-time applicant has about a 1.4 percent chance of getting in. I'm one for six. My single race-day experience is a common one. A pretty good endurance runner comes to Hardrock with a heart and mind full of hope and gets destroyed by the course, conditions, altitude, and mental burden of not performing as well as they should have. My body required a nap just to make it to the finish line.
But I finished.
This year, the lottery gods showed favor to the stars and the gazers, creating the most competitive field in the race's 21-year history. I asked race director Dale Garland—who makes five personal picks—if he made the race competitive this year. He assured me the lottery did it. Unlike other endurance events, the Hardrock makes no special allowances for elite athletes. Everyone has to get in through the lottery system, and this year hit the jackpot. "The stars lined up," said Garland.
Modernity and the deep field attracted media coverage never before seen in sleepy little Silverton, which has a year-round population of 500. Hardrock board members were making on-the-fly decisions on things like media access that previously had never been considered. There were camera drones at the start line. You'd be hard-pressed to find something so un-Hardrock, a race that prides itself on being a run, not a race. The fact is that only human anomalies can race the Hardrock 100. The rest of us survive it. This isn't Western States.
The hype coming into this year's race was unprecedented. The presence of ultrarunning's reigning alpha (and anomaly), Kilian Jornet, meant everyone else was racing for second place. The real question was would he set a new course record after what he just did on Denali?
In 2008, a then 23-year-old Kyle Skaggs stunned the ultrarunning world by becoming the first person to run the revered 100.5-mile course in under 24 hours. In Hardrock's inaugural 1992 running, David Horton won the race in a time of 32 hours, 34 minutes. Skaggs, racing hard from the gun, rounded the loop course—which tours the iconic Colorado towns of Telluride and Ouray—in 23:23. Neither of these two Hardrock champions run ultras anymore. This year, Horton was showing off a new knee, swollen from too many mountain bike miles, and Skaggs basically retired after his record-setting run. The repercussions of the effort left him with an undiagnosed racing heartbeat and odd palpitations that made it hard to sleep, let alone run. He's now happily farming in New Mexico.
Hardrock's tagline "Wild and Tough" delivered this year with a lingering storm cycle coming through as the race leaders were either climbing Engineer Pass or on the course's high point, Handies Peak, at 14,048 feet. Hardrock stories of hunkering down to avoid lightning or to get warm after developing hypothermia are common. The year I ran Hardrock, my pacer and I spent 45 minutes in a cave trying to avoid getting lit up. The San Juan Mountains are known for brief afternoon showers in July.  "There is always the monsoonal flow, but to have [storms] at night and have them stick around for four or five hours is uncommon," says Garland.
This year's women's race unfolded almost exactly as it has in the two previous years, with Boulder, Colorado–based athlete Darcy Piceu running to a steady win after race leader Diana Finkel dropped out late in the event. In 2009, Finkel set the women's course record of 27:18. While pressing to win the overall race in 2010, Finkel pushed her body to its limit and spent the following three weeks in the hospital on dialysis. Amazingly, she managed to win again in 2011 but has withdrawn with health issues in the past three years, each time leaving the race to Piceu.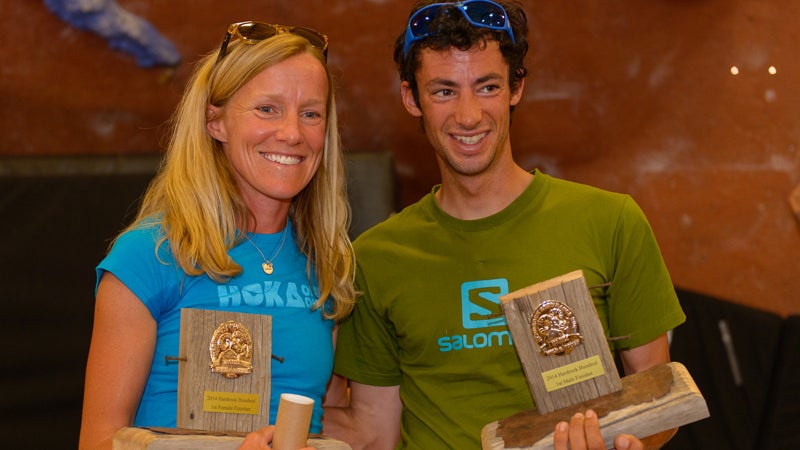 Campbell and I were unfortunate witnesses to Finkel's demise this year. As she has during the past few Hardrocks, Finkel was running in the men's section of the field. In eighth place overall when we caught up to her, she was experiencing the all too familiar symptoms of kidney dysfunction. As we approached, she was stumbling from side to side, with her stoic husband, Ben, trying to keep her from falling and ultimately dying in the basin. She would make it to the Maggie aid station, at mile 85, and drop from the race. Lacking the competitive depth of the men's field, this year's second woman finisher was more than eight hours after Piceu.
As Campbell and I were trudging up Handies peak, about 61 miles into the race, Canadian athlete Adam Campbell (no relation) and his pacer were hit by a dispersed lightning strike on the summit. "It blew my headlamp up and knocked us both down," Campbell told me. Undeterred, the Canadian raced an almost flawless effort and finished third overall in 25:56. 
Although the altitude, stormy weather, and course conditions took down some of the best endurance runners on the planet, Jornet sauntered to a new course record with his usual aplomb. The 26-year-old Catalan ultrarunner and mountaineer missed the brunt of the day's storm by running out in front of the field and the lightning. French ultrarunner, 2011 Hardrock champion, and eventual second-place finisher Julien Chorier managed to stay within striking distance until Jornet decided it was time to push for the record. Jornet is so much better than the next-best athlete in most races that he stays with them just for the company. As the finish line approaches, he then makes a move for the win. Worried about getting lost on the sparsely flagged Hardrock course, Jornet decided he'd run easy until mile 72. "I planned to go for it at Sherman aid station because it was just a marathon for me then," said Jornet. Still a whopping 10 minutes behind course record pace at mile 85, Jornet flew to the finish and a new record by 42 minutes. "This is a record that will stand for a long time," says Garland of Jornet's 22:41 finish.
I ran with Campbell for about 10 hours—11,000 feet of up, 31 miles, and just under a third of the Hardrock course. We shared few words and one puke (watching him puke made me puke). Charging to the finish line with a time of 28:23, Campbell finished in seventh place. He ran the finish-line shoot with his wife and six-month-old baby before kissing the Hardrock.
My heart palpitated.
Trending on Outside Online