The Top 10 Ski Resorts in Europe
Discover what a passion for winter really means by schussing in the shadow of the Eiger, chowing down on five-star fondue in a slope-side farmhouse, or partying in Kitzbühel with the world's best skiers.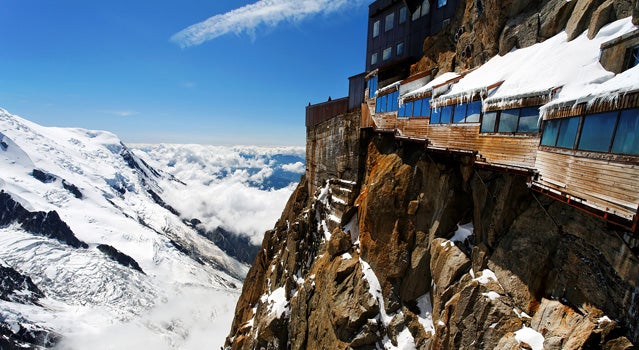 Heading out the door? Read this article on the new Outside+ app available now on iOS devices for members! Download the app.
It's hard not to love a country—Austria, Switzerland—where the hopes and dreams of its people rest on the shoulders of its best skiers. At just about any World Cup ski race in Europe, tens of thousands of flag-waving, bell-jangling fans revel in the competition. Discover the root of the passion by schussing in the shadow of the Eiger before downing five-star fondue in a slope-side farmhouse—or take any other of the trips outlined on the following pages. One jaunt is all you'll need to see that the mountains have shaped virtually all aspects of life in the Alps, and that skiing is the anchor of everything. With once in a lifetime snowfall hitting this winter, and the Euro faltering, there's never been a better time to ski the old continent.
---
Chamonix, France: Best for Lift-Accessed Steeps
For skiers, Chamonix is the motherland. The 10-mile long valley boasts one bustling town, five ski areas, and lift access to some of the hairiest steeps on the planet. The Aiguille du Midi cable car rises 9,187 feet from Cham Sud to the needle-nose of Aiguille, delivering you to the front door of Mont Blanc, the Vallée Blanche, and technical lines like the Couloir des Cosmiques, a roughly 45-degree, 2,600-foot couloir that usually requires a rappel in. Ski all the way down to the valley floor and rack up 10,000 vertical feet. For something a little less spicy, try the Vallée Blanche—a 13-mile-long rolling schuss down a glacial valley surrounded by the jagged peaks of the Alps. A full backcountry kit and knowledgeable guides are advised, because there is so much terrain to choose from, it's not well marked, and it's easy to get into trouble fast. American ex-pats Miles and Liz Smart of Smart Guides are UIAGM-certified and know the valley inside and out. At day's end, grab a vin chaud (hot, mulled wine) and kick back to the house band at Chambre Neuf. Then stumble home to the Vagabond, ground zero for Cham's nomadic ski bums. 
---
 La Grave, France: Best for Ski Mountaineering
The late, great ski-mountaineer Doug Coombs helped put La Grave on the map when he set up camp here in the 90s. Now, it's a mecca for big-mountain purists looking for no-frills steep skiing in the form of 7,000-vertical-feet of glaciers, cliffs, couloirs, and no-fall zones. A 12th century village tucked into the French Alps about an hour from Grenoble, La Grave is a 500-person town with an intimate family feel. Everyone knows everyone here, and the social life revolves around potlucks at private homes. With one lift, no avy control, no ski patrol, no marked runs, and no guide required, La Grave makes Silverton, Colorado look like the Romper Room. If you'd like to survive La Grave, hire a guide. Xavier Cret grew up in the region, worked with Coombs, and is now one of the most respected skiers in the valley. Book him through La Grave's Bureau des Guides. For customized, private outings, hire Joe Vallone, a friend of pro-skier Chris Davenport. Stay at the Skiers Lodge, which offers guided groups, live music, and is only a three-minute walk to the lift. 
---
St. Anton, Austria: Best for Après Ski
A charming slope-side town steeped in alpine tradition, St. Anton offers almost 200 miles of runs, roughly 440 miles of back- and side-country terrain, and a raging après scene. Hire a guide, like Chris Riepl or Ali Penz from the Ski School Arlberg, so you can bypass the Valluga tram queue and tap the chutes off Valluga peak. Or, ski over to Lech, a glitzier village in a neighboring valley, via Zürs and an extensive network of lifts. In Lech, grab wood-stove pizzas at Schneggarei, a cozy restaurant in a revamped ski hut. Ski back to St. Anton, and hit the Krazy Kangaroo, a slope-side après joint popular with Aussies. Then head to the Mooserwirt, where the party is full on by four o'clock in the afternoon, with a DJ spinning, waiters cruising the outside patio with treys stacked with mini bottles of Jäger, and people dancing on tables. Forgo the sketchy, post-après ski descent into town, and stay next door at the 17-room das Mooser hotel, a seemingly traditional Tyrolean farmhouse that offers ski in-ski out access, tricked out rooms, and a coed, naked spa with four different types of saunas. 
---
Kitzbühel, Austria: Best place to watch a ski race
Each January, over 80,000 ski-racing fans pack Kitzbühel to watch the world's best skiers tackle what is largely considered the hairiest and most prestigious downhill race on the World Cup circuit. When the race is over, ride the Hahnenkamm gondola, which features the names of all past winners emblazoned across the side of the cabins (American Daron Rahlves is #91). If you're comfortable skiing icy black diamonds, test your skills on the Streif, as the downhill course is known, a puckering two-mile-long track filled with huge airs, steep pitches, and hairpin turns. After surviving the Streif, head to the English-style pub appropriately named The Londoner for a pint of Gösser. In a tradition dating back to the 80s, the downhillers get behind the bar and serve beers to legions of hammered fans after the World Cup races. If it's too packed, escape to the Goldener Greif, a traditional Tyrolean inn in the town center that serves as the headquarters for the U.S. men's team when they're in town. If you'd like to stay in Kitzbühel during the races, book at least six months in advance.
---
Verbier, Switzerland: Best Nightlife 
This French-speaking ski town in the western part of Switzerland gives Chamonix a run for its money in terms of lift-accessed steeps. What it lacks in terms of hardcore ski alpinism, it makes up for in style, world-class amenities, and convenience. The hotels, restaurants, and nightlife are sophisticated and polished—Richard Branson opened a chic chalet-hotel here called the Lodge. The lifts are fast and offer easy access to 254-miles of slopes and off-piste zones like Bec des Rosses, a hairy, roughly 50-degree face accessed from the Mont Fort tram. If you want to tackle the Bec, or partake in any other off-pisting, hire Mauro Soregaloli or Stan Aunan. The two standout guides work at Adrenaline, the best ski school in Verbier. After slaying Verbier's steeps, grab a sausage and sit outside on the deck slope-side at Cabane Mont Fort before ordering a Carlsberg at Pub Mont Fort in town. If you're itching for a big night, head to the Farm Club, a disco where you'll rub shoulders with ski bums and European aristocrats alike. For something low key, hit the Fer à Cheval, a bar popular with locals. Stay at the centrally located Hotel Farinet, which doubles after dark as a Bedouin-inspired nightclub. 
---
 Mürren, Switzerland: Best-Kept Secret 
Stashed in a remote corner of the Swiss Alps and accessed only by train or cable car, Mürren is a car-free village that offers only 33-miles of slopes, but delivers huge backcountry. The best part? Unlike Cham or Andermatt, Mürren remains largely undiscovered by the international freeride scene. Low-key locals tap football fields of untracked snow and duck off into the backcountry while British families schuss down pistes. Ride the 007-Schilthorn cable car to the top of the mountain, grab Muesli from the breakfast buffet at the Piz Gloria, the rotating restaurant featured in the 1969 James Bond flick On Her Majesty's Service, then lap the Schilthorn face, right under the tram. If you're down for a race, go in January and sign up for the Inferno, a 1,800-person, nine-mile, derby-style event. Hire a guide from Swiss Snow Sports and ski over to Rote Härd, climb up the Hundshore, and ski down the Sefinen Valley all the way to Gimmelwald, a traditional farming hamlet one stop below Mürren on the Schilthorn cable car. Back in town, stay at the family-run Hotel Eiger for a warm vibe, stunning views of the Jungfrau. Oh, and make sure to drink at the Gondel Bar, a tiny watering hole in an old, grounded, cable car at Hotel Jungfrau. 
---
 Zermatt, Switzerland: Best On-Mountain Drinking and Dining 
Zermatt offers more than 60 on-slope eateries and après joints spread over its three mountains and 153 miles of runs, from a Champagne bar tucked into an old farmhouse to the five-star Findlerhof restaurant. After an easy side-country tour up the Breithorn, refuel at Chez Vrony, a refurbished 19th century farmhouse that serves up a tasty platter of air-dried local beef and cheeses, risotto with venison sausage, and a killer hamburger. Kick back in a lounge chair on the sundeck and soak up the Matterhorn across the valley as Euros pop bottles of Rosé around you. Or venture to the Monte Rosa Massif and ski the Marinelli Couloir, the longest coulie in Europe. Finish the day off with live music slope-side at the Hennu Stalle, or further down at the bottom of Sunnega at the Cervo, a new hotel that delivers a lively après scene, an outdoor fireplace, and tasty snacks like goat cheese drizzled in forest honey and homemade Ravioli. 
---
 Bernese Oberland, Switzerland: Best for Touring  
Sure, the Haute Route linking Chamonix and Zermatt is an iconic, beautiful ski tour, but being the most popular ski traverse in the world, it's also massively overrun with thousands of skiers each winter. Switzerland's Bernese Oberland offers skiing amongst the iconic Jungfrau, Eiger, and Monch peaks, an extensive and (largely) crowd-free hut system. Stay in Wengen, a car-free village in the shadow of the Eiger where kids sled to school and a 100-year-old cog train ferries skiers to the resort's slopes. From Wengen, ride the Wegnernalp cog train about 30 minutes to Kleine Scheidigg, where you transfer to another train that snakes through the north face of the Eiger and up to the Jungfraujoch. Hop off, strap in, and ski down the Aletschgletscher, at 14 miles long, the longest glacier in Europe and a UNESCO World Heritage site. This is crevasse-riddled terrain, so hire a guide. Grab tea and cake at the Konkordia Hut, and post up for the night before continuing on to the Finsteraarhorn Hut, or any number of multi-day tour variations.
---
 Alagna, Italy: Best for Big-Mountain Freeriding 
Alagna delivers unadorned big-mountain freeriding. Situated in northern Italy on the southern side of the Monte Rosa Massif, the rustic farming village—population 400—serves up a mountain with serious exposure, one gondola, and access to two additional ski areas, Champoluc and Grissoney. The three areas together offer 115 miles of runs, but you don't come to Alagna to ski inbounds. Ski the Malfatta and Vittoria couloirs, two marquee backcountry lines, and the six-mile-long La Balma, which winds down a glacier and through ancient farming hamlets. If it's nightlife you're after, there's really only one stop, the Caffé delle Guide, a low-key bar where Alagna's guides congregate at day's end. Book a room at the Indren Hus, which is close to the lifts and one of the few places to stay in Alagna proper. There's not much to do in Alagna but ski, so arrive in shape and bring your appetite—the Margherita pizza at Café delle Guide can't be beat.
---
 Andermatt, Switzerland: Best for Powder 
The Scandinavians have arrived and development is here; six hotels, 490 apartments, and 25 villas were built in 2013. But Andermatt retains its homegrown-alpine-village vibe, with a booming freeride scene. Situated in central Switzerland at the convergence of four mountain passes, Andermatt gets hammered by about 40 feet of white stuff a year. Storms pummel the 9,721-foot Gemsstock, one of Andermatt's three ski hills, covering its north-facing slopes. From the top of the Gemsstock, hit the Giraffe, a 5,000-foot off-piste run that funnels into a series of pristine bowls and finishes off with a steep couloir. Ski from the nearby town of Realp to Engleberg via the Urner Haute Route, a five-to-seven day, 34-mile tour. In Andermatt, stay at Kumli Regli for affordable, cheap rooms within walking distance to the Gemsstock. 
Trending on Outside Online