Going Mobile: Lessons from a Family Road Trip
On the road with two kids, a dog and a vintage RV.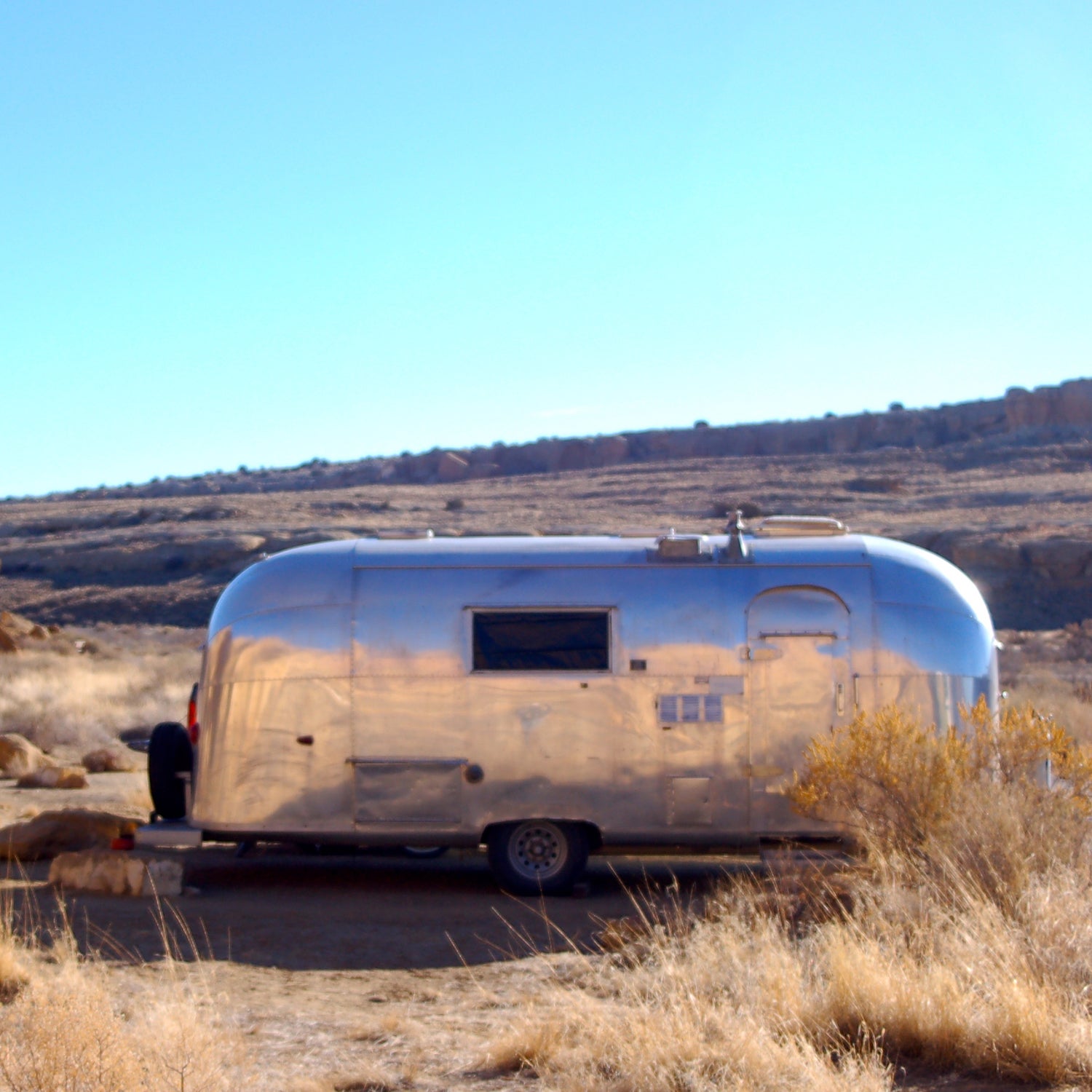 Katie Arnold(Photo)
Heading out the door? Read this article on the new Outside+ app available now on iOS devices for members! Download the app.
The idea of lighting out is as old as Odysseus, and as American as Huck Finn and Route 66. We've been a nation of wanderers since long before we had roads. And as we've become increasingly saddled with bigger homes, heftier mortgages, more stuff, and a constant barrage of data, chucking it all for a freer life on the fly becomes ever more appealing.
No wonder, then, that RV sales continue to surge, vintage Airstreams still fetch upwards of $20,000 on the used market, and demand for new ones is outpacing production. Stories about tricked-out teardrop trailers and camper vans on this website illicit an avalanche of adoration and a new era of camper porn that seems to suggest the vehicles we drive to our adventures matter more than the adventures themselves. Even if most of us are too attached to creature comforts to ditch everything and live on the go, our inner dirtbags like to dream we will.
The minimalist mobile life isn't just for loners. World champion freestyle kayaker Eric Jackson and his wife, Kristine, raised their two prodigal kids, Emily and Dane, in their 20-foot RV, driving around the country from river to river. (They're grandparents now and still going—three generations of Jacksons caravanning to competitions in matching Sprinter Vans.) Then there are the intrepid, unflappable types who drive to Argentina in their VW vans, somehow managing to change diapers and live on zero sleep, all while raising worldly, well-adjusted toddlers, selling folk art to support local indigenous communities, and blogging about their adventures. Going mobile has never seemed so seductive, like the ultimate cure for the malaise of domesticity.
My husband and I have been flirting with the camper fantasy since 2011, when we acquired a 1960s vintage Airstream. Unlike the Jacksons, we never wanted to run away for good. We have two young daughters, our own businesses, and a house and friends we love. We just wanted to be part time wanderers, to roll into Marfa or Death Valley or J-Tree with our kids and dog and land yacht and then roll home a few days later to real beds and plumbing.
We thought the Airstream would free us from the tedium of home life and the dorky predictability of tent camping. (It could also double as a hipster guesthouse parked in our driveway!) What it did instead was saddle us with a decrepit, road-weary behemoth that, no matter how much TLC we poured into it, was constantly and violently shedding broken-down parts of itself, like a rocket ship reentering orbit. During one ill-fated Thanksgiving escapade, we left a trail of broken window glass on the washboarded road into Chaco Canyon. When we got home, we sold the Airstream on Craigslist. If we hadn't, Steve and I would be divorced by now.
Once recovered from our Airstream PTSD, we—and by we, I mean I—started rationalizing, and by rationalizing, I mean scheming. The problem was that the Airstream was too big, and hard to pull. Towing it was a bitch. Steve burst a blood vessel in one eye just trying to back it up our driveway. But if we could find a camper that drove like a car and didn't shimmy worrisomely on the road behind us and could sleep all four of us and the dog, in a smaller, more compact package…
[quote]We were parked beside our favorite desert river, headed for even wilder country beyond, and buoyed by the novelty of driving a car that was also our bedroom. Then the van tried to kill me.[/quote]
Unless you've been living under a rock, you know that used Volkswagen Eurovans (out of production since the mid 1990s) are having a major renaissance, thanks in part to savvy road warriors who are retrofitting the boxy, bakery-truck-like pop-up campers with Subaru engines so they'll run forever. When our friends purchased a 1991 Eurovan earlier this year and graciously offered to loan it to us for a Thanksgiving adventure do-over, I jumped at the chance to find out of the right vehicle, the super-sexy van du jour, could turn us into happy campers.
I'm the daughter of a roamer, so I come by my restlessness honestly. My father, a National Geographic photographer, loved nothing more than to drive around the country in his GMC Safari van, taking pictures. He preferred the vast, lonely prairies of the Dakotas, empty of people and flashy distractions, where there was nothing taller than a silo to break the horizon.
Steve and I pinpointed our own big empty on the map—the enormous canyons of the Grand Staircase-Escalante National Monument in Southern Utah and set out the day before Thanksgiving. Compared to the Airstream, the van drives like a dream. We could get it up to 75 without much effort and our girls, ages four and six, and dog had plenty of room in back to spread out. All that was missing was a piece of limousine glass to drown out the sounds of "Dora the Explorer" from the backseat so we could pretend that we were carefree adventurers ready for anything that might come our way.
Wedged in the no-man's land between Lake Powell and Bryce and Zion canyons, Escalante is one of the most remote places in the Lower 48—five hours south of the closest city and ten from Santa Fe and seemingly everywhere else. We camped the first night on the banks of the San Juan River outside Bluff, Utah. In the morning it was so cold that I cowered in our 15-degree doublewide sleeping bag on the downstairs bed and scratched Happy Thanksgiving into the frost on the inside of the window.
The Airstream's propane heater had seemed to us like a CO2 deathtrap but in a pinch we could still turn on the oven and let it heat the interior for an hour or two. Even with the broken windows, which we classily covered in duct tape and black garbage bags, the thing held its heat respectably. The van, on the other hand, was as insulated as a tin can. Whatever body heat we generated down below leaked right out of the canvas pop-top, where the girls slept. The hot bottles we'd filled with boiling water just before bed were chilled by midnight, when the little one elbowed her way into our bag, and by morning, the water jug had frozen solid.
But we were parked beside our favorite desert river, headed for even wilder country beyond, and buoyed by the novelty of driving a car that was also our bedroom.
Then the van tried to kill me.
We had just finished a short but spectacular hike in Natural Bridges National Monument, an out-of-the-way spot off Highway 95. It was past noon. There was no way we were going to make it to Boulder, Utah, in time for our 3 p.m. dinner reservation at the legendary Hell's Backbone Grill. Still, I was rushing to change out of my grubby camping clothes and into a semi-presentable Thanksgiving outfit, as though the extra 30 seconds of speed would make a difference. That's when I accidentally slammed the van's hatch onto my head.
Steve saw me crumple to the ground. When he looked at the blood spurting out of my scalp, he said "Oh?" in a maddeningly calm voice. Steve's the kind of stoic, even-keeled guy you want around in a crisis. Except when you're the crisis and you've just bashed your brain in and blood is streaking down your forehead. He was moving as slowly and deliberately as a slug, as though we weren't miles from medical help or cell reception. As though the park visitor center hadn't put a sign in the window saying "Closed for the holiday. " As though a ranger might waltz up at any moment wielding a first-aid kit.
Steve strolled languidly toward the van to retrieve a roll of toilet paper, which he pressed against the gash in my head. I could see the girls peering out the back, their mouths and eyes pulled into cartoonish O's. After a few minutes the blood slowed to a trickle and I wobbled to my feet. Steve parked me in the front seat and hopped behind the wheel. This was the crux moment: We could turn left and drive back to the nearest town, Blanding (pop. 3,000), and try to find an open clinic (doubtful) or we could turn right and drive three more hours into the heart of the canyons and try to make it to tiny Boulder (pop. 200) in time to eat turkey. Either way, we would have to hurry.
Adventuring with children is an endurance sport in its own right, an exercise in patience and unpredictability that requires constant monitoring of risks and stamina, theirs and yours. We'd thought that adding a van into the mix might alleviate some of the uncertainty and ease the occasional discomfort. A warm(ish?) place to sleep! A roof over our heads! But the truth is, shit happens, whether or not you are driving a retro camper—sometimes precisely because you are.
I sat next to Steve, pressing a cold can of beer and pieces of toilet paper to my head, blood slowing to a trickle, shushing the girls and trying to decide what to do. Even in my brain-jangled haze, I knew there was no clear right answer. Sooner or later, with or without stitches, the gash in my head would heal. But if we played it safe and turned back, we would be modeling caution and prudence to our girls—both essential skills in a life of adventure. If we kept going, we would be practicing one of my basic tenets of exploration, and of life: When in doubt, stick with the plan.
I didn't doubt that the van was capable of taking us to Boulder and back. Or that if we continued on, into the heart of the canyons, we would be alternately ecstatic and miserably cold. I knew that the girls, always game and often hardier than their mother, would rally hard and rise to the challenge of winter camping. I knew that we would burn through our daylight hours hiking some of the most remote and stunning country in the Southwest, just as I knew I would lie in my sleeping bag each night praying my brain wouldn't implode while I slept and that I would wake in the morning grateful to be alive. I knew that adventure, like parenthood, is never a simple matter of right or wrong, easy or hard, but instead a happy, riotous, occasionally maddening mashup.
As my head pulsed dully, I understood something else: We did not need the van, just as we had never needed the Airstream. Adventure lives in us, not in the vehicles we drive. Sleeping out, beneath a sky of stars, close to the ground, is still the simplest way we know to be in nature, to be a family.
We turned right.
Lead Photo: Katie Arnold
Trending on Outside Online