Gear Guy
What Are the Best Performance Jeans?
Climbers love them, and we ran a half marathon in them to prove that you should, too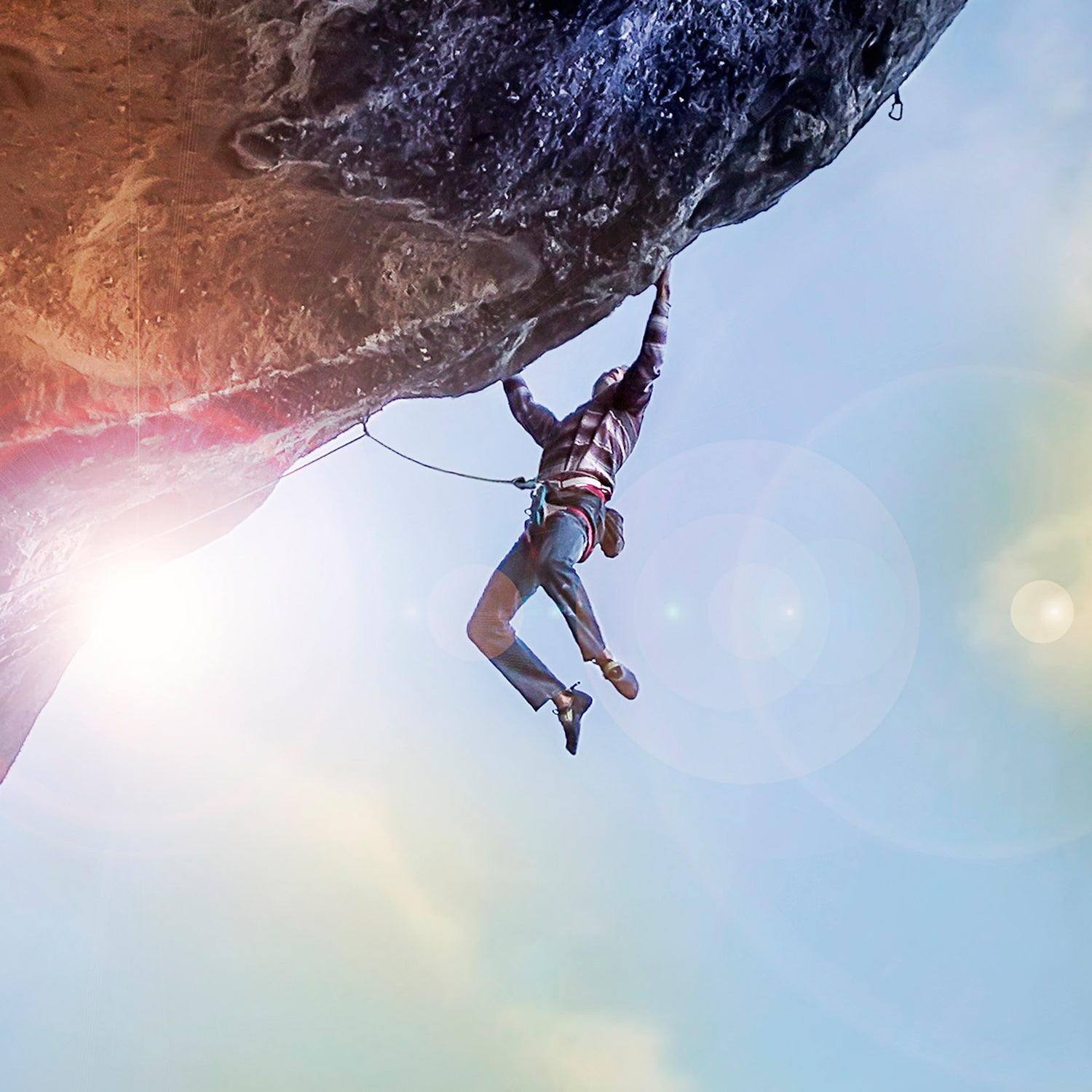 Courtesy of Prana(Photo)
Heading out the door? Read this article on the new Outside+ app available now on iOS devices for members! Download the app.
"Performance jeans" sounds like an oxymoron, but you'd be surprised how many activities are easily done in a pair of blues. People have been climbing in jeans for years because of their comfort, durability, and relative cheapness. Companies like Patagonia and Outdoor Research are now making jeans with stretch and better range of motion. We put five to the test. Here's what we learned.
The Test: The overall goal was to test both function and fashion. To start, I subbed these five jeans for the other two pants in my closet. They were the only non-ski or sweatpants that I wore for three full months. In that time, I rode my bike in them, wore a pair to my fanciest dinner in a decade, did circuit-training routines in my garage, and practiced yoga and general stretching in them. At the end of the test period, I took all five pairs to Brooklyn, New York, where I got Aysha Mirza, fashion expert, model, and member of the Oiselle Flock running group (also Kara Goucher's selfie coach), to help me judge the style claims. Then, in a penultimate act of testing, I ran the AirBnB Brooklyn Half Marathon in my favorite pair.
Duluth Trading Company Men's Fire Hose 5-Pocket Jeans ($65)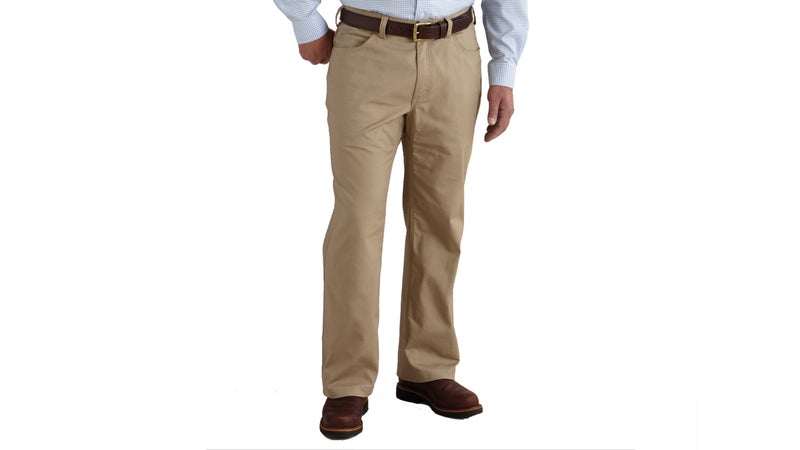 Best for: Cutting down trees.
The Style: "I guess they are OK for someone who would wear brown pants," said Mirza. While she absolutely hated the cut, the fashion guru did like the sturdy Firehose cotton fabric. These jeans definitely wore like work pants, making them a great substitute for Carhartts.
Performance: When compared with work pants, these were the stretchiest I have ever tested—but they had the least range of movement of any of the jeans in this test. They were also the hottest, and the Fire Hose cotton wasn't the most comfortable during faster-paced activities. 
The Verdict: While I don't wear the Fire Hose 5-Pocket Jeans for high-output activity, they still see plenty of wear as my go-to work pants for projects around the house and yard.  
---
Prana Axiom ($85)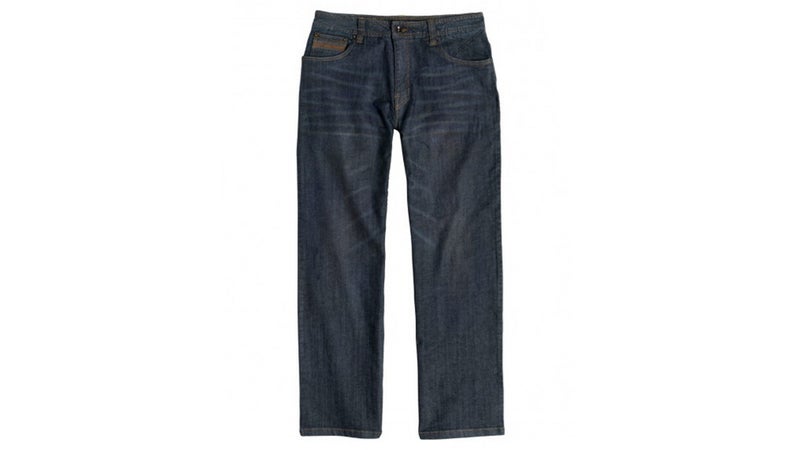 Best for: Doing the splits.
The Style: If you're willing to go for the slim-leg hipster look, the Axioms are your pant. Mirza, however, did not find the fit flattering: "It says slacker."
Performance: People have been climbing in Axioms for years, and I've finally figured out why. The denim placed third in our test in terms of stretchiness, but the gusseted crotch gave these pants a genuine full range of motion—something I was grateful for when I wore them to yoga. 
The Verdict: These classics deserve to maintain their spot as an essential climbing piece.
---
Bulletprufe Denim ($88)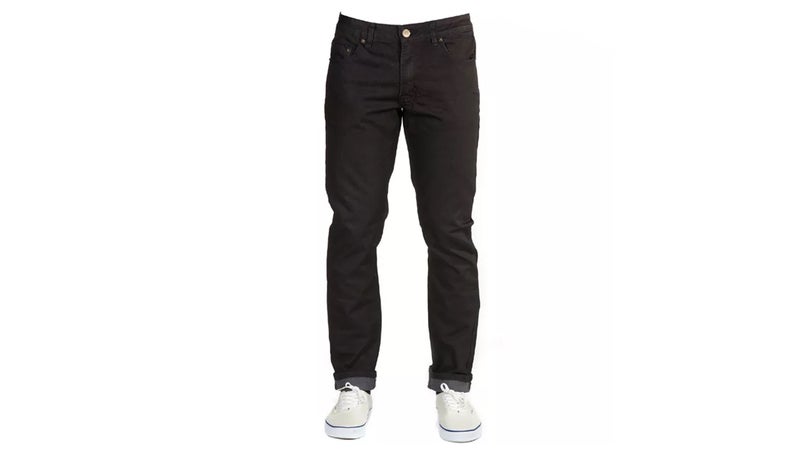 Best Style
The Style: The Bulletprufes were a close second in terms of style for Mirza, but they were my favorite. On top of having the slimmest fit of all the jeans on this list, the contrast stitching on the back pockets gave these pants a touch of character that the others lacked. They also dressed up better than traditional blue denim.
Performance: These were the most pliable pants on this list, but also the tightest. This fit was fine for fast movements with a short range of motion, and a definite standout on the bike, but they got pretty sweaty in the heat.
The Verdict: Wear them on your bike commute and out to dinner after work. All you need is a change of shirt.
---
Outdoor Research Goldrush ($99)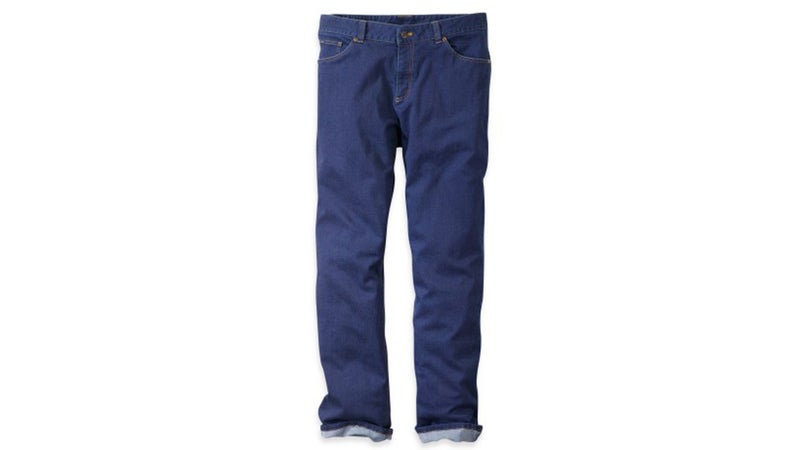 Best Material
The Style: "Feels like Avril Lavigne skater boy—bad," Mirza said. OK, not winning any points there, but the Goldrush had the second-widest leg in this test, and the relaxed fit made them a favorite among my kayaking buddies.
Performance: Cut from 80 percent cotton, these jeans have an excellent next-to-skin feel, particularly on long day hikes around my hometown of Ashland, Oregon, but the touch of stretchy nylon and Lycra made these a versatile pant.
The Verdict: Incredibly comfortable, plenty durable, and a nice amount of stretch. Your best bet if you like a relaxed fit.
---
Patagonia Performance Denim ($119)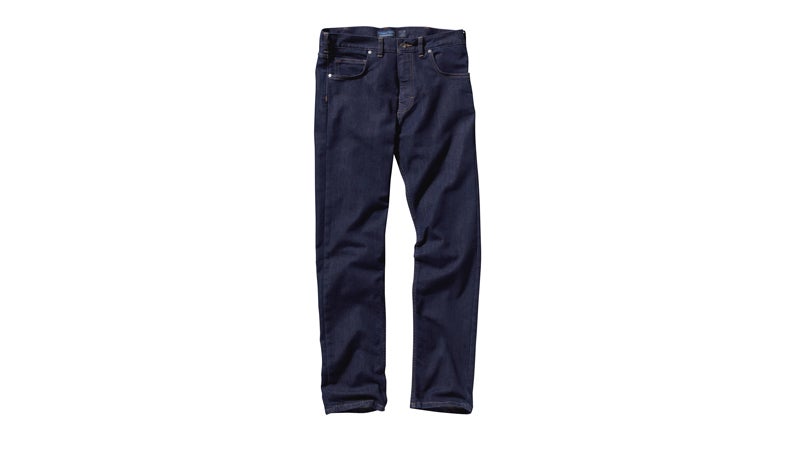 Best Overall
The Style: I had three people, Mirza included, ask me if I had these pants tailored. While I would love to claim a perfect Patagonia model body, I have to give credit to the designers for making a slim-fitting jean that fits as if it was made just for you. These pants also have a nice deep indigo color, which both Mirza and I preferred over the others on this list.
Performance: They feel like jeans when you put them on, but once you start exercising in them, they move like a hybrid workout pant. I was shocked at how comfortable they were after 13.1 miles of running. I planned on a sufferfest in the beginning, but despite being rained on, I actually had an enjoyable experience. The weight was suboptimal for running, but they didn't restrict my range of motion. And no chafing! (Though the quarter-tub of Vaseline may have had something to do with that.)
The Verdict: If you want one pair of jeans to wear with anything and go just about anywhere, these are the pants.
Lead Photo: Courtesy of Prana
Trending on Outside Online