Everything You Need for Shoulder Season
The best clothes for our favorite time of year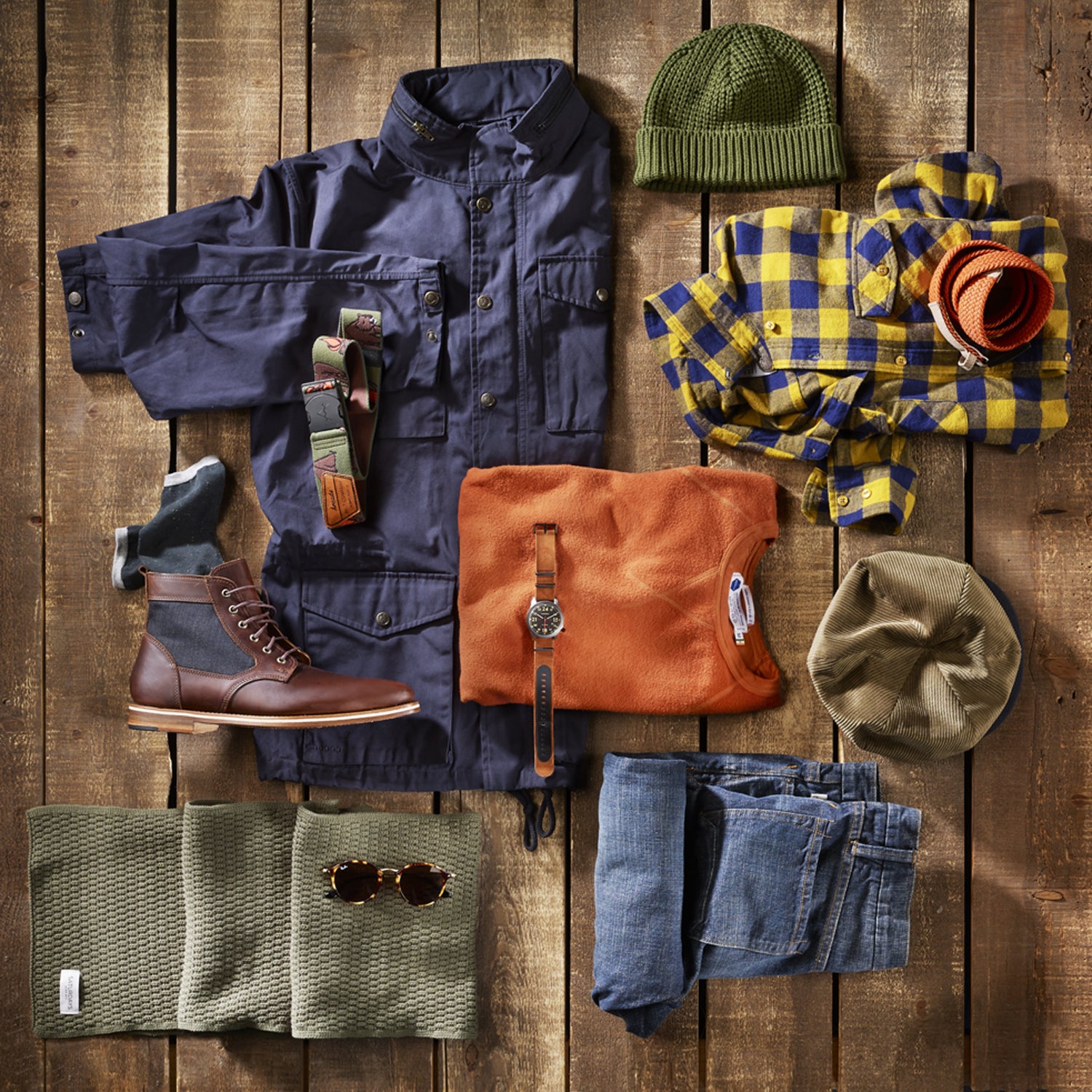 Heading out the door? Read this article on the new Outside+ app available now on iOS devices for members! Download the app.
Sure summer gets all the glory, but we're going to go ahead and say that autumn is actually the best time of year. Evenings are cool enough for sipping whiskey by the fire, the days are still long enough to squeeze in post-work mountain bike rides, and it seems like someone is always baking an apple pie. Even better, the weather is prime for most of our favorite activities—from backyard barbecuing, to outdoor climbing, to running trails and looking at leaves. Plus it's the best time of year to break out your favorite layers without being forced to hide them under oversized technical puffies.
It's the season of cozy beanies, sweaters, classic flannels, and wear-with-anything jeans. Here we present the latest autumn styles to keep you outfitted through the shoulder season, no matter how you spend your day.
Jackets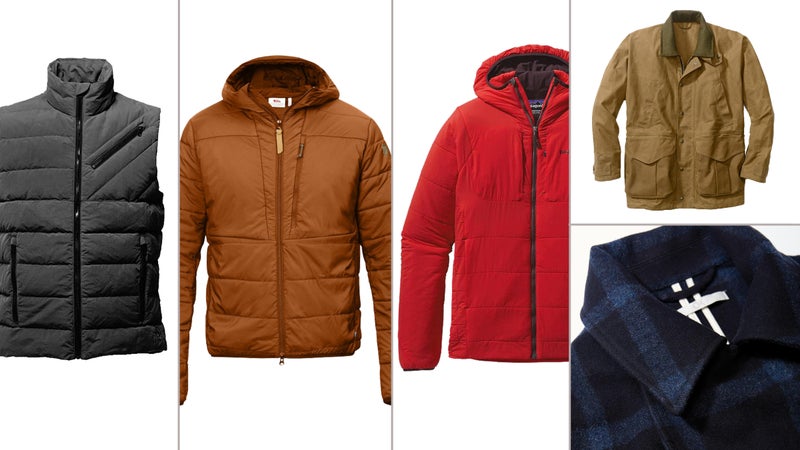 Aether Drift Vest
Vests were made for fall and we're big fans of Aether's goose-down Drift. The exterior quilting is stylish enough to pair with your favorite cords, but cool features like zippered handwarmer pockets and a media pocket suggest this layering piece is good for more than just leaf-peeping. $295; aetherapparel.com
Patagonia Nano Hoodie
The Nano hoodie is every Outside editor's favorite jacket—just walk around our offices on a November day and count the number of people wearing this insulated wonder. Sure it's a tech piece with proprietary, ultra-breathable insulation, but with cool colors, stylish baffles, and a stylish cut, it also looks great. $249; patagonia.com
Marine Layer Shacket
Part shirt, part jacket (hence the name), this knit wool outer layer works both ways. It's windproof and water-resistant for protecting against the elements, but also works just as well over a tee in a drafty office. Plus it's made in California. $225; marinelayer.com
Fjallraven Keb Loft Hoodie
We've worn this synthetic down hoodie under thicker wool pea-coats, and on its own over our favorite graphic tees, which makes it a perfect shoulder season layer when the temps can go from brisk to warm in a matter of hours. Bonus: The two zippered pockets are the ideal size for storing an iPhone and a wallet. $275; fjallraven.com
Filson Tin Cloth Field Coat
It's hunting season, but even if you're not going to be loading up your freezer with elk steaks, you should still rock this rain-repellant, lined field coat. The chest handwarmer pockets are great for your freezing digits when you decide you're too cool for gloves, and the oil finished tin cloth exterior will hold up for over years and years of wear. $395; filson.com
Outdoor Voices Rec Jacket
For those times where brunch with your girlfriend turns into a game of pick-up football, Outdoor Voices' simple softshell is a great all-activity layer. Cut in the style of a vintage track jacket, it's stylish with just enough performance specs (stretchy spandex, rear mesh venting) to adapt to anything. $100; outdoorvoices.com
Outerknown Hemisphere Peacoat
It's hard to go wrong with a classic peacoat. But we're partial to Outerknown, because, well, it's Kelly Slater's company. And who doesn't love Kelly Slater? Not only that, but this double-breasted version is cut from recycled wool and held together with organic cotton twill seams, so you can feel good about looking good while staying warm. $545; outerknown.com
Pants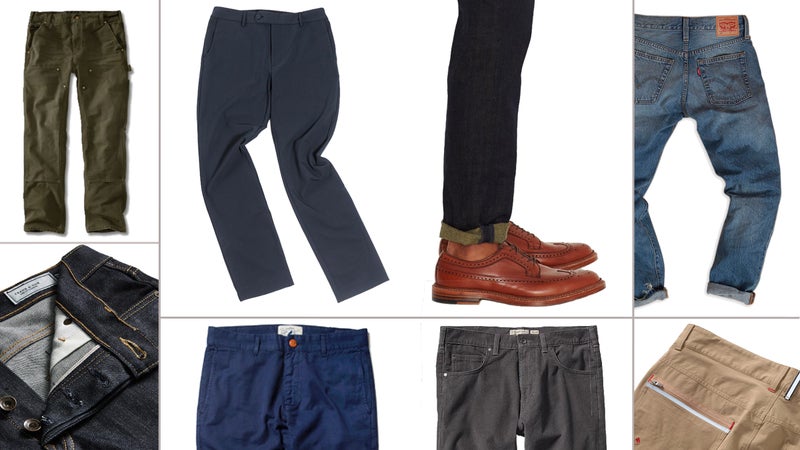 Mollusk Cords
Autumn is undeniably corduroy season and these loose-fitting bottoms from surf company Mollusk happen to be our new favorite. Made from 100 percent cotton and available in colors ranging from understated grey to very very green, they pair with just about everything. $98; mollusksurfshop.com
Patagonia Straight Fit Cords
Slimmer cut for a more modern fit and cut long for taller guys, these soft, organic cotton, 5-pocket cords can easily be dressed up or down with just a change of shirt. We've worn them to work, to the climbing gym, and out to beers with friends. $89; patagonia.com
Bonobos Chinos
Every man needs a pair of chinos in his wardrobe. We recommend this dark blue, slimly tailored pair. The pants probably match with every shirt you own and look as good with tennis shoes as they do with Chukkas. $88; bonobos.com
Carhartt Washed-Duck Double-Front Work Dungaree
There's a reason Carhartts are the unofficial uniform of every mountain town in the west—they're extremely durable and once they break in, also incredibly comfortable. Plus they look great with flannels and puffy jackets, which we know is all you wear anyway. $54.99; carhartt.com
LL Bean Lakewashed Cotton 5 Pocket Pants
Soft Pima cotton makes these great for sitting (or standing) behind a desk all day, and the straight fit is always timeless. But we like these chinos best because they're just understated enough that we never really have to think about what we'll wear them with. $49.95; llbean.com
Outlier New OG Flats Pants
Outlier designed these pants specifically for the bike-to-work crowd. A Cordura outer face resists water and wear, while the softer insides don't feel like you're wearing rain pants. Even better, they look exactly like a pair of well cut chinos. One of our editors once wore them to a wedding when he realized he'd left his suit pants in Santa Fe. $225; outlier.cc
Levis 501 CT Pants
If you're going to invest in a wear-forever pair of jeans, go with these. They're comfortable, they're classic and you can get away with wearing them to work if your shirt and shoes are nice enough. Plus, it's hard to argue with a fit that hasn't changed all that much in over 100 years. $78; levis.com
Wellen Edwin Pants
Wellen started life as a surf brand but has since branched out into basics like these canvas cotton pants. Designed in Los Angeles, they're about as all-American as you can get. We like them best with a pair of Vans and a down vest. $110; wellensurf.com
United by Blue Dominion Twill Pants
United by Blue is all about sustainability. Case in point, these organic cotton twill pants, which are extremely comfortable thanks to a light stonewashing, but look pretty dang sharp, too. As with all products from the Philadelphia, Pennsylvania, company, buy these pants and the company's volunteer team will clean up one pound of trash from one of the world's oceans or waterways. $77; unitedbyblue.com
Frank and Oak Cooper Selvedge Denim Jeans
Made in Los Angeles and designed to be worn to threads, these silm-fit jeans are a favorite once we've broken them in. The dark denim fades a bit over time but that's exactly what you want in a pair of pants intended to wear with the activities you do. $125; frankandoak.com
Shirts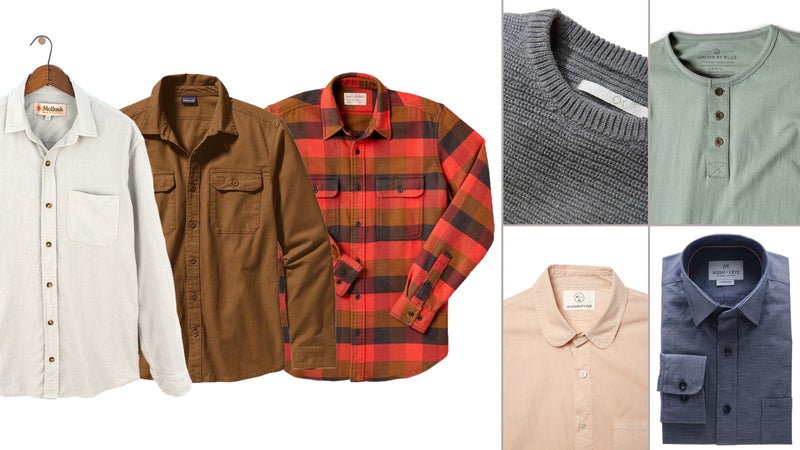 Patagonia Long-Sleeved Workwear Shirt
Organic cotton has been a trend among our fall favorites but Patagonia went above and beyond with this classic workwear shirt, making it available in organic cotton canvas, organic cotton denim, or organic cotton corduroy, depending on your style and whether you spend more time building campfires, riding horses, or tromping around the woods shooting grouse this time of year. $99; patagonia.com
United by Blue Standard Henley
Henleys are great this time of year because they work well as a base layer. But when they're as good looking as this one from United by Blue, they can also stand alone with a good pair of jeans. $54; unitedbyblue.com
Mollusk One Pocket Shirt
Cut from a combination of linen and cotton, this is definitely a multi-season shirt. It's the one you keep out when summer days are just about gone but it's not quite cold enough for flannel. $76; mollusksurfshop.com
Fjallraven Lappland Merino Henley
This Henley from Fjallraven is almost a performance piece thanks to moisture-wicking, never smelly Merino wool. But with the cool fall colors and casual cut, it's not out of place if you happen to be drinking cocktails instead of riding mountain bikes, or perhaps going straight from the latter to the former. $129; fjallraven.com
Filson Vintage Flannel Work Shirt
Because what is fall without flannel? This one from Seattle-based Filson is durable enough for fieldwork, but we're also pretty happy wearing it as an outer layer for end-of-summer barbecues when the nights start getting cold. $135; filson.com
Buck Mason Slub Tee Shirt
Hands down the most comfortable basic tee we've ever worn. If that's not enough of endorsement for this as a layering piece—under flannel, sweaters, or on its own—we don't know what is. $70; buckmason.com
Hugh and Crye Shirts
Thanks to their online fit calculator, Hugh and Crye has built a solid business on helping athletic men find work shirts that fit without the need for a tailor. $85; hughandcrye.com
Outerknown Jet Lag Crew Top
Made from a blend of organic cotton and baby alpaca yarn, this sweater is maybe the softest thing we've ever put on. Cool feature: side vents at the hem make the Jet Lag crew less constricting than similar styles. $385; outerknown.com
United by Blue Provincial Plaid Shirt
The Provincial's athletic (read: roomy) fit is ideal for Saturdays spent tailgating at college football games. The organic cotton is super soft, with the already-broke-in feel of your favorite flannel. $78, unitedbyblue.com
Poler Long Sleeve Button Up Shirt
We love Poler's interpretation of a classic mountainwear staple. And there's a reason you'll see it from Olympia, Washington, to Brooklyn, New York. It goes with every pair of pants you own: from chinos, beat-in blue jeans, and even slim-fit sweats. $72, polerstuff.com
Industry of All Nations Reversed Fleece Sweatshirt
Organic cotton and natural pigments combine to create a sweatshirt that feels lived-in from the first pull-over. But wait, there's more: every step of the Reversed Fleece keeps environmental impact in the forefront, from the biodegradable soap that washes out the colors for that worn look, to the vinegar used to set them. $165, industryofallnations.com
Accessories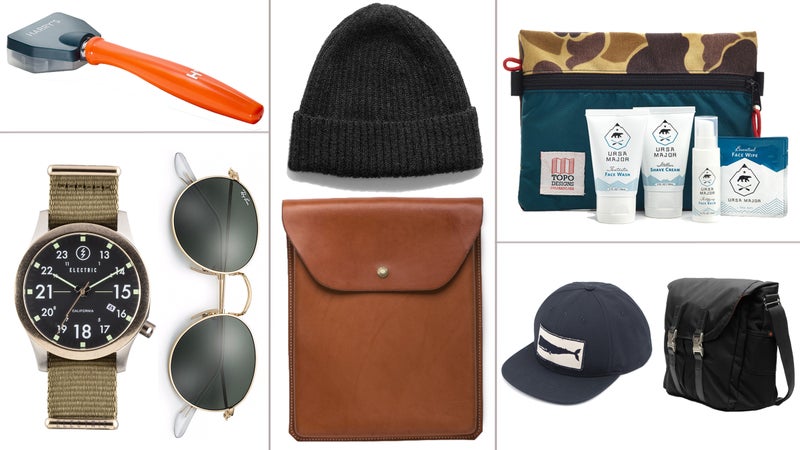 Best Made Gfleller Document Case
This small carrying case was designed to serve in leu of a shoulder bag to transport documents, small electronics, or maps from one place to another. The construction is simple: Three pieces of full-grain, vegetable tanned leather with an inside pocket to hold papers, a tablet, or a Macbook Air, all stitched together with linen thread. The case is made by hand at a studio in Meridian, Idaho. $325, bestmadeco.com
Electric FW01 Watch
Inspired by classic field watches, this water resistant (up to 600 feet) timepiece is great for pairing with everything you wear, and almost everything you do. The nylon band is stylish and easily adjustable, and the surgical stainless steel case means you don't have to worry about dings and scratches when you're day gets a little more hands-on. $175, electriccalifornia.com
Harry's Razors
Five precision-angled blades spread provide a more even shave, while an ergonomically designed handle makes this razor (endorsed by Jimmy Chin) easy and comfortable to hold. Pair with Harry's hydrating foaming gel and moisturizing shave cream. $15, harrys.com
Industry of All Nations Alpaca Beanie
Made from un-dyed alpaca wool collected in La Paz, Bolivia, this unbelievably soft beanie is both cool, warm on your noggin, and sustainable. Industry of All Nations collaborates with small local communities around the world to promote fair trade practices for production and distribution. We love it for cold fall morning walks to work, with a cup of coffee in hand. $95, industryofallnations.com
Ray Ban Round Classic Sunglasses
Ray Ban intended for these sunglasses to evoke a classic 1960s style, and we're fully on board with the gold-frame retro look. We especially like them for those autumn afternoons when the light is still summer-y but just turning into auburn fall. $150, ray-ban.com
Saturday's Robert Ragg Wool Gloves
Suede palms for gripping bike handlebars? Check. Soft wool-blend tops for breathable warmth when riding against the wind? Check. Saturday's Robert Ragg Wool Gloves are perfect for bike commuting when morning and evening rides start getting chilly. $75; saturdaysnyc.com
Shinola Runwell Watch
Detroit-based Shinola was founded with the goal of jumpstarting American manufacturing and they started with watches. The Runwell is one of their most popular models with USA-designed Argonite movement and a USA-made Hornween leather strap, all assembled at the company's Michigan factory. $550; shinola.com
Tucker and Bloom North to South Messenger Bag
The flagship product from this boutique Nashville bag company gets a fall makeover. We loved the waxed canvas, which provided a natural weatherproofing when the rain started to fall. The high-contrast interior with internal pockets was also a nice touch, keeping root-around time to a minimum. $250, tucker-bloom.com
Ursa Major X Topo Designs Scout Set Dopp Kit
We always keep this sweet little kit in our bag whether we're traveling or just planning on hitting the gym after work. The small bottles of face wash, shave cream, and balm are all FDA approved and the face wipes are great for wiping down after sweating out intervals. It all fits nicely inside a Topo Designs dopp kit, and everything by Ursa Major is made in Vermont. $55, ursamajorvt.com
Mollusk Whale Patch Hat
California surf company, Mollusk is one of our new favorites. The patch on this flat brim was made in San Francisco on a vintage embroidery machine, making for an understated, yet retro-cool baseball cap that goes with just about everything. $35; mollusksurfshop.com
Arcade Kodiak Belt
This belt, from freeskier Cody Townsend's company Arcade, replaces eyelets with an adjustable strap, meaning you can wear it with your baggie ski pants or skinny jeans and never have to worry about approximating fit. $26; arcadebelts.com
Shoes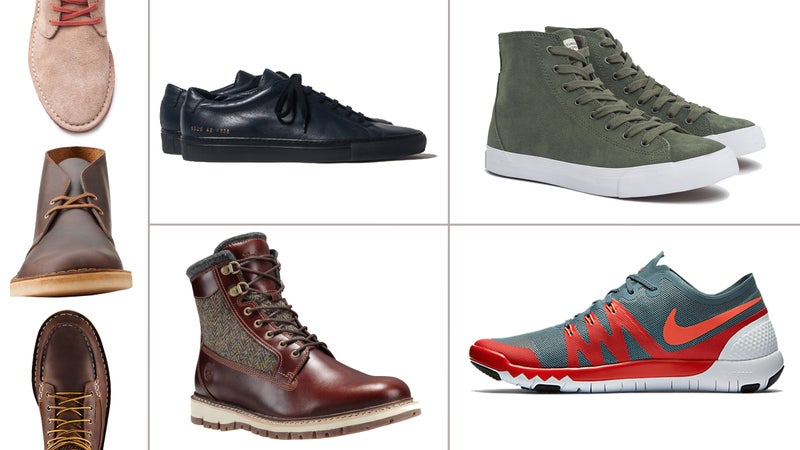 Vans Authentic Sports Vintage Shoes
These canvas low tops from Vans are about as classic as you can get when it comes to sneakers. We're big fans, and have often gotten away with wearing them to the office, which may be the only socially acceptable piece of clothing we also wore in high school. $45; vans.com
Timberland Britton Hill 6-Inch Lined Leather Boots
We're digging this season's mixed-medium uppers like these from Timberland. The leather toe and trim is tough enough to handle a lot of pavement walking, while the wool and tweed accents on the ankles (sourced in Scotland, just like your dad's favorite sport coat) have been keeping our feet warm without the need for super thick socks. Rush hour bonus: the Britton Hill's recycled nylon laces are engineered to stay tied so you can throw them on and go. $170; timberland.com
Clarks Desert Boots
Another Outside editor favorite (just about every guy in the office has a pair), and we're guessing you probably already own a pair, too. If you do, this is the season to break them back out after a summer of canvas tennies. If you don't, get a pair. They go with everything. $120; clarks.com
Thorogood Dodgeville Boots
Thorogood has been making boots in Marshfield, Wisconsin since 1892. That's a solid endorsement of quality. Add Vibram outsoles for occasional off-roading and you have a pretty great leather boot that will likely take you all the way through winter. $375; huckberry.com
Saturday's Mike Suede Shoes
Sure, hightops are what you wore to band practice in college, but what's wrong with that? These suede tennies form NYC-based Saturday's look mighty fine with a pair of dress slacks, but are also great for kicking around on, what else, autumn weekends. $150; saturdaysnyc.com
Adidas Originals Shoes
We're seeing these old school Adidas everywhere these days, and for good reason. They're great for walking around all day (or standing at your standing desk), but the bright white tennis shoe look pairs really well with a crewneck sweater and jeans, especially when it's still a bit too warm for boots. $80; adidas.com
Nike Free Shoes
These are a great training shoe. But strangely enough the Nike Free also looks awesome with a pair of selvedge denim jeans and a solid button down shirt. Trust us. More importantly, if you're the kind of person the starts your Saturday at the farmers' market and doesn't sit down until you've left the bar 15 hours later, there's hardly a better shoe. $90; nike.com
Helm Sam Original Dress Boots
Half square-toe, half round, the Sam is bi-partisan with its elongated forefoot and water-resistant leather sole (rainy fall squalls have met their match). A true multi-tool, this boot skirts the too-dressy line with denim panels. $499, helmboots.com
Helm Dash Sneaker Boots
The Dash is proper, polite leather on top of a punk rock, contrast outsole. The half-boot height works great with cuffed jeans on Sundays or with hemmed khakis during the workweek. We especially liked the raised instep, which gave our arches a bit more support. $299, helmboots.com
Lead Photo: Inga Hendrickson