Biking in a Kaleidoscope Requires Lots of Prep—and a Strong Stomach
Scottish BMX rider Kriss Kyle blew up the internet with his latest optical illusion video. Here's how he did it.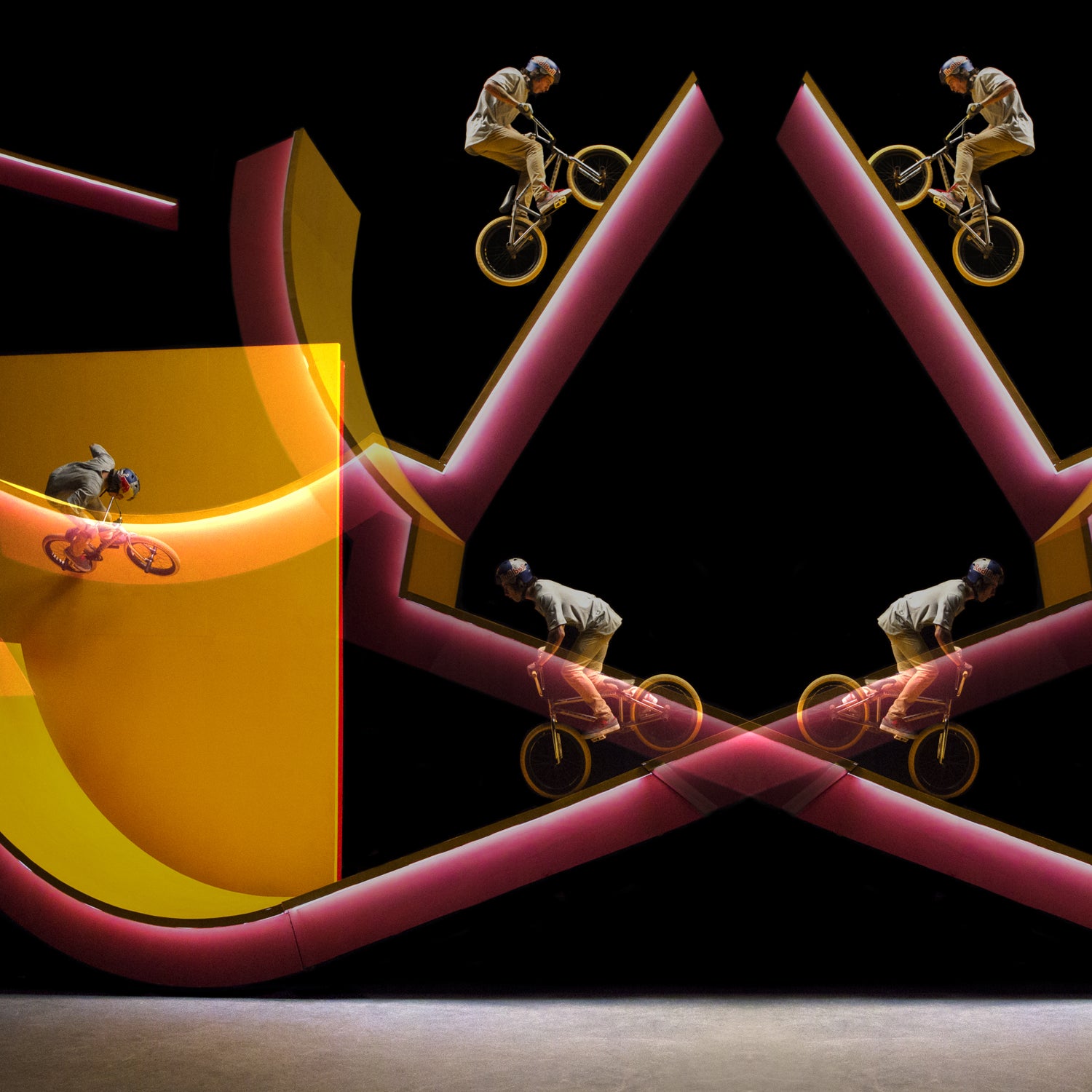 Rutger Pauw/Red Bull Content Poo(Photo)
Heading out the door? Read this article on the new Outside+ app available now on iOS devices for members! Download the app.
Kriss Kyle, a 23-year-old Scottish BMX rider, returned home from a trip overseas and showed up at a large warehouse in Govan, Scotland, where a crew had been busy preparing for a film project called "Kaleidoscope." Kyle would have the starring role. 
The crew had filled the warehouse with over a dozen large, wooden features reaching as tall as 40 feet. Among the structures was a revolving room, moving ledges and rails, and a trampoline, all painted bright yellow and red. All of the pieces moved and shifted, thanks to hydraulics and a staff dedicated to moving the parts. 
"When I walked in, I couldn't believe my eyes," Kyle says. "I've traveled the world looking for the perfect setup on the street and I've never seen anything like this. My dreams had come to life."
Kyle and director Ben Scott, a Hollywood production designer who made his directorial debut on "Kaleidoscope," spent over a year dreaming up the set. "I would draw something in my notepad, then Ben would say, 'OK, we can make it look like this,'" says Kyle. "We would just go back and forth until we got it right."
It took 10 days of filming to nail the resulting five-minute-long web video, which came out last week from Red Bull Media House and has tallied hundreds of thousands of views since. The edit required a crew of around 40 people and a reported budget of over $1.5 million. To keep up with all of the moving parts, the crew shot with a mix of high-end and budget cameras: an Arri Alexa, a Sony FS7, and GoPros. The cameras were mounted on dollies, cranes, or rolling rigs to capture Kyle as he spun and flipped his way through the features, all with the illusion of a colorful, fantastical kaleidoscope.
"The idea was that everything is moving, either on wheels, a giant hinge, or a revolving drum," says director Ben Scott. "The biggest challenge was coordinating each shot where the set, the rider, and the camera were all moving separately. If Kriss landed a trick then we had to have it in the camera. No excuses."
Kyle debuted a slew of new tricks in the video, many of which he'd never tried before he did them on camera. Many of the tricks took hours for him to land and resulted in bruise-inducing crashes and motion sickness from the moving pieces. "It was like learning how to ride a bike again because everything was moving," Kyle says. "It looks like optical illusions. People watch the video and they're like, 'Is that real?' The answer is yes, I did everything in that video. It's 100 percent real."
"The finished film is surprisingly similar to the computer pre-visualization that I did before we started filming," says Scott. "Because of its complexity we had to be really well prepared. Having said that Kriss really pushed his riding and constantly surprised me in what he was capable of doing."
Kyle, who moved away from home as a teenager to focus on BMX and has made a career out of competition and film parts, is already planning the next great edit. "I'm already thinking, 'What can we do next? How can we make this even better?'" he says. 
Lead Photo: Rutger Pauw/Red Bull Content Poo