Why President Obama and Hollywood Stars Play Dangerous with Bear Grylls
What's spurring so many A-list celebrities to appear on a survival TV show? The chance to experience a little fear and risk, which, as Grylls keeps telling us, only makes you stronger.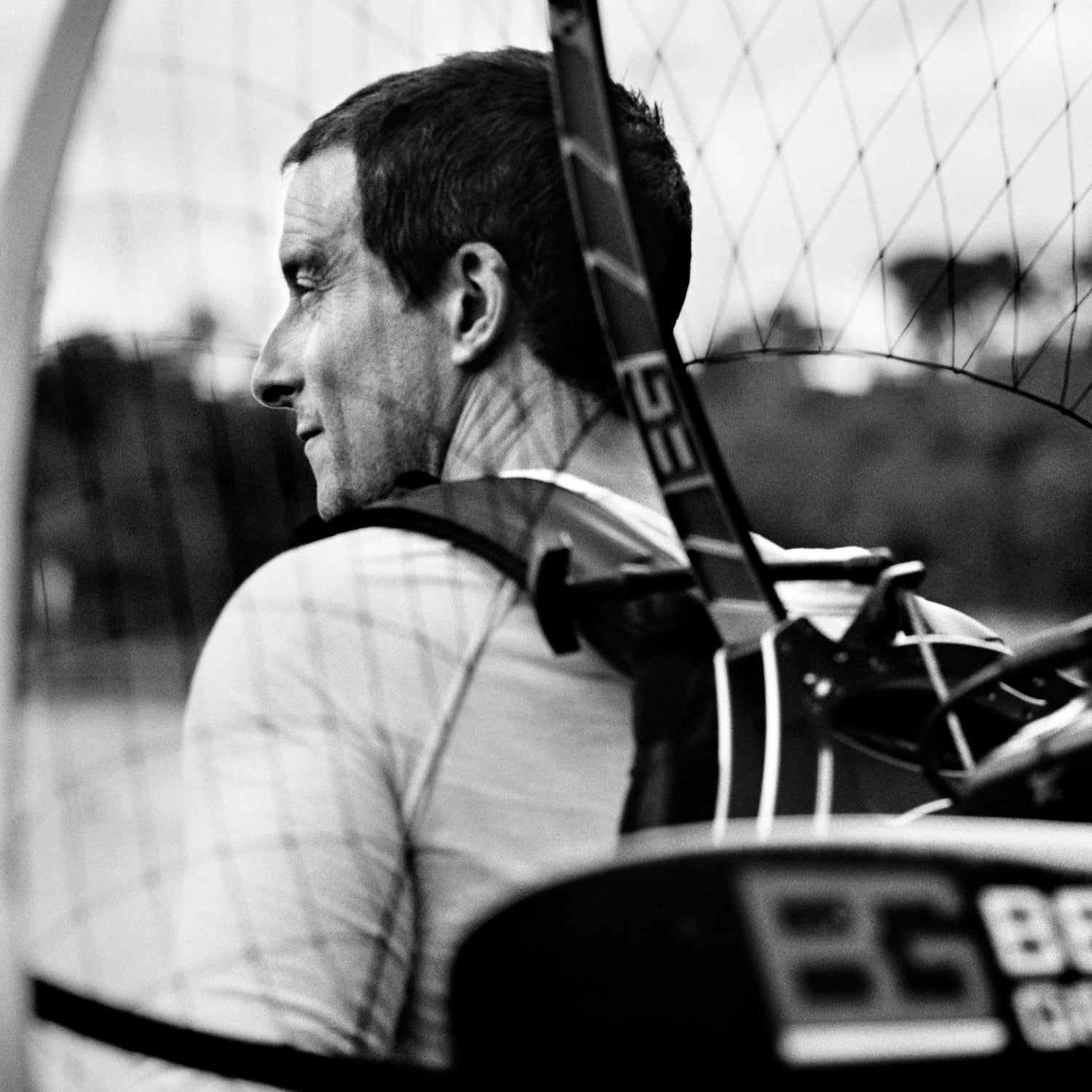 Heading out the door? Read this article on the new Outside+ app available now on iOS devices for members! Download the app.
In August, about three weeks before Bear Grylls took President Obama hiking in Alaska, he placed his 12-year-old son, Jesse, on a cluster of rocks off the coast of North Wales and left him there as the tide was rising. Grylls owns a tiny island in the area that serves as his family's summer retreat, and he has helped stage rescue exercises for the Royal National Lifeboat Institution (RNLI) a number of times in recent years. Whenever possible he tries to involve his three sons—Jesse's brothers are Marmaduke, 9, and Huckleberry, 6—in his adventures because, as he later tells me, "The boys love it!" Plus, he gets tired of doing this kind of stuff on his own. "It's always great fun," he says. "I can pour ketchup on their heads and pretend it's blood. They get to wear the oxygen mask and be put on a backboard and carried down a rock face." 
As he pulled his boat away from his eldest son, Grylls tweeted a photo to his 1.2 million followers, with the message: "Jesse and the @rnli on a training exercise to rescue him off the rocks!" Almost immediately, critics slammed Grylls for what they saw as a reckless stunt. Soon the RNLI was backpedaling, announcing its support of Grylls but saying the organization had not been aware of the details of the drill. "I certainly wouldn't put my young son on those rocks," one lifeboat station manager told British newspapers. 
Several days later, Grylls issued his retort: an op-ed in The Times of London encouraging his countrymen to live more boldly. "When we try to strip our kids' world of risk we do them a gross disservice," he wrote. "We teach them nothing about handling life. I believe it is fundamentally unfair to put children in a holding pen until they are 18."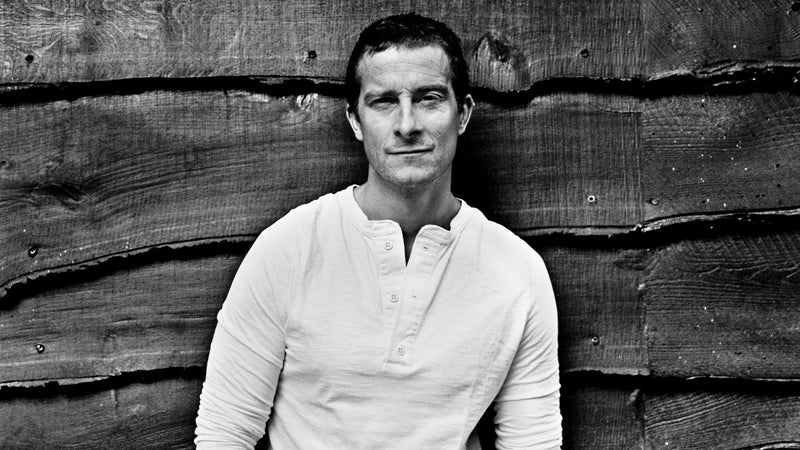 It was a perfectly on-brand response from Grylls, who, nine years after exploding into television stardom as the charming, carrion-eating, pee-drinking host of the Discovery Channel survival show Man vs. Wild, has become the global voice for embracing danger and hardship in the name of self-improvement. When Discovery canceled his show three years ago, Grylls could easily have ended up in the cable-TV adventure dumpster. Instead, he's been reborn as a network superstar. In 2015, he appeared in five different series, including two prime-time shows for NBC in the United States, The Island and Running Wild with Bear Grylls, which were the top-rated programs in their time slots across all key demographics (and that was before Obama came on Running Wild). Both programs also air on Discovery. He has two new hit shows in the UK, Bear Grylls: Mission Survive and Britain's Biggest Adventure, and in October, he launched a series for China's Dragon TV called Survivor Games that was mentioned more than a billion times on the Chinese social-media platform Weibo in the months leading up to the first episode. 
In addition to sharing massive fan bases, all the shows conform to the same basic structure: Grylls puts other people through frightening and uncomfortable scenarios to test their mettle and empower them to overcome life's obstacles. The expected action—jumping out of helicopters, racing around mountains, eating disgusting things—is a way to get them to open up about personal challenges. For every tense scene of someone dangling over a ledge, there's a heartfelt moment of reflection. 
The formula has proven especially compelling on Running Wild, which has Grylls short-roping celebrities on two-day buddy adventures. What Grylls gets these stars to do is stunning. Kate Winslet joins him for a motorized paraglider flight around a mountain range in Wales. In the jungles of Panama, New Orleans Saints quarterback Drew Brees leaps onto the back of a crocodile that Grylls has lassoed with a nylon cord. Actress Michelle Rodriguez stews a mouse in her own urine in the Nevada desert. But even more unexpected is how consistently these guarded public figures have what seem to be candid emotional exchanges. After rappelling down a cliff, Kate Hudson starts to say something about trust but is quickly overcome and waves the camera away as she buries her face in her hands. While grilling a squirrel over a campfire, Ed Helms talks about having open-heart surgery when he was 14 and his excitement at being a dad someday soon. 
'Running Wild with Bear Grylls' has its host short-roping celebrities on two-day buddy adventures. What he gets these stars to do is stunning.
"It's a brilliant format," says veteran producer Thom Beers, creator of the Discovery Channel hit Deadliest Catch and many other reality series. "He gets them in a survival mode, where they're worried about what they're going to do, not what they're going to say. And he's so amazingly charismatic, they feel comfortable in his hands. Survivorman never could have done this—you look at that guy and you might think you're his last meal." What Beers finds most impressive is the fact that so many celebrities sign up for Running Wild in the first place. "He offers them something they can't get anywhere else: the chance to show the world they're a badass."
Grylls sees it a bit differently. "They come on the show because they know it's a safe place to be honest," he says. Their personalities don't come out when they're hamming it up with Jimmy Fallon. "When you're on a chat-show couch, it's all performance. And even if you're brilliant and funny, you know it's not who you really are when the lights are off. All of us crave authenticity."
That Grylls has become the gatekeeper of sincerity shows just how far he's come since the early scandal that almost sank Man vs. Wild, when he was called out for once sleeping in a lodge instead of the bush. What makes his evolution all the more interesting is that it's been precipitated by focusing the camera on the experiences of others. "It took huge pressure off me when I realized that my shows aren't about me flexing my muscles, but about what being in the wild brings out in other people," he says. 
This is particularly true in the case of President Obama, whose Alaskan adventure was devoid of dangerous stunts, per Secret Service mandate. In fact, when the White House first reached out to NBC in July, all it had in mind was a short viral video. But Grylls and other producers decided to stretch his time with the president into an entire episode, since Obama had said before how much of a fan he is. When the day arrived, the two men met on a riverbank for a planned three-hour out-and-back hike to a glacier.
"I was nervous waiting for him there," Grylls says. "I wanted to push him a little bit, get under his skin, but respectfully. It was pressure in a way that I'd never felt before. But as soon as he got there, he came over to me and said, 'I'm super excited, I'm in your hands, let's go.' And I thought, Great, let's have some fun."
Within a couple of days, NBC released a sneak-peek clip of Grylls and Obama cooking and eating a salmon that had been partially devoured by a grizzly. But what excited Grylls most were the conversations. He asked Obama the kinds of questions nobody does: What are you most afraid of? What do your kids think of you? What are the best and worst things about being president? "There were no stock answers," Grylls says. "It was all very human."
Shortly after leaving Alaska, Grylls was in a remote part of China, filming Survivor Games for a month in torrential rain. Next he flew to Shanghai for two more days of filming, then rolled right into hosting a weekend survival race outside London. Backstage at the event, he was collared by Tim Davie, the CEO of BBC Worldwide. "He grabs me and goes, 'Hey, two things,' " Grylls recalls. " 'One, I don't know how the hell you do it. Nobody has TV shows on four networks. And two, the game now is can you do it without burning out?' And I thought, He's so right.
"I'm not doing eight seasons of shows next year," Grylls adds, "but at the same time, we're in the zone. I'm still really loving it."    
Executive editor Michael Roberts (@ultimateeditor) wrote about Kelly Slater in January.