Meet Artemis
Why this Flying Cloud 23FB will be the ultimate office and mobile adventure testing unit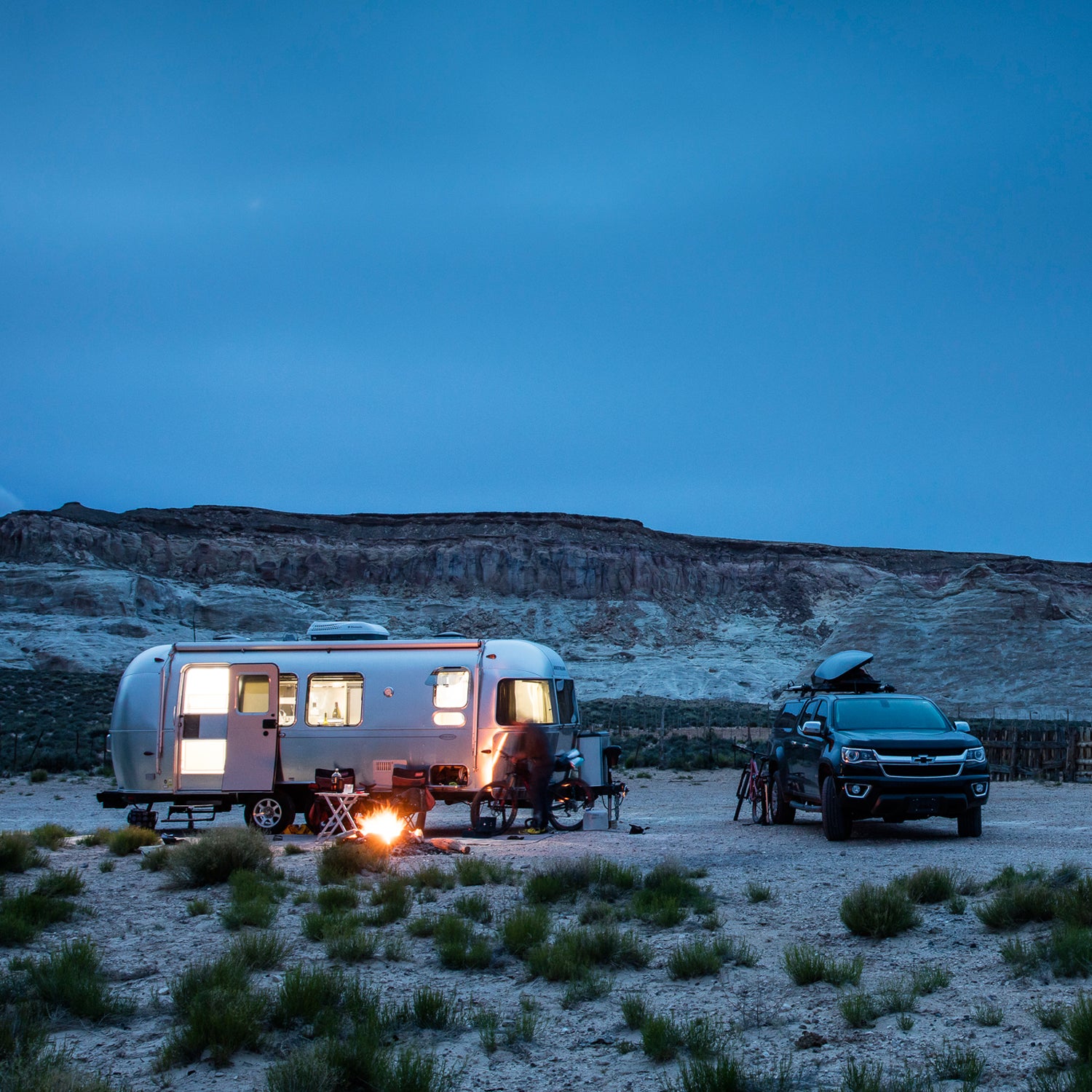 Jen Judge(Photo)
Heading out the door? Read this article on the new Outside+ app available now on iOS devices for members! Download the app.
With all the high-clearance, off-road adventure vehicles out there, an Airtsream might not seem the obvious first choice if you're looking for a travel trailer to get yourself into a bit of outdoor trouble. But after nearly two months of coaxing her into some quiet wilderness spots, we're convinced that Artemis was indeed the right choice for us.
In case you missed it, we called her Artemis after the Greek goddess of the wilderness, who has and continues to inspire us to stretch our day-to-day existences. Our Chevy Colorado has become Apollo, twin brother to Artemis and god of the sun, light, music, truth, and poetry. Hokey? Perhaps. But we needed some inspiration. And we're now sitting in the pine forests at 8,000 feet outside of Durango, Colorado, planning for a weekend bike race, watching it snow, and working, so bear with us because we feel inspired.
Elephant in the room: Airstreams are expensive. Before purchase (no, we're not sponsored), we looked at lots of trailers and immediately were drawn to the Airstream quality. Many Airstreams are on the road 20, 30, and even 50 years after they were built—that's important because we hate planned obsolescence. Airstream's independent suspension and fuselage-inspired shell mean these trailers don't rattle and come apart like much of the box-construction competition. And while most travel trailers depreciate quickly, Airstreams hold their value. We looked at one renovated 1967 model that was selling for nearly as much as a 2014. But it's no soapbox: you can get any travel trailer or van or pickup with a topper or tent or whatever suits your budget and desires and make it work.
More than just a travel trailer, Artemis is a beautiful object, an icon, and an idea. She's inspired us to see more of our world.
We eventually found Artemis on Airstreamclassifieds.com, and she looked unblemished relative to everything at the dealership and cost a large factor less. As with cars and bikes, buying used can save lots of cash. However, you have to know exactly what you're looking for—head to a dealership to try on models—and you have to be willing to deal with any undisclosed problems (no warranties!). You'll definitely want to see the trailer in person, and that could mean some driving since listings are nationwide. We did a bunch of advance reading and brought a checklist to the showing. We also learned that Airstreams move quickly—several we considered sold before we made a decision—but that we needn't feel pressed as new listings popped up as quickly as old ones disappeared. 
Buying used felt unnerving at first, until I found out the owners were bike people. I'm a lifelong cyclist, and I generally—and perhaps blindly—trust people who ride. So we set a date to have a closer look. The owner arrived at the showing wearing a cap emblazoned with Moots (did he know I owned one?), and he and his wife spent the better part of the day walking us through every inch of the trailer. They were patient with our newbie questions, demonstrated the trailer's idiosyncrasies, and—after they told us they were upgrading to a bigger Airstream, which seemed a promising endorsement—we handed off a scary check. Artemis was born, and, truth is, she's every bit as good as promised.
Morals of the story: 1) cyclists are, as far as I can tell, like-minded people and should be trusted; 2) if you're accustomed to doing it, trust your gut; 3) we got pretty damn lucky.
We chose the 23-foot Airstream because it's the smallest double-axle trailer available, for more stable towing and backing up, but also the largest model our Chevy Colorado can pull. Artemis has 39 gallons of fresh water, 39 gray, and 19 black, which so far has proven ample for seven-ish days out. Lasting that long means economizing (solar lights inside, very quick showers, reading by headlamp, peeing in the woods), which we're used to from years of camping. We like the reminders of our consumption, too: Using less means we get more time in the woods between restocking. The big limiter has been power. But we're good at living off-grid from years of backpacking, and we're exploring solar solutions, both from GoalZero for our electronics, as well as a permanent solution.
All said, we spent north of $40,000 out the door. Artemis wasn't perfect for our needs from the get-go either. She had just seven inches of clearance, so one of our first stops was a welding shop for a lift kit that gave us a full foot of clearance—and tacked on $1,800. Bigger tires will eventually buy us a bit more rise. By the time we add solar, the full cost will climb to over $50,000. Again, there are less-expensive options and plenty of off-road ready smaller trailers (such as the Moby1 and offerings from VMI). We could have gone with a truck camper or even just built out the back of the Chevy Colorado for a lot less. But every option is a compromise (between space, ease of towing, off-road worthiness, cost, etc.), and since we plan to permanently live and work on the road, we opted for comfort and a good environment.
But it's more than fit and features—there's also just something visceral about Artemis. The silver-bullet trailer is a symbol of the broad American West and the open road and freedom. Before we owned one, we always smiled and nodded when we passed Airstreams on the road. And now that we pull one around, people wave and honk and ask us if they can take photos. More than just a travel trailer, Artemis is a beautiful object, an icon, an idea.
Part of Wally Byam's promise when he founded Airstream in 1929 was "to keep alive…an enduring promise of high adventure and faraway lands." Marketing or not, here we are in the La Plata Range of the San Juan Mountains, peaks and valleys we've sped past for years but that we now call home. At least for a few nights.
Lead Photo: Jen Judge
Trending on Outside Online