Indefinitely Wild
Columbia Creates an Environmentally Friendly Rain Shell with the Outdry Extreme Eco
It isn't just PFC-free and made from recycled materials, it's also one of the best hard shells yet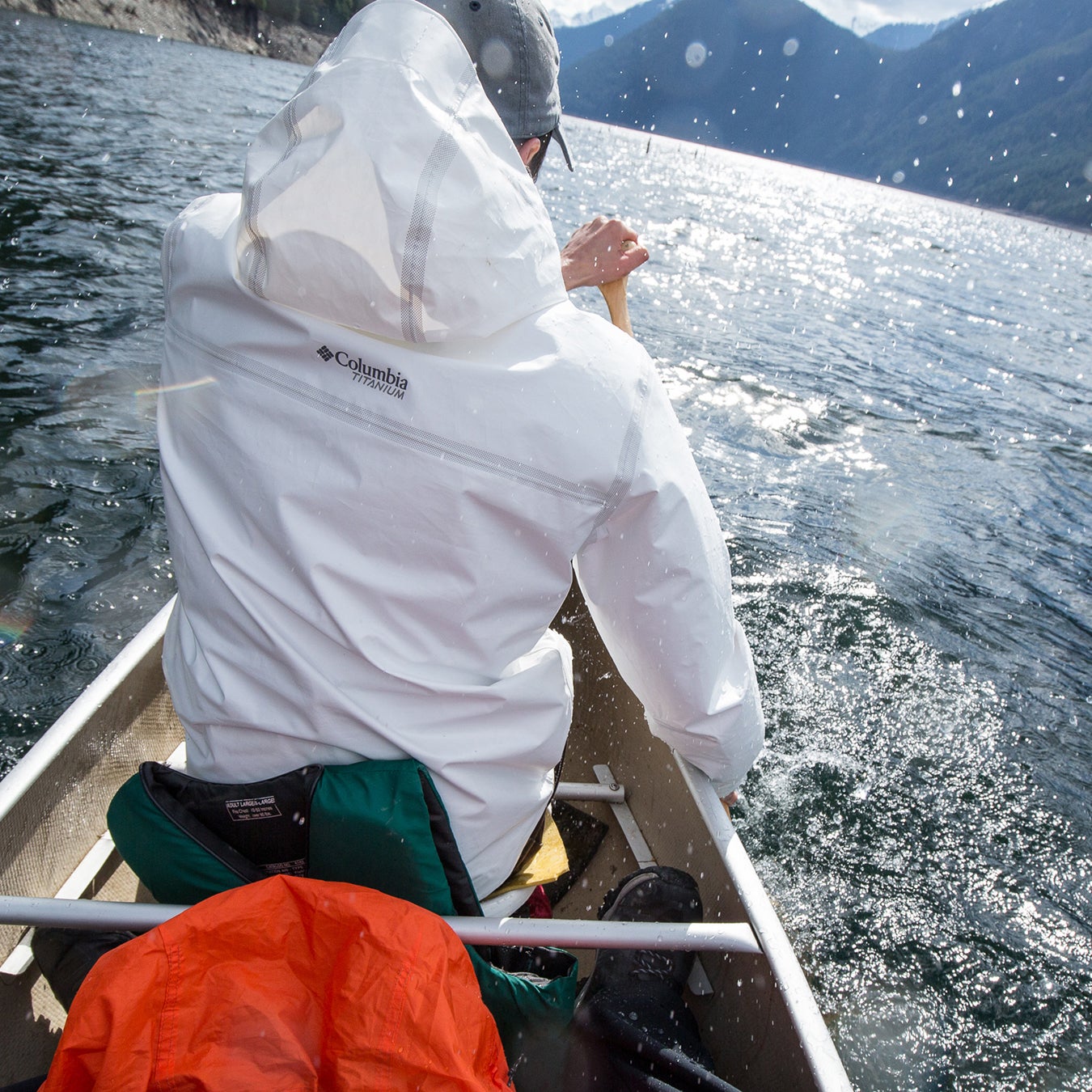 Heading out the door? Read this article on the new Outside+ app available now on iOS devices for members! Download the app.
Every waterproof/breathable hard shell rain jacket made today uses perfluorinated compounds in the construction of its membrane. And because the durable water repellant (DWR) coatings that cause water to bead up and run off them, as well as those of most soft shell jackets, also incorporate PFCs, most of the outerwear we outdoors people rely on to go do fun stuff in nature is really terrible for nature. With Outdry Extreme Eco, Columbia is changing that. It's the first WP/B shell ever made totally without PFCs, and it's made from 100 percent recycled materials. 
What Is It?
First, let's rewind a bit and explain what a WP/B shell is. The first thing you have to understand is that to keep you dry, a rain jacket has to do two jobs: 1) keep water out, and 2) move moisture out. That's because, in addition to the water falling from the sky, your body is exhausting H2O in the form of vapor as you sweat. That's why we don't all wear those heavy rubber slickers you see on old timey fishermen—they don't breathe. 
We don't have to wear rubber rain slickers anymore because, in 1969, a man named Robert W. Gore was experimenting with Teflon in his lab when he discovered that he could stretch it out to create a microporous fabric that was about 70 percent air. Those pores were small enough to keep drops of water out, while allowing water vapor to escape. And we've all been wearing Gore-Tex membranes, or one of its similar rivals since. 
Traditionally, those membranes have been too thin and weak to be worn alone. So they're sandwiched between an outer face fabric that protects them from abrasion, and a lighter, inner liner that provides next-to-skin comfort. That three-layer construction is ubiquitous in the industry today, but is also the cause of much consumer frustration. You see, all layers need to remain breathable in order for the whole thing to work, but the outer face can easily lose its ability to shed water, which causes it to wet out, stop breathing, and that's when you get soaking wet because your sweat can't escape. These faces are treated with DWRs to prevent this, but the "durable" part of that acronym is a bit of a misnomer; they routinely wear out, and require refreshing and reapplication when they do. And each time you reapply your DWR, you're releasing more PFCs into the environment. 
Now that we've explained how rain jackets work, and how they often don't. We should probably move onto those pesky PFCs. Not only are they a greenhouse gas, but they stick around in the environment forever, causing tumors, and neonatal deaths, and are toxic to the immune systems, livers, and endocrine systems of both animals and humans. In short, they're worth getting rid of. 
Last year, Columbia tackled the problem of WP/B face fabrics wetting out with a new type of membrane it dubbed "OutDry Extreme." Rather than a thin, ePTFE porous membrane of the kind every rain jacket has used since Gore-Tex was invented, OutDry Extreme instead uses a thicker, stronger, abrasion-resistant membrane that feels rubbery to the touch, and which is covered in millions of tiny perforations that provide the breathability. With those, the idea is fundamentally the same as Gore-Tex—they're too small for rain drops to enter, and big enough for water vapor to be expelled—but here the membrane is the outer face of the jacket, so rain is always totally stopped on OutDry Extreme's outer face. It just bead ups and runs off. Laminated to the inside is just a light, wicking liner that helps the jacket slide effortlessly over skin and clothes. 
And that brings us to OutDry Extreme Eco. Here, that fancy perforated polyester outer layer is made from 100 percent recycled plastic bottles, and most other components of the jacket—labels, toggles, zipper pulls, threads, and eyelets—are also 100 percent recycled. All that takes place without the use of any PFCs, and additionally, by doing away with dyes, Columbia is also able to save 13 gallons of water in the construction of each jacket.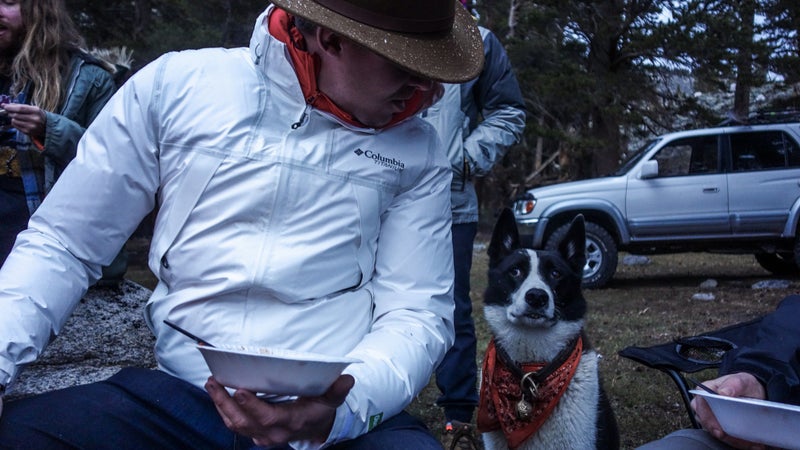 Who's It For?
Columbia is gambling that the kind of people who like doing stuff outdoors, often in wet weather, are also the kind of people are care about stuff like global warming, animal conservation, and not getting sick from pervasive man-made toxins in our environment. I'd say that's a pretty good bet. 
The OutDry Extreme Eco is also just a really good rain jacket. This is a high-performance hard shell that's light, packable, which breathes well, and also one that's cut for athletic figures. It should be a good match for most outdoor activities, including snow sports, paddling, hiking, and anything else that exposes you to the weather while you try and have fun. 
Design
The first thing you're going to notice about this jacket is the color. There aren't many white hard shells out there. Especially not ones with slick, shiny exteriors. So you're going to stand out in this jacket, but in a good way. OutDry Extreme Eco looks as futuristic as its construction and technology. 
The dotted lines are the seam tape, here applied externally, as is logical for a membrane located on the outside. Logos are also laminated to the jacket's exterior, a big plus over the cheesy 3D plastic logos of regular OutDry Extreme. 
A basic, ergonomic hood can be tightened with draw cords, and includes a reinforced "bill," but isn't helmet compatible. No flap protects your chin and neck from a fully zipped zipper; it can catch you, but didn't cause skin abrasion in our testing. There's only two pockets—the diagonal slashes across the jacket's torso. They feature generous zippers, storm flaps, and are mesh lined. There's a drawcord around the jacket's hem. There are no pit zips. Wrist cinches are very lightweight velcro. Altogether, this thing is very minimalist. 
Using It
This is my first experience with OutDry Extreme, and you can now consider me a believer. 
I used the jacket while camping at Coyote Flat, at about 10,200 feet of elevation in the Sierra Nevada. There, we experienced freezing rain, sleet, snow, and high winds. I wore the jacket while hiking, chopping wood, preparing food, and just hanging out in camp. 
The most surprising thing about it isn't that it keeps you dry, it's that the slick, rubbery material doesn't make as much noise as you expect it will. No more, really, than a regular hard shell. Neither does it feel stiff, or awkward to wear in any way. 
What you will immediately notice in a camp environment, however, is how easy it is to keep clean. Dirt and mud just slide right off the thing, without leaving a mark, and even splashes of hot tomato sauce can just be wiped off totally using only your hand. After a three-day weekend, the jacket is wearing some very, very minor smudges, likely caused by carrying around firewood and then being stowed with dirty clothes in a bag, but they wipe right off even weeks later with nothing but a wet cloth. You can wash the jacket in warm water, but it'll be a rare event that you'll need to. 
OutDry Extreme Eco breathes very well, but during high output activities like chopping wood, it doesn't feel quite up there with the best of the waterproof/breathable membranes—Polartec NeoShell. Pit zips, or some other form of ventilation would be very welcome. 
The upside of that somewhat limited breathability is that, unlike NeoShell, the Eco utterly stops wind, as well as rain. Zip it on over a thin merino base layer and you're immediately warmer. 
Likes
Columbia ran with the environmentally friendly thing as far as possible. Not only is it PFC-free, made with reduced water, and built from recycled materials, but they'll recycle the jacket for you at the end of its life, too. 

Does what it says on the tin: stops water on the outside. 

No noisier than other hard shells. 

Just wipe it clean. 

Excellent fit for athletic bodies. 

Packs small and light. 

Surprisingly affordable at just $199 for men's and women's styles. 
Dislikes
Not quite as breathable as Polartec NeoShell

Limited feature set cries out for pit zips, a phone pocket, and a helmet-compatible hood. 

Not on-sale until 2017. 
Should You Buy It?
Some people are still going to be better served by Polartec NeoShell. If you regularly participate in high-output activities in wet weather, that membrane does still breathe better, and it's available in more feature-rich designs like the Westcomb Apoc. But it remains subject to wetout as the DWR breaks down, and its production process is environmentally harmful. OutDry Extreme Eco suffers from neither failing. 
This isn't just an eco-friendly alternative. It's a better hard shell that just so happens to also be the most sustainable. If you plan to buy a rain jacket in 2017, buy this one.