Gear Guy
What Are the Best Duffel Bags?
We tested 7 top models for durability, weather resistance, and usability. Turns out, they are not all created equal.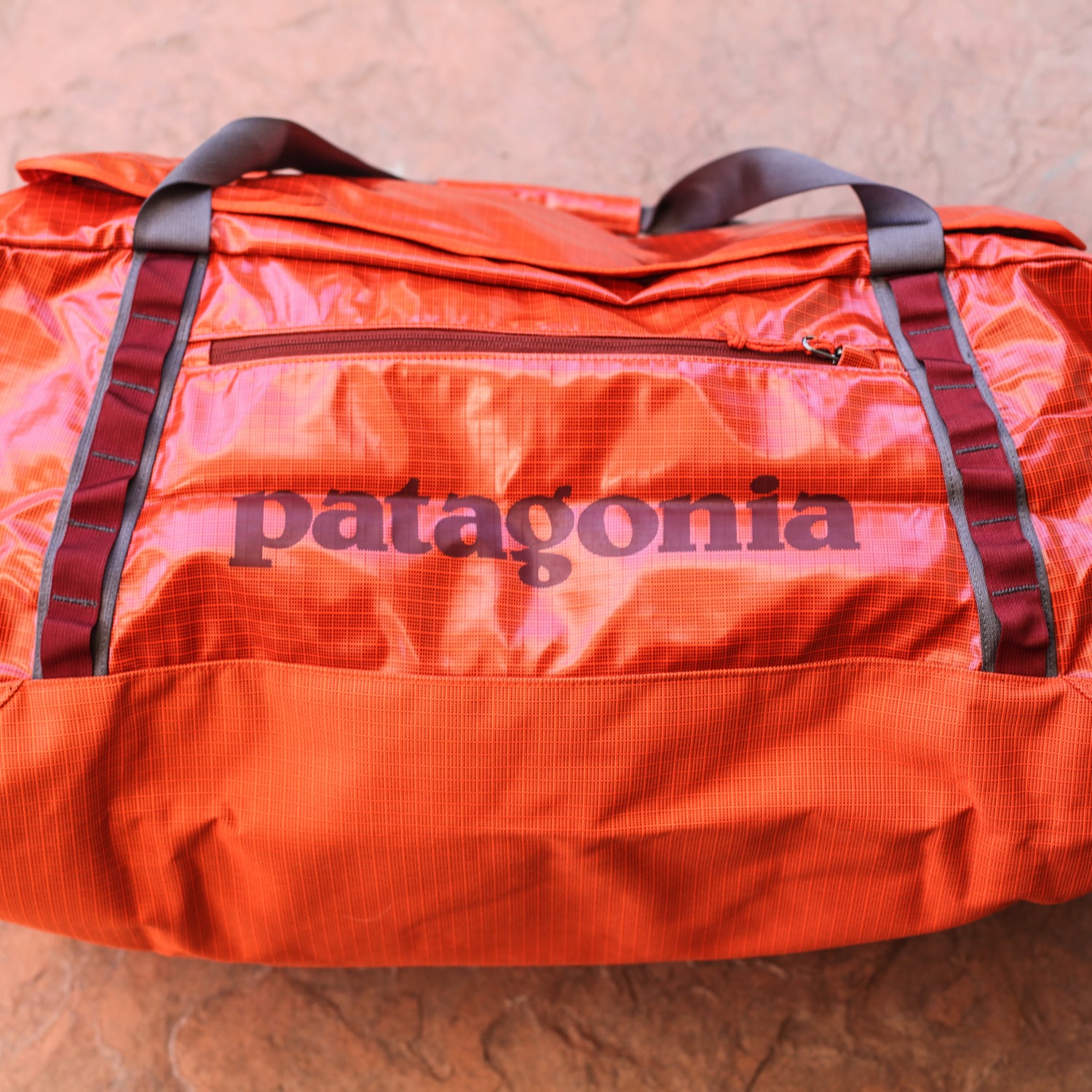 Heading out the door? Read this article on the new Outside+ app available now on iOS devices for members! Download the app.
There's your 45-liter carry-on duffel for long weekend trips, and then there are these guys: behemoths (all 90 liters or larger) that can swallow an expedition's worth of gear. The best are insanely durable and hold more than you'd think possible. So how to choose the right one for your purposes? Basically, it comes down to the little things. To help you decide, I torture-tested models from seven top brands. Here's what I found out. 
---
The Test
I look for three things in a duffel: usability, weatherproofing, and durability. I tested usability by stuffing each bag to the gills and carrying it around my house.
I tested weatherproofing by loading all the bags with bedding and towels, then spraying them for 60 seconds with a power washer at my local car wash. (Two of the bags—the Grundéns and Fishpond—are fully waterproof, not just water-resistant, so I filled them with rocks and a cotton towel and submerged them in my hot tub for five minutes as well.) 
For durability, I dragged each duffel behind my car on a dirt road for one mile at 15 miles per hour. Take that, TSA! 
---
Patagonia Black Hole 90-Liter Duffel ($153, Pictured Above)
Usability: This bag packed down small (about the size of a football) when empty. It was also plenty easy to stuff and organize, thanks to the large U-shaped zipper and two mesh pockets on the top flap.
Weatherproofing: After the soaking, all the gear closest to the zipper was damp but not saturated. The biggest issue was that a few drops of water had pooled in a couple spots on bottom. 
Durability: The behind-the-car test resulted in just a few scratches. The bag really didn't look too bad, and its performance wasn't compromised. 
Bottom Line: I've used a previous-generation Black Hole for nearly a decade and can attest to its long-term durability. Buy this bag for worldwide adventuring, and plan on it standing up to years of abuse and travel.
---
Tepui Expedition Series 110-Liter Duffel Bag ($131)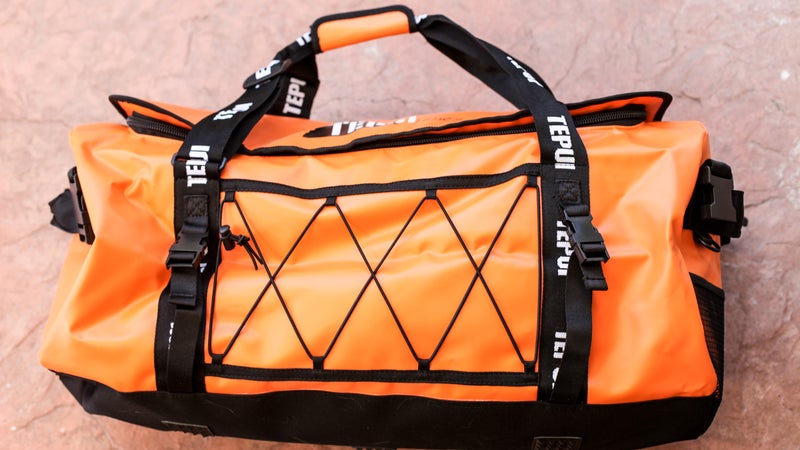 Usability: This bag is easy to pack with everything from clothes to cookwear, but the external details really make it stand out. Several feet of strong webbing and heavy-duty handles allow you to strap this bag to the roof of your car for overland adventures. 
Weatherproofing: Everything that came into contact with the zipper was oh-so-slightly damp. I also found four tiny drops of water at the bottom. 
Durability: I only found one deep scuff that removed material but didn't tear the bag.
Takeaway: These bags, likes Tepui's tents, are made to live outside. Strap one to the top of your Tacoma or your Civic to keep your gear safe in extreme heat (it's rated to 158 degrees) and in mild rainstorms.
---
The North Face Base Camp 95-Liter Duffel ($145)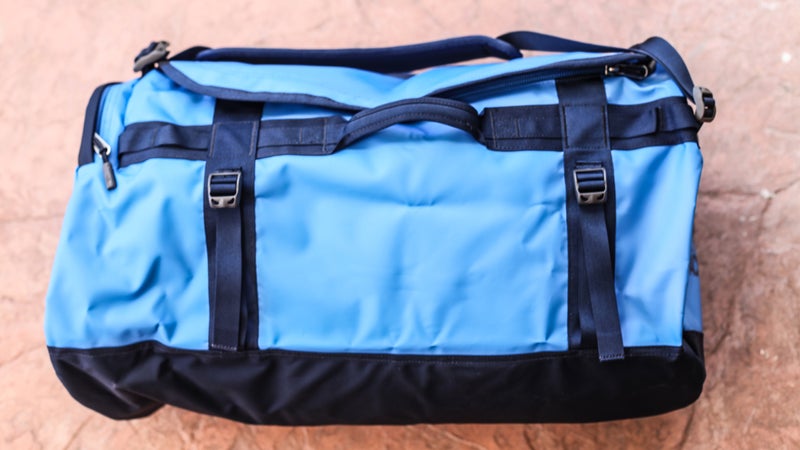 Usability: This bag had the best shoulder straps of any other duffel in our test, making it easy to schlep through airports. 
Weatherproofing: The Base Camp performed best of all the non-waterproof duffels. Only one tiny section of a sheet near the zipper was wet, and there was no water in the bottom.
Durability: I found just a single two-inch scuff, but no tears.
Takeaway: This was the best all-around bag of our test. It's pretty much indestructible and nearly waterproof, and at $145, it's among the least-expensive options on this page. 
---
Eddie Bauer 90-Liter Maximus ($150)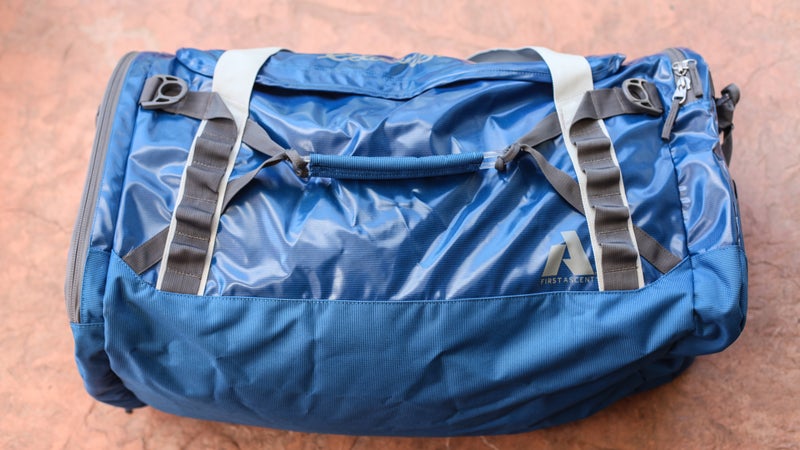 Usability: The Maximus was easy to carry by the handles, which are reinforced with rigid plastic that reduce hand fatigue.
Weatherproofing: Like the Patagonia Black Hole, the sheets inside were damp but not soaked along zipper, and there were a couple small puddles at the bottom.
Durability: There was one short scuff and a dime-size hole.
Takeaway: This was the least durable of the bags we tested, but it would do just fine as normal stow-in-a-plane luggage.
---
Eagle Creek Cargo Hauler 90-Liter Duffel ($110)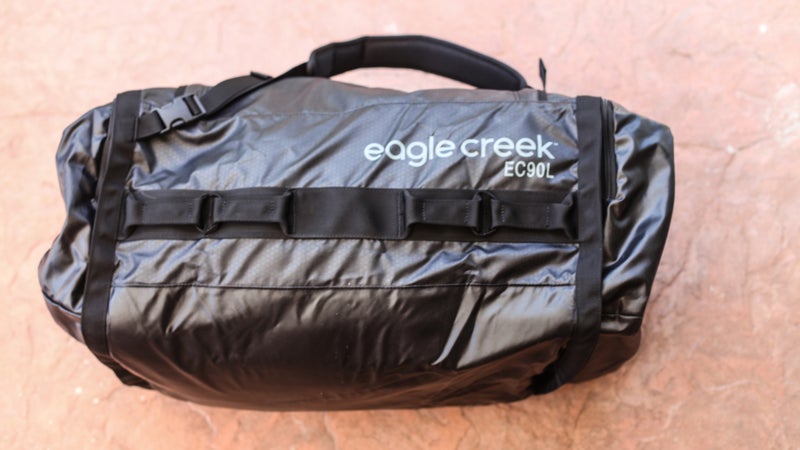 Usability: At just over two pounds, this was the lightest bag we tested. Its six handles made it easy to grab, and the padded shoulder straps were among the most comfortable.
Weatherproofing: The Hauler absorbed the most water of any bag we tested. Sheets that came in contact with the zipper were completely soaked, and water pooled in the bag's corners.
Durability: It came back deeply scuffed after the drag test, but it didn't tear.  
Takeaway: This is a good option if you're on a budget and looking for a lightweight bag to live in your trunk or the belly of a plane.
---
Grundéns Gage Shackleton Waterproof 105-Liter Duffel ($115)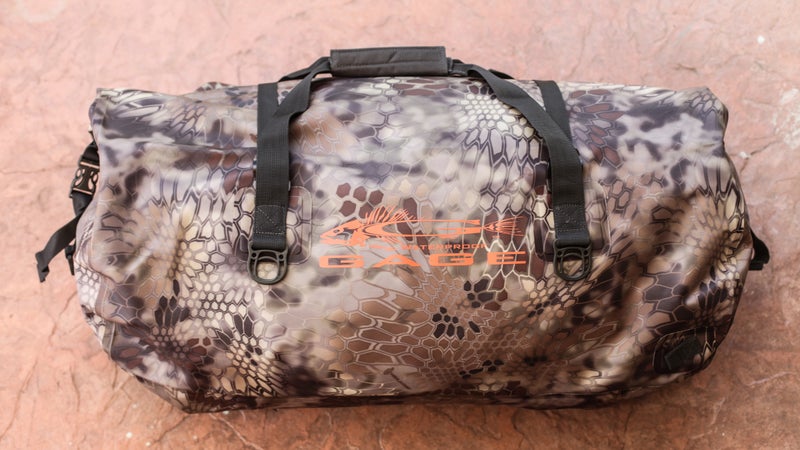 Usability: I liked the roll top, which made access to the gear very easy. 
Weatherproofing: Everything stayed dry during the spray test, but a couple drops of water snuck in during the dunk test, leaving the sheets slightly damp.
Durability: Just a few superficial scratches.
Takeaway: At $115, the Shackleton is a smoking deal for a (nearly) waterproof duffel. I wouldn't take it rafting, but I would trust it on top of my car in a downpour.
---
Fishpond Thunderhead Large Submersible 100-Liter Duffel ($400)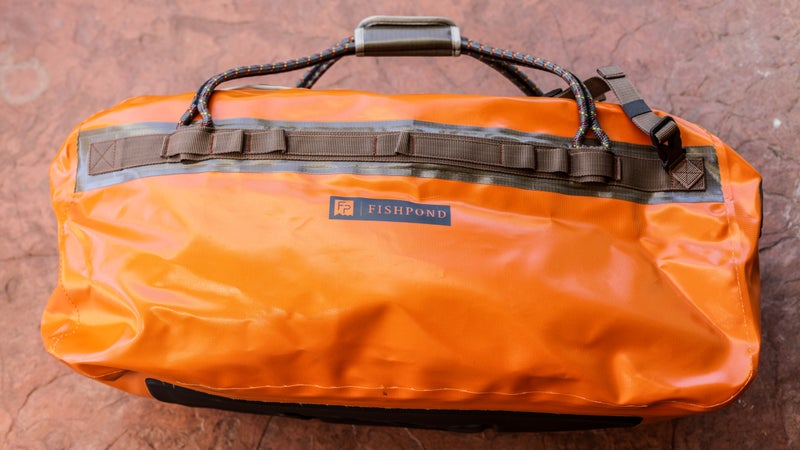 Usability: Rope handles make this bag easy to carry, and the inside is absolutely cavernous. The only downside to all that volume: This duffel doesn't pack down very well when empty.
Weatherproofing: The waterproof design and zippers kept out every drop of water during both the car wash spray and hot tub submersion tests.
Durability: I had to search for scratches. After a good wash, it looked pretty much new.
Takeaway: This is the most bomber duffel I've ever tested—and that's saying something in this field. Who should buy it? Anyone who absolutely must keep their gear dry and safe in wet situations—and who is willing to pay a premium for that performance.