Could Crowdfunding Save Your Local Ski Hill?
A small resort in Canada is offering equity stakes to help pay for mountain improvements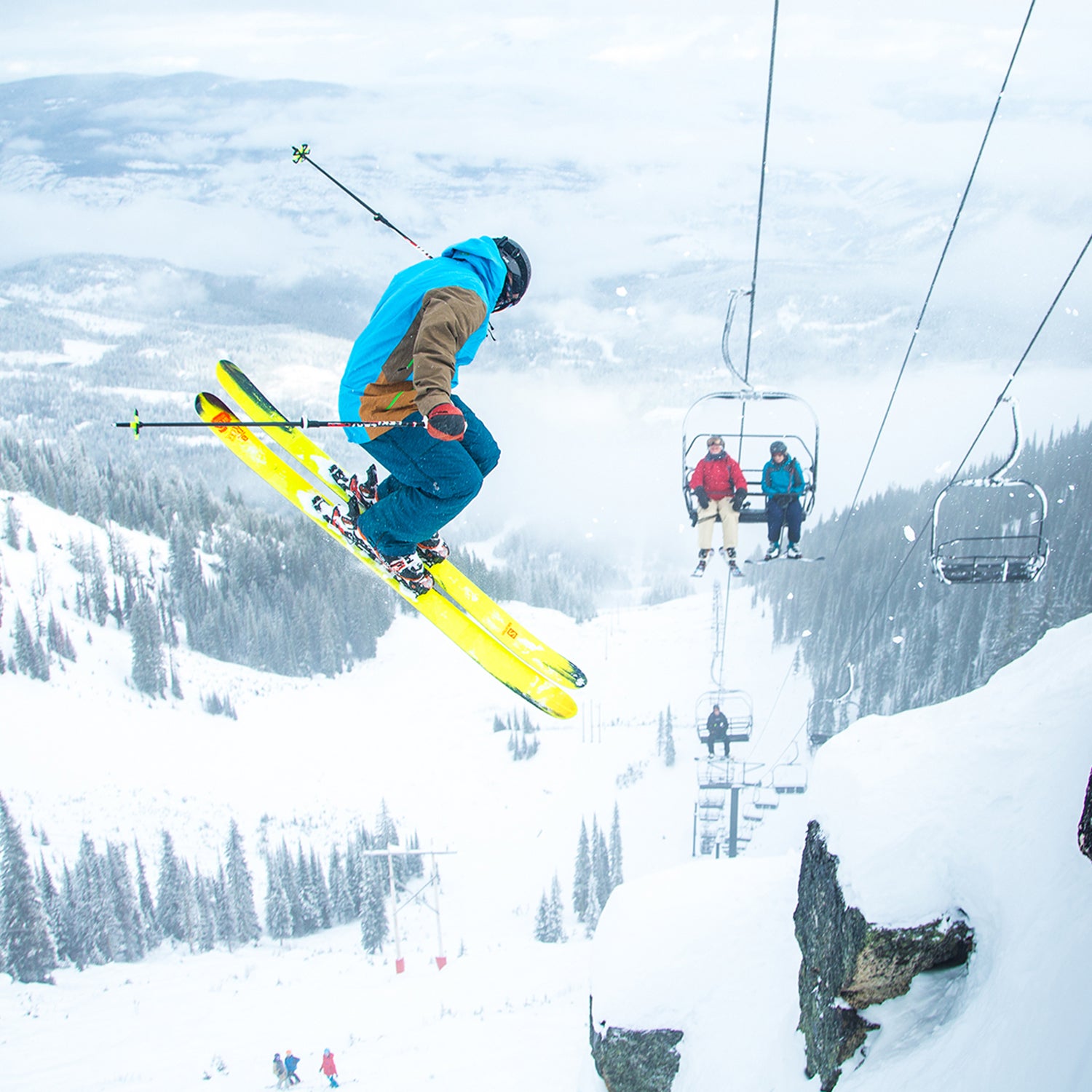 Ryan Flett(Photo)
Heading out the door? Read this article on the new Outside+ app available now on iOS devices for members! Download the app.
Two weeks after the consolidation of ski-industry titans Vail Resorts and Whistler Blackcomb, independent Red Mountain Resort in Rossland, British Columbia, is testing a different and potentially game-changing tack to bolster its own business and longevity: equity crowdfunding.
Red CEO Howard Katkov, a 66-year-old entrepreneur who bought the resort 12 years ago, says he hopes to raise between $5 million and $10 million through the campaign that kicked off on StartEngine.com. He is selling shares of the resort in five tiers ranging from $1,000 to $25,000, each of which comes with a package of perks, from season passes to custom skis to overnight cabin access atop the ski area. Buyers also receive equity in the company, although they won't have voting power on company decisions. The campaign is called "Fight the man. Own the mountain" and is open to U.S. and Canadian investors.
"When I look at what's happened to the industry with consolidations, I think preserving what we have at Red Mountain—that part of the ski experience that relates to the soul of the mountains, the soul of the alpine, the soul of the community—is becoming even more important," Katkov says. "Consolidations make it harder, but we're not going away."
Katkov says the campaign will raise funds to be used for summer trail construction, developing more cat-skiing runs, building a new restaurant and clubhouse on top of the mountain, and chairlift extensions to connect different areas of the resort. He hopes a better resort will bolster to the community's economic wellbeing, he says. Places where resorts have consolidated under corporations, Katkov says, like Vail and Whistler, have become so expensive to live that any connection between the resort, as the towns's economic engines, and the community is lost. Locals in some of those cities can't even afford to live in town. 
"You can't be a liftie and live in Jackson Hole or Vail or Park City," Katkov says. "I have lifties who have worked for Red for 25 years and own homes."
Red, which opened its first lifts in 1947, is the oldest ski area in western Canada and one of the mainstays on the world-famous Powder Highway through interior B.C. It still includes just seven lifts across its 4,200 skiable acres and serves as the economic backbone of Rossland. 
"What I'm doing is speaking out for the independents, to say, 'We matter,'" Katkov adds. "I did this because it's available, and I'm curious. I'm going to test the waters to see if it resonates with core enthusiasts, whether they're Red Mountain enthusiasts or just people who believe in the preservation of old-school ski mountains. I'm not sure if it will or not."
Natalie Ooi, an assistant professor at Colorado State University who wrote her Ph.D dissertation on the sociocultural sustainability of the mountain resort industry, believes Katkov's idea could have staying power, particularly when it comes to projects that require large chunks of cash to keep the resort competitive. "I wouldn't be surprised if things like crowdfunding are the wave of the future to pay for big capital improvements," Ooi says. "Like if you need to buy new snowmaking equipment, for example. I'm interested to see how this goes."
Ooi points out that not all independent resorts are in danger of dissolving, despite the fact that many of them have in recent years. "You've got some doing amazingly well," she says. Part of that is due to skier visits increasing across the industry, but in addition, many of the most successful midsize ski areas—places like Red and Whitewater in B.C. and Arapahoe Basin in Colorado—have expanded their terrain or added amenities in recent years to be more competitive among destination travelers. 
To wit, Red enjoyed its best fiscal year in history last season, two winters after it expanded by 1,000 acres—the largest North American terrain expansion in more than 40 years. "You can still ski powder all day here," boasts Katkov, who maintains his crowdfunding campaign was not born out of necessity. (He doesn't need the money to pay his staff or conduct basic maintenance, he says.) Rather, as someone who grew up skiing at Mammoth (he is still based in San Diego) "when it was two T-bars and two chairs and cost four bucks a day," he believes other young people want a similar, personal experience, and it is becoming harder to provide that given how collective ski passes congregate visits at a handful of resorts. "I skied Jackson Hole on Christmas Day in 1972; it snowed a foot and nobody was there," he says. "I still remember that day. You don't remember doing laps on groomers at one of these mega resorts with massive crowds."
Katkov began researching equity crowdfunding last year with the passage of Title III of the Jumpstart Our Business Startups Act, or JOBS Act. He is introducing the campaign in two phases: Phase 1 will essentially accept pledges and determine whether enough interest exists to move forward with official share sales. Phase 2 will execute those sales early next year. Anyone who buys in will own "everything at Red Mountain," Katkov says. Which means: your shares don't just give you a stake in the on-mountain infrastructure, but also the real estate, including 1,000 lots of buildable land. 
The percentage share of each investment will be determined by how much the ski area is deemed to be worth, before and after the campaign. Shares will be transferrable, meaning you can sell them to a friend (or bequeath them to family) based on your own valuation of the share from when you bought it until when you sell it. "You could go to a bar one night, shitfaced during a poker game, and transfer your stock," Katkov says. Only if or when the ski area sells would you be able to "cash out" without transferring the share on your own volition.
"We're going to have audited statements every year like a public company," Katkov adds. "So you're going to know what we're doing and be able to say, 'Red was making a million bucks at the resort, and now they're making two million bucks. So I bought my share for $5,000 but I'm selling it for $12,000.'"
In an industry that already includes ski areas run successfully as co-ops (Mad River Glen in Vermont) and nonprofits (Bridger Bowl in Montana), Katkov is adamant that he is not buying market share. Instead, he calls this "a social experiment." How much is it worth to someone to support a more intimate for-profit ski experience? The results of Red's campaign will help answer that question.
Lead Photo: Ryan Flett