Indefinitely Wild
What You Can Learn from Motorcyclists About Dressing for Winter
Experience in extreme wind chill can teach all of us outdoor recreationists about proper layering—without breaking the bank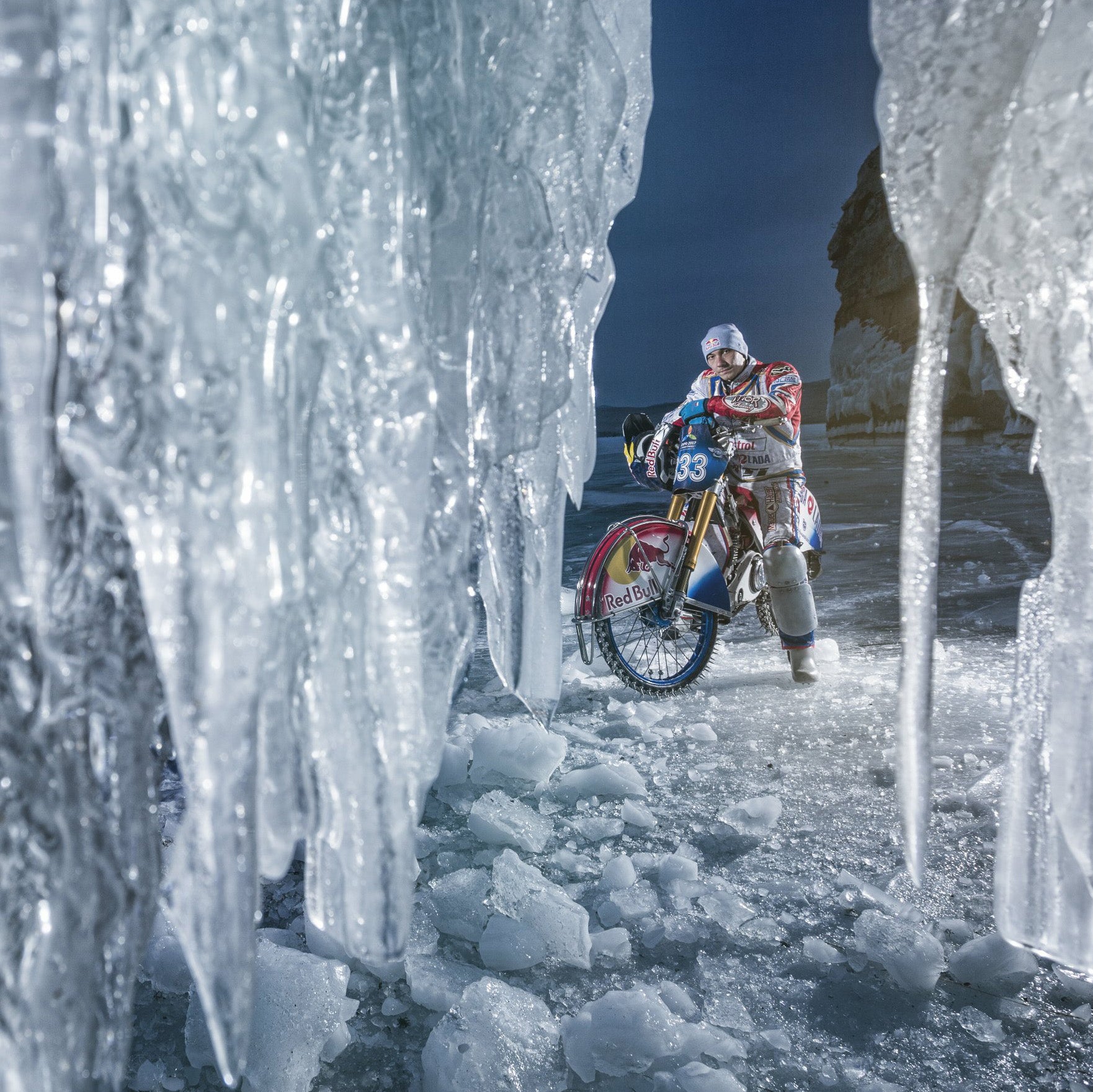 Heading out the door? Read this article on the new Outside+ app available now on iOS devices for members! Download the app.
At 85 miles per hour, wind chill makes 32 degrees feel like ten. On a motorcycle, mild conditions that require a jacket when you're walking the dog can become deadly. And because long-distance riding is mostly sedentary, you can't rely on an elevated heart rate to keep you warm the way you could if you were, say, cross-country skiing.
This turns year-round motorcyclists into experts when it comes to dressing for the cold. Here are the lessons we've learned while riding through the winter in places like Seattle, Siberia, and London, plus how you can apply them to the less-risky things you do every day.
To Warm Your Extremities, First Warm Your Core
Your fingers, ears, and toes are often the first places to feel the cold. That's exacerbated on a bike because your hands are out in front of you, with your fingers pointing straight into the wind. Common sense says that if your hands are cold, you should wear warmer gloves. But the biker knows that cold hands are a symptom of a cold core.
As your body temperature drops, your blood vessels constrict blood flow to your extremities, prioritizing heat for your essential organs. So keeping your core toasty is the first step to keeping your hands and feet warm.
One of the few advantages motorcyclists have is that we're basically sitting on a generator, which makes it easy to wear heated gear. We don't have to worry about batteries running low when we switch our stuff to high. The first, most important, and often only item of heated gear a biker needs is a heated vest. Keeping our core temperature up encourages the flow of warm blood to the rest of our body.
Whether you're hiking, skiing, or just sitting around a campfire on a cold night, you can benefit from the same approach. More insulation for your torso will keep your entire body warmer.
But You Also Need to Protect Those Extremities
Once you have enough warm blood flowing to your hands and feet, you'll need to protect them from the elements.
Our hands are the biggest challenge. Not only are they sitting out there in the wind, unprotected by the motorcycle's fairing, but they also need to maintain dexterity to operate the clutch, front brake, and throttle. That means just the right amount of insulation.
A good glove starts with a good waterproof-windproof membrane built into the shell in such a way that it's not perforated by the stitching. The glove should be large enough that it doesn't constrict blood flow to your fingers, even when your hand is closed in a grip. Because we can have only a relatively modest level of insulation, sizing up also helps make room for a pair of silk glove liners. Silk provides an enormous amount of warmth for its thickness as it traps an additional layer of warm air next to your skin. Cuffs are the final piece of the puzzle. They should be long enough to provide several inches of overlap with your jacket and interface with it in a way that seals out water. On bikes where your arms point down, the cuff needs to go under the jacket sleeves so water doesn't run down your arms and into the sleeves. On bikes where your hands point up, your gloves need to go over your jacket so rain doesn't run under it.
Figuring out which glove-jacket interface works best for you and buying gloves and a jacket designed to fit together in the right way apply to a whole host of other outdoor activities, including skiing and biking.
Feet are a little simpler. Your legs point down, so boots need to fit inside your shell pants, again with plenty of overlap, even with your legs raised in a seated position. Everyone's feet are subject to convective heat loss from contact with cold surfaces—in the motorcyclist's case, it's the foot pegs rather than ice or snow. So insulation starts with a good insole. We love Superfeet's merino items. Make sure you buy a boot with removable stock insoles so you can fit in Superfeet's version.
Next comes the waterproof membrane. Often, this is built in like a sock that stops at the height of the laces, around your ankle. In really bad weather, that's inadequate. For us motorcyclists, that's because the front tire pressure washes our lower legs with road spray. For you, that may be because you're wading in streams or plowing through deep snow. Make sure your waterproof membrane extends the full height of your boot. Then there's insulation. Uninsulated boots are more versatile, but if you go this route, you'll need to make room for thick, tightly woven wool socks. Icebreaker's mountaineering items work for us. Under those, again opt for a silk liner to add even more warmth.
Your head is easy on a bike because you wear a helmet. Simply adding a silk balaclava is often enough—just look for one that covers as much of your face as possible, extends down your neck and onto the top of your shoulders, chest, and back, and overlaps with your collar. Keeping wind blast out is vital when it's hitting you at constant highway speeds. Even the tiniest leak can destroy the warm pocket of air you've worked so hard to develop. Sealing the inside of vents with duct tape is a huge help and in really cold conditions will add extra warmth to your ski or snowboard helmet, too. Don't forget the rear vents, which draw air through the helmet, and thus are actually more important to cover than the front ones.
Layer for Warmth Without Breaking the Bank
Think outdoor gear is expensive? Try shopping for motorcycle stuff. In addition to fending off weather, it needs to protect against impacts and abrasion. Jackets, pants, suits, helmets, gloves, and boots that achieve all those things aren't cheap, so motorcyclists are always looking for a good deal on the rest of the stuff while not sacrificing performance.
High-dollar merino base layers work great if you're active because they provide temperature regulation across changing conditions and activity levels. But if you're sitting still, your base layers only need to add warmth and keep you dry. You can find long undies at a surplus store or on Amazon for next to nothing. Polartec Power Dry is the material to look for: it's affordable and effective. Just don't expect it to remain stink-free for more than one wear. Buy pieces that fit tightly—compression will help keep you comfortable on long rides.
Next, you need a midlayer or three. This is your insulation between base and shell. It's what keeps you warm. Synthetic fleece works well here and again can be had for for little spend. Combined with those base layers and a wool crewneck, a fleece jacket and pants are often enough for most conditions. Add a puffy vest if temperatures really drop: it will keep your core warm without making it hard to move your arms.
Finally, note that the more layers you add, the more you'll constrict your neck. You should approach this systematically. I like base layers that provide some coverage and fit my neck tightly, and then I combine them with one midlayer that does the same. Everything else I try to keep off my neck. You'll also need to consider how your jacket's collar works around these layers.
Keeping Wind and Rain Out
When rain is being driven toward you at 80 miles per hour, staying dry becomes a real challenge. The sheer force of the blast poses real problems, and as it eddies and swirls around you, wind and water can enter from all sorts of unexpected angles. And because water cools faster than air, getting wet when it's cold outside is one of the fastest ways to kill yourself.
Start with your neck closure. Your jacket collar should seal up to the height of your chin comfortably and without constricting movement while not leaving a gap at the rear for water to leak down. Modern waterproof zippers work well but need seasonal lubrication with silicone and should still be backed by a storm flap, which will block any remaining wind and water that may seep through.
Pockets are an interesting challenge in wet conditions. Anything that isn't sealed inside your jacket or pant's membrane shouldn't be considered waterproof. Don't store your phone or wallet there.
We've already discussed the need for several inches of overlap between your gloves and jacket and boots and pants, but even more is needed between your jacket and pants, particularly when you're sitting down. Is the waist of your pants high enough when seated? When dealing with weather, it should sit at belly-button height—this isn't time for high fashion. Your jacket should extend below the waist, flush with your thighs when seated. Any longer and the extra folds that ruck up when you sit will pool water and may allow wind to sneak in. Any shorter and your lower back will be exposed.
One-piece suits or jackets and pants that zip together may look dorky, but they eliminate wind and water seepage around your waist, effectively trapping body heat. This is why the finest road-riding suit available—the Aerostich Roadcrafter—is constructed this way, why people wrap their kids in cute onesies, and why people climb Everest in what are basically sleeping bags with arms and legs.
Motorcyclists also need to consider which membrane their jackets, pants, or suits are constructed from. Your best option is a waterproof-breathable membrane rated at 20,000 millimeters—that means it allows no leaks when the membrane closes off the bottom of a two-meter-high water-filled tube. If you're dealing with significant wind and rain and don't need to maximize breathability, go for the most impervious membrane possible. Here's a more in-depth explanation of how waterproof-breathable membranes work.
Even once you zip all that on, you'll still get some leaks in really bad weather. That's why all your mid- and base layers should be made from synthetic materials or wool, which stay warm when wet. Cotton is a real killer in cold and wet weather. Avoid it entirely.
Be Cautious
The ambient air at 20 degrees Fahrenheit will feel like minus seven at 85 miles per hour. At 35 degrees, it'll feel like 15. Which are you equipped to ride in? Sometimes waiting a few hours before hitting the road can make all the difference. There's no honor lost in waiting out bad conditions, especially if they might be life threatening or could just ruin your day.
The same philosophy holds if the weather suddenly turns when you're hiking or skiing. We've spent plenty a night sitting in a dive bar, glad our motorcycles are safe inside our motel rooms. No destination is more important than safety.
Having said that, carrying a few light, packable items can help you keep moving through unexpected bad weather. A light, thin waterproof jacket won't take up much room in a bag and might be enough to get you home through a sudden downpour. We like Frog Togs for affordable emergency shells. Those silk liners for your hands, feet, and head will add a lot of warmth; you'll forget they're in the bottom of your pack until you need them. In a pinch, wadding up newspaper and stuffing it inside your jacket will add some insulation, while the free plastic gloves at diesel pumps might be enough to keep your fingers from freezing.
As motorcyclists, we accept that risk is fun. But managed risk is even more fun. Make smart decisions when you're doing dangerous stuff—that includes going outside in extreme weather.
Trending on Outside Online