Sunny Stroeer is the Fastest Woman You've Never Heard Of
Sunny Stroeer got sick and still set the speed record on Aconcagua. We sat down with the ex weekend warrior to talk training, coffee, and the all-women team that tackled the highest mountain in South America.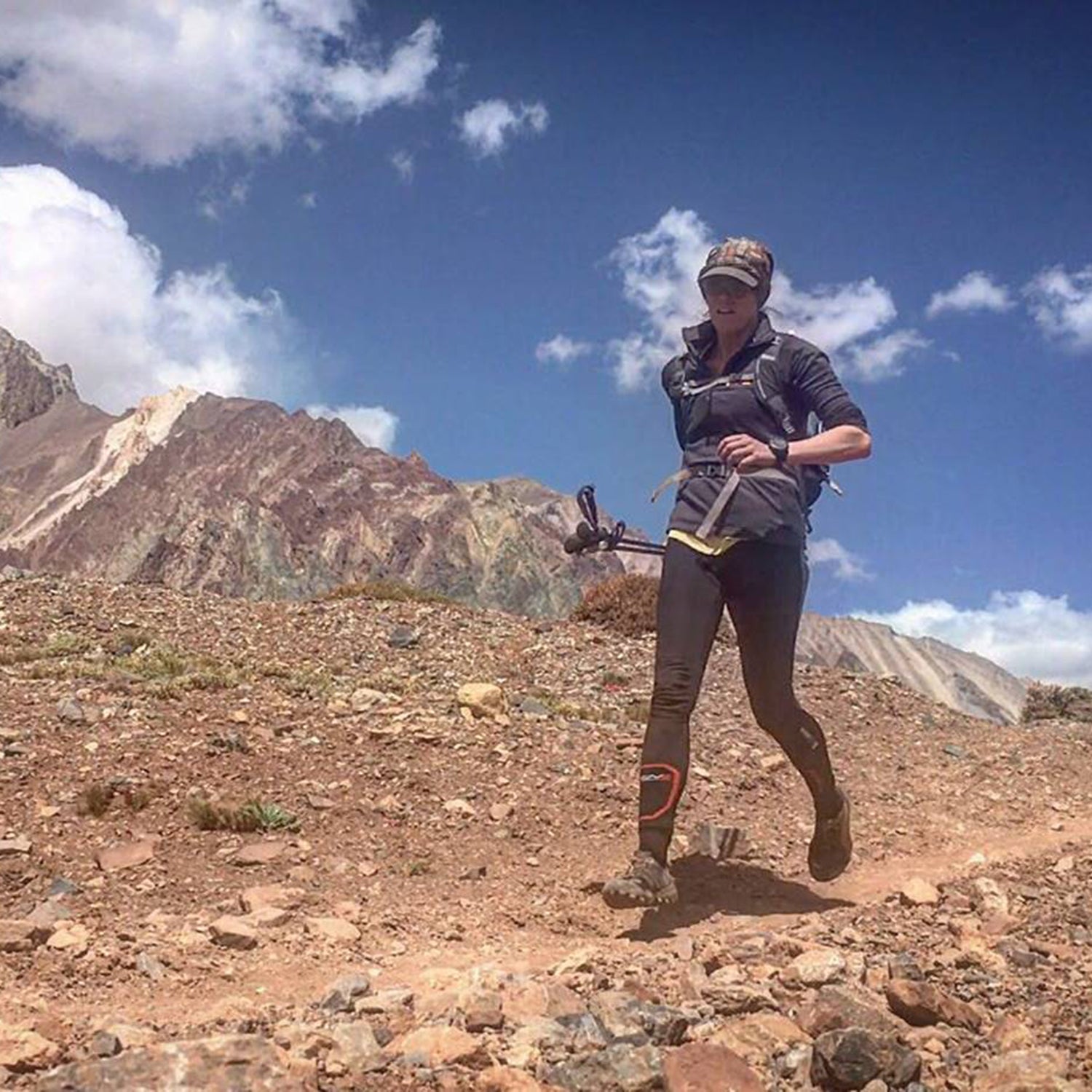 Courtesy of Sunny Stroeer(Photo)
Heading out the door? Read this article on the new Outside+ app available now on iOS devices for members! Download the app.
A few hours before sunrise on January 23, Sunny Stroeer left the Plaza-de-Mulas base camp on Aconcagua under a clear sky, hiking fast along the Normal Route toward the summit 8,501 feet above her. She topped out eight hours and 47 minutes later, breaking the base camp-to-summit female speed record on South America's highest mountain by 29 minutes, in spite of having a respiratory infection.
The second tallest of the Seven Summits, 22,841-feet Aconcagua sits deep in the Andes on the western edge of Argentina, near the Chilean border. The Normal Route snakes up the mountain's Northwest Face through three camps and is a famous test-piece for serious mountaineers transitioning to high-altitude peaks. In 2015, then-unknown Karl Egloff broke Killian Jornet's roundtrip base camp-to-summit time by about an hour. Wanting to keep her legs fresh for a longer speed attempt later in the week, Stroeer decided to walk down from the summit, rather than challenge local guide Chabela Farias' roundtrip record of 12 hours and 40 minutes.
Before quitting her job and embracing van life in late 2015, Stroeer was a weekend warrior. Despite little training, she finished several 100-mile and 100K trail races with solid times. In 2014, she climbed Aconcagua solo and unsupported. For this trip, she returned to the mountain leading an all-female expedition of four women that included Libby Sauter, a famed Yosemite climber.
If you haven't heard of Stroeer, now's a good time to get to know her: the Adidas athlete is just getting started.
Birthdate
June 7, 1985
Hometown
Obernburg, Germany
Education
MBA, Harvard Business School, 2011
First Trail Race
100K in Madagascar, 2011
Other Notable Achievements
Bandera USATF Trail Championships, 100K, 12:50, 2016​
Gosaikunda-Kutumsang-Nagarkot journey run, Nepal, 3.5 days, 2016
Jomolhari-Laya-Gasa journey run, Bhutan, 8 days, 2015
Ghosts of Yellowstone, 100M, 38:55, 2014
Rocky Raccoon, 50M, 10:16, 2014
Western States, 100M, 29:42, 2013
How She Got the Nickname Sunny
"My given name is Suzanne, which abbreviates to the German nickname 'Sanni.' Sunny was just easier. Aside from the semantics I'm also an eternal optimist and like to wear yellow, too."
On Quitting Her Job
She was working 80-hour weeks at a consulting firm in Houston and adventuring in her off-time, then realized she wasn't happy. In late 2015, two weeks after paying her final student loan installment, Stroeer quit her cubicle and moved into her Chevy Astro van. She spent 2016 roaming the American Southwest and trekking in Thailand, Nepal, Tanzania, Germany, and the Dolomites.
"I have zero regrets. I would do it all over again," she says. "I always thought my consulting job was pushing me towards burnout. I've realized that I still carry the Type A, overachiever foundation around with me, even though I'm not a consultant anymore."
How She Runs
"I wouldn't describe myself as being in elite shape, but I have a solid foundation and a pretty strong mind. I mostly just put one foot in front of the other and try not to think about how much longer the route is since that tends to be discouraging."
On Organizing an All-Female Team on Aconcagua
"I climbed Aconcagua solo and unsupported in 2014, and I was shocked how few women were there. The women who were around all seemed to either be with boyfriends or in guided parties—it didn't sit right with me. I decided then and there that I wanted to make a difference."
On Running Sick
"I picked up a nasty chest infection in late December, which has stayed with me ever since. It came back with a vengeance right after I set the base camp record."
The Best Part of Being a Dirtbag
"Coffee. As in, rolling out of bed in the morning, making a cup of Joe, and having all the time in the world to enjoy it."
How to Live the Good Life
"One: Choose your company wisely. Having great teammates makes everything so much easier and more fun. Two: Don't climb a mountain when you're sick."
Lead Photo: Courtesy of Sunny Stroeer
Trending on Outside Online