Gear Guy
How to Properly Store and Care for Your Winter Gear
Everything you need to know to ensure you don't ruin your skis, boots, and kit before next season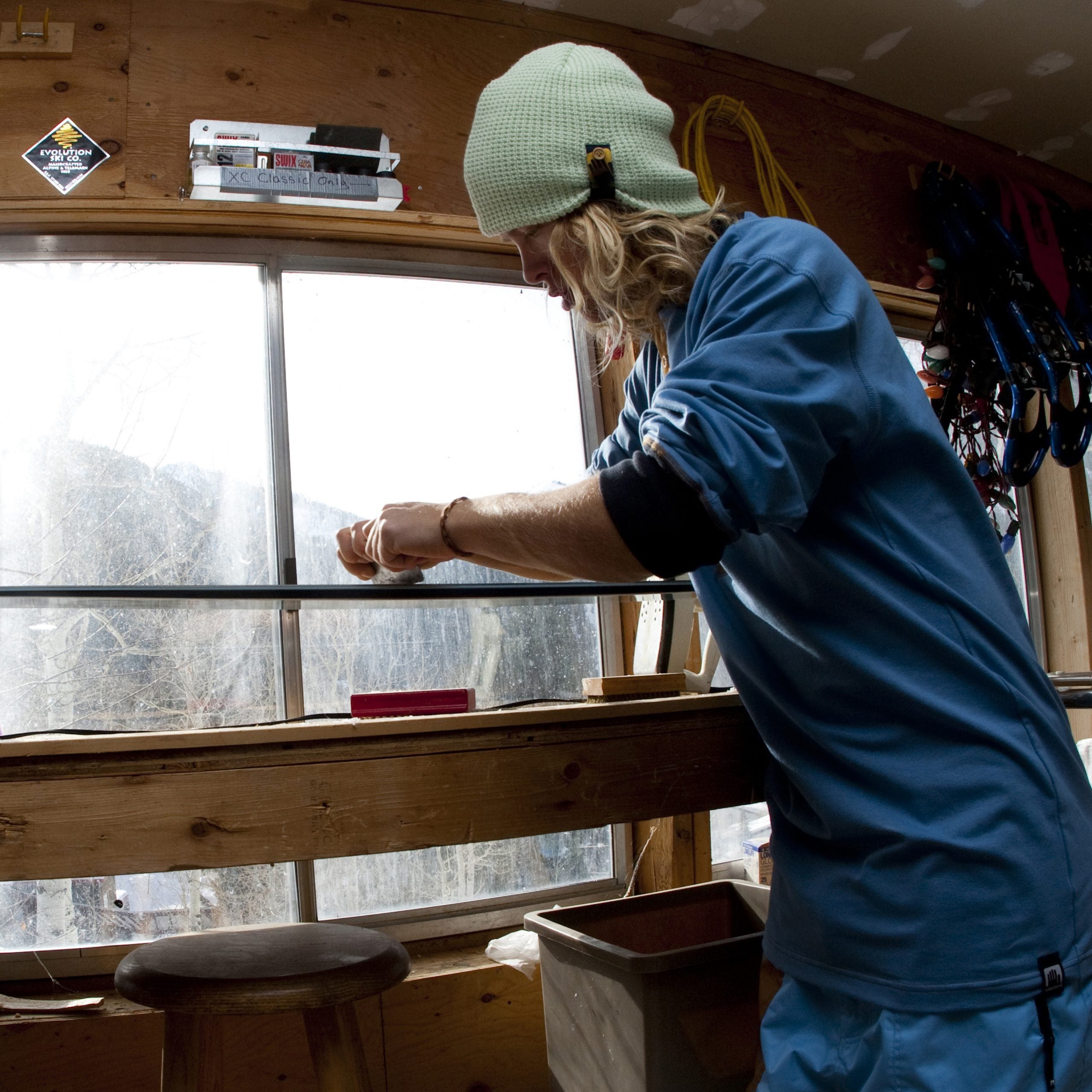 Aurora Photos(Photo)
Heading out the door? Read this article on the new Outside+ app available now on iOS devices for members! Download the app.
It's still dumping snow in places like Lake Tahoe and Jackson Hole, but winter will be over before we know it. When temperatures rise, you'll need to stow your gear. Remember: there's a right and wrong way to do this. What follows are some tips I've learned over the years to make my gear last for many seasons, plus tips from friends Saylor Flett and Rick Stock, who run Feather River College's Outdoor Leadership Program and maintain a fleet of skis and boots.
---
Skis
Wax Them Before Storing
After your last run, brush and scrape the bases of your skis to remove any old wax, and then coat them with a thick coat of hot wax. Use two to three times the amount you'd apply for a normal wax job during the season. This wax layer will keep the bases from drying out during summer and prevent the edges from rusting. When next season starts, you'll need to scrape everything off—be especially careful around the edges. Bonus: you'll have freshly waxed skis ready to rip when you're done.
---
Strap Them Together Carefully
Keep your skis strapped together during summer with something like a Voile strap to keep the edges from rubbing against each other and dulling out. This also helps prevent skis from scissoring and falling to the ground. A strong warning: do not strap your skis in a way that compresses the camber or rocker. This can cause warping. I wrap a strap around the area where the skis naturally meet, being careful not to yank on the strap.
---
Store Them Indoors, But Not in a Ski Bag
A ski bag with any leftover moisture in it could rust your skis' edges. I recommend storing skis indoors so they're out of the elements, but you don't have to store them in a perfectly climate-controlled closet. Your garage is fine as long as the skis aren't near leaks or in a crawl space that heats up more than a normal room.
---
Sharpen Edges and Fix Any Core Shots
It's better to get this stuff done at the end of the season so you can avoid long waits in November. But don't wait too long. Most ski shops and places like REI put away their ski tools once bike season gets going. Ask the shop so you know your deadline.
---
Clothing
Wash Synthetic Base Layers with a Base Layer Wash
During the season, it's fine to wash your synthetic base layers with regular soap—you're just going to stink them up again next weekend. But at the end of the season, I recommend a special wash like this one from Nikwax, which gives a deeper clean so the stank doesn't fester in your closet all summer.
---
Wash and Re-DWR Outerwear
You should wash your shell at least once a season (more if it's really dirty). Accumulated oil and dirt interferes with the shell membrane's ability to repel water and vent moisture. I like the Nikwax soap designed specifically for technical jackets. Once you're done washing, reapply a durable water-repellency (DWR) treatment, which makes water bead up and roll off your jacket's outer layer before it reaches the membrane.
---
Let Insulation Breathe
Do not shove your down or synthetic puffy into the back of the closet, and then smoosh it back there with all your other clothes. These layers create warmth by trapping air in their fibers, and those fibers need to be lofty and uncompressed to work. It's the same principle as a sleeping bag. It's fine to cram a puffy into a bag when you're on a trip, but it needs to hang freely when stored.
---
Let Everything Dry for Longer Than You Think
Things dry quickly if you live in New Mexico or Colorado. Not so in the Pacific Northwest. After your last ski day, let all your gear dry for a silly long time to make sure every last drop of funk-inducing moisture is gone. Put it out on the clothesline if it's a warm sunny day, and don't be afraid to run dryer-approved clothing through an extra cycle. I know people who put rice inside their gloves, but if you follow their lead, make sure to store the gloves where mice and rats can't get to them.
---
Store Everything in One Place
Once everything is clean and dry, store it in one spot so you'll be ready to go during next fall's first big storm.
---
Ski Boots
Dry the Liners
I'm sounding like a broken record, but this one is important and something you might forget since boot liners hide in the shell. It's actually good practice to dry your liners every night after skiing to fight funk and extend the life of the material. A boot dryer like this one from DryGuy makes it easy. If you don't want to invest in a dryer, pull the liners out to air dry, and make sure they're dry before they go back in.
---
Buckle Your Boots
Boots can lose their shape if you leave them unbuckled for an extended period of time. Before storing them, make sure they're clasped and locked on the loosest setting.
---
Backcountry Gear
Remove the Batteries from Your Beacon
Do this for two reasons. First, you don't want the batteries to corrode and ruin your beacon. Second, you always want to start the season with fresh batteries. Many people suggest tossing batteries even if they're at 75 or 50 percent to ensure you never run out of power on the trail. Pro tip: check if you need to replace your old beacon with an updated, safer design. Here's a link that will help you determine if it's time.
---
Dry Your Skins and Store Them with Skin Savers
Don't dry your skins in the hot sun, which can ruin the glue. Do dry them thoroughly. I don't store my skins with the skin savers during the season because it's a pain to keep track of that extra material, but it is important to use the savers over the summer. If you leave skins folded together for months without the savers, you might tear the glue off certain spots when they come apart for the first time in the fall. (Heads up: Pamoca skins don't need to be stored with skin savers.) Just like your skis, keep skins away from hot areas of the garage.
Lead Photo: Aurora Photos