The Absolute Minimum Clothes You Need for a Life of Adventure
How to pack a year's worth of clothes and gear into a space the size of a carry-on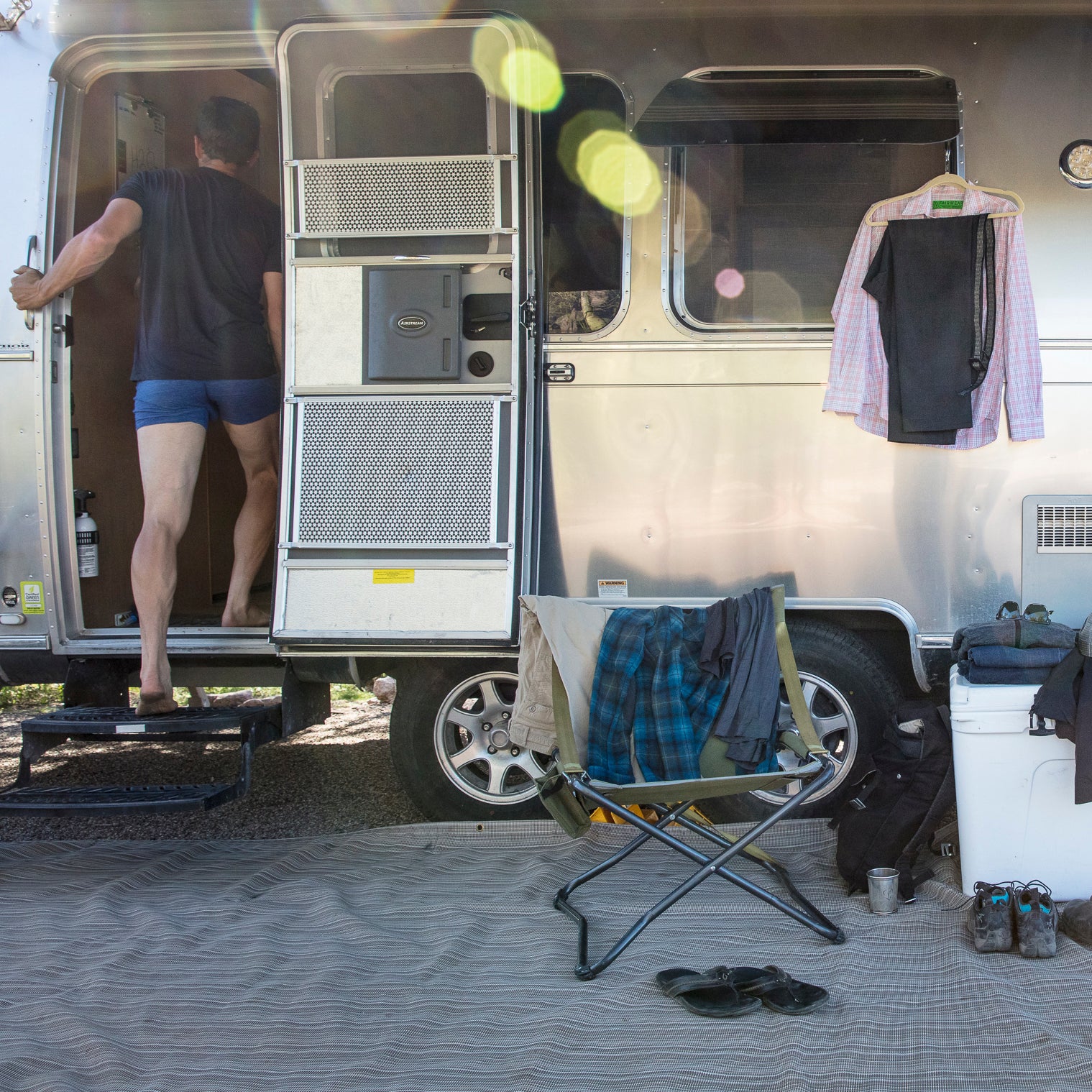 Heading out the door? Read this article on the new Outside+ app available now on iOS devices for members! Download the app.
My drawer in Artemis the Airstream measures seven inches by 15 by 20. You could probably fit three or four cantaloupes inside it, provided they were small ones. When we hit the road full time, this was my new wardrobe. It was about the size of one shelf in our walk-in closet at home. Decisions had to be made.
The act of gleaning was one of the most freeing and gratifying processes of setting off.
I'm no dirtbag. I like nice clothes and favor a squadron of shoes when at a fixed location. So the idea of fitting everything I'd need—for day-to-day life, for overseas travel, for fishing and hunting and camping, for dates, for interviews with CEOs—into a space the size of a tool box, seemed about as unlikely as figuring out modern-day bike hub standards. But then, after some consternation and paring, everything fit.
One big consideration is some of the reduced needs of being on the road. When your home is your office, dedicated business clothes are unnecessary. And because you don't see the same people at work day-after-day, and have few repeat interactions because you move frequently, you can get away with wearing clothes repeatedly. I'll sometimes go a week in virtually the same clothes.
Another good reason to simplify is the sometimes infrequent access to washing machines. If you only get to the laundromat once a week or less, a small batch is best so you're not spending a whole day in some steaming, shabby facility. That's also why, other than jeans, I picked merino and wool pieces almost exclusively. These clothes resist odor and hold their form day after day. Similarly, I skipped light and white apparel in favor of darks and textures that don't show dirt and stains as easily.
The other big consideration for packing is versatility. I left home patterns and bright colors in favor of neutral tones that coordinate. It was also important to find clothes that served more than one purpose. For instance, the right baggy shorts can work well both on the bike and for casual wear around town. Merino polos double up nicely as jerseys, and merino tees are excellent for layering when the temperature drops. And I gave up on two sets of pedals, cleats and helmets in favor of SPDs that work for both.
Tops 
Bottoms 
Skivvies 
1 swimsuit: You can't beat the Patagonia Stretch Wavefarer Board Shorts ($69).
3 boxers: I wasn't picky about underwear till I tried the Saxx Vibe ($32). Without dwelling on the separated pouch design, I'll say simply that once you wear these undies, you won't go back.
For the Feet
Yep, there's a lot of pricey gear on my list. But when you only have a few things, you want it all to be quality. Like our decision to buy Artemis rather than something less expensive, I believe that paying for quality is an investment. Most of the clothing and shoes I'm traveling with are several years or older. As they say: buy once, buy right.
It all fits in that tiny drawer, and I haven't wanted for anything since we've left. (Though it's worth noting that I also have a cabinet spot where I stow my cycling cleats, two pair of bibs, helmet, glasses, and hydration pack.) If anything, I often wonder if I haven't brought too much. In fact, looking at that list all printed out, it seems excessive.
Such is one of the biggest joys of road life: by virtue of the limited space, you quickly find out what you value and really need—then cut out the rest. No more worrying about what to wear or what gear is right for the day. Get up, get into whatever you have, and get on with the adventure. 
Trending on Outside Online