Meet the Man Responsible for America's Climbing Gym Craze
Gary Rall opened a rock gym 29 years ago. Then he helped invent indoor climbing.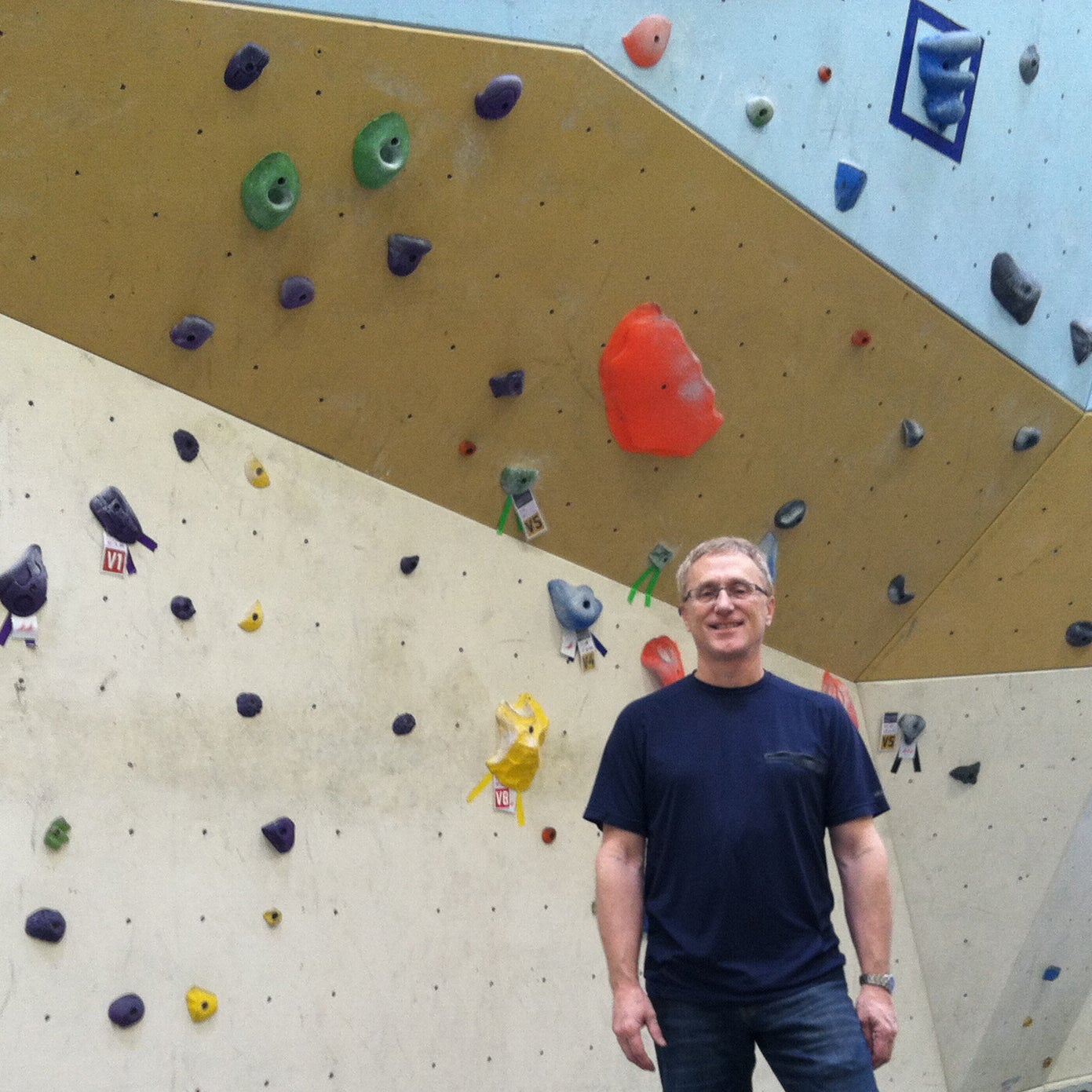 Heading out the door? Read this article on the new Outside+ app available now on iOS devices for members! Download the app.
In 1987, Gary Rall loaded up his climbing pack and hopped a flight from Oregon to England. Four years out of college and stuck in a dead-end sales job, he arrived in Sheffield hoping for a cathartic vacation. Instead, the two-week trip changed his life.
One afternoon at the gritstone crag of Stanage Edge, Rall asked a local climber how he stayed fit in such a rainy area. The man replied that he top-roped on an indoor practice route at the nearby community center in Sheffield. Rall visited and saw how the local climbers had glued a swath of stones onto a brick wall. "A lightbulb went off," he says. "Portland was just as rainy. I realized that a climbing wall might be a hit back home."
Rall returned to Portland, drafted a survey to gauge local climbers' interest in an indoor wall; the responses suggested that a rock gym would be popular. When a bank nixed Rall's request for a loan, he raised the money through a grassroots donation campaign. "I quit my job to start the gym," he says. "It was really just a dream and a prayer."
When Portland Rock Gym opened in 1988, it was one of the few modular climbing gyms in the world and the second in the United States. PRG became a hub for Oregon's climbing community and an innovator in climbing training. Soon, Lynn Hill, Alan Watts, and other pros began stopping by whenever they visited the iconic Smith Rock State Park. "I remember thinking I'd be happy if we lasted two years," says Rall. "Twenty-nine years later, here we are."
---
Age: 57
Job: Owner of Portland Rock Gym, the second-oldest climbing gym in the United States.
Hometown: "My family moved to Portland, Oregon, when I was 14. Before that, Columbus, Ohio, by way of Montana and Georgia. I was born in England. My dad was a North Dakota farm boy who joined the Air Force—he met my city-slicker mom when he was stationed in England."
Home Base: Portland, Oregon
Education: BA in English literature from Portland State University
Gym Hours: Monday through Friday, 7 a.m. to 11 p.m.; Saturday, 9 a.m. to 9 p.m.; Sunday, 9 a.m. to 6 p.m.
Daily Ritual: "Doing the darn accounting books each morning."
Obsession: "Besides climbing? I raced my old Porsche 911 at Portland International Raceway from 2001 to 2009. I stopped when the economy tanked, but I want to start back up. It's exciting, like climbing runout 5.12 trad."
His Favorite Climbing Gear: "For shoes, I've been a La Sportiva Miura guy for years. I have a huge foot locker at home with 15 blown-out pairs in it. I also kept my full rack of first-generation 'Friends' cams and some ancient Chouinard hexes."
The Climber He Admires Most: "Patrick Edlinger was my hero. Unfortunately, he passed away in 2012, but Edlinger was such an inspirational, visionary climber. He had such beautiful technique."
Favorite Crags: "Near Portland, Broughton Bluff. Outside of Oregon, Joshua Tree and Bishop are favorites, and Eldorado Canyon and Zion are just so beautiful. I'd love to climb in the German Frankenjura or go back to some of the sea cliffs in Wales."
Strangest Place He's Climbed: "Back in the day, my friends and I bolted several 160-foot routes on some sea cliffs along the Oregon coast. Definitely chossy, but the views and feel of the sea spray near the base were just unreal."
---
Finding His Passion: "I've always loved the outdoors, but I grew up in Ohio. Not many mountains there. A year after my family moved from Columbus to Portland, I took a two-part mountaineering course. I was 16 or so. The first class was rock climbing, and I loved it so much that I never went back for the alpine class. In college, I spent summers in Yosemite and met Alan Watts and some other pioneers. There wasn't a large climbing community in the 1970s, so you had to get good fast—that way you could climb with the veterans, who were the only reliable partners around. It's a much safer sport now. Risk was just kind of shrugged off back then."
Building a Gym Before Blueprints: "There were no guidelines for constructing a climbing gym in the 1980s, so we just built the walls with plywood. Metolius Climbing was just getting started—they had created a carved, hexagonal-style rock tile, and we glued those onto the plywood as holds. When it came time to innovate, our decisions were just based on logic: 'Well, overhung walls don't really exist indoors, so let's build one.' For training simulators, we fitted a PVC tube around a pull-up bar to gain grip strength and built a crack trainer out of wood because adjustable walls hadn't been invented. In the early days, it was just kind of like being cowboys and going for it."
His Life Advice: "There's a saying in a race car driving: You have to finish the race to win the race. It's really all about heart. Be humble, and don't overestimate your abilities, but don't pull yourself out of the game, either. Take advice from others, pay attention to what works for your competitors, learn from your mistakes, and never make the same error twice. And, of course, work hard: In the old days, I'd go cragging at 7 a.m., but I'd be back by 3:00 that afternoon and work until 11:30 p.m."
A Typical Day: "It always depends, but I start every day with accounting. Then I meet with the general manager and the head route-setter individually, and we discuss the day's issues and current trends we should consider. There's a lot of staff rollover at certain times of the year, so you gotta train the new employees quickly. Right now, we're prepping our summer guiding service and a summer camp program. There are always little building adjustments that you have to keep up with, too: paint touch-ups, electrical bugs, fixing the bike racks, all that stuff. And maybe most important, customer service is essential. Chat with the climbers and make sure they're having fun."
How to Start a Rock Gym (and Keep It Fresh): "First off, analyze the local market. I'd say begin in a small town (with less competition). That way, the gym doesn't have to be perfect on day one. Some companies [such as Eldorado Climbing Walls, Vertical Solutions, and Rockwerx] will build the entire gym for you, but you'll need prior gym-management experience to attract investors. Design the amenities with both exercise-minded people and hardcore climbers in mind, and make the walls inspirational. As for keeping it fresh, pay attention to what customers want. At first, PRG was more of a training center than an artificial cliff. Now it's a bit of both. My favorite routes mimic outdoor climbing, but World Cup setting—very gymnastic and dynamic movement—is popular at the moment. Go scout styles at other gyms and crags whenever possible."
Getting Certified: "It's crucial to have the best insurance through the Climbing Wall Association. Your walls should be engineered to the CWA's highest standard and up to city code. Build by the book, or you're going to be found grossly negligent if somebody gets hurt. If you design the walls yourself, have structural engineers review your work. You can't cowboy it anymore."
Avoiding Small Business Burnout: "Owning a small business is tough. If you're not growing and innovating, you're shrinking. I worked a lot of six-day weeks in the beginning. The trick is that you can't do everything yourself. Sometimes projects pop up that force you to stay at the office, but knock off and get out of there whenever you can swing it. Otherwise, you'll burn out. I relax by spending time with family and skiing when the season allows it. I haven't worked a weekend in ages, and I think that's been vital to staying healthy and happy."
Competing with Corporate Gyms: "We don't have their money, but we stay true to what climbers want and tailor toward that standard. Our route grades are tougher, and our climbs are a bit more realistic, like climbing on real stone. It's about perfection so that the climbers get the best possible results for their money and time. The goal is to make our facility better and better, rather than open new locations. Our community is smaller, so it's tightly knit. I think PRG's atmosphere has played a big part in its success."
The Future of Indoor Climbing: "It's so bright. People are realizing that you can get full-body fitness without doing CrossFit or lifting weights. A lot of the new people try it as an exercise routine—some transition outdoors, and some stay inside. It's a great thing either way, you know? Our community just keeps on growing."
Highlight as Owner: "PRG hosted a lead competition in 1994, and the best climbers came from all around the Northwest. Our local kid won it, went to nationals, and came in third after Chris Sharma and Ian Spencer-Green. He was 14 and had been climbing for less than two years—watching him prove himself like that was so cool."
Most Rewarding Part of the Job: "Being your own boss means not having to ask permission—you can just do what inspires you. Owning a rock gym is a labor of love, but it keeps me engaged in the sport I'm passionate about. Plus, it's cool to see new people do their first climbs and have a lot of fun. It's even better when veteran climbers tell me that our routes inspired and challenged them."