Can a Tesla Become the Ultimate Adventure Vehicle?
Electric cars are the future for commuters, but can they go the extra mile on a road trip?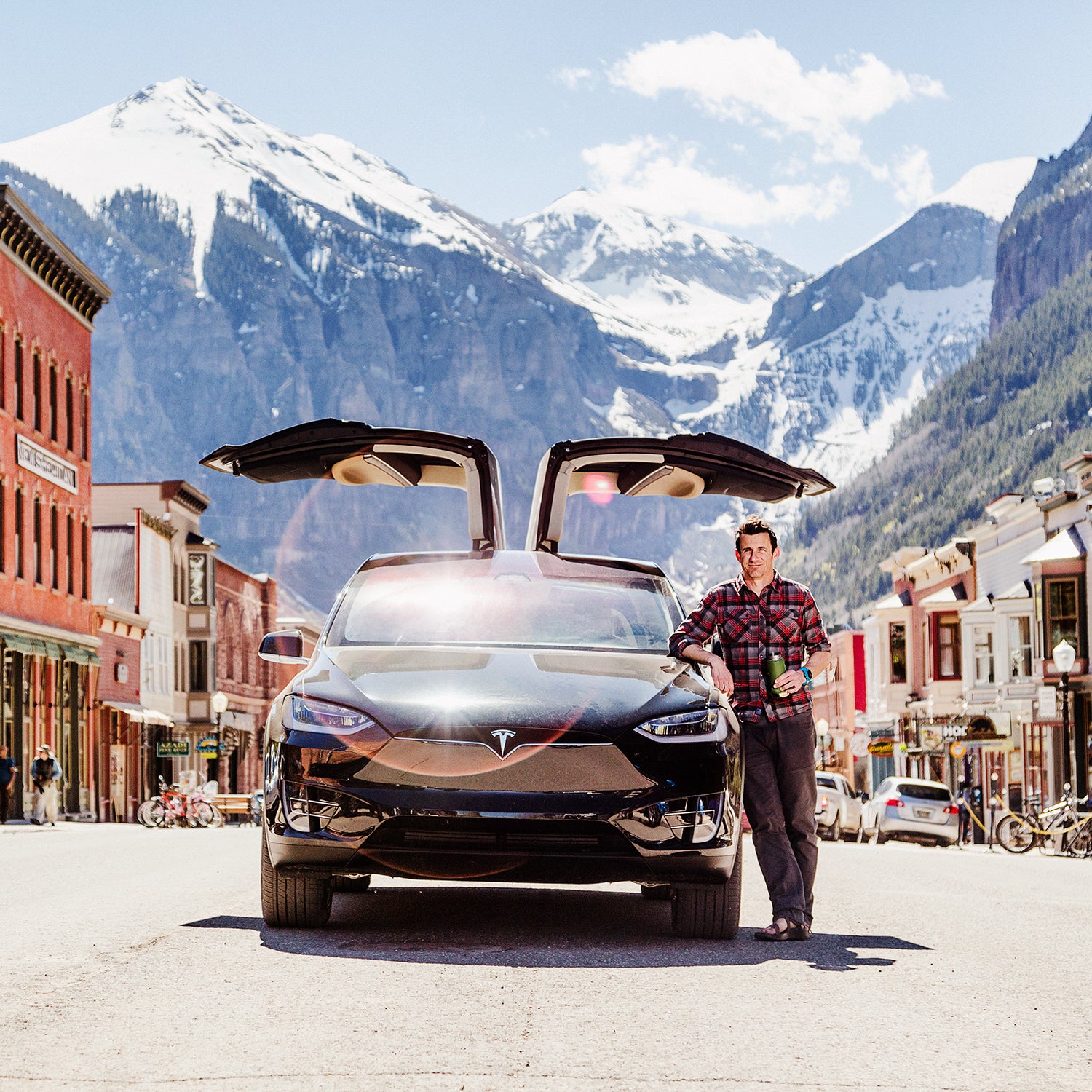 Aaron Colussi
Heading out the door? Read this article on the new Outside+ app available now on iOS devices for members! Download the app.
As I unplugged the cord from my Tesla SUV on a sunny afternoon in May, I struck up a conversation about electric cars with a gentleman in his sixties who was charging a Porsche hybrid next to me. We were parked at one of the most picturesque vehicle-charging stations in America, under thousand-foot-high red sandstone cliffs at a lot inside Utah's Zion National Park.
"You won't get much charge for that here," he said, nodding at my car. The station delivered a meager 16 miles of battery life per hour—fine for a gas hybrid but not for us. I laughed in agreement and explained that I just needed to make it to my next Tesla Supercharger station, 109 miles up the interstate. Such is the reality for electric-vehicle owners who want more than just a daily commuter.
After we juiced the car, my girlfriend, Hilary, and I loaded our camping and climbing gear into the Tesla's front and rear trunks, bade our neighbor goodbye, and pulled away—reveling in that stealth electric-car silence. We had set out from our Denver home five days earlier on a six-day road trip in Tesla's new Model X 100D, the automaker's bid to reach a more adventurous demographic. It's a black pod with all-wheel drive, a panoramic windshield, touchscreens everywhere, and Tesla's Falcon Wing doors, which open upward like on the famous 1980s DeLorean from Back to the Future.
"We're taking a dirtbag road trip in the least dirtbag car of all time," Hilary remarked. It kind of made me feel like a new brand of western pioneer. With 14 fully electric models made by BMW, Chevy, Ford, Nissan, and others delivering better range every year, we may soon see lithium-ion-powered adventure vehicles replace the iconic Volkswagen bus along classic stretches of American highway. So we sought to answer a simple but pertinent question: Can an electric car carry us on a road trip across the West?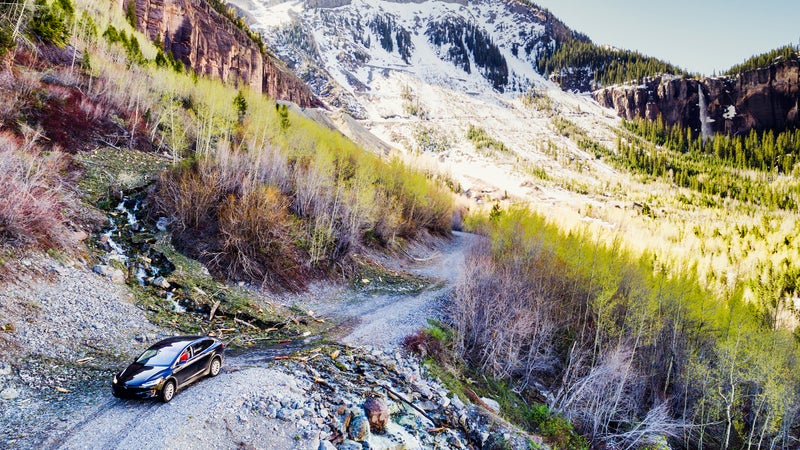 Tesla thinks so. In fact, the company's aggressive installation of charging stations on interstates around the country represents perhaps the single largest investment in that idea yet. So far, the company has built 365 Supercharger stations in the U.S., including 142 out west, with 141 more slated to open before the end of the year. At a Supercharger, it takes roughly an hour and a half to refill the Model X from zero to 100 percent, but it takes much longer at Tesla's more plentiful but lower-amp Destination Chargers, which are installed at hotels and restaurants. (With a special adapter, you can plug into the 675 or so non-Tesla stations in the region, often located at RV parks, but the charge flows slowly, so that's a last-ditch option.) "Road trips are absolutely central to our vision," a Tesla spokesperson explained. "Our plan is to cover all major forms of terrestrial transport, including long-distance travel."
Depending on an EV means recalibrating your relationship with the road. A fully charged Model X is designed to go 295 miles, but for now there is only about one Tesla station per 80 miles of interstate in the 11 Western states, so careful planning is essential, especially if you want to wander far afield. Driving a Chevy Volt or a Nissan Leaf EV on the open road could prove even more challenging, since they have shorter ranges than the Model X.
"We're taking a dirtbag road trip in the least dirtbag car of all time," my girlfriend remarked. It kind of made me feel like a new brand of western pioneer.
Even by conservative estimates, it's tough to fully account for the kinds of variables that can drain your battery. For instance, driving over I-70's Loveland Pass en route to Arapahoe Basin on our first day—a nearly 6,000-foot climb over 65 miles—depleted our battery by a third. Shortly after leaving A-Basin, we pulled off in Silverthorne to plug into a Supercharger. From a Chipotle across the street, I watched the charging progress on Tesla's app on my phone.
There were many of these long layovers during our trip. (Headwinds can also sap battery life.) Between Denver and Telluride, we stopped at two Superchargers—a total of two hours on the cord—killing time at chain restaurants. 
These high-power stations aren't yet located in some of the West's most desirable destinations. In Telluride, a town more than 126 miles from any Supercharger, our vehicle needed six hours at a Destination Charger just to make it to Moab, less than three hours away. Granted, we weren't sitting on the curb watching the seconds tick by; we traversed the via ferrata above town. Usually while our car charged we were climbing, skiing, or hiking. Which is the kind of stuff we were after in the first place. And once we set off exploring, the Tesla was plenty sporty: in a moment of adventurous driving on a rocky road, I tapped a touchscreen to raise the clearance to 8.3 inches and cruised along without worrying that we'd bottom out.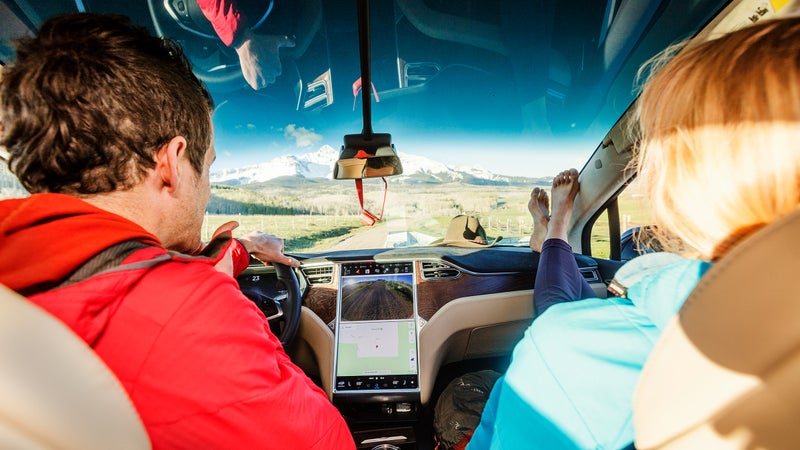 But traveling charge to charge also got me wondering: What happens as more drivers buy EVs? The Superchargers we used had four or six vehicle slots, and no station was ever full. If there were more Teslas roaming around, however, I can imagine a not-too-distant future of long, 1970s-gas-crisis lines at Superchargers. Tesla's press contacts informed me that the company's long-term goal is for cars to move themselves when they're done charging. (For now, Tesla owners who leave their vehicles at crowded Super­charger stations after the vehicle has been replenished are billed 40 cents a minute.)
If you're wondering whether you can pull off a road trip in an EV, the question you should be asking yourself is, How much time do I have? The tectonic shift from internal combustion engines to lithium-ion-powered electric motors is still in its infancy. Until automakers put more fast-charging stations on the roads and boost the driving range, we'll continue to trade steady pro­gress for greener travel. In the meantime, EV road-trippers will have to adopt a little bit of what VW-bus drivers have always exhibited out on the open road: patience.
Trending on Outside Online