The Dirtbag Climber Behind Hollywood's Craziest Stunts
For 19 years, Keir Beck has been behind some of the most complex stunts in the industry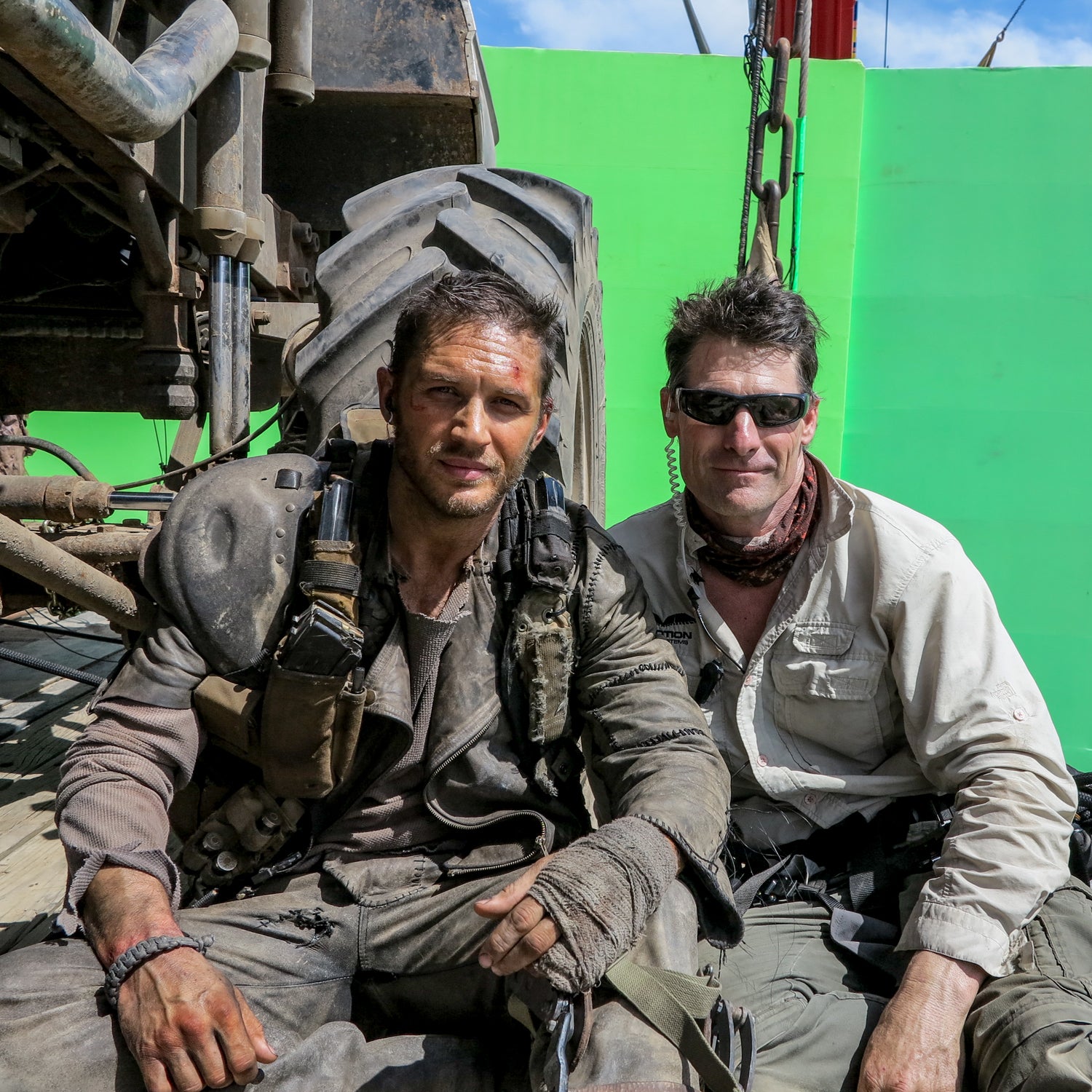 Courtesy Keir Beck(Photo)
Heading out the door? Read this article on the new Outside+ app available now on iOS devices for members! Download the app.
During the first chase sequence of the 2015 apocalyptic action film Mad Max: Fury Road, Charlize Theron's character, Furiosa, runs under an accelerating 18-wheeler and begins to pull herself inside through a floor hatch. One member of the pursuing motorcycle gang tries to follow, sliding his bike underneath the semi and grabbing her legs—but Furiosa kicks him off, and he's crushed by the back wheels.
The actor didn't actually get flattened, of course. An elaborate system of ropes kept him safe, and the stunt rigger who designed the sequence, Keir Beck, later won a prize for it at the Taurus World Stunt Awards. "That shot was all done in a single take," Beck says. "Once she kicked him off, we had to arrest his slide before he went under the semi's wheels. There were four riggers operating from the top of the truck and me making the decisions."
https://youtube.com/watch?v=CRfAtCRXzps
What is a stunt rigger, exactly? They design and implement the ropes and pulleys that allow stunt doubles and actors to fly off cliffs or under speeding cars without actually falling or getting run over.
Beck's career path to Hollywood stunt master began in 1990, when he accepted a scholarship to study arboriculture at Longwood Gardens in Pennsylvania. He learned to rock climb in the nearby Pocono Mountains, and after graduating, Beck spent eight years "climbing trees every few months to earn money, then using that money to climb mountains in the United States, Europe, and the Himalaya." In 1998, Beck parlayed his rope skills into rigging a few stunts on Pitch Black, a Vin Diesel movie. "After all that climbing and tree work, rigging felt natural," Beck says. "Once I got onto that first set, I knew that I'd found my career. No second thoughts."
Almost two decades later, Beck has rigged scenes on 54 films, including The Matrix Revolutions, Casino Royale, Hacksaw Ridge, and Pirates of the Caribbean: Dead Men Tell No Tales.
---
Age: 47
Job: Stunt rigger, director, and founder of AP8 and StuntRigging.org
Hometown: Perth, Australia
Home Base: Canungra, Australia
Favorite Gear: "My customized Edelrid harness and my lanyard. Same models I've used since my tree-climbing days. They're both part of my minimalist system. Safety is key in the film industry, but so is speed."
---
On Skills a Rigger Must Possess: "Stunt riggers have a broad range of climbing skills—everything from trees to rock to buildings—and they have to be experienced with rope access, rescue, pulley systems, knots, and splicing. And you gotta understand the physics of moving people about in space, sometimes at high speeds."
What His Job Looks Like: "Most times, I'm hired to be on a production throughout the entire filming process. On Fury Road, I was there start to finish, from designing the rigging processes to coordinating their implementation. But it all depends—for Casino Royale, they only needed me for the opening sequence. These days, I'm usually the second unit director—running a full film crew, doing all the action beats and pickup shots, or coordinating the sequence with a team of stunt performers and riggers. When I first see a storyboard, my first step is to visualize the sequence. Then I sit with the lads and go over what the scene is about, and from there we design the rig around the action. We work in reverse—how did that performer get there, what caused it to happen, and so on. After I've built the rig in my head, I mentally overlay that vision into the physical space where the rig will eventually be. Then it's all about manifesting that vision into reality."
https://youtube.com/watch?v=MiHCJC9krrk%3Fstart%3D156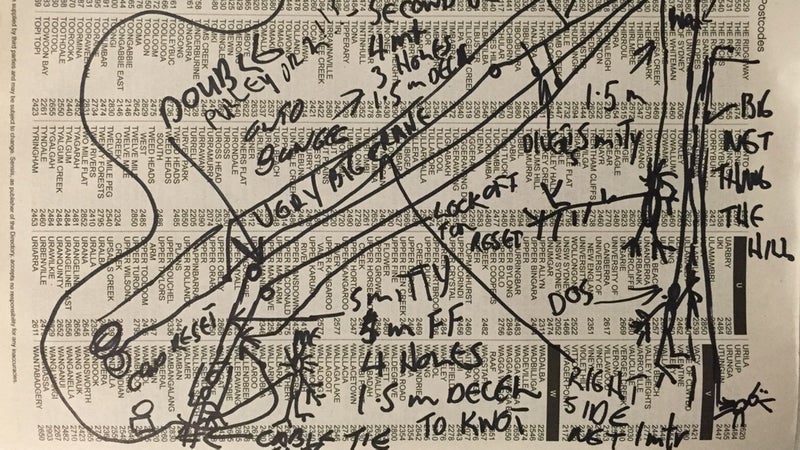 Getting Your Foot in the Door: "There are some schools scattered around the world where you can train to be in this line of work. Or you could work as an apprentice, but you'll need some experience to do that. In my case, I learned the fundamentals through rock climbing and working as an arborist. I know riggers who initially worked different crafts in Hollywood, built up connections, and then made the transition to rigging from there. Whatever the case, you need to be really enthusiastic about this craft. Prove to a rigging coordinator [the person who designs and oversees the film's rigging crew] that you're trustworthy and eager to learn, and maybe that person will take you on."
Certifications Matter: "Nowadays, certifications are pretty much mandatory. You'll need to get them—even if you're a very experienced arborist or climber—because then the people in charge will be much more confident about hiring you. I have a diploma in arboriculture, a high-risk work license in advanced rigging, and a Certificate IV in occupational health and safety, plus instructor certifications for safety at heights, confined spaces, and vertical rescue. For me, pursuing those certifications was a chance to learn the various elements of this trade. Think of prepping for each certification as a learning opportunity."
How Climbing Trees and Crags Informed His Rigging: "I developed a lot of the skills I use today during my climbing and arborist days. Moving huge tree branches over power lines and roofs were my physics lessons for moving mass around on ropes, and I learned about anchor points and rope systems from climbing. I always trusted my gut, but I kept my brain switched on, too."
"Being able to think up some wild stunt and then turn into a reality—there's a flow to it. That's what keeps me here."
High-Stakes Problem Solving: "Rigging can be a dangerous line of work if things go wrong on set. So, when I'm approached to take on a rigging job, I follow a few self-defined rules. First, I read the script, look at the storyboard, and decide whether it's possible for me to pull off the scene. That step involves a lot of intuition. If I think I can do the job, I start thinking about the risks involved. In this industry, the better you are at managing risk, the more creative you can be. Once I've determined that the stunt can be done safely, I'll go for it. By a country mile, the toughest rigging project I've done was on Mad Max: Fury Road. I doubt that I'll ever work on a rigging assignment that's more complex or dangerous than that. The stunt sequences' intensity, scale, and environments were just so extreme."
The Toughest Logistics: "Long periods of unemployment are always a possibility in this line of work. Plus, the film industry can be very time-consuming. It'll take you away from your home and family. That's been the biggest drawback for me, and I didn't expect the extent of it. But on the other hand, rigging for films will take you all over the world—I think I've been to about 40 countries so far. And it's put me in some strange situations. For instance, on one of my very first projects, I ended up rigging in croc-infested waters. Terrifying."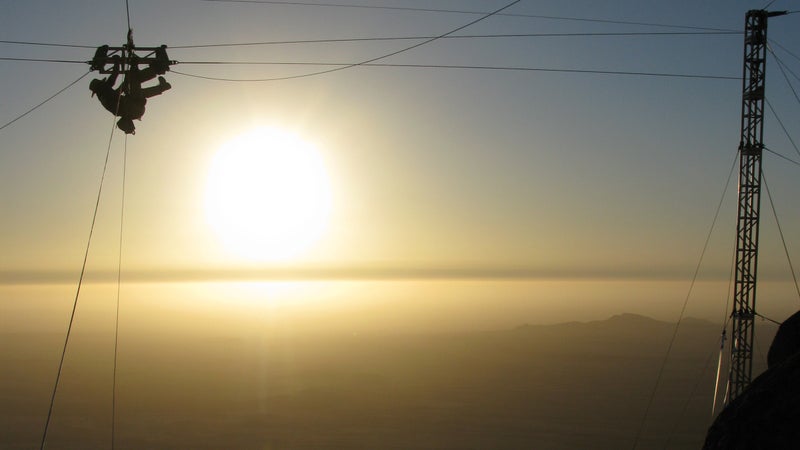 His Heroes: "In the climbing world, Wolfgang Gullich. I memorized every single climb he did. In the film world, George Miller, the director of Mad Max: Fury Road."
Beating Burnout: "A few times each week, I'll do the Elon Musk thing and work from 7 a.m. to 1 a.m. the next morning. Some days, I'll stop working at 2 p.m., take the dog for a run, and then go pick up my boys from school and spend the afternoon with them. On the weekends, I switch everything off. I don't even think about work. Those rest days keep me focused on what I need to accomplish during the week. Over the years, I've learned to force myself to put my pen down and take a rest. To be successful, you need to be disciplined enough to get your work done, but also disciplined enough to cut yourself off."
The Best Part: "Working on Hacksaw Ridge was great, and Casino Royale was also definitely one of the biggest highlights. For that one, they brought me on to help with the foot chase in the opening sequence: I rigged the bit where Bond is on the crane, fighting a guy. I just love that my job allows me to be creative. There aren't any limitations in that way. Being able to think up some wild stunt and then turn into a reality—there's a flow to it. That's what keeps me here."
Lead Photo: Courtesy Keir Beck