This Man Is Hiking from Patagonia to Alaska
Holly "Cargo" Harrison has finally reached the U.S. on a 15,000-mile hike through South and North America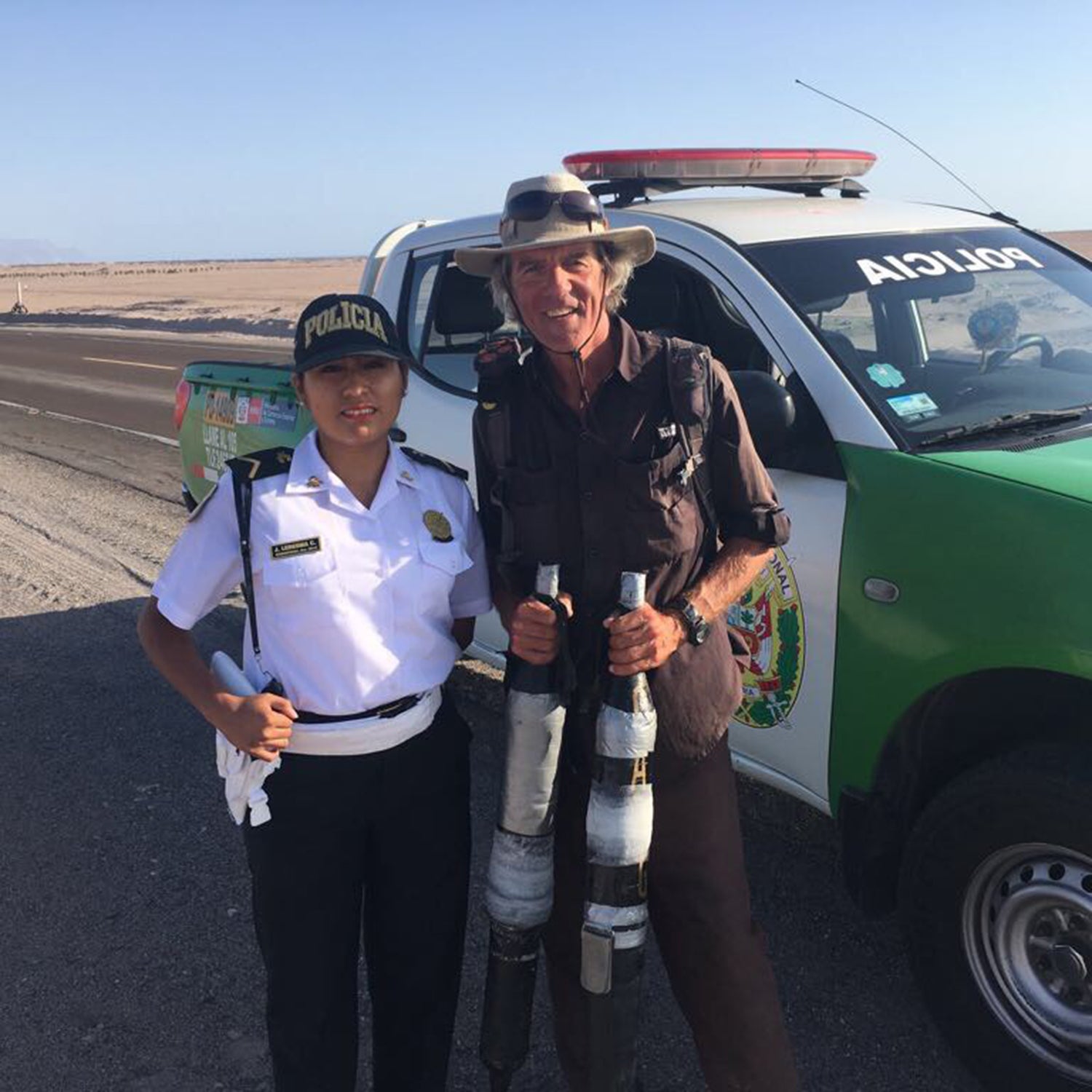 Heading out the door? Read this article on the new Outside+ app available now on iOS devices for members! Download the app.
Holly Harrison had a goal: tackle the longest possible land journey across the Americas. The 57-year-old North Carolinian (trail name: Cargo) started on December 17, 2016, in Ushuaia, Argentina, and has already stomped through 12 countries, crossing both South and Central America.
Harrison arrived back on U.S. soil on November 3, and he won't stop until he's reached Prudhoe Bay, Alaska, in fall 2018—more than 15,000 miles from his starting point. He wants to reach Alaska by June 1, 2018, for a summer weather window. If successful, Harrison would be only the third person to complete the whole route—and the first to hike it nonstop.
"At night, I never veer more than 50 yards off the road," says the former U.S. Army Ranger and kids' camp program director. "I'm as efficient as possible."
British hiker George Meegan was the first to embark on the trek, in 1983. Explorer Karl Bushby hiked it from 1998 to 2006 as part of his round-the-world walk. Others have tried it, says Meegan, but "they usually don't finish because they fall in love."
Harrison's journey perhaps has less romance. In the same accelerated spirit of recent thru-hiking record attempts in the United States, his journey is about setting the FKT (fastest known time) from Patagonia to Alaska. It took Meegan 6.5 years and Bushby seven. Harrison is trying to do it in 20 months. "People are always telling me, 'You should see this along the way,' but I'm in a race," he says. That's not to say Cargo has lacked for adventures along the way.
"He is very competitive and tough on himself," says his mother. "Nobody could talk him out of it."
Harrison caught the thru-hiking bug in 2011, when he planned to complete the Appalachian Trail. He suffered a serious horse accident that put him on crutches before he left, but there was "something about my brain that still made me go," he says.
So Harrison set off anyway, hobbling along on crutches for the first 200 miles of the AT. "I was averaging ten to 15 miles a day. I would get into camp after nightfall but was keeping up with most hikers along the way." Devising a neat way to carry his gear inside his crutches, he inscribed the word "cargo" on the poles. The name stuck. And while the crutches are now gone, today the ultralight hiker uses an adapted concept: carrying his five-pound kit inside his supersized hiking poles, which are hollow and made from baseball bats and leaf blower parts.
In 2015, four years after his AT attempt, Harrison began his first assault on the Patagonia to Alaska thru-hike. After 2.5 months on the trail, he'd hiked 1,700 miles. One rainy night, however, as he was trying to reach the shelter of a storm drain, Harrison fell in a hole and tore a tendon. "I tried for two days to continue on crutches, but it kicked my butt so hard." He returned to the United States for surgery.
Once healed, Harrison opted against picking up where he left off and instead headed all the way south to begin afresh in Patagonia's hurricane winds. "He is very competitive and tough on himself," says his mother, Jackie Holmes. "Nobody could talk him out of it."
Now Harrison is more than two-thirds of the way through, and he hopes the roughest miles are behind him. He says that crossing the Darién Gap—a 60-mile stretch of roadless jungle between Colombia and Panama—was the most harrowing part of the journey thus far. By the time he started that portion of his hike in June, FARC troops in the Darién Gap had signed a peace treaty to end their 50-year guerilla war. "Half the time, you are in the river," Harrison explains of his illegal crossing between continents. "The rest of the time, you're going up and down mud slopes or along rocky banks beside muddy torrents." Whenever he tripped and fell, his hired guides rescued him from the current.
Traveling with ten other illegal immigrants, Harrison's passport was confiscated—but quickly returned—by Panamanian officials when he reached the relative safety of the road in Yaviza, Panama. "The Darién Gap plays mental games on you," he says, shaking his head. "It really wore me down."
From here to Alaska, Harrison hopes the experience will be easier—and more familiar. "I'm looking forward to finding places to eat that I know," he says. "I don't want to be surprised anymore."
Lead Photo: Courtesy Holly Harrison