A Cruel Winter for Mountaineers on K2 and Everest
Bad weather, an unscheduled rescue, and a mutiny wrecked the chances of two teams hoping to make daring winter summits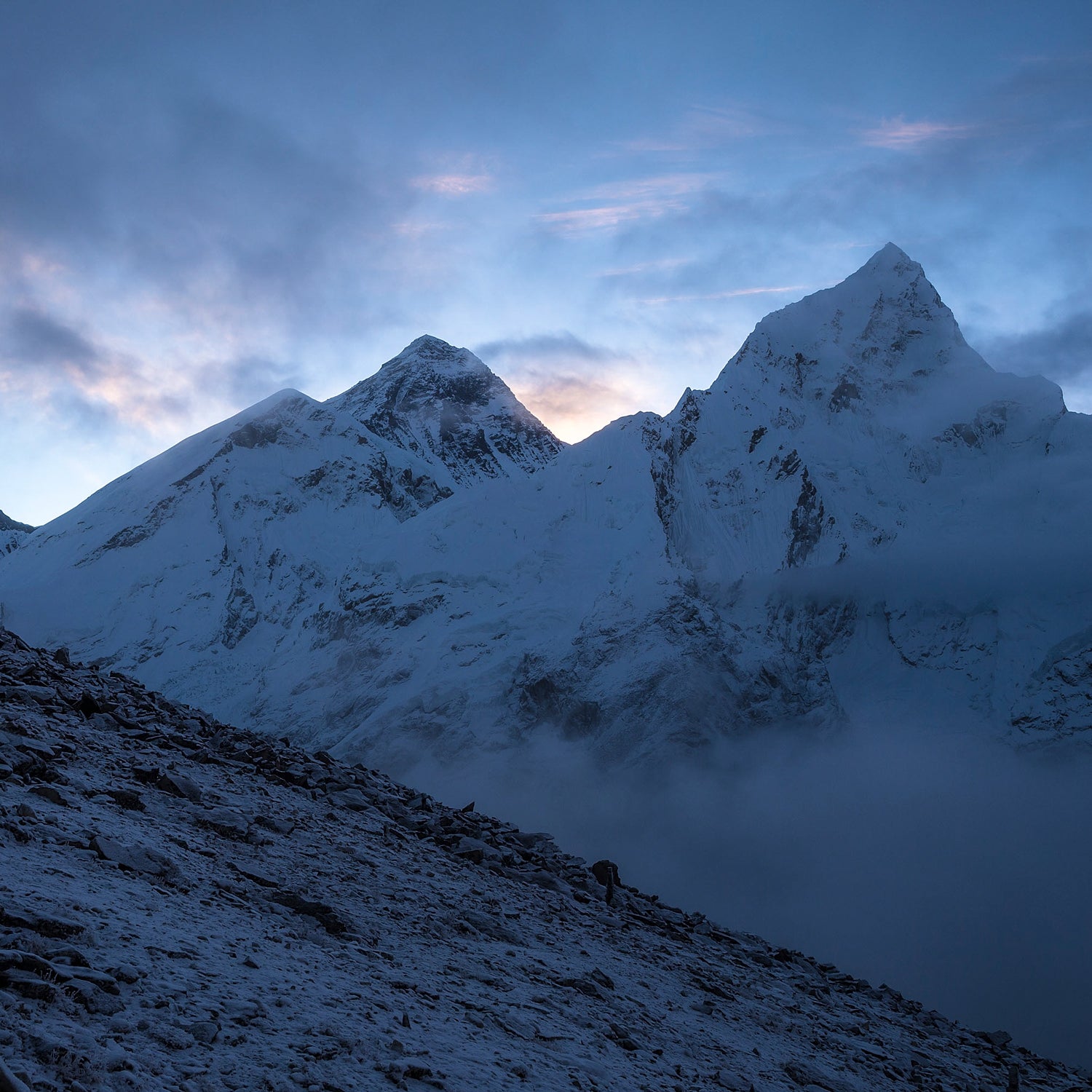 Heath Holden/Getty(Photo)
Heading out the door? Read this article on the new Outside+ app available now on iOS devices for members! Download the app.
The winter months in the Himalayas and the Karakoram are always a challenge. Unlike in the spring climbing season, weather in winter is much more unpredictable. The jet stream shifts directly over the mountains, bringing storms and high winds that make it very difficult to reach the summits. Temperatures often hover around minus 40 degrees Fahrenheit; wind chills routinely drop it to minus 75. In short: Good weather windows are rare.
This season is evidence of that, as poor conditions have thwarted two expeditions on two of the most iconic peaks. The first was an attempt by Muhammad Ali Sadpara and Alex Txikon to make the second-ever winter ascent of the 29,029-foot Mount Everest without supplemental oxygen. The second was organized by a team of Polish climbers, nicknamed the Ice Warriors, who wanted to make the first winter ascent of 28,250-foot K2. After being turned back by a storm and having one team member sent home, the Polish team finally called it quits this weekend. 
Let's talk about Txikon first. It was his second winter in a row on Everest making a no-oxygen attempt. This year, in early January, he was joined by Sadpara, and their full team included a group of strong Sherpa guides. At first, the team set a blistering pace, building a route through the treacherous Khumbu Icefall in just six days, then establishing high camps farther up the slopes, and even achieving a rare winter summit of nearby 23,500-foot Pumori as part of their acclimatization efforts.
Last week, weather forecasts predicted that high winds buffeting the top of Everest would pass long enough for Sadpara, Txikon, and company to summit. The team quickly climbed up to Camp 3 in an effort to take advantage of a weather window. But once they reached camp, they learned the window was closing as quickly as it had opened. The group made a last-ditch effort to outrun the weather and nearly reached Camp 4 at 26,000 feet but were forced back to Base Camp as the storm rolled in.
By Tuesday, Sadpara and one of the Sherpas had already departed for Kathmandu—the team's climbing permit expired at the end of February. While it would have been possible to get an extension on the permit, long-term forecasts called for poor weather until mid-March, which would have left little time to summit before the official arrival of spring.
On his Facebook page, Txikon signaled the end of the expedition by saying, "After thinking a lot and doing everything that is in our hands to follow our dreams, we decided to bring the expedition of winter Everest without artificial oxygen 2018 to an end. It hasn't been easy, but I'm sure that it is the best decision."
Meanwhile, 800 miles away on K2, the Polish team had endured its fair share of challenges, including poor weather, serious injuries, a change of route mid-climb, and a last-minute rescue attempt on nearby Nanga Parbat.
They'd arrived on January 9 and begun acclimatizing and preparing for the ascent. On January 27, team members Adam Bielecki and Denis Urubko were helicoptered to K2 to rescue Polish climber Tomek Mackiewicz and French alpinist Elisabeth Revol, who had successfully summited the 26,660-foot peak but ran into trouble on the descent. Mackiewicz soon developed frostbite, snow blindness, and altitude sickness. Though Revol tried to help him down to a safe elevation where they could both be rescued by helicopter, she was eventually forced to continue without him. Urubko and Bielecki were dropped at 16,000 feet on Nanga Parbat, and the two put in a superhuman effort to help bring Revol safely down from 20,600 feet. Mackiewicz, however, was stranded at 23,000 feet, and bad weather prevented his rescue. His body has still not been recovered.
After the rescue, the team flew back to K2 on February 2 and set about carrying loads of gear and supplies up to their high camps to prepare for a summit bid of their own. But last week, Urubko, who was frustrated with the slow pace of the expedition, abruptly quit the team and made a summit push completely on his own. Poor weather conditions eventually forced to turn back, but not before he managed to reach an altitude of 26,262 feet, about 2,000 feet shy of the summit.
Urubko, one of the strongest and most experienced climbers on the planet, has summited all 14 of the world's 8,000-meter peaks. He's also earned a reputation as a challenge to work with and someone prone to rash decisions. In the days leading up to his summit attempt, Urubko conducted several online interviews in which he questioned the decision-making of leader Krzysztof Wielicki, who has made first winter ascents on Everest, Lhotse, and Kangchenjunga. Urubko also called out his teammates for not working fast enough and for going though too much food and water.
Unsurprisingly, Urubko is said to have received a frosty welcome when he returned to base camp. He was banned from using the team's internet and has now left the squad altogether to return home. The rest of the team had planned to spend three more weeks on the mountain, but it wasn't their year. Weather forecasts called for more storms, and with spring quickly approaching the team called off its bid to become the first individuals to nab a K2 winter summit. 
Lead Photo: Heath Holden/Getty
Trending on Outside Online