Gear Guy
How to Properly Dry Your Gear
As a former raft guide, I know of what I speak when I say these six tips will prevent you from having to deal with soggy gear, whether you're skiing, backpacking, or biking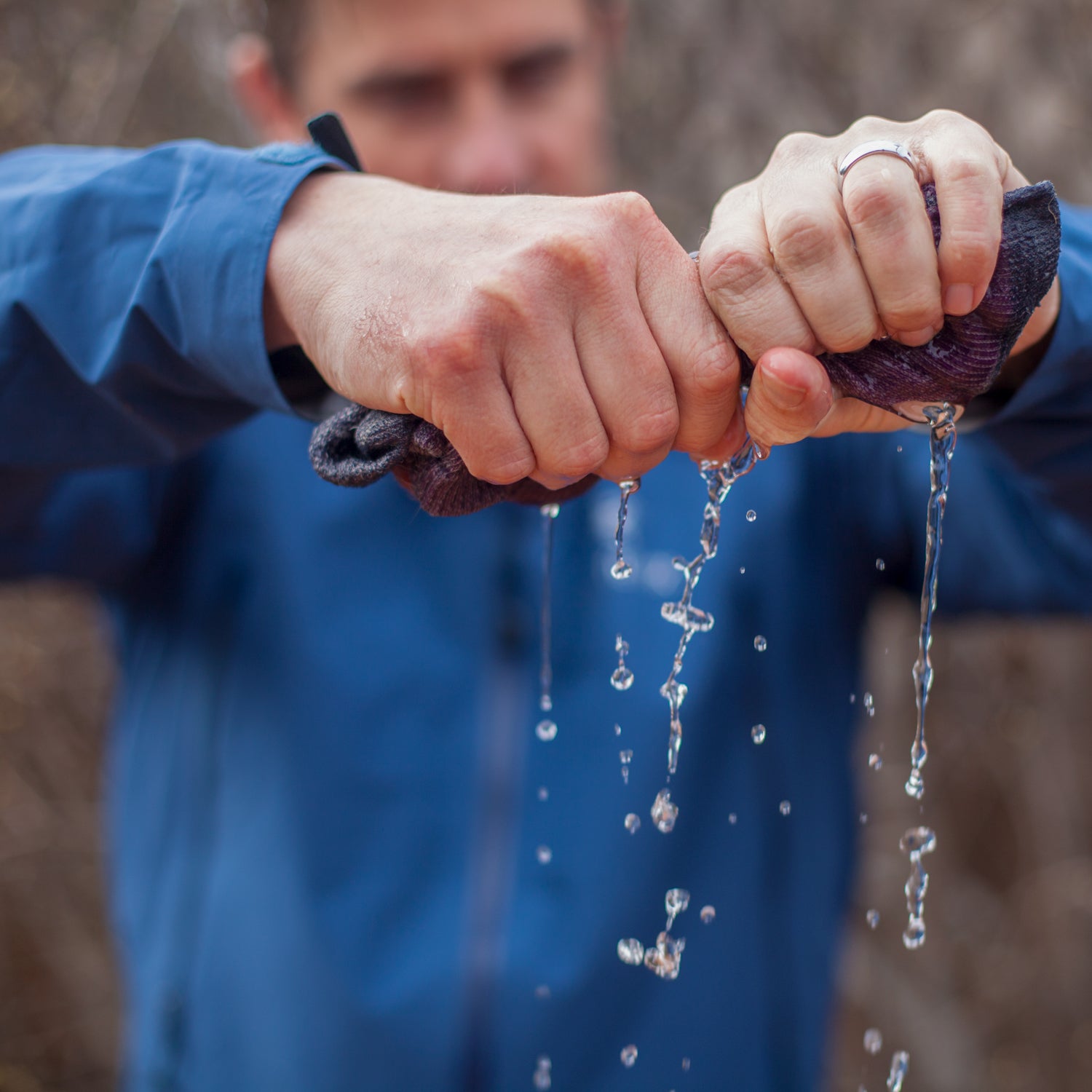 Heading out the door? Read this article on the new Outside+ app available now on iOS devices for members! Download the app.
Spring has always been my favorite time of year. As the days get longer, adventures get more ambitious. It's also the time of year known for sketchy weather, leaving you prone to getting wet in the proverbial April showers. Avoid sogginess with these tips.
Use That Body Heat
When you're in extreme cold or wet, sometimes the only source of radiant heat comes from your body. If something like a pair of gloves gets damp, pro skier Caroline Gleich shoves them between her jacket and base layer and lets her body heat dry them. "It works really well as a first line of defense," she says. "I've been getting into skimo racing, and skins get destroyed during fast transitions, so I bring two pairs of skins, and one is always living in my shirt." This works best, of course, if you have a breathable shell that will expel the moisture once your body has heated up. I've found that any jacket with Polartec NeoShell or Gore-Tex Pro—like the Arc'teryx Beta SV ($486)—will do the trick.
Play (Safely) with Fire
"The campfire option is always effective, but sometimes too effective," says professional kayaker Ben Stookesbury. "You often go from having dry gear to having melted or burned gear." To hedge your bets against sizzling massive holes in your socks, Stookesbury suggests keeping your gear upwind of the flames. "Downwind will give you the most heat but will also put the most embers in your gear," he says. "The wind direction side is more important than proximity." And take particular care when drying synthetic fabrics—they are much more flammable than wool or cotton. The Sparkr plasma lighter ($50) is an incredible little gadget for getting a flame going, even if you're getting hammered by wind or a torrential downpour.
Stuff Your Shoes with Newspaper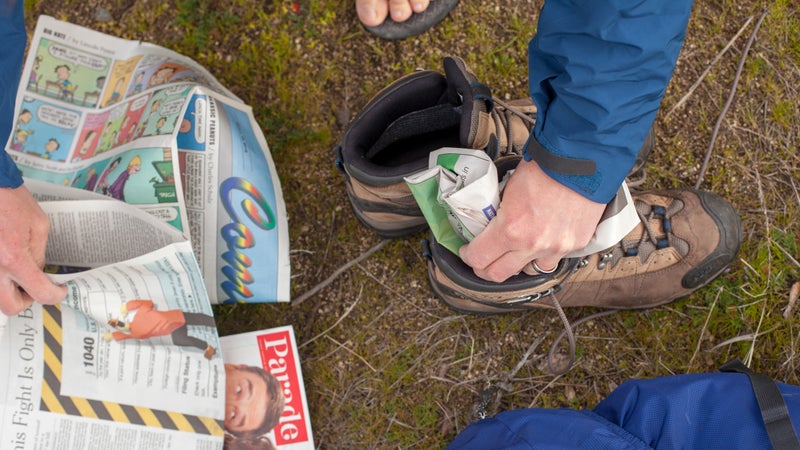 Appalachian Trail record holder Jennifer Pharr Davis lives in the Southeast, where it rains buckets. One of her hacks involves newspaper. "If you're going into town and have an hour or two to take your shoes off, balling up newspaper and sticking it in your shoes will dry them out a lot faster," she says.
Wear Thin Layers Close to Your Skin
You don't have to worry about drying your gear if it never gets wet in the first place. "Sweat is my nemesis," says professional skier Brody Leven. His main weapon in the battle: an extremely thin merino base layer top. "A thin base layer means less insulation, but it's also less likely to get sweaty, plus it's easier to dry out if it does," he says. Even if the day is really cold (like minus 10), Leven will wear a thin merino T-shirt, like the Smartwool Phd Ultra Light ($56), against his skin.
Get a Bigass Tarp
Professional alpinist Graham Zimmerman brings a huge inexpensive tarp to base camp. "If I hang stuff up to dry and it starts to rain or snow, I just throw a tarp over it," he says. Then just pull it off if the sun pokes out again. And almost any tarp will do. "I tend to just use a cheap blue tarp," Zimmerman says. Stansport Tarps ($7) haven't let me down yet.
Turn Your Tent into a Clothesline
Polar explorer Eric Larsen goes so far as to rig a clothesline in his tent. He uses lightweight guyline—paracord works, if you aren't worried about weight. "Any good tent is going to have points where we can set up a series of clotheslines," Larsen says. To add to the laundry-day vibe, he fastens everything with safety pins to make sure gloves and socks don't come raining down during gusty winds. Larsen works with MSR and always advocates that they make tents with gear loops on the ceiling—like the Outside Gear of the Year–winning Hubba Hubba NX ($400).
Lead Photo: Sarah Jackson