Can We Ever Understand the Mind of a Stormchaser?
Five years after Tim Samaras and two others died in a tornado outside El Reno, Oklahoma, a writer tries to understand what made him take the risks that he did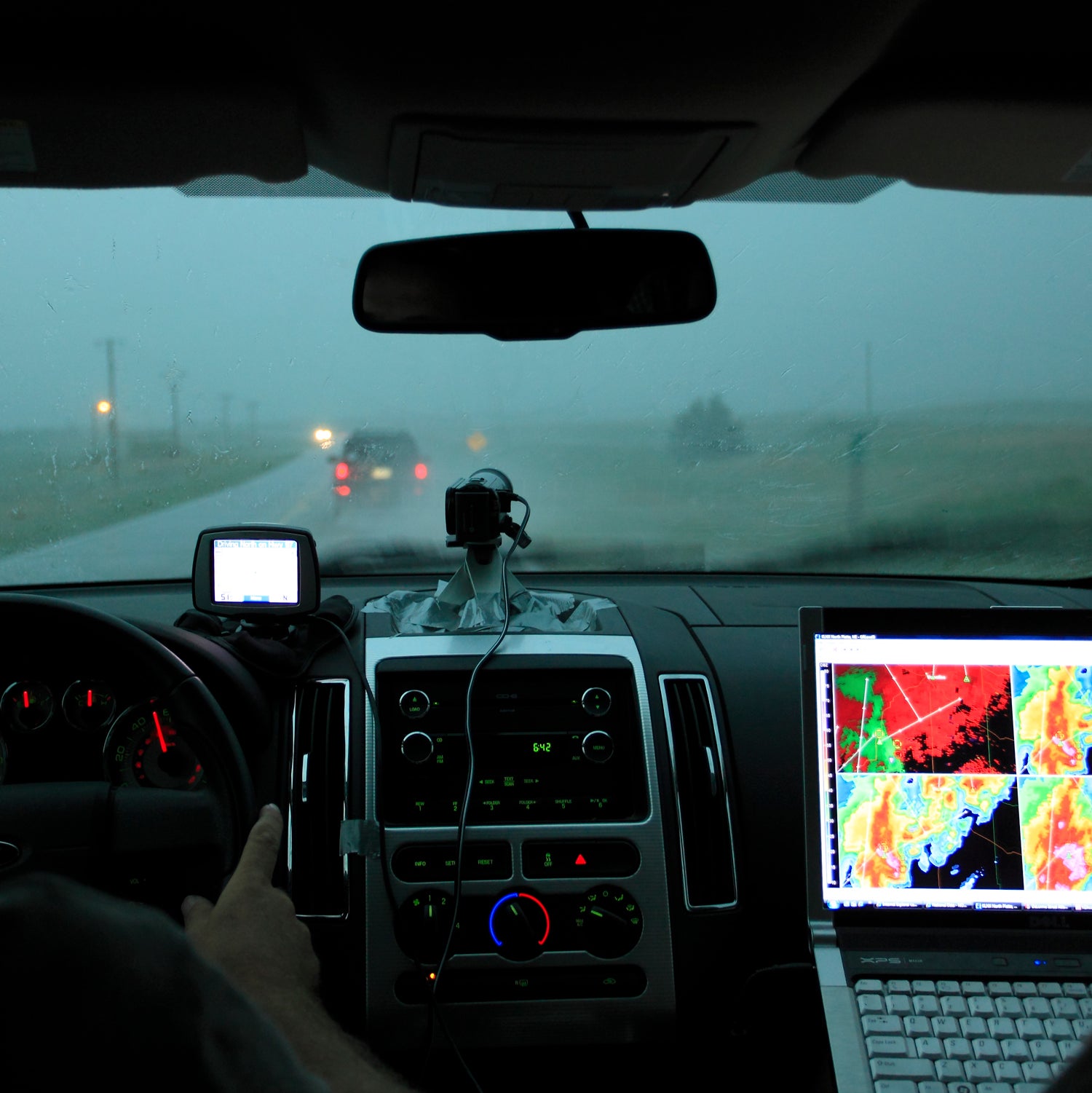 Heading out the door? Read this article on the new Outside+ app available now on iOS devices for members! Download the app.
It seems needless to say that driving after tornadoes in a truck is a dangerous hobby. And yet, for the first half-century that stormchasing existed, not a single chaser died from weather-related reasons.
In May 2013, 30 miles outside Oklahoma City, in El Reno, an uncharacteristically volatile storm—2.6 miles across, with multiple spinning vortexes moving as fast as 175 miles per hour—killed 22 people. Included in the body count were the first three chasers ever to die in a storm: Carl Young, Paul Samaras, and Paul's father, Tim.
The men's deaths were well-chronicled soon after the disaster, including in a feature in Outside. A chaser being caught in a storm, though seemingly inevitable, still sent a shockwave through the community. That it was three well-regarded chasers who had reached a modicum of fame while appearing on Discovery Channel's Storm Chasers made it especially tough to bear. But if reality TV flattens a character and sharpens his edges, eulogies soon after a tragedy tend to smudge the complicated parts of a man. Now, five years later, Brantley Hargrove's The Man Who Caught the Storm tells the story of the life and death of Tim Samaras, the self-taught storm-chasing savant, with love, admiration, and, at moments, clear enough eyes to ask: Why keep putting yourself in front of a deadly tornado?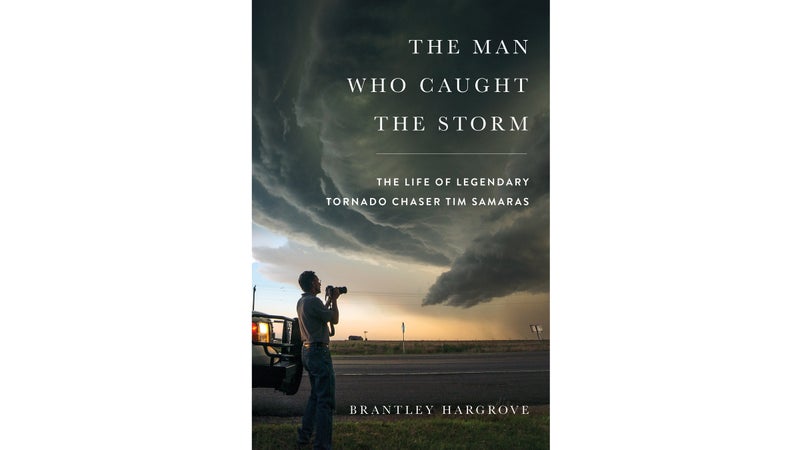 Though Hargrove's biography spans all the way back to Samaras' childhood love of ham radios, the tornado in El Reno always hangs over the narrative. As we see the young engineer fall in love with storms, and then design a probe to gather data from inside the tornado, and later bring his son along for the ride, it's impossible to forget the grim conclusion. But Hargrove writes in perpetual present tense, which forces the reader to stay right in the front seat next to Samaras, desperate to discover what it's like inside the storm.
In the Outside feature after Samaras' death, Weather Channel meteorologist Mike Bettes says he was "the most cautious guy out there." But Hargrove's biography, at times, paints a different man. Unlike Joshua Wurman, who runs the Center for Severe Weather Research and has three degrees from MIT, Samaras was a high school–educated tinkerer who constantly needed to prove himself to receive grants and funding each season. His turtle probe, which he successfully managed to deploy in front of tornadoes before fleeing the oncoming storm, required him to enter "no-man's land"—the turbulent, hail-peppered area right before the storm. Samaras seemed to have an innate understanding of tornadoes, but his other advantage was that he was willing to take risks.
In Stratford, Texas, during the tense moments before one of his first successful deployments, Samaras tells his co-pilot, "We're gonna die." One of his colleagues on that mission, South African chaser Anton Seimon, decided against another deployment with Samaras, believing it too precarious a gamble. He told Hargrove, "You can only roll the dice so many times before things go wrong."
A few times, Hargrove explains moments when Samaras could have taken the safer path. Wurman offered Hargrove a place on his well-funded and prestigious VORTEX2 research project, but Samaras bristled at what he saw as a slight from the tornado expert, who asked him to change the design of his probe. And at the time of his death, in 2013, already 55 years old, Samaras was working on a study of lightning—a much safer and better-funded research field. On the day of the fatal storm, Samaras was supposed to be bringing his Lightning Intercept Vehicle, equipped with 360 degrees of turreted Phantom cameras, to the team. Instead, he saw a nearing giant form about 100 miles in the distance above El Reno. He couldn't keep himself away.
Hargrove portrays Samaras as a loving husband, attentive father, and engineering savant. But he also paints a man who was so driven by a desire to understand violent winds, or perhaps to prove himself, that he frequently risked everything to enter the storm. Hargrove spoke with Samaras' widow, Kathy, for the biography and writes of her confusion when he first started driving into tornadoes: "What was he looking for out there? What did he expect to find?"
Hargrove does well tempering the romantic prose that usually overwhelms storm writing, never forgetting to communicate the pungent monotony of chasing (bad hotels, fast food, hours upon hours in cars). And while Hargrove keeps himself from the prose, the scenes chasing storms feel lived in because he had access to hours of footage (tornado chasers film everything), and as he mentions in the author's note, Hargrove spent weeks on the road chasing storms with Samaras' closest friends.
In the best biographies of the obsessive dead, like those written by Jon Krakauer, the writer begins to chase whatever his subject, now passed on, has spent his life pursuing. Hargrove is no different. In that same author's note, he mentions that even though his research has ended, he still finds himself hopping in his truck as storms form overhead. But the best Krakauer also has a touch of disdain for the subject. Hargrove's shared passion (and close working relationship with Kathy) allows him incredible access to Tim's world, but it keeps him from really scratching at the question the book ultimately leaves undisturbed. Was it wrong of Samaras to chase that tornado in El Reno? How much culpability does he have in widowing Kathy and bringing Paul into the storm?
The Man Who Caught the Storm manages to be both cinematically thrilling and scientifically wonky. Hargrove clearly admires Samaras, the high school–educated engineer whose ingenuity and bravery helped scientists understand the inside of a tornado. Hargrove's narrative of Samaras is one of a man who was well-loved, hardheaded, constantly curious, and unendingly driven. But also, perhaps, a man too reckless or too hubristic—or maybe just unlucky to have driven into a storm like none he'd seen before.
Lead Photo: iStock