Penn State Axed Its Outdoor Club. What Happened?
Last month, the university banned the Outing Club on the grounds that activities like backpacking and canoeing were too risky. But the students aren't about to disband without a fight.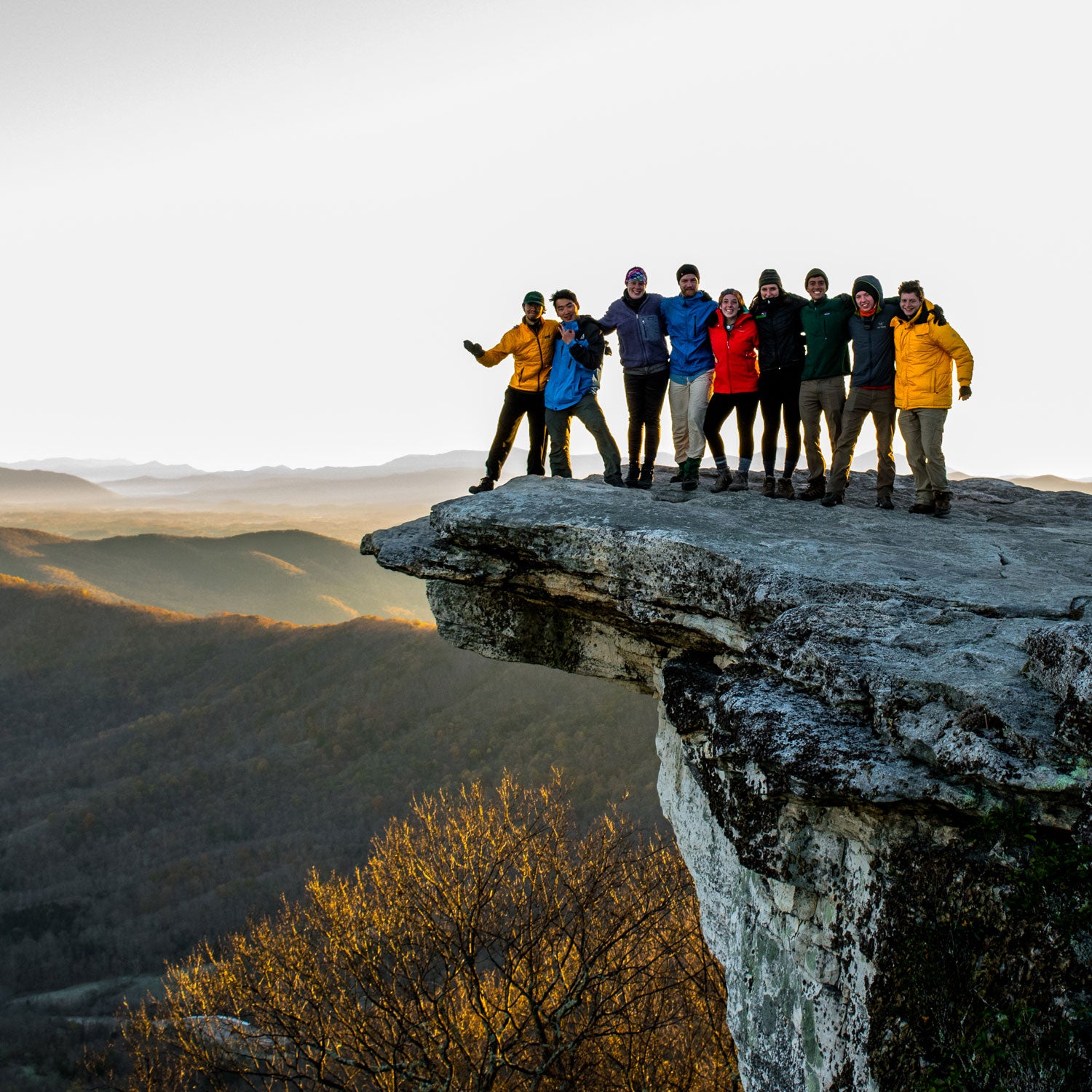 Collin Marshall(Photo)
Heading out the door? Read this article on the new Outside+ app available now on iOS devices for members! Download the app.
When Ricky Waltz started at Penn State as a freshman in 2014, it took him a while to make friends. Having been a four-season high school distance runner, he initially joined the university's club cross-country team. But the vibe wasn't the same, and Waltz, who is slender and soft-spoken, eventually stopped racing. He didn't feel like he had much in common with the other students on his dorm floor either. Many of them seemed content to party and assumed their central Pennsylvania school was surrounded by miles of nothing—"cornfield," as they called it. Waltz knew it wasn't cornfield. It was mountains—nearly 97,000 acres of densely wooded, expansive state forest just begging to be explored.
Toward the end of his first year, Waltz signed up for a student-led backpacking trip to Shenandoah National Park, in Virginia, with the Penn State Outing Club (PSOC). Over the 25 miles they hiked that weekend, he became captivated by the raw, rugged scenery. More important, he felt an immediate connection to the other students. "You could cram two months' worth of interactions into a weekend," Waltz says. "The people I met on that trip, four years later are still my closest friends." Over the next two years, he led and participated in the club's backpacking and canoeing trips, sleeping in the snow in the Adirondacks and making countless sunrise drives to trailheads. In the fall of 2017, during Waltz's senior year, he became president of the club. For Waltz and the other about 50 core members, PSOC (or, as the students say, Pee-Sock) was the centerpiece of their college experience.
Which was why Waltz and his fellow officers were stunned when they were informed on April 2 that Penn State had decided to dissolve the 98-year-old Outing Club. That day, the club officers were asked to attend a meeting with university representatives. According to a Facebook post from the club, at the meeting, "The club was informed that a review from the perspective of University risk management policies had been conducted…by Campus Recreation, the Office of Risk Management, and the Office of Student Activities. The result of this review was that [our] activities exceed the University's acceptable risk level…and the club would be dissolved at the end of the semester." The university also shut down two other clubs, both outdoor-related—the Nittany Lions Grotto Caving Club and the Nittany Divers Scuba Club. "It was pretty devastating," Waltz says.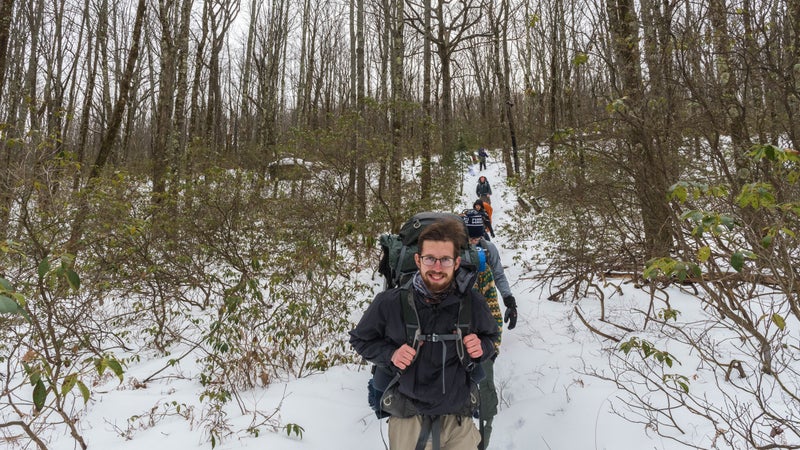 The Outing Club members had known their group was under scrutiny since January 2017. According to Waltz, the club had been experiencing an uptick in participation, and the administration raised concerns that the faculty staff in Club Sports, a branch of the Campus Recreation department that at the time supervised PSOC, weren't qualified to review the club's planned outdoor activities for safety reasons. Trips were put on temporary hold. In February, PSOC officers began attending regular meetings with Campus Recreation officials in an attempt to address the administration's concerns, such as the fact that the trips often took place out of cellphone range and far from medical facilities.
The university also had concerns about alcohol misuse, spokesperson Laura Hall, senior director of Campus Recreation, wrote in an email. "In addition to the inherent risks found in many of these student organization's activities that occur without fully trained guides or leaders, the behaviors of some students on unsupervised trips became a concern. These worries have, at times, included the misuse of alcohol in the context of already risky activities…Campus Recreation learned of the alcohol use in December 2016 from students within the group." PSOC's officers deny that there were any incidents related to alcohol on their trips and claim that a zero-tolerance policy was put into effect for the 2017–18 academic year. In response to the university's statements, PSOC asserted in a Facebook post, "Alcohol is much more accessible to students who stay on campus." When I followed up, Penn State spokesperson Lisa Powers acknowledged, "The discovery of alcohol use…prompted the ongoing conversations about safety. I believe current leadership addressed this with the membership and with a new policy."
In March, PSOC was able to resume its outdoor trips—with a few new conditions. It would now be supervised by the Campus Recreation department's outdoor sports arm, and members would be required to make sure that at least one participant on each trip had a wilderness first aid or wilderness first responder certification. This was in addition to existing safety requirements that included having a trip leader with CPR or first-aid training, submitting detailed itineraries with GPS coordinates of trailheads and campsites, and having robust emergency action plans. In March 2018, PSOC officers met with Campus Recreation officials to start working toward standardizing trip-leader training. Waltz says the students were happy to comply with the new policies, even though he says there had been no injuries or close calls during his four years with the club.
While their classmates are partying, the Outing Club members are tromping around in the woods.
All that made the April decision to disband the club even more mystifying. A couple local media outlets picked up the news. Over the next few weeks, Waltz and the officers watched incredulously as their inboxes filled. Finals loomed, but instead of studying, the students tag-teamed media requests. "Penn State Says Wilderness Is Too Risky for Outdoors Clubs," reported the Associated Press. "Penn State Calls Outing Club 'Too Risky,' Bans It from Going Outside," read an article on Fox News. Outgoing PSOC treasurer Tim Hackett kept track of every link. By the club's final meeting of the year, on April 25, the document was six pages long and growing.
---
It's not clear how Penn State's administration determined that the Outing Club's activities were riskier than those of the clubs that remained intact, including groups dedicated to archery, boxing, and skiing, or Division 1 team sports like football and rugby. According to spokesperson Hall, all 79 of the university's Campus Recreation organizations were reviewed, but the university has yet to release the risk assessment report that determined which clubs would be banned. When asked about the specific factors considered, Hall cited in an email, "impact of activity; participants and equipment within the activity; typical impact force, severity and frequency of participant injury; environment and access to emergency facilities/personnel."
Commenters on news articles and Reddit decried the university's decision as part of a general movement toward "bubble-wrapping" kids and speculated that the school was becoming increasingly risk-averse in the wake of the highly publicized 2017 death of Timothy Piazza and the Jerry Sandusky scandal. They also blamed an increasingly litigious American culture.
On that point, the commenters are probably not wrong, but that's not the whole picture, says Charles Gregg, an attorney in Houston who represents outdoor recreation providers like the National Outdoor Leadership School, which was a client of his for more than 20 years. Yes, people are suing more, he says. But at the same time, "there is a movement in the law that acknowledges the societal importance of risk-taking in outdoor programs," Gregg says. The judicial system recognizes that young people learn valuable skills through these experiences.
Gregg says this movement in the law is providing some balance against "how increasingly suit-happy our society has become by, in certain recreation and adventure activities, forgiving simple carelessness." In a 2014 article, "The Law Says 'Yes' to Adventure," Gregg explained, "Generally speaking, [courts are finding that] a service provider (a camp, for example) has no legal duty to protect a participant from the inherent risks of an activity." When you engage in an activity, you're assuming that risk—whether you're aware of those risks or not.
So, what defines an inherent risk? Put plainly: "It's one which when you were told of an accident or event, you would say, 'Yeah, I could see that.'" Where an institution becomes exposed, Gregg says, is when there is proof of recklessness or undue risk: "Where you would say, 'You gotta be kidding me.' Or, 'How could that happen?'"
Gregg sees the Penn State Outing Club as a valuable form of experiential education, where learners have to take initiative, make decisions, and be accountable for results. "These kids are learning some of the most important things of their lives by going out and doing them and not having some old white guy stand in front of a classroom and tell them," he says. "I would say Penn State is robbing their students of one of the best opportunities to grow in that regard."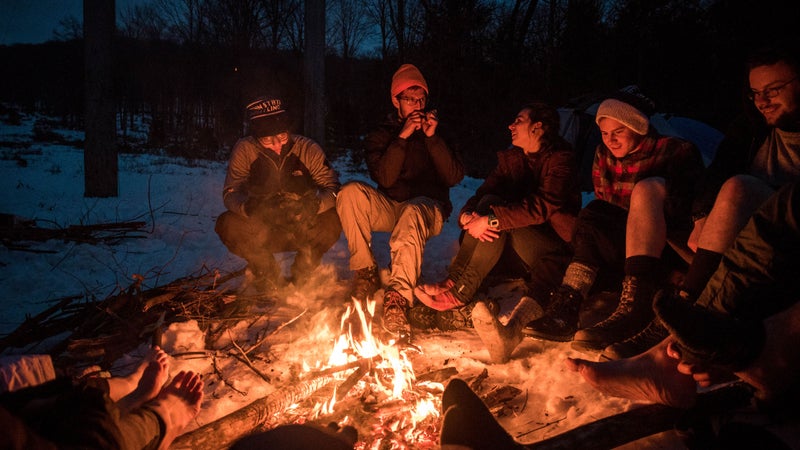 PSOC's incoming president, Christina Platt, knows firsthand the value of having an outdoor community. After her father died of melanoma during her junior year, Platt dropped out of college and struggled with depression. When she was laid off from her job, her boss gave her a parting gift: a set of maps to the local state forests. Platt went straight out and bought her first pair of hiking boots. The guy who sold them to her, a fellow Penn State student, invited her to hike the 272-mile Long Trail in Vermont with him. At points on the trail, Platt says, "I thought I was going to die." But she completed 160 miles, and at the end, "felt ready to take on life again." She went back to school and enrolled in the Recreation, Parks, and Tourism Management (RPTM) program at Penn State to specialize in wilderness therapy. Platt also joined the Outing Club and began leading trips. Now, in her second semester back, she's on the dean's list. This summer, she will intern at an adventure camp in Wyoming for teenagers with ADHD.
"Penn State's a huge place, and there's this idea of the dominant culture being football and drinking and fraternities, and a lot of people are lost in that story," says PSOC member and senior Maddy Nyblade. "The club is one of the few places that I feel like I can really connect with people, given the prevalence of cellphones and social media and drinking."
---
What looked likely to be the final meeting of the Penn State Outing Club took place during an unseasonably humid, drizzly Tuesday evening on April 25. Yet the mood belied no indication that the club was about to go under. Instead, the room was filled with the cheerful clamor of about 50 college students, most of them dressed in windproof jackets or puffies and footwear they could use to walk straight out the door and into the neighboring Rothrock State Forest.
"He-e-e-y, P-Sock," called Isaac Bressler, the club's Canoe Division chair, a lanky, smiling young man with a mussy mop of blond hair.
The crowd sang back in unison: "He-e-e-y, Isaac," a call-and-response that kicks off all PSOC meetings.
There were some mentions of the situation with the university. But mostly, the meeting focused on a year-end recap of the club's exploits before the students went their separate ways for the summer. They ran through a presentation of the club's stats for the year—169 dues-paying members who hiked more than 2,100 miles total. The graduating seniors shared their favorite memories, aided by a photo slideshow. People took turns calling out the context behind each one.
"He tried to jump over the mud pit and didn't make it."
"We were drawing monsters by the campfire."
"We made a tent city in the snow so we could just pass the hot water for our oatmeal down the line without getting out of our sleeping bags. I think everyone got some except the last person."
"That was me," Waltz put his hand up. Everyone laughed.
The officers were optimistic that they could keep the club together in some form. The next day, they planned to go to the administration with a proposal to become a special interest organization, which would allow them to hold meetings and other indoor activities.
"Penn State is robbing their students of one of the best opportunities to grow."
It was just a start. There was also a chance PSOC could get around the outdoor-trips ban entirely. University officials had suggested that the club's outings be managed by Penn State's Outdoor Adventures program, which already provides backpacking, canoeing, mountaineering, climbing, and rafting trips. In fact, the duplication of resources between the two groups was a reason cited by the university for its decision to disband PSOC. But Outdoor Adventures expeditions are led by paid student guides. They're more expensive for that reason: Outing Club yearly dues are $20, and a typical trip costs $5 to $10. A similar Outdoor Adventures regional overnight trip costs $40 to $60. A lot of the Outing Club magic would be lost in this scenario, Nyblade says. "It's a very different experience being on a student-led trip versus a paid trip," she says. "On an Outdoor Adventures trip, the guides cook your food, goes through how to set up your tent. You're paying for someone to do things for you. We empower students to take ownership of their outdoor experience."
Before I left the lecture hall, I asked Waltz, who is graduating, about his summer plans. He and a couple other officers are planning to stick around State College to continue meeting with the administration and to explore various options for the club. The most important thing, he says, is to keep the community together.
In the meantime, messages of support keep pouring in. Mountaineer Conrad Anker posted about the club on his Facebook page. A petition started by a Penn State alum to reverse the university's decision had more than 18,000 signatures at press time.
The day after the April 25 year-end meeting, Penn State approved a proposal by the Outing Club to become a special interest organization, allowing them to conduct indoor activities like meetings, film screenings, and speakers. But the club is still not allowed to go on student-led trips outside.
---
One of Waltz's favorite Outing Club trips may have been one of the club's last. On the weekend of April 14, less than a week before they began making national news, the group headed out to Pine Creek Gorge, also known as the Grand Canyon of Pennsylvania, for a canoe and camping trip.
A YouTube video of the trip opens in the parking lot. Platt's voice trills, "Good mo-o-orning," as she sticks the lens into Waltz's smiling, sleepy face. As they load the canoes, we see Bressler, two thumbs up, dancing in his red drytop. They navigate mellow rapids (Class 2 is the most advanced they'll do on a club trip, Bressler says), picnic by a waterfall, and dry their wet socks by a smoky fire.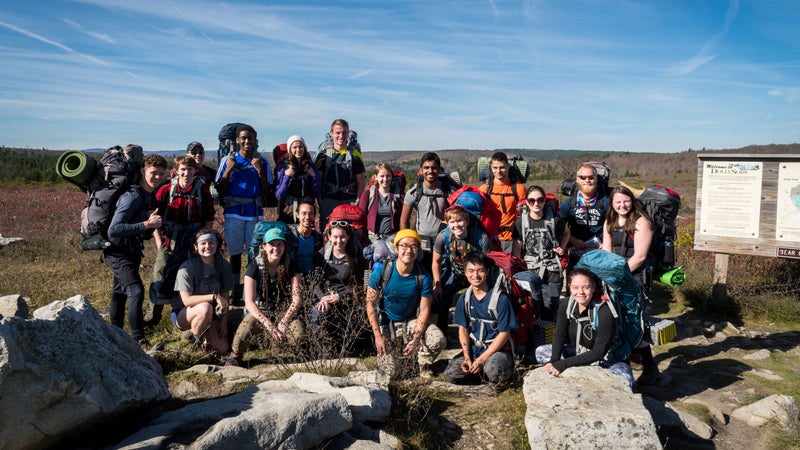 I can't help but compare these scenes to the typical pop-culture portrayal of college—frat parties and football games. In a 2017 survey conduced by Penn State Student Affairs, 65.9 percent of students reported drinking enough to have had a hangover the following morning. More than 66 percent of students reported having had to care for a peer who drank too much. Only 26.5 percent of students said they don't drink or get drunk. While their classmates are partying, the Outing Club members are tromping around in the woods, says Waltz. If more universities restrict student-led outdoor activities, how many college students might miss out on these experiences—and how might they choose to otherwise connect with their peers?
Hall, the Campus Recreation spokesperson, says the school's decision has nothing with a bias against outdoor activities. "As an avid hiker, I am well aware of the intangible benefits of getting outside, disconnecting from the pace of our everyday world, and connecting with the outdoors," she wrote in an e-mail. "We know there are inherent risks associated with all aspects of collegiate recreation. Campus Recreation at Penn State remains focused on providing as many opportunities in the outdoors as possible, while also keeping safety as a priority."
This is a reasonable objective. But at what cost does this safety come?
Toward the end of the Pine Creek video, a student gets out a drone. The camera zooms out from above until the canoes and kayaks and kids on shore are just red and white dots on the side of the slate-blue river. A road slithers alongside the water, but there are no other signs of civilization. The trees are still bare, and the night will be cold, but the students have a fire, and snacks, and good company. Later, they will discover things that were forgotten (cooking oil) and how to compensate for it (grease from a heated pepperoni stick works in a pinch, Isaac learns). But for now, there's the sense that everything they need is right here.
Lead Photo: Collin Marshall
Trending on Outside Online