The AT's Fairy Godmother Makes Ingenious Tents
Judy Gross started LightHeart Gear out of her house in 2006. Today, her shelters are favorites of thru-hikers across the country.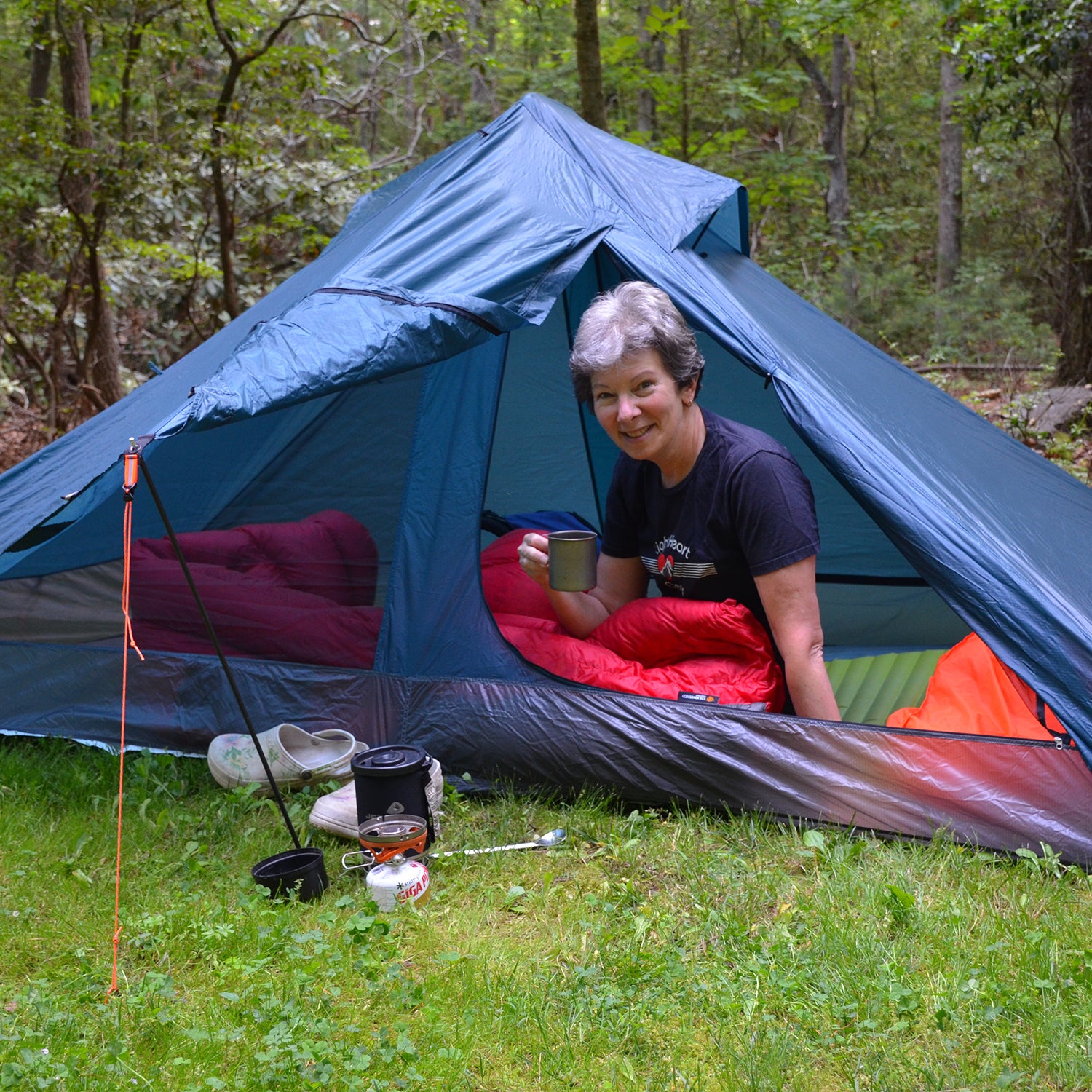 Courtesy LightHeart Gear(Photo)
Heading out the door? Read this article on the new Outside+ app available now on iOS devices for members! Download the app.
Judy Gross calls her company, LightHeart Gear, the "accidental tent business." When she sewed herself a lightweight, one-person backpacking shelter in 2006, she never imagined that within three years she'd be selling tents to hikers across the country, or that in 12 years she'd be pouring the foundation for her own factory. At the time, she just wanted a lightweight tent that didn't skimp on comfort.
At 61 years old, Gross has already retired—twice—once from the Air Force and then from a job as a nurse practitioner. Her plan upon leaving her hospital gig in 2001 was to spend most of her time out hiking the trails of her native North Carolina. That all changed in 2006, when she started section-hiking the Appalachian Trail. Frustrated with her relatively heavy 4.5-pound, two-person tent, Gross figured she could make a better one herself. Her specifications were simple: The tent had to be lightweight and compact yet spacious, foolproof to set up, and it couldn't have long guylines (a recipe for tripping).
After months of tinkering, Gross came up with an oblong pyramid-shaped, double-walled model that had ample floor space and was tall enough to sit up in but weighed less than two pounds. Her friends were so enamored with the design that they encouraged her to sell it as a DIY kit. "I had struggled for so long with this pattern," Gross says. "I was not going to put it out on the public domain." She'd make the tents herself. In 2009, LightHeart Gear was born. (The name is an adaptation of Gross' trail name, Heart Fire.)
Gross sewed the tents out of her home in Asheville, North Carolina, and then showed them at local hiking festivals. Hikers would see the tents, and then call weeks or months later when they decided the tents they were using weren't cutting it. Word spread organically as more of Gross' models started making their way onto the AT.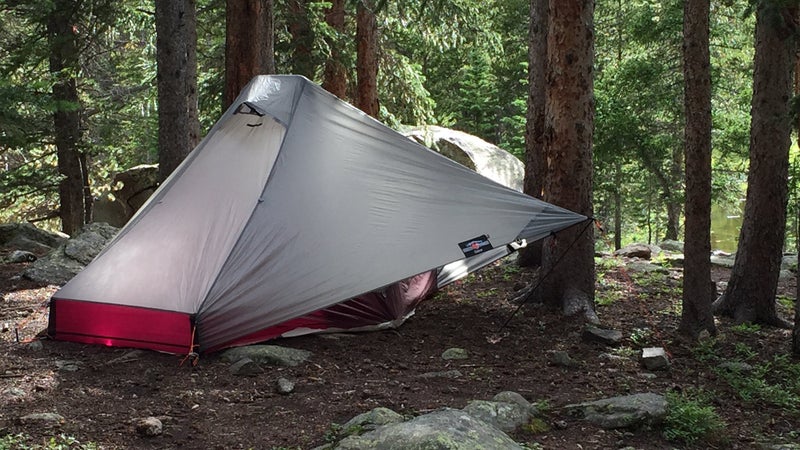 Each year, business grew 30 to 40 percent, and within two years, Gross hired her first seamstresses to help with production. "That's when I realized I had to make this a real business," she says. Gross moved production into a rented facility in Asheville and committed to managing the company as a full-time job. As business grew, so did her product line, which evolved to include larger and smaller tent options and a new apparel collection.
"The fact that LightHeart tents are made in the USA and offered at a reasonable and competitive price point is very impressive," says David Kauffman, associate product manager for tents at Sierra Designs. "I think this goes a long way with a lot of consumers. Working in tent development myself, this does deserve a lot of respect."
But domestic manufacturing and competitive pricing aren't what made Gross' products so popular with thru-hikers: It's her customer service. "She is known for her prompt response and will do anything to help out hikers, thru-hiking or not," says Allegra Torres, a LightHeart customer who knows Gross through the North Carolina hiking community. If someone calls the company phone number, chances are Gross herself will answer. If that person's tent is malfunctioning, Gross will mail them a loaner while she does repairs. If that person is on the trail within a hundred or so miles of Asheville, Gross will drive to hand off that loaner in person.
And because of that—as well as the popularity of her design and relative affordability of her price points (tents average around $300)—business is good. LightHeart now sells four different tents, a line of rain gear, and a line of women's hiking apparel. Across the board, her design process starts with a mandate of function over fashion. Gross' SoLong tent came about because she noticed a lot of people taller than 6'4″ complaining in online forums about not being able to fit into standard one-person tents. Her Hiking Skirt with Pockets was born because Gross couldn't find a hiking skirt with functional cargo pockets. (She makes sure smaller sizes still have the same large pockets because "petite women don't have petite-size phones, maps, or guidebooks.") Its A-line cut is designed to allow freedom of movement.
In the name of catering to customers' specific needs, Gross takes special alteration requests for many products. For rain jackets, she offers custom sleeve lengths and will flare hems to accommodate larger hips. On rain pants, she offers custom inseams. Gross will even retrofit tents with add-on features like awnings or door flaps.
In May, Gross started building a sewing factory in Asheville, where she'll soon employ anywhere from two to six seamstresses. For now, Gross says she loves her job and is determined to become a go-to brand for women's hiking clothing. She hopes her son, Joshua, will take over the business when she's ready to retire (again), but she doesn't know if she ever wants to be the kind of company that sells millions of tents or pieces of clothing a year. "It becomes even more business and less passion," Gross says. "My customers are so grateful and surprised when I answer an email late on a Friday night. I want to keep that personal touch."
Lead Photo: Courtesy LightHeart Gear