Review: Big Agnes Tiger Wall Tents
The Tiger Wall UL was not designed to break records. Instead, it tries to do more with less, while keeping in check its weight and price and remaining very easy to use.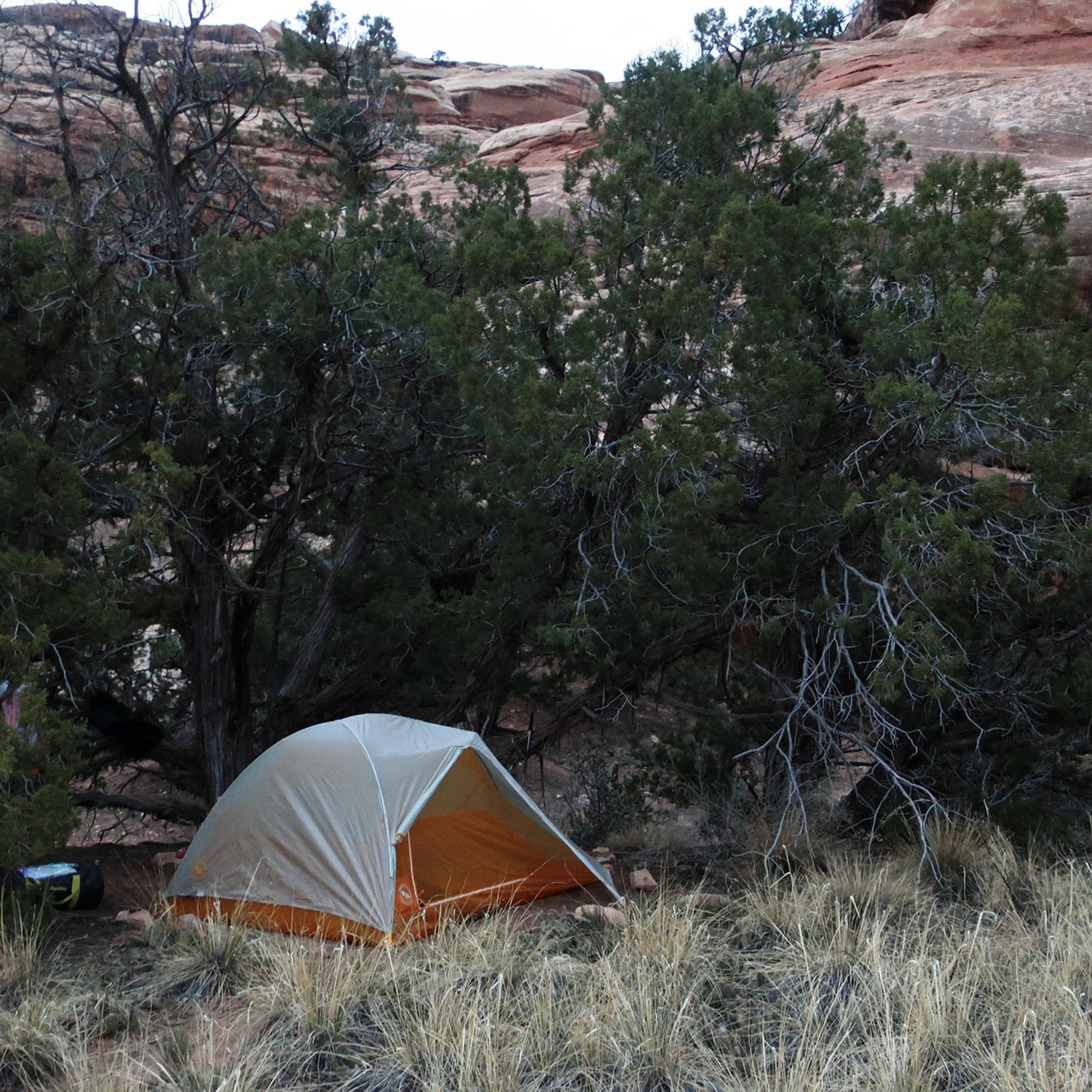 Andrew Skurka(Photo)
Heading out the door? Read this article on the new Outside+ app available now on iOS devices for members! Download the app.
With its semi-freestanding pitch, crossover roof pole, and two-door, two-vestibule configuration, the Big Agnes Tiger Wall UL sits functionally between the brands's popular Fly Creek and Copper Spur models and competes most directly with the MSR FreeLite, Nemo Blaze, Nemo Hornet, and Sierra Designs Sweet Suite.
I wrote a preview of the Tiger Wall UL as part of my Outdoor Retailer coverage in January. But after using the tent in Utah's Grand Gulch in April on a trip with my wife, Amanda, I have a much better sense of what makes this tent tick.
The Tiger Wall UL was not designed to break records. Still, I don't believe there is a two- or three-person, semi-freestanding, double-wall tent that weighs 2.5 or 3 pounds (or less), retails for $400 or $450 (or less), and matches or surpasses the Tiger Wall.
But the Tiger Wall UL is not without compromise. To achieve its low weight, Big Agnes used thin fabrics and light-duty #3 zippers, provided the bare minimum of interior floor space, and was stingy on guyline tensioners and the space of the door openings.
I found the Tiger Wall UL to be an ideal couple's trip tent—it's the first shelter that Amanda has genuinely liked. She thought it was comfortable and secure, appreciated having her own door and interior pockets, and was able to pitch it without knowing any knots or reading the instructions. Meanwhile, it was acceptably lightweight for me.
Targeted Users
The tent is available in two sizes: the Tiger Wall UL2 ($400; 2 pounds, 8 ounces) and the Tiger Wall UL3 ($450; 2 pounds, 15 ounces).
You might consider the Tiger Wall UL2 or UL3 if you want a two- or three-person shelter that:
Weighs less than 2.5 or 3 pounds, including fly, inner, poles, stakes, and stuffsacks.

Features two side-entry doors and two vestibules.

Costs $400 or $450—or less if you can wait for a major holiday sale.

Has a double-wall construction with the ability to use the fly, tent body, and footprint independently or together as a system.

Includes a dedicated pole set, perhaps because you don't use trekking poles.

Has an intuitive, foolproof pitch.

Comes with a reasonable warranty.
I would not recommend the Tiger Wall UL for regular use in snowstorms, high winds, or sandy environments. For very extensive use, I would at least plan on buying the accessory footprint, and I would probably look for something less delicate. Ounce counters may be willing to spend more, endure more fuss, and/or be less comfortable to get something lighter.
Key Product Specs
Weight
My Tiger Wall UL3 was about 1 ounce (2.7 percent) heavier than its spec weight, which is within a reasonable margin of error.
The packed weight is closest to what the UL2 and UL3 will weigh on an actual trip when pitched in its default configuration (fly and inner, stock pole set, no footprint). At best, you can shed 2.3 ounces: Take four stakes (minus 1.4 ounces) for just the vestibules and rear corners, and leave behind the two largest stuffsacks (minus 0.9 ounces).
Big Agnes' marketing material will often reference the Tiger Wall's trail weight, but this is not a practical weight, since its performance is greatly diminished if the rear corners and vestibules are not tensioned.
Pitch
As you would expect of a semi-freestanding tent, the Tiger Wall UL has a nearly foolproof pitch that is convenient and fast. It is easiest to pitch the inner first and then the fly. If you have the accessory footprint, it'd be possible, though awkward, to pitch the fly first, like if it were raining.
The single pole is clumsily long, but that seems preferable to a more manageable multi-piece pole set that must be assembled on site and increases the risk of losing pieces.
The rear corners and vestibules must be tensioned to maximize interior volume, vestibule volume, and weather resistance. I strongly recommend attaching adjustable guylines to these tie-outs in the event that a rock or root is in the way. No tension system is included, which helps to keep spec weight low but compromises functionality.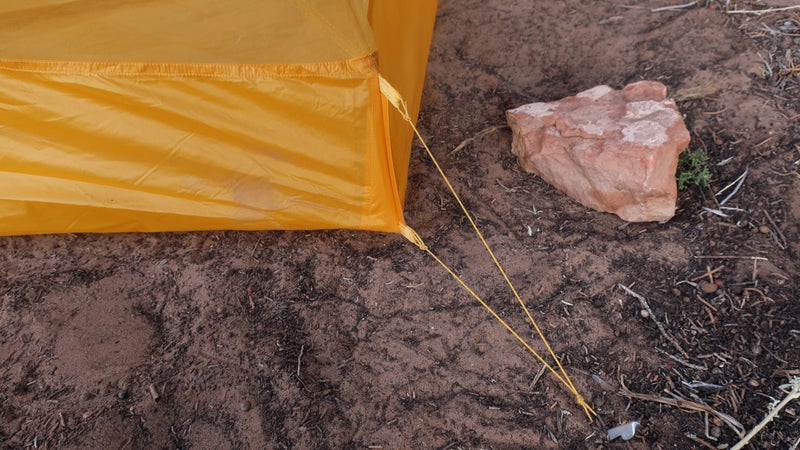 Interior Space
The Tiger Wall UL2 and UL3 provide the bare minimum floor space for a two- and three-person tent. The UL2 is 52 inches wide at the head and 42 inches at the foot; the UL3 is 66 inches at the head and 60 inches at the foot.
With two 20-inch pads inside the UL2, there are just six inches of leftover space on each side at most. With three 20-inch pads inside the UL3, there is even less leftover space—zero to three inches on each side.
Amanda and I found the UL3 to be amply comfortable, but we agreed that we would not want to share it with another adult, especially in inclement weather.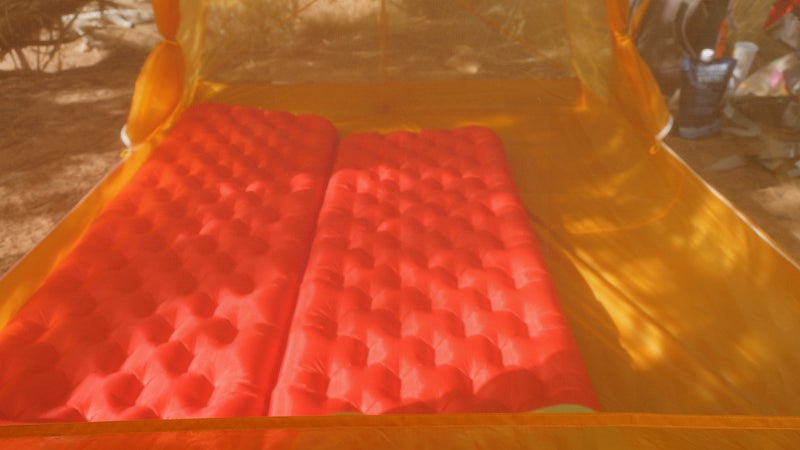 The crossover roof pole helps to maximize the interior volume of the footprint. The side walls are near vertical, which allows all occupants to sit up comfortably.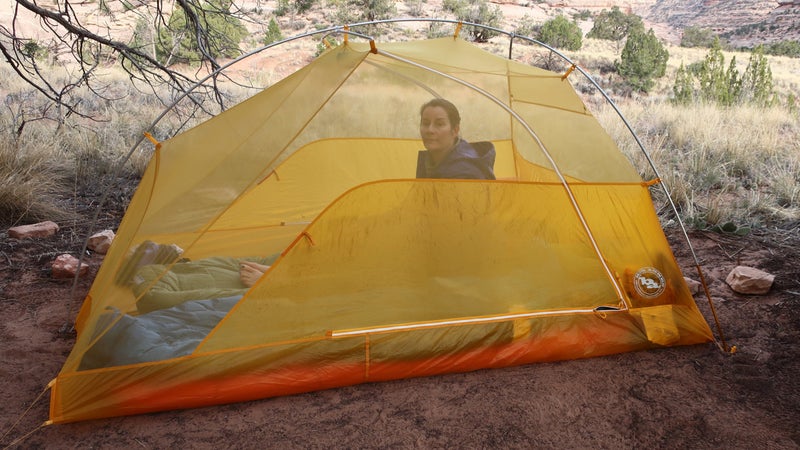 Double Doors
The two side-entry doors and two vestibules offer multiple advantages over a single front-entry door. Of course, entry and exit is easier, and each user gets their own vestibule, but it also allows for cross-ventilation, which helps to minimize condensation in humid conditions.
The user-friendliness of the double doors is partially compromised by the door size on the Tiger Wall's fly. Another 12 inches of zipper (at the cost of about two ounces) would help here. Big Agnes describes this as a feature, explaining that it keeps the vestibule protected while still allowing for airflow.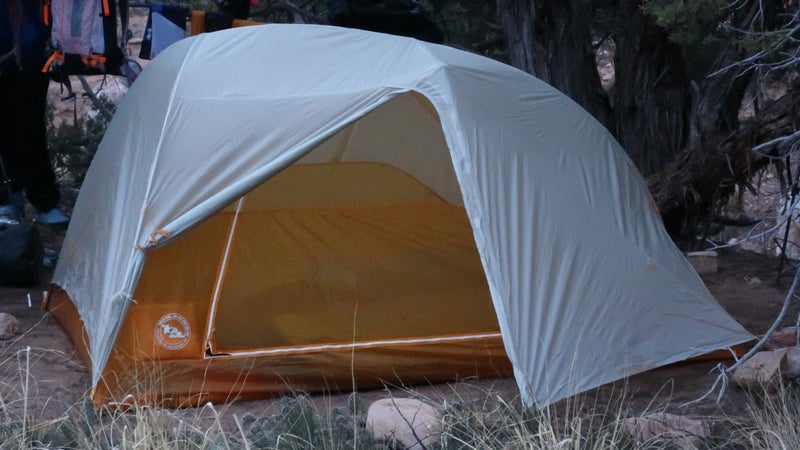 The Cost of Ultralight
While inspecting the Tiger Wall closely and using it for several days in the field, I began to admire Big Agnes' vigilance in reducing weight. I don't necessarily agree with all of the brand's decisions, and I detest the rationale (to win the "spec war," which, sadly, is a big driver for sales of tents and other outdoor gear), but I can at least admire the effort. My specific concerns: The weight of a tent is largely a function of its fabrics. One way Big Agnes achieves very low weights is by using very lightweight fabrics. In the Tiger Wall, the company used 15-denier coated nylon for the fly and 20-denier coated nylon for the floor. Big Agnes uses the same fabrics in its Fly Creek, and they are serviceable for multiple seasons or a long thru-hike, but they're not as reliably waterproof or as tear- and puncture-resistant as the 30-denier nylons or Dyneema Composite Fabric (aka Cuben) used by cottage companies, which would add weight and cost, respectively.
The #3 zippers on the fly and inner are lighter but less reliable than #5 zipper would be. Treat them with care—keep them clean, and don't tug hard on them.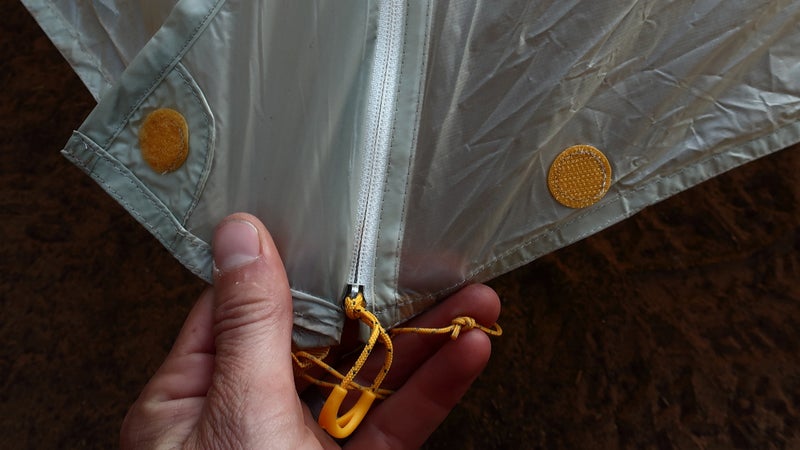 The stingy tie-outs and small entryway also fall into these critiques.
Room for Improvement
How could Big Agnes improve the Tiger Wall UL without fundamentally changing it?
1. Adjustable tie-outs. The pole set creates acceptable tension at three points: the two front corners and the rear center. Stakes are helpful in these locations, but not critical. Four other locations, however, need to be tied down: the two rear corners and the two vestibules. And I think it's unreasonable to assume a tent can always be staked out in the field like it can be in a showroom floor—rocks and roots have a tendency to get in the way.
2. Pole set length. The compressed length of the pole set is 19 inches, which is longer than the width of nearly all backpacks. So the Tiger Wall (or, at least, its poles) must be carried vertically. I'd prefer a shorter pole set that could be oriented horizontally for easier packing if the weight trade-off was not significant.
3. Burrito-style stuffsack. The stock stuffsack for the Tiger Wall is a conventional tube. I have found top-loading stuffsacks, like the MSR Tent Compression Sack, to be much more user-friendly. Sierra Designs also switched to this style last year.
4. Stakes. The included J stakes from DAC are strong and light, but I don't care for them. To work, they must be oriented such that the point of the "V" is directed squarely at the shelter; the cord notches are also shallow. I would much prefer Y-shaped stakes like this one: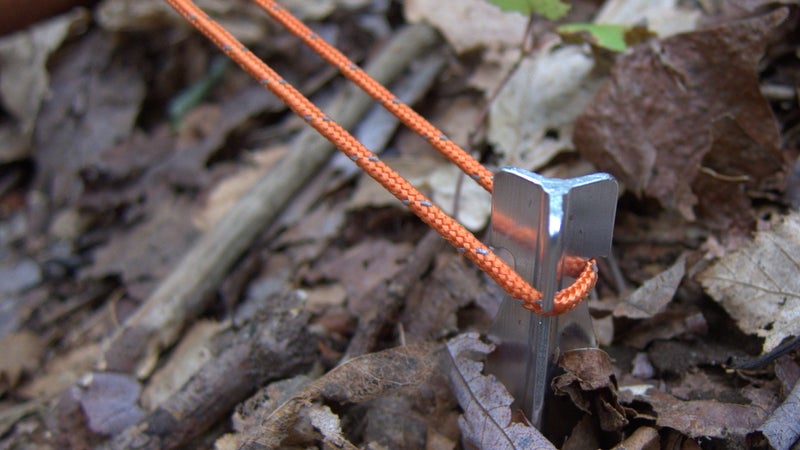 SaveSave
Lead Photo: Andrew Skurka