Is Diversity Just a Marketing Strategy for Gear Brands?
Major outdoor companies like Patagonia, REI, and others say they're committed to building a workforce that reflects the makeup of America. Are they doing enough?
Taj Mihelich(Photo)
Heading out the door? Read this article on the new Outside+ app available now on iOS devices for members! Download the app.
When a human-resources team from Patagonia flew to Atlanta last fall for an internship-recruitment session at historically black Morehouse College, many of the 50 students who attended had basically the same reaction: What's Patagonia?
It was the company's first event at Morehouse, and "for a lot of the students, Patagonia was a newer brand," says recruitment manager Deanna Lloyd.
Longtime browsers of the Patagonia catalog probably won't be surprised to learn that the company's workforce is exceedingly homogeneous. "The majority of our employees are white," Lloyd concedes. It's a similar story throughout the gear industry. But Patagonia, REI, the North Face, and a handful of others are attempting to change that by rethinking their business models and hiring practices. Given the degree to which people of color and members of the LGBTQ community are underrepresented in outdoor-industry jobs, it's a formidable task. And while assessing progress is difficult at this stage, experts say there's a long way to go.
Statistics regarding diversity at gear companies are hard to come by. But according to a 2014 report by the advocacy group Green 2.0 on the racial makeup of environmental organizations, people of color comprise a distressingly low 12 to 15 percent. (The data is based on a survey of more than 300 nonprofits, government agencies, and grant foundations.) Those numbers "would most likely be mirrored in the outdoor industry, if not worse, in my own personal experience," says Ava Holliday, founding partner of the Avarna Group, a consulting firm that advises outdoor companies and environmental groups in their diversity and inclusion efforts.
Holliday cites a "clear business case" for diversity and inclusion: the U.S. Census Bureau predicts that by 2044, people of color will be the majority. Without a diverse workforce, she adds, product quality will suffer. "How will a gear company figure out how to make outdoor clothing for trans people without trans voices in the company?" she asks. Not to mention that if the industry wants to help preserve public lands, it will need to do its part to create a more inclusive playground and rally that majority to safeguard the environment.
Patagonia is acutely aware of the country's changing demographics. "It's the reality," Lloyd says. "We need to pay attention to it in all aspects of our work and make sure that Patagonia remains relevant in those conversations, from a mission standpoint and from a product standpoint."
Diversity hiring is a crucial step in dismantling the exclusivity endemic to the industry. "It's really important that people open their eyes to what's out there and how the world is changing, to create more opportunities for people to come to the table," says Eboni Preston, director of programs for the Greening Youth Foundation (GYF), which works to introduce underrepresented communities to environmental advocacy.
Those that aren't fully invested in inclusivity hiring risk engaging in a version of so-called greenwashing—creating the appearance of diversity through marketing campaigns without making a real effort behind the scenes.
Many gear companies have committed to hiring more women, and some are making strides toward diversity in their advertising and marketing. REI's numerous diversity initiatives include the popular 2017 Force of Nature campaign, which featured stories of female adventurers, many of them women of color. And recent North Face ads have highlighted athletes from diverse backgrounds, including women of color, members of the LGBTQ community, and black and adaptive climbers. 
But for some companies, diversity ends there. There's a difference between making ad campaigns more inclusive and hiring a diverse group of employees in design, product-management, and executive roles. Those that aren't fully invested in inclusivity hiring risk engaging in a version of so-called greenwashing—creating the appearance of diversity through marketing campaigns without making a real effort behind the scenes. That's happening at some major brands, says Kenji Haroutunian, a business consultant who advises clients on diversity, equity, and inclusion strategies, or DEI—human-relations-speak for hiring people of color, LGBTQ people, and women. Haroutunian is also a former director of Outdoor Retailer, the gear industry's biggest trade show. "From a marketing standpoint, they're reaching out and showing a different face," he says. "Internally, though, they're still being run by the usual suspects."
Holliday concurs. "There are quite a few brand ambassadors and social-media influencers being featured," she says, adding that the North Face recently highlighted black mountaineer Tyrhee Moore. "But when we go and work with companies, I don't see that much racial diversity in the staff."
---
Changing an entrenched culture isn't easy. One reason is that employers typically don't look beyond a small, insular pool of prospective hires—the vast majority of whom are white. "At a lot of these companies, people were hired because they were buddies," says Deanne Buck, executive director of Camber Outdoors, a nonprofit formerly dedicated to gender equality that recently shifted its focus to underrepresented groups in general. "You got in because you knew someone or raced with them." The result is an industry that's "hyper-networked," in Lloyd's parlance.
Compounding the problem is that smaller brands often lack HR staff, or even a single recruiter, not to mention formalized DEI practices. And many larger businesses have been slow to make equitable hiring a priority. "If they've been doing it the same way for a long time and they're successful, they don't necessarily see a reason to change," says Haroutunian.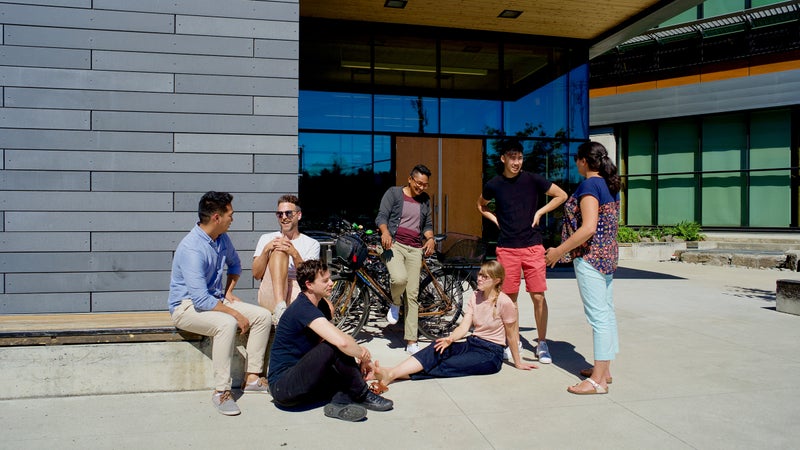 Still, many companies are making progress. Canadian gear retailer MEC began a DEI program in 2009 that filtered into its marketing materials in 2012. "When we changed the brand, we had a lot of negative sentiment in social media," MEC's chief executive David Labistour said in a 2014 interview. But the company continued to thrive; revenues spiked 10 percent in 2012 and have continued to steadily grow. In 2015, sales were $282 million, a 9 percent increase over the previous year.
Last summer, MEC deepened its commitment to diversity, according to new HR director Nahal Yousefian. The focus is on helping staffers recognize unconscious bias, which Yousefian hopes will spur change driven by employees themselves. "Instead of a centralized HR department coming up with a policy renewal every year, people are actively out there, engaged and ensuring the barriers are removed," she says.
Patagonia partnered with the Greening Youth Foundation, which is helping bring people of color into the apparel brand's competitive summer internship program; the Atlanta recruitment trip last fall was sparked by a former GYF intern who attended Morehouse. This year, 9,000 applicants vied for 18 internships. Patagonia selected two black interns through GYF in 2017, and this year it chose one. (Lloyd notes that there were additional interns of color that the company recruited by its own efforts.) Patagonia hasn't hired any former GYF interns to permanent positions, but it did hire one as a seasonal worker this summer. Lloyd says that a scarcity of entry-level positions—or positions of any kind—means that "we don't guarantee employment for our interns."
Still, Lloyd considers Patagonia's recruitment efforts successful, pointing out that three times as many people of color applied to the internship program this year as in 2017. "We have been able to reach a more diverse candidate pool," she says.
REI has long been an industry leader in diversity hiring, according to Haroutunian. REI's website proclaims it "a workplace where everyone is welcome and everyone is comfortable being who they are," and it broadcasts REI's support of marriage equality. The site also offers a glimpse at the company's racial diversity: currently, 18 percent of its workforce and 30 percent of its board of directors are people of color, and in 2017, it increased the ranks of executives of color from zero to 6 percent.
For the past decade or so, REI has been "standing on the gas pedal, making changes to various elements of their business, including marketing and outreach, recruitment, and their real estate strategy," says Haroutunian. That included putting stores in urban centers like Las Vegas, Houston, and Washington, D.C.
To reach a range of communities, the company partnered with Black Girls Run, the National Brotherhood of Skiers and Cyclists, and the urban cycling festival Ciclavia. It also teamed up with Outdoor Afro—a group that has partnerships with about a dozen other gear businesses, including Columbia, Keen, Klean Kanteen, Osprey, and Patagonia. Similarly, Polartec's sponsorships include the adaptive outdoor recreation group Paradox Sports and Open Style Lab, a nonprofit that makes apparel for people with disabilities, and the North Face linked up with Latino Outdoors and the Paradox Sports Adaptive Climbing Initiative.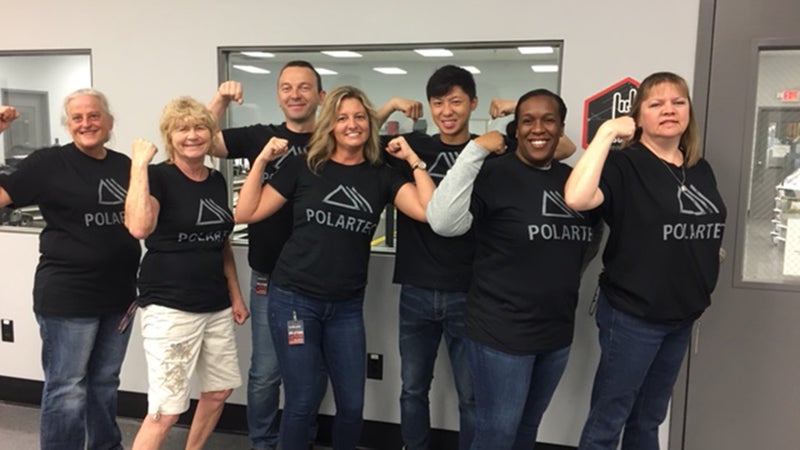 Among the other companies with dedicated diversity programs is Massachusetts-based Polartec, which pays its interns—most of whom are Hispanic students at a nearby private Catholic high school—by covering their tuition. It also posts job listings on 40 websites in an effort to go "beyond LinkedIn, Facebook, and some of the locations where [the applicants are] a little more homogeneous," says Breanne Buzay, Polartec's vice president of human resources. This year, Keen began a partnership with the Greening Youth Foundation for its summer internship program. The North Face's Explore Fund gives grants to groups that are underrepresented in the outdoors; through its parent company, VF Corporation, it posts job openings on more than 800 employment sites, and it recently sent recruiters to the diversity summit People of the Global Majority.
---
Assembling a diverse staff comes naturally to a few companies, including the Philadelphia gear and apparel brand United by Blue and retailer Gear Coop in Costa Mesa, California. Both pull from racially diverse pools of people living in the surrounding communities.
With 45 employees, Gear Coop is a small, minority-owned business without an HR department or formal hiring protocols of any kind. But its owner, Terry Lee, says the company has informally made "deliberate diversity decisions." Every department of the company has women and minorities on staff—mostly Asian and Latino—he says, adding that Gear Coop's LGBTQ workers have historically comprised between 5 and 15 percent of its overall workforce.
"Every time I go to Outdoor Retailer, I'm reminded of how nondiverse the outdoor industry is," says Brian Linton, founder and CEO of United by Blue. Back home it's a different story. "Not that we're perfect or a full representation of what diversity means to the outdoor industry, but we're based in Philadelphia, and we're naturally in a position to be more diverse."
Linton says 10 percent of United by Blue staff are people of color or LGBTQ. He believes his company's focus on the urban outdoors helps attract a diverse workforce. "We appeal to people that are all walks of life," he says. "It's not just about going out and climbing El Capitan or trying to do extreme adventures. It's a very approachable brand, and therefore it's an approachable company for a diverse group of people."
The outdoor industry lags behind the hotel, health care, and telecommunications fields, and even some tech companies, according to Fortune's rankings of the most diverse workplaces.
That philosophy is echoed at REI. "They've had a long-term strategy of broadening their appeal," Haroutunian says of the retail co-op. "And they walked away from their hardcore customer long ago." To help lure people of all abilities, REI carries a wide range of products—including newbie-friendly used gear and a less expensive house-branded line. The company has seen steady growth in recent years; in 2017, sales were $2.6 billion, a 2.5 percent increase over the previous year.
That REI's diversity numbers are impressive compared with other gear companies underscores how far the outdoor industry still needs to go. The industry lags behind the hotel, health care, and telecommunications fields, and even some tech companies, according to Fortune's rankings of the most diverse workplaces. People of color make up 81 percent of Foot Locker's workforce (compared with REI's 18 percent) and 33 percent of the executive echelon at Dropbox (versus REI's 6 percent).
Marketing campaigns, outreach and partnership programs, and DEI efforts help. What else can companies do? They can recruit widely—way beyond their buddy networks. They can use more inclusive language in job postings and reevaluate the skills they require. "What qualifications are necessary and what are things folks can learn on the job?" as Holliday puts it. That extends to college degrees and experience in the outdoor industry. Removing some requirements can open up the talent pool.
Creating a welcoming company culture is also important. "Whether it's a person of color or a transgender person, they should feel like it's an equitable workplace, with equal opportunities for a fulfilling career," says Camber Outdoors' Deanne Buck. "You definitely don't want people coming in and leaving because they don't feel like there's a good opportunity for them."
One way to retain a diverse workforce is through sponsorships—mentoring programs in which established employees introduce newcomers to higher-ups, putting them on the radar for future projects.
REI and MEC have been working on equity and inclusion hiring for about a decade, but it's early days for most of the industry. Some companies are taking small steps and hatching plans for future initiatives. Others talk a big game but have shown limited results. Many say they consider DEI a priority, even if they won't divulge specific policies or plans.
Camber Outdoors' recent shift to the full range of underrepresented groups was prompted in part by the realization that its efforts were benefiting only a subset of women. "Using the word women in our mission didn't account for the complex and varied experiences of women," Buck says. "We were leaving women of color out of the conversations and the solutions." The group's new focus is on developing programs to help gear companies create "leadership teams that reflect our population and demographics," she says. To that end, Camber Outdoors is bringing together members of the industry to develop a set of DEI standards—for instance, that all final-candidate pools for director-level positions include two women and two people of color.
Patagonia is working with the Avarna Group to help develop its DEI initiatives. "This is a long-term process," Lloyd says. The company intends to expand its GYF internship program; this fall it plans to embark on a southeastern tour targeting more historically black universities.
GYF interns receive broad experience at Patagonia, working in the design, compliance, and marketing departments, among others, according to GYF program director Eboni Preston. In other words, they aren't being placed solely in high-visibility departments to maximize the optics. "Not to be funny, but no, the black kids aren't all going to marketing," says Preston. "They've spread the diversity across Patagonia as a whole."
Lead Photo: Taj Mihelich