Tourists Are Surfing North Korea—But at What Cost?
Travelers from around the world can now explore the reclusive nation's undiscovered breaks, but their adventure could come at a cost to human rights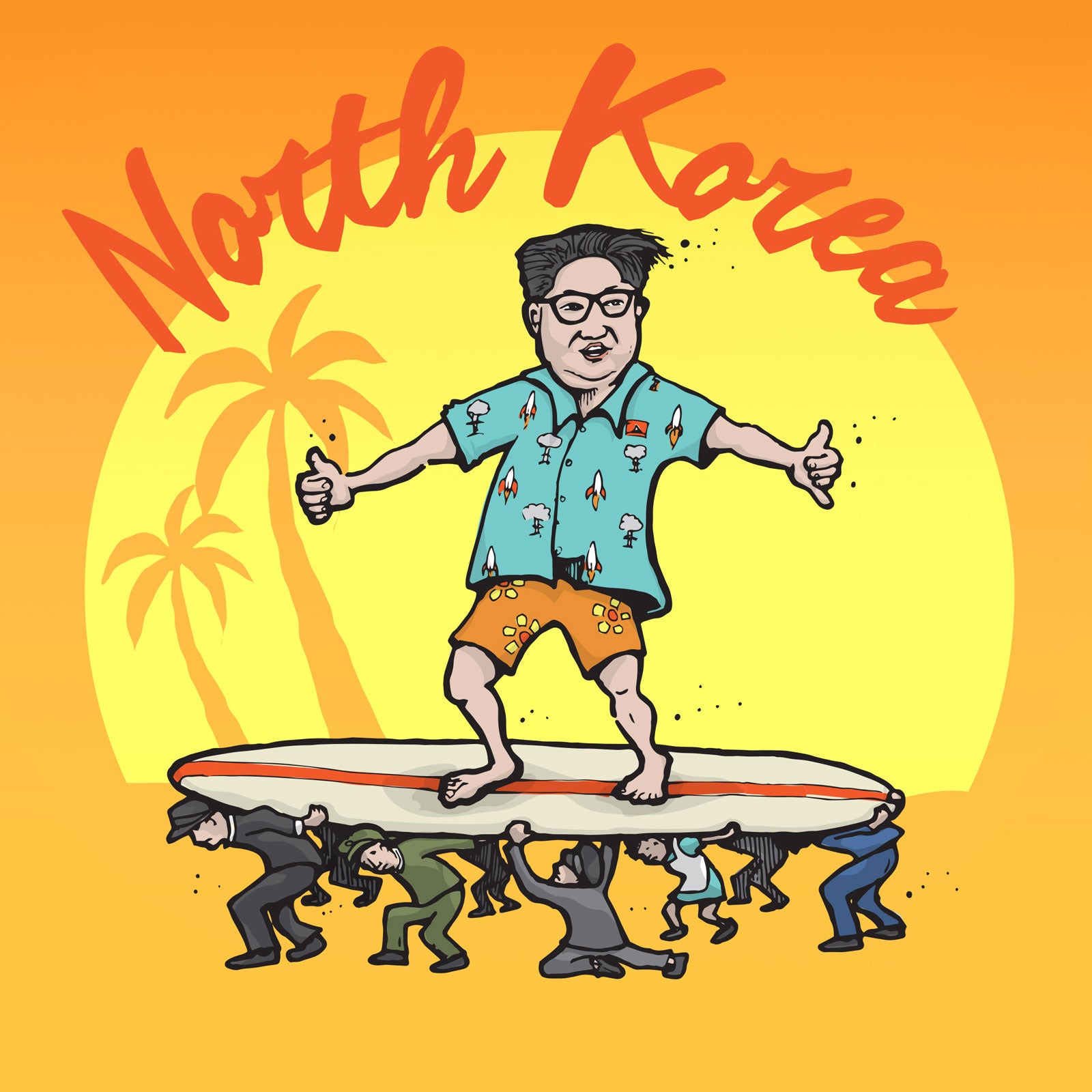 Taj Mihelich(Photo)
Heading out the door? Read this article on the new Outside+ app available now on iOS devices for members! Download the app.
On a warm summer day in the Democratic People's Republic of Korea, the totalitarian dictatorship better known as North Korea, turquoise water rolls lazily toward a pristine beach, where surfers are suiting up. A mix of locals and foreigners, they splash into the empty sets and laugh as they carve waves that may never have been surfed before.
They're here with Uri Tours, a New Jersey–based company with more than 15 years of experience running trips to the DPRK. For the past three years, the company has been taking foreigners beneath North Korea's iron curtain to explore the country's untouched coastline and share the stoke with locals. But while the company's guests have traveled from around the world for this one-of-a-kind surf trip, there are no Americans among them. After the death of University of Virginia student Otto Warmbier, who was imprisoned for allegedly stealing a propaganda poster while on a tour, travel to the hermit kingdom stopped last September. That could change, however, thanks to an offbeat comment from President Trump during his historic summit in Singapore earlier this summer with DPRK leader Kim Jong Un, suggesting that North Korea's beaches could be ripe for condos full of tourists.
Even with presidential approval, visiting this potential surfer's paradise in search of unsurfed waves comes with a caveat. Beyond the risk of detention and even death, a vacation there could mean funding the government's prison camps and nuclear weapons research. Or it could sow seeds of dissent among North Koreans while bringing much-needed economic development. It all depends on who you ask.
Tourism in North Korea is a state-run enterprise, meaning the government has complete control over the money it brings in. According to one South Korean think tank, that was as much as $43.6 million in 2014 alone. This stream of foreign cash is something the country is actively cultivating as it deals with economic sanctions. It's been reported that state officials want to attract 2 million tourists by 2020, and Kim Jong Un has the country scrambling to build a special $7.8 billion tourist zone around the coastal city of Wonsan. Where those tourist dollars will go is unknown, but odds are they won't make their way to the average North Korean, who, with an estimated annual income of just $1,300, makes less in a year than the cost of a weeklong surf tour with Uri. (Uri Tours did not respond to our requests for comment.)
"Technically speaking, the government provides free health care, but they have no medicine," says Jean Lee, a former Associated Press bureau chief in Pyongyang, the North Korean capital, and the current director of the Center for Korean History and Public Policy at the Wilson Center in Washington, D.C. "They provide free housing, but these houses have no electricity. The money is not going back to the people."
Despite its infamy, North Korea is hardly the world's only controversial destination. Communist-run Cuba reportedly experienced food shortages after it couldn't keep up with the increased demand caused by the record number of tourists who visited the Caribbean nation after civilian travel was restored with the United States in 2015. Myanmar, accused by the UN of ethnic cleansing, has also seen a flood of tourists following its transition from military junta to tenuous democracy. FIFA caught flak for choosing Russia to host this year's World Cup, and Qatar has allegedly used slave labor to prepare for the organization's next tournament.
Like it or not, the second a tourist enters a country, they become a statistic, and, some critics say, by choosing to spend their dollars there, they are giving tacit approval of how that country conducts itself—whether it's stifling free speech or creating wildlife sanctuaries.
Many tour companies, however, argue that statistics don't tell the full story. Uri's website describes its DPRK surf tours as diplomatic missions that provide North Koreans a rare opportunity to connect with people from the outside world while giving foreigners a peek inside one of the world's most mysterious countries.
Like it or not, the second a tourist enters a country, they become a statistic, and, some critics say, by choosing to spend their dollars there, they are giving tacit approval of how that country conducts itself.
Some argue that this kind of cultural exchange can have broad geopolitical impact. At least that's the idea behind Hawaii-based Surfing the Nations, a nonprofit that seeks to introduce surfing to some of the "darkest places on the planet," according to founder Tom Bauer. In 2014, the organization jumped at a chance to expand into North Korea after a body boarder who was in the reclusive nation for work alerted them to its surf potential. "Surfing can bring peace between America and North Korea," Bauer says. When he visited the country, Bauer found the locals he interacted with out on the water were happy to talk and often brought up ostensibly taboo topics. "They're just as curious about us as we are about them."
What Bauer experienced, however, was likely carefully curated, at least in part. No independent travel is permitted in North Korea. Anyone looking to visit must go through an approved tour, and visitors are under the constant eye of minders. While they can interact with North Koreans, they can do so only with a guide present. The government-approved itineraries are crafted to leave visitors with positive impressions, legitimizing the regime in the eyes of the world.
"It's as though you're taken to Times Square or Fifth Avenue in Manhattan, shown a three-block radius, and told, 'This is America,'" says Lee, who has visited the DPRK as a journalist, tourist, and academic. "It's not wrong, but it's not the whole picture."
Still, like foreign films, music, and literature, travel can be another way to break the government-imposed information barrier. Simon Hudson, a professor of tourism at the University of South Carolina, visited Myanmar in 2006 and later wrote an ethics paper about travel in the authoritarian country. He believes interactions with tourists may have played a role in opening Myanmar to the outside world by motivating its citizens to pressure the military junta for a better quality of life.
While the two countries are ripe for comparison, experts say the DPRK is unlikely to follow Myanmar's lead. North Korea is far more isolated and exerts more control over its people than Myanmar, even when that country was at its worst under the military junta. Thanks to the DPRK's determination to limit foreign investment to special economic zones, where foreign influence can be more easily contained, the massive change seen in Myanmar could be unlikely in North Korea.
Sokeel Park, head of the Seoul office for refugee-support organization Liberty in North Korea, doubts tourism's ability to catalyze reform. While he notes that tourism can help pull back the veil of oppressive regimes, Park doesn't think it will cause widespread change, in part because tourists interact with only a tiny percentage of the population.
Still, Park sees the value in tourism to North Korea, adding that increasingly more defectors are leaving, not because of a lack of food, but a lack of freedom. "North Korean people inside the country are isolated from the rest of humanity and the rest of the world by their own government," he says. "I don't think it's in our or their best interest to further that isolation."
Lead Photo: Taj Mihelich