Review: Osprey Exos and Eja Backpacks
Osprey's new update was a long time coming, but it was worth the wait.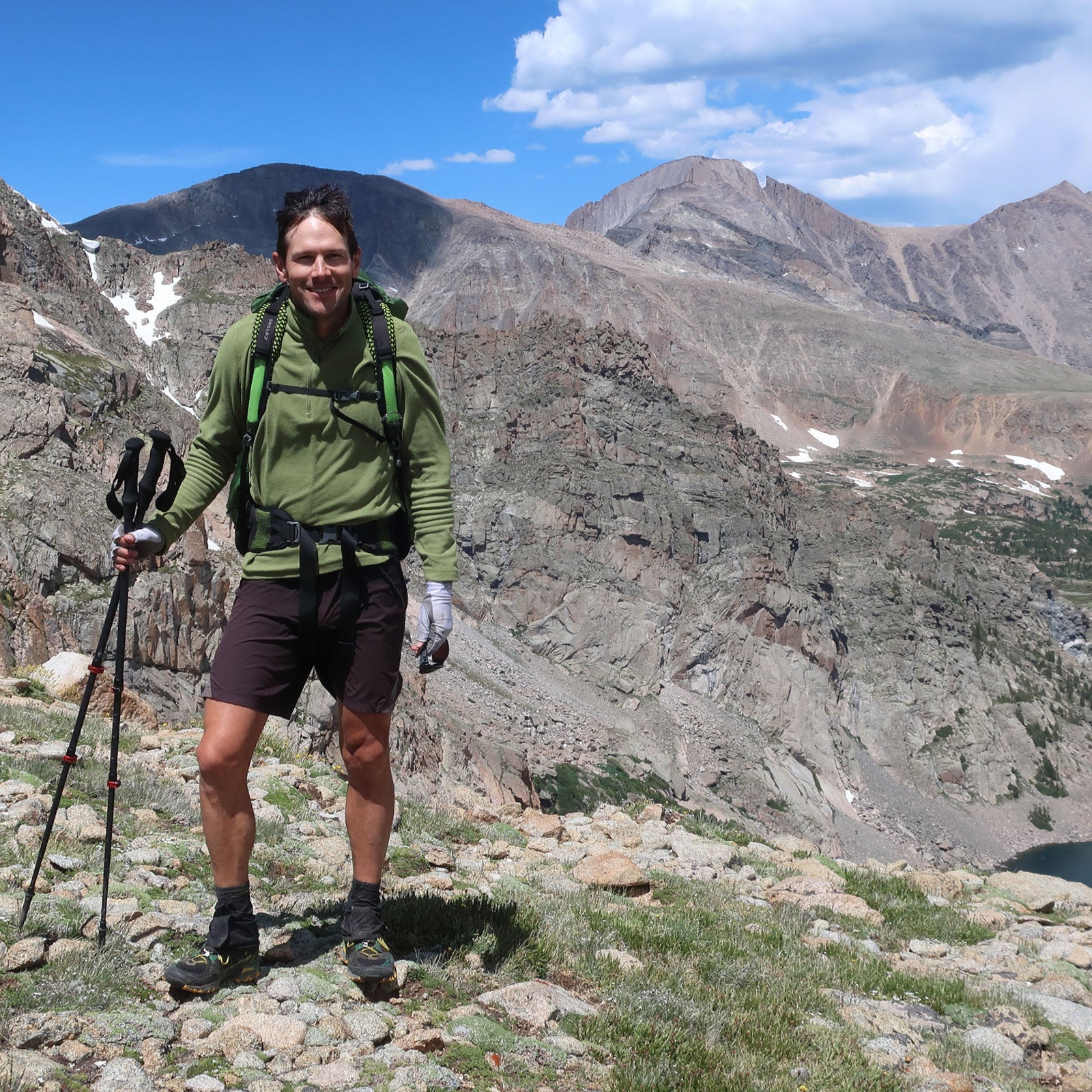 Andrew Skurka(Photo)
Heading out the door? Read this article on the new Outside+ app available now on iOS devices for members! Download the app.
For two weeks in June and July, I wore the new Osprey Exos backpack while guiding overnight trips in Rocky Mountain National Park. To accommodate a guide-sized kit and a full-size bear canister (which I prefer to pack horizontally), I used the largest of the three-pack series:
Exos 38 ($180, 2 lbs 8 oz), for streamlined kits and overnights

Exos 48 ($200, 2 lbs 9 oz), the Goldilocks of the family

Exos 58 ($220, 2 lbs 10 oz), for beginners and bulkier loads
The Exos line was entirely updated for 2018—the first time in four seasons. In addition, Osprey released new women-specific equivalents of the Exos: the Eja 38, Eja 48, and Eja 58. Because the Exos and Eja are identically featured, most of my comments about the Exos will apply equally to the Eja. The Eja differs only in fit, with a targeted body type that has narrower shoulders, shorter torso lengths, and more curve.
Where It Fits in the Market
The Exos/Eja sits squarely in the sweet spot for backpacks. At about $200 and 2.5 pounds, this class of packs will withstand years of use (or two thru-hikes), remain comfortable with loads up to 30 or 40 pounds, and offer limited but practical features like exterior pockets, a top lid, and utility attachments for an ice ax, foam sleeping pad, or snowshoes.
The Exos/Eja shares this space with these packs:
If you're about to purchase a three-season backpack that is more expensive or weighs more than these packs, I think you need an exceptional reason—for example, it's for a six-month thru-hike, Utah slot canyons, or big-game hunting.
Review: Osprey Exos/Eja
The Exos/Eja is awesomely comfortable, priced well, widely available, and backed with an excellent guarantee. Its unique suspension excels at lower weights but flounders when pushed to its recommended max. It lacks hipbelt pockets (and a shoulder strap pocket, like the previous generation had), which is annoying but can be rectified with aftermarket accessories.
Key Specs
2 lbs 8 oz to 2 lbs 10 oz (1,134 grams to 1,190 grams)

$180 to $220

Recommended weight range: 15 to 30 pounds (for the 38), or 20 to 40 pounds (for the 48 and 58)

Pliable Lightwire alloy peripheral frame

100-denier nylon in the main body; 210-denier nylon in the bottom; stretch mesh and 100-denier nylon in the rear and side pockets

Two side pockets, one rear pocket, one top lid pocket

Trampoline-style Airspeed mesh back panel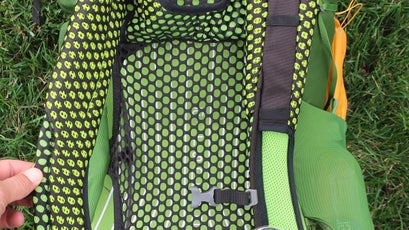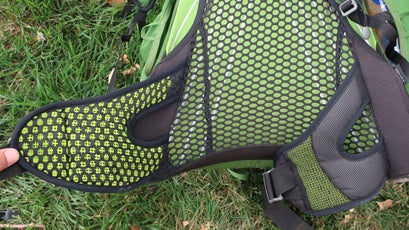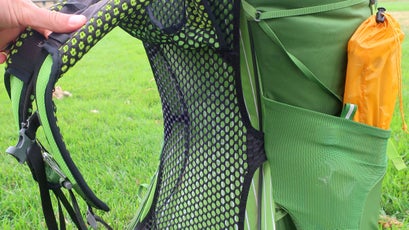 The Highlight: Comfort
The Exos is probably the most comfortable backpack I've ever used. It achieves this by:
Distributing weight evenly and widely across the hipbelt, shoulder straps, and trampoline-style back panel to eliminate completely any hot spots or pressure points.

Using soft, cushioned, stretchy, spongy, and breathable materials for all body/pack contact zones.
It felt like the Exos molded to my body. During side-by-side comparisons in the field against the Flex Capacitor, ULA Ohm, HMG Southwest, and Hancor Marl, the Exos stood apart for its wearability.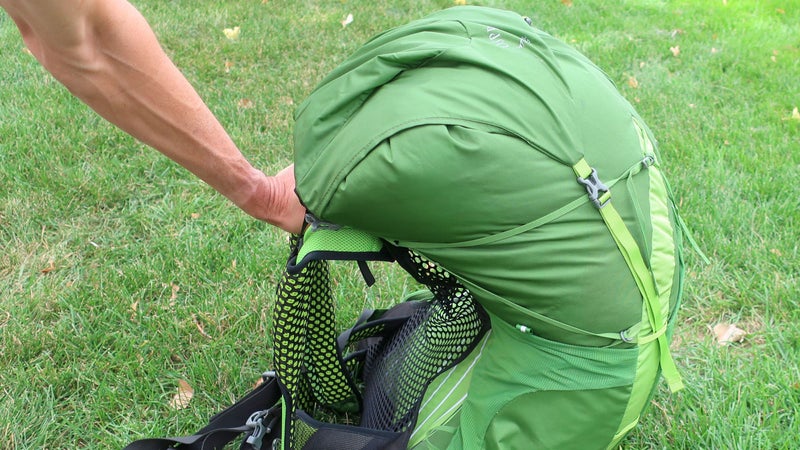 Pros and Cons: Load Carrying
The harness and frame are identical on the Exos/Eja 38, 48, and 58. Osprey puts the load-carrying comfort range of the 38-volume pack at 15 to 30 pounds, which seems appropriate to me, and 20 to 40 pounds for the 48- and 58-liter models, respectively, which seems generous.
I pushed the Exos 58 to the upper end of its recommended range, leaving the trailhead twice with nearly 40 pounds.
The Exos was not uncomfortable with these loads. Rather, it struggled to keep the load stable, even after attempts to better compress it (using the side compression straps) and reorganize the weight distribution (with more weight toward the bottom).
I believe this load instability stems from two causes:
1. Harness-system materials. The soft, cushioned, and stretchy meshes and foams used throughout the harness system are damn comfortable but lack rigidity and stiffness. The Exos rides like a Buick, but truer load haulers will have sports car–like suspension systems.
2. Flexible alloy frame. The four-millimeter Lightwire alloy peripheral frame supports the Airspeed mesh back panel and helps to transfer some weight from the shoulders to the hips. Lightwire is shockingly flexible—the frame can be twisted and bent with gentle pressure and will spring back to its original shape when that pressure is relieved.
When you're hiking down the trail, the Lightwire's flexibility gives the sensation of a floating pack. When compared to packs with more rigid frames, the Exos provides a less jarring ride, but heavier loads overwhelm the frame. It's akin to carrying a restless toddler or a 35-pound bobblehead—Lightwire can't control the load's independent momentum generated while hiking or scrambling.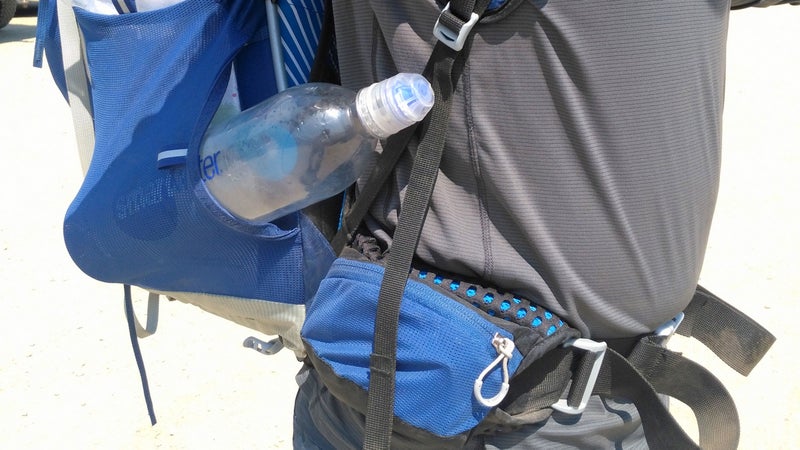 Omission: Hipbelt and Shoulder Strap Pockets
As soon as possible, Osprey needs to add back hipbelt pockets (at a minimum) and shoulder strap pockets (ideally) to the Exos/Eja. I'm mystified why these wonderfully convenient features were not included, especially since the previous-generation Exos had them. (They were small, but better than nothing.) Frankly, for me this would be a deal-breaking omission when comparing the Exos/Eja to other lightweight packs.
Hipbelt pockets are ideal for small, often-needed items like a camera or phone, sunscreen, lip balm, head net, Aquamira drops, and some calories. Without hipbelt pockets, these items must be carried in clothing pockets, in side pockets (where they can be hard to find and which I'd rather use for water bottles), or in the top lid (which can be accessed only by taking off the pack). Shoulder strap pockets are well suited for a 20-ounce water bottle, reading glasses, or bear spray.
I suspect the decision to remove the hipbelt and shoulder strap pockets was driven by weight and/or cost considerations or the belief that the excellent side pockets were enough. But it was the wrong decision: If I wanted to use the Exos long-term, I'd plan to spend $40 on accessory pockets from Gossamer Gear, MLD, or ZPacks. Unfortunately, these pockets won't work as well as native pockets because they aren't specifically designed for the Exos/Eja.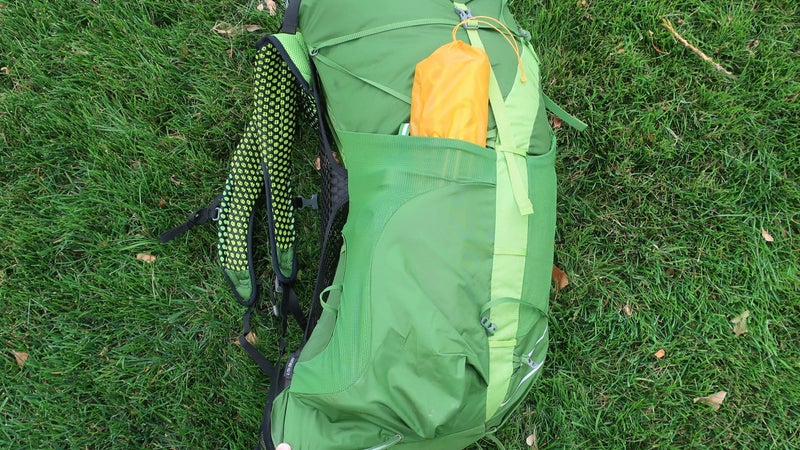 Side Pockets
The side pockets on the Exos/Eja are tall enough to support tent poles or an 80-ounce Platy Bottle, and they can be easily accessed on the move via the secondary side opening.
Most side pockets with only a conventional top opening fail to achieve this happy medium. They are either too tall, making them secure but difficult to access, or too short, making them easy to access but insecure and limited in usability.
Note: If using a one-liter Smartwater bottle, I suggest inserting it cap first through the pocket's side entry and then rotating the bottle so that it falls into the pocket. If inserted bottom first, the bottle will annoyingly poke diagonally out of the pocket and the cap won't clear the side-entry opening.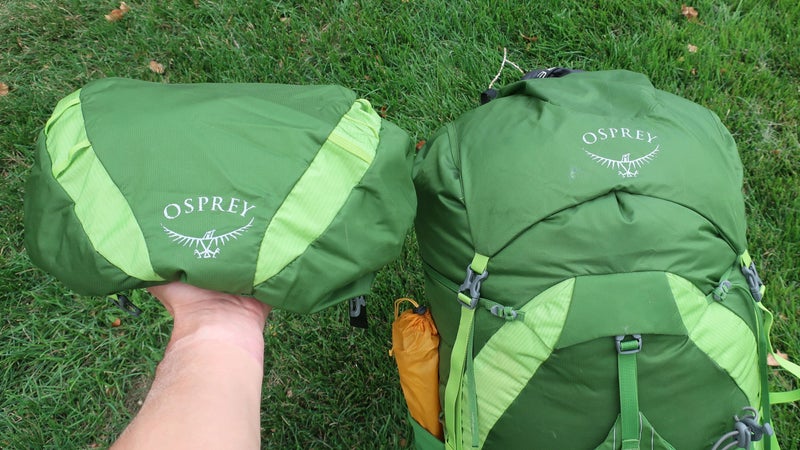 Top Lid
Most lightweight packs have a rolltop closure, which is lighter and simpler (and therefore less expensive and easier to sew). The Exos retains a more conventional top lid outfitted with a generous pocket, in which I stored small odds and ends like toiletries, headlamp, sunglasses case, and water purification.
The top lid is removable, reducing the weight of the Exos by 4.5 ounces. When the top lid is removed, the Exos has a nonremovable secondary flap to cover the main compartment. It seems like Osprey could remove some weight and cost from the Exos by eliminating this redundancy, but I appreciated the versatility.
Rear Pocket
The rear shove-it pocket has enough volume for rain gear, a wet rain fly, or a midlayer, but it doesn't constitute a major share of the pack's overall volume. The Exos 58 felt like a true 58-liter pack, not a 30-liter pack with an exceptionally large rear pocket or tall extension collar.
Bear Canisters
My BearVault BV500 bear canister fit horizontally (with a little bit of room to spare) in the Exos 58. I think a BV450 will fit horizontally in the 38 and 48; the BV500 seems like a stretch. Maybe other users can chime in with their experience.
Horizontal orientation is preferred to vertical, because canisters are difficult to pack around. It's best if they entirely fill one "row" inside the pack, with other items stacked tightly under and on top of the canister.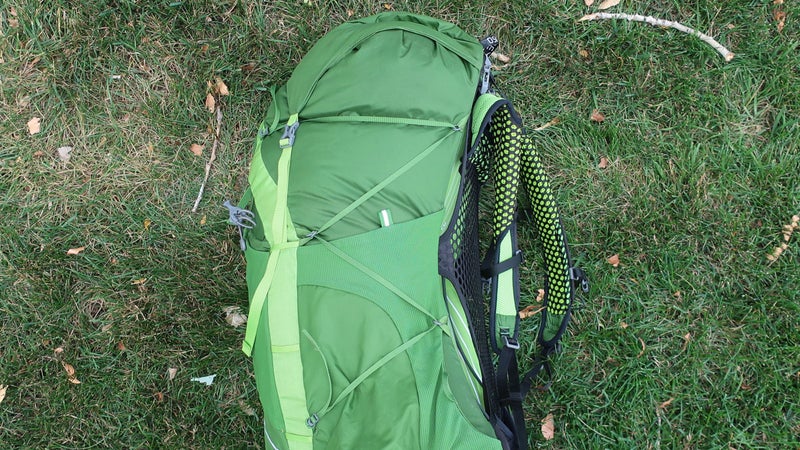 Compression System
The Exos/Eja has a unique compression system, consisting of very thin webbing that runs in a zigzag pattern down both sides of the pack. It offers more adjustment options than the more customary one or two webbing straps. Each segment can be tightened independently, and it can be routed over or under the side pocket.
Functionally, however, I thought this system was only so-so. I was reluctant to pull hard on such dainty webbing and O-rings, and I never found that I needed all that adjustment—a horizontal strap with a ladder lock or side-release buckle would do, thanks. Finally, I wished that the top end was detachable so items could be quickly strapped to the side of the pack, rather than needing to be threaded between the compression webbing and the pack.
Overall
I would highly recommend the Exos/Eja, with a few caveats. If you don't overload it, and if you won't miss hipbelt pockets (or are willing to attach aftermarket models), you'll love the Exos/Eja for its comfort, and you'll be satisfied with its weight, durability, price, and guarantee. You'll also appreciate that it's available at your local REI or (probably) local outdoor retailer, so you can try it on and to size it properly before you buy it.
Lead Photo: Andrew Skurka