Review: Ultimate Direction FK Trekking Poles
These are an absolute joy to use, despite some inherent limitations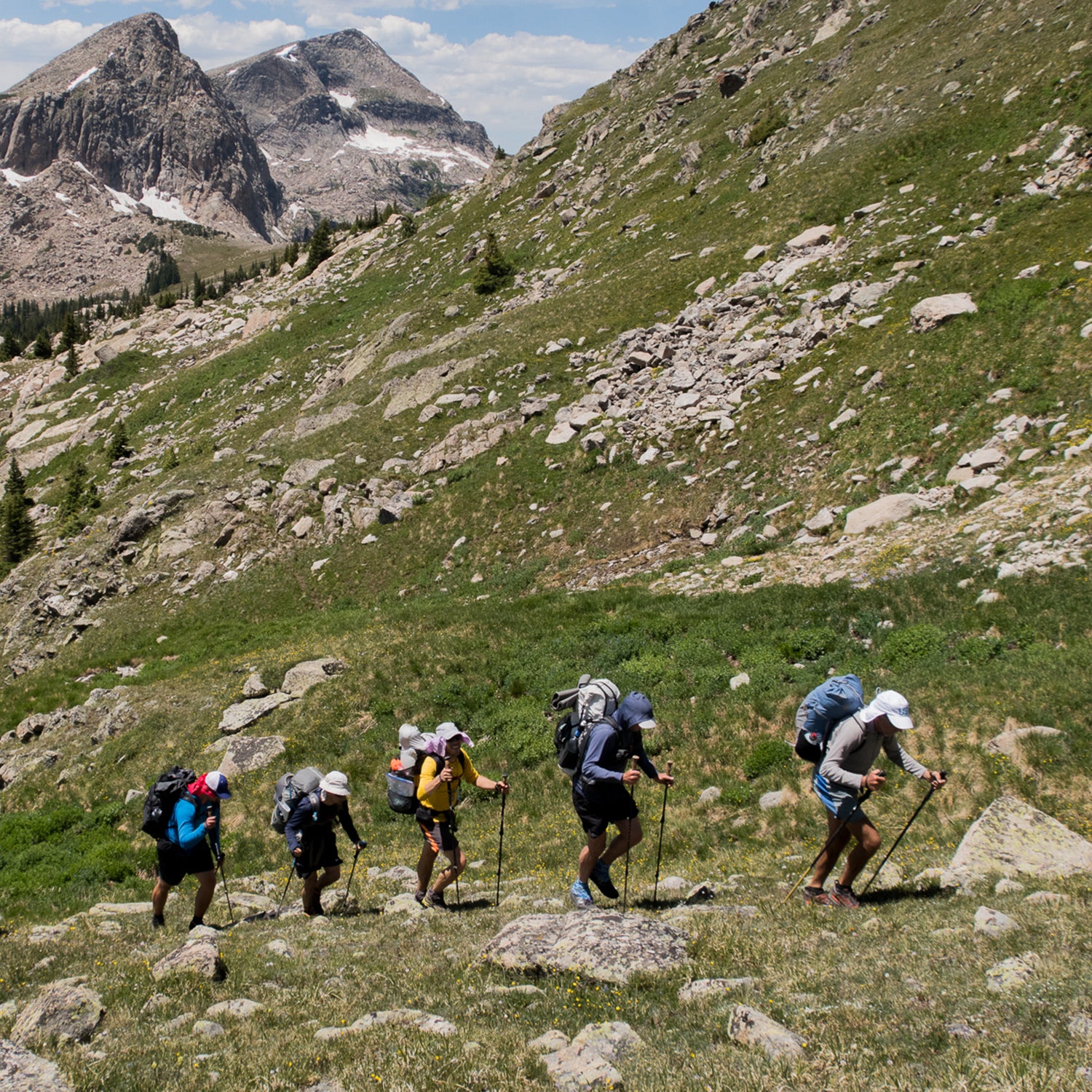 Andrew Skurka(Photo)
Heading out the door? Read this article on the new Outside+ app available now on iOS devices for members! Download the app.
For two weeks last summer I used the Ultimate Direction FK Trekking Poles while guiding trips on the Pfiffner Traverse in Colorado's Rocky Mountain National Park. The FK Poles were new for spring 2018 and are part of an adventure-oriented collection that also includes the FK Tarp, FK Bivy, and FK Gaiters. FK is short for "fastest known," as in fastest known time, which is suggestive of the design ethos—an emphasis on performance and weight, not necessarily comfort or convenience.
Review: Ultimate Direction FK Trekking Poles
The Ultimate Direction FK Trekking Poles feature a single-piece shaft, foam grips (with extensions), woven nylon wrist straps, and carbide tips. Their length cannot be adjusted, and they do not collapse.
The FK Poles are stronger and stiffer than any trekking or ski pole that I have ever used, while also being among the lightest—just 3.7 ounces for my size, 115 centimeters without straps or baskets. They are an absolute joy to use.
However, because they cannot be adjusted or collapsed, these poles have limitations. They don't stow away well on flights, so they are best for local trips without extensive scrambling, and they are not compatible with many trekking-pole-supported shelters without additional pole jacks.
I found just one flaw with my preproduction FK Poles—the tips quickly wore out. But that was reportedly addressed before full production.
Product Specs
4 oz per pole (for the 115-centimeter length)
Single-piece, fixed-length carbon-fiber shaft
Aramid-wrapped lower shaft for abrasion resistance
EVA foam grip with extensions
Woven nylon wrist strap
Available from 110-centimeter to 135-centimeter lengths (in 5-centimeter increments)
$150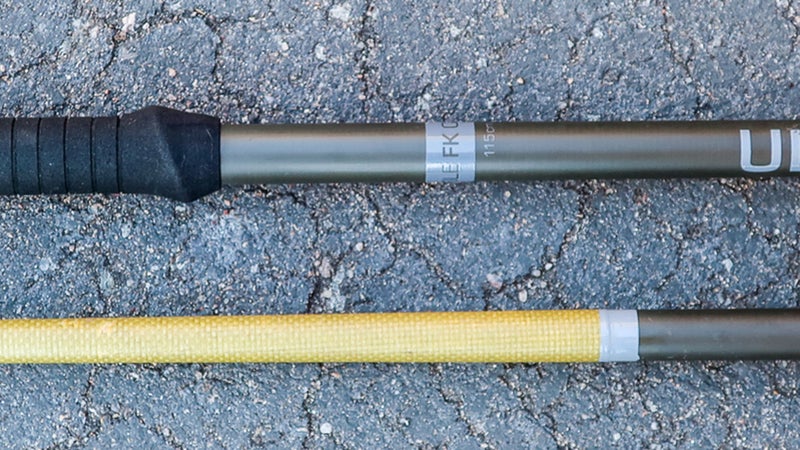 Strength and Stiffness
All things being equal:
Carbon-fiber shafts are stronger and stiffer than aluminum shafts.
One-piece shafts are stronger and stiffer than multipiece shafts.
So in terms of strength and stiffness, the FK Poles already have two things going for them: they're made of carbon fiber, and they're one piece.
But with the FK Poles, there's a third ingredient at play, too: the shafts are oversize. The maximum diameter of these poles, at the top of the shaft, is 20 millimeters, which is:
By increasing the shaft diameter, pole strength and stiffness both increase exponentially. If you're a physicist or an engineer, please chime in on the accuracy of Ultimate Direction's claim: "Increasing the diameter doesn't just increase the strength proportionally, it squares the strength and cubes the increase in stiffness!"
The FK Pole is so strong and stiff that it almost feels like another material. I've been using carbon-fiber poles for 15 years, and these feel utterly different.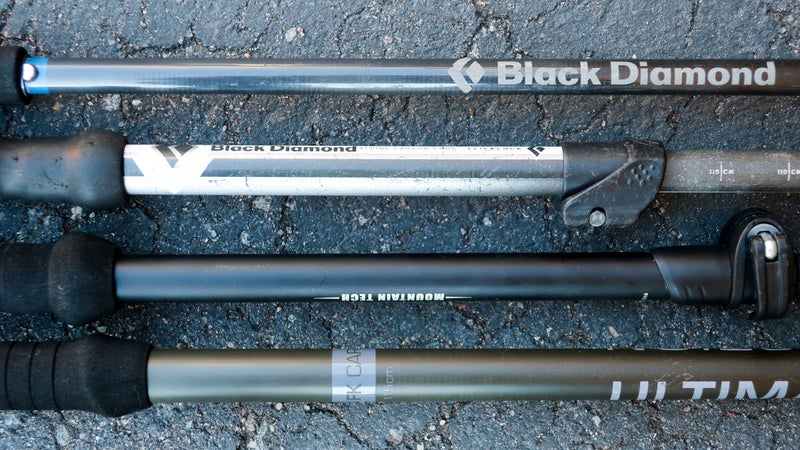 Competition
Inherent Limitations
Adjustable poles outsell fixed-length poles by leaps and bounds. If you buy the FK Poles, you'll learn why. They:
Don't travel well;
Stick out of the backpack about two feet when stowed, making them unwieldy when scrambling or bushwhacking;
Are incompatible with many many trekking-pole-supported shelters;
Break catastrophically, with no opportunity to completely repair them by simply replacing a broken segment;
Cannot be adjusted for different terrain types (e.g., extending them on steep downhills), outdoor activities (e.g., trekking and alpine touring), or users (e.g., you and your significant other).
Only one of these issues can easily be addressed. If your shelter height isn't compatible, you can bring pole jacks or extensions made of aluminum or carbon-fiber tubing.
Room for Improvement
I found only one flaw with the FK Poles: the carbide tips. Ultimate Direction told me that these tips have since been improved between my sample pole and the product models.
The specific problems were:
The carbide pieces unscrewed with use, putting them at risk of falling out completely. My solution was to superglue them in place permanently.
The tips wore down quickly, requiring premature replacement.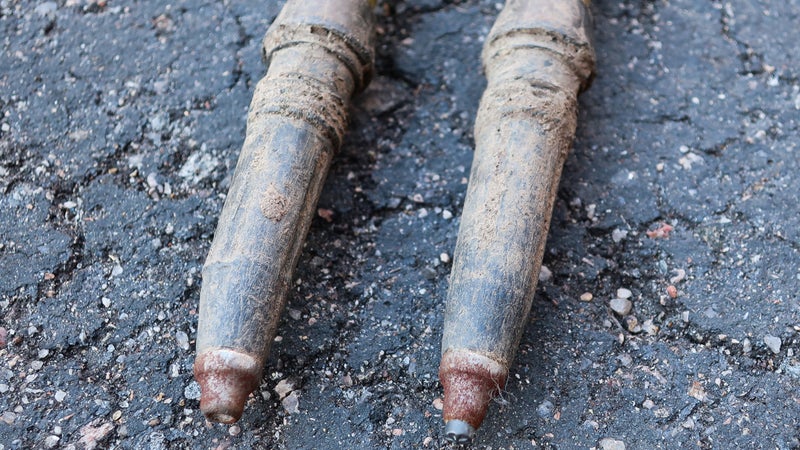 If you do need to replace trekking-pole tips, refer to this tutorial and use the Leki Universal Carbide Flex Tips, because they will have little effect on the height of the FK Poles. 
Lead Photo: Andrew Skurka